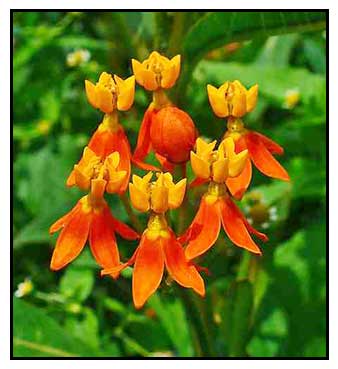 Botany
Bulak-damo is an erect weed, simple or slightly branched, smooth, perennial herb 40 to 60 centimeters in height. Leaves are opposite, lanceolate, or oblong-lanceolate, 7 to 13 centimeters in length, and pointed at both ends. Inflorescences are umbrella-shaped, occurring in the axils of the leaves or terminating the branches. Flowers are orange-red, 1.2 to 1.4 centimeters in length. Sepals are linear and green. Corolla lobes are reflexed, oblong, about 8 millimeters in length. Fruit is a follicle, narrow and pointed on both ends, lanceolate, 6 to 8 centimeters in length, 1 to 1.3 centimeters in diameter at the middle. Seeds are numerous, flat and attached to numerous, long, silky hairs.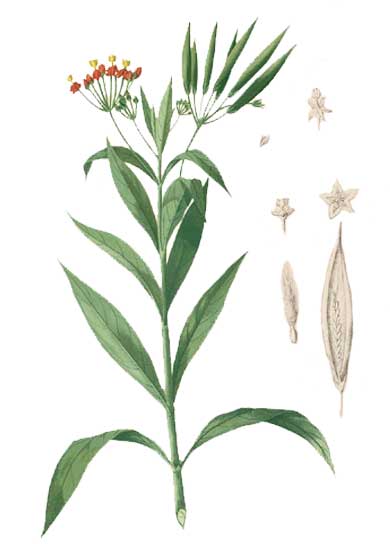 Distribution
- Throughout the Philippines in settled areas, in open waste places, and in about settlements, ascending to at least 1,500 meters.
- Pantropic weed of American origin.
Constituents
- Phytochemical screening has yielded tannin, phenol, terpenoids, xanthoprotein, among others.
- Plant contains a glucoside, asclepiadin. The physiological action of unaltered asclepiadin was reported to resemble emetin.
- Roots reported to contain vincetoxin, resembling emetine in its action.
- Root contains an active principle, curassavine, identical in therapeutical value to digitalin.
- Study yields a cardenolide glycosides, alpha asclepiadin and beta asclepiadin; beta sitosterol ; seed oil (53% linoleic acid, 1% lenolenic acid).
- Phytochemical screening of leaf and root extracts yielded carboxylic acids, fixed oils, flavonoids, phenols, quinones, resins, steroids, and glycosides. (see study below) (10)
- Study of seeds yielded two cardenolides and 12 glycosides. Four were determined to be 16α-hydroxycalotropagenin, 16α-hydroxycalotropin and its 3'-O-glucoside and 3'-O-gentiobioside. (20)
- Study of aerial parts isolated a new cardenolide, 12beta,14beta-dihydroxy-3beta,19-epoxy-3alpha-methoxy-5alpha-card-20(22)-enolide (6), and a new doubly linked cardenolide glycoside, 12beta-hydroxycalotropin (13), together with eleven known compounds, coroglaucigenin (1), 12beta-hydroxycoroglaucigenin (2), calotropagenin (3), desglucouzarin (4), 6'-O-feruloyl-desglucouzarin (5), calotropin (7), uscharidin (8), asclepin (9), 16alpha-hydroxyasclepin (10), 16alpha-acetoxycalotropin (11), and 16alpha-acetoxyasclepin (12). (see study below) (21)

Properties
- The physiological action of A. curassavica is reported to act directly upon the organic muscular system, especially upon the heart and blood vessels, causing great constriction of the latter and distention of the larger arteries.
- Secondarily, reported to cause dyspnea, vomiting and diarrhea.
- Toxic principle is a mixture of glucosides of the cardiac type.
- Considered depurative, hemostatic, astringent, purgative.

Parts used
Roots, flowers, stems, leaves.

Uses
Folkloric
- In the Philippines, roots, decocted or pulverized, used as emetic, with similar effects to ipecacuanha.
- In the West Indies and Guiana, plant is employed as an emetic.
- Plant used for dysentery.
- In Central America, stem, leaves and flowers used as substitute for sarsaparilla, and employed as a depurative.
- Whole plant, dried or in powdered form, used as haemostatic.
- In Antilles, decoction of roots and stem are reputed to be depurative, used as substitute for sarsaparilla for venereal diseases. Decoction of roots and stems used as purgative and emetic.
- Syrup made from the juice of the plant used as vermifuge.
- In Mexico, used for cancer of the stomach, intestines, uterus and kidneys.
- Used for treatment of cancers and warts.
- Used for tuberculosis.
- In Brazil, infusion of roots, with a little sugar, used for blenorrhagia and leucorrhea. In large doses, the drug is emetic.
- Roots used as purgative and astringent. Also, used as remedy for piles and gonorrhea.
- Powdered roots used as ipecacuanha substitute for emetic use.
- Expressed juice of leaves used for intestinal worms.
- Juice of flowers used as styptic.
- In China, used to disperse fevers, to improved circulation and to control bleeding. Decoction of dried plant used as cardiac tonic; also for tonsillitis, pneumonia, bronchitis, urethritis, internal bleeding, and externally, for wounds.
- Tribes in the western ghats, India, use the plant to treat hemorrhoids, gonorrhea, roundworm infestation, and abdominal tumors.
- In Perak, flowers bruised in cold water are used as poultice for headaches.
- In South America, root extract used as emetic and laxative. Decoction of plant used as abortifacient.
- In the Peruvian Andes, juice or powder of aerial parts used as antidote for snake bites. (19)
- In Mexico, use for pimples, gonorrhea, warts, headaches, cough, angina, muscle aches, eye infections, fever, scorpion stings, and as oral, topical, vaginal and eye wash. (22)

Studies
• Thrombin-like Activity: Study sought to validate the scientific basis of the plant latex to stop bleeding of fresh cuts. Cysteine proteases from Asclepias curassavica latex exhibited strong pro-coagulant thrombin-like action. This could be the basis for the plant latex use in folk medicine.(1)
• Calotropin / Cytotoxicity: Study of alcoholic extract showed cytotoxic activity when tested in vitro against cells derived from human carcinoma of the nasopharynx. Calotropin is similar to two cardiac glycosides shown to be responsible for the cytotoxicity of Apocynum cannabinum. (2)
• Antioxidant: Study concludes the hydroalcoholic extract of A. curassavica had significant antioxidant activity, which may be useful for use in various oxidative stress-related diseases. (3) Study evaluated a hydroalcoholic extract of aerial parts for in vitro antioxidant activities. Results showed significant antioxidant activity which might be helpful in preventing or slowing the progress of various oxidative stress-related diseases. (17)
• Anticancer / Cardenolides / Cytotoxic Principles: Study isolated cardenolides and related compounds from the aerial parts and roots of the ornamental milkweed, Asclepias curassavica. Most of the cardenolides showed pronounced cytotoxicity against four cancer cell lines with IC50 0.01 to 2.0 µg/ml. (4)
• Asclepin / Cardiac Effect: Study evaluated the in vitro effects of the asclepin, a glycoside, on isolated atrium and heart of guinea pig. Results showed a marked positive inotropic effect evidenced by increase force of contraction. (5)
• Antimicrobial: Plant root extracts were screened against bacteria and fungi. The crude extract of of methanol was effective against Clavibacter michiganense. Crude extract of chloroform was more effective against Aspergillus niger. (6)
• Asclepain c-II / Cysteine Protease: Study isolated and purified a new cysteine protease, asclepain c-II, from the latex of A. curasavica, which could be useful in pharmaceutical and biotechnology industries. Proteases are enzymes that catalyze the degradation of peptides and proteins, playing a significant role in numerous physiologic processes in living beings and used in various industrial processes. (7)
• Chemopreventive Potential / B-Sitosterol / Colon Cancer: ß-sitosterol induced significant dose-dependent growth inhibition of a colon-cancer model, induced apoptosis by scavenging reactive oxygen species, and suppressed the expression of ß-catenin and PCNA in human colon cancer cells. Results suggest a chemopreventive potential and a potential anticancer drub for colon carcinogenesis. (8)
• Leaf and Root Extracts / Antibacterial: Study investigated the antibacterial activity of leaves and roots of different solvent extracts. E Coli and Klebsiella pneumonia showed greatest sensitivity against methanol and petroleum spirit root extracts. (10)
• Antioxidant / Antiproliferative: Study evaluated 10 traditional medicinal plants for antioxidant and antiproliferative activities. The plants are used in the traditional Indian system of medicine as a cure for cancer. All ten showed significant antioxidant and antiproliferative activities in a concentration- and time-dependent manner. with Asclepias curassavica showing the highest activity. (11)
• New C21 Steroidal Glycosides: Study isolated six new C21 steroidal glycosides, named curassavosides A-F from the aerial parts, along with two known oxypregnanes. While all were tested for in vitro cytotoxicity, only compound 3 showed slight inhibitory activity against Raji and AGZY cell lines (12).
• Latex / Papain-like Protease: Study isolated a new papain-like endopeptidase (asclepain-c-II) from the latex extracted from petiole. Proteases are enzymes that catalyze the degradation of peptides and proteins, playing significant roles in many physiologic processes in living beings, as well as different industrial processes. Results suggest it may be useful in the pharmaceutical and biotechnology industries. (13)
• Antimicrobial / Root Extract: Study evaluated different root extract solvents for antimicrobial activity against three bacteria and three fungi. A crude extract of chloroform was effective against Pseudomonas solanacearum and E coli, and showed antifungal activity against Aspergillus niger. (14)
• Silver Nanoparticles / Leaf Extract: Study reports on the fast and convenient method for the green synthesis of silver nanoparticles using the leaf extract of Asclepias curassavica. (16)
• Clotting Activity of Latex: The latex of AC contains many proteins and exhibits strong proteolytic activity. Study sought to identify the clotting factor the crude latex extract of A. curassavica and analyze the thrombin like activity of the clotting factor. In-silico studies showed the cysteine protease of A. curassavica interacts with the coagulation factors. The compounds Asclepain cI and cII were readily involved in the clotting activity and were also found to reduce the time of coagulation. (18)
• Cytotoxicity / Cardenolides and Cardenolide Glycosides / Aerial Parts: Study of aerial parts isolated a new cardenolid, a new doubly linked cardenolide glycoside, together with 11 known compounds. All the isolates were evaluated for cytotoxic activity against HepG2 and Raji cell lines. Asclepin (9) showed the strongest cytotoxic activity with IC50 of 0.02 µM against the two cancer cell lines. compound 13 showed significant toxicity with IC50s of 0.69 and 1.46 µM, respectively. (see constituents above) (21)
• Asclepiasterol / Modulatory of Tumor Multidrug Resistance / Down-Regulation of P-gp Expression: Multidrug resistance (MDR) mediated by P-glycoprotein (P-gp) is a major cause of cancer therapy failure. Study identified a novel C-21 steroidal glycoside, asclepiasterol, capable of reversing P-gp-mediated MDR. It enhanced the cytotoxicity of P-gp substrate anticancer drugs in MCF-7/ADR and HepG2/ADM cells. Study suggests asclepiasterol could be developed as a modulator for reversing P-gp-mediated MDR in P-gp-overexpressing cancer variants. (23)
Availability
- Wild-crafted.
- Seeds in the cybermarket.