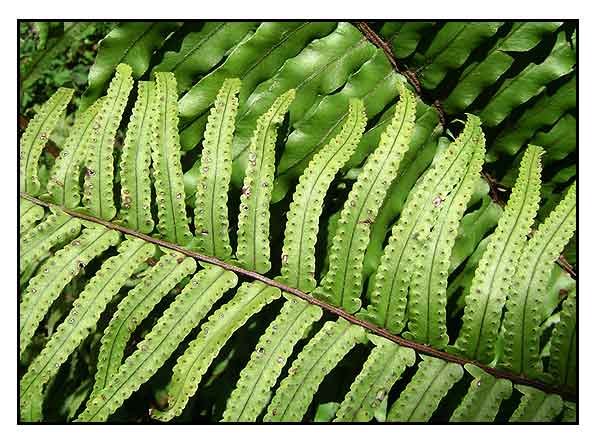 Gen info
- Ferns are the informal name given to a diverse group of vascular plants with over 10,500 species.
- Nephrolepidaceae is widely distributed in tropical regions, sometimes cultivated as ornamental sword ferns, with Nephrolepis as its sole genus, which was formerly placed in Lomariopsidaceae.
- Nephrolepis is a pantropical genus of about 20 species, and is probably the most popular source of commercially used fern. (3)
Botany
Nephrolepis hirsutula is a terrestrial fern forming tufts of 4–8 fronds (or more). Runners often forming stilts supporting the erect rhizome, 1–2 mm thick, branching angle narrow. scales on runners sparse or dense, appressed or spreading. Tubers absent. Fronds 90–210 by 15–20 cm, stipe 32–80 cm long. Lamina base reduced, tapering over 15–30 cm (or more), basal pinnae 3.5–8 cm long, 2–5 cm distant, middle pinnae straight (sometimes recurved). Sterile pinnae 8–10 by 1.2–1.6 cm, herbaceous, thick, base strongly unequal, basiscopic base truncate or rounded, acroscopic base truncate, strongly auricled (with narrow auricle), margin in basal part entire, towards apex crenate, apex acute. Fertile pinnae 7.5–11 by 0.9–1.1 cm, more strongly crenate than the sterile pinnae. Indument basal scales peltate, appressed, 1.5–23.5 by 1 mm, central part dark brown or blackish, shining, hyaline margin wide, ciliate, marginal glands, absent apex obtuse, rachis scales very dense, with a well-developed protracted acumen, spreading or squarrose, rufous, acumen strongly dentate. Scales on lamina usually persistent. Hairs absent from lamina and costae. Sori submarginal to nearly medial, 24–33 pairs on fully fertile pinnae, round, not impressed. Indusium reniform, with open sinus, attached at sinus. (Hovenkamp and Miyamoto (2005) (3)
Rhizome erect, very short, bearing a tuft of leaves and many long slender runners, bearing appressed, imbricating, hairy scales 3-4 mm long. Petiole 25 cm or longer, scaly; lamina erect or arching, in outline 60-100 cm × 16 cm, pinnae very close and overlapping with their widened bases, covered with small hair-like scales when young, lowest pinnae more widely spaced and 1.5 cm long; sterile pinnae up to about 8 cm × 1.5 cm with a triangular auricle at base, margins irregularly crenate, slightly falcate at apex, veins hardly visible in living plant, ending in small hydathodes near the margin often with white scales; fertile pinnae narrower, up to about 1 cm wide. Sori close to or touching the margin; indusia round-reniform, about 1 mm in diameter. (7)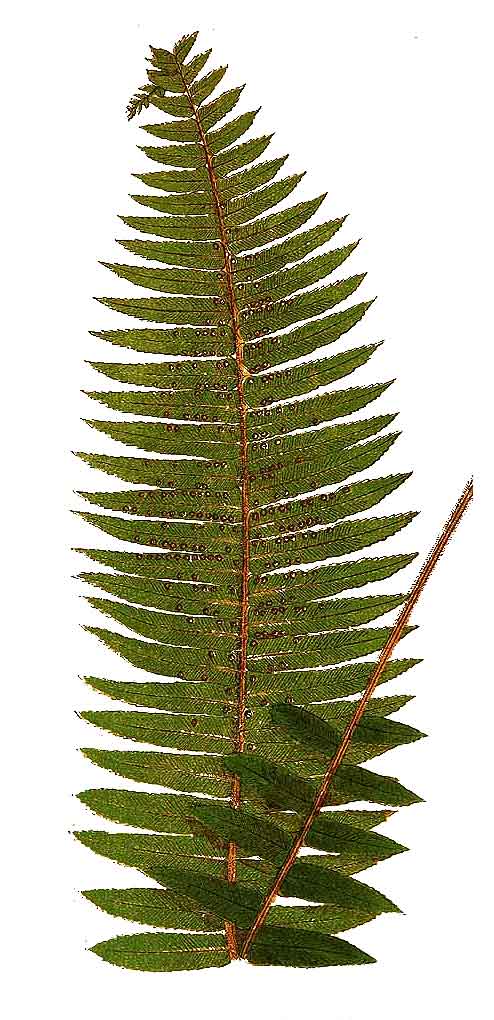 Distribution
- Native to the Philippines.
- Common in Philippine gardens.
- Ornamental cultivation.
- Not considered invasive.
- Also native to Australia, Bismarck Archipelago, Borneo, Fiji, Hawaii, Jawa, Lesser Sunda Is., Malaya, Maluku, Myanmar, New Guinea, Northern Territory, Ogasawara-shoto, Samoa, Sulawesi, Thailand, Vietnam, etc. (1)
Constituents
- Phytochemical screening of leaf extracts yielded alkaloids, phenols, tannins, flavonoids, reducing compounds, polyuronides, saponins, and terpenoids. Total phenol content was 6.41 ± 0.39 mg/g GAE. Flavonoid content 40.48 ± 0.44 mg/g quercitin. Tannic acid content was 9.79 ± 0.16 mg/g. (2)
- Study of leaf extract yielded total phenol content of 6.41 mg/g GAE , flavonoids 404.48 mg/g quercetin, and 9.79 mg/g tannic acid. Ethanol was considered the ideal solvent for higher extraction. (9)
- Qualitative phytochemical screening of of various extracts (PE-petroleum ether, He -hexane, Chl - chloroform, EA -ethyl acetate, Me - methanol, Et -ethanol) yielded alkaloids (all), phenols (all), tannins (Chl), flavonoids (EA, Me, Et), reducing compounds (Me, Et), polyuronides (Chl), terpenoids (all), with absence of saponins.
Properties
- Study suggested phytoremediative property.

Parts used
Tubers, fronds.

Uses
Edibility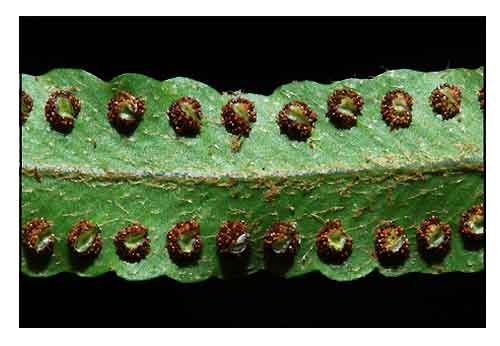 - In Indonesia, leaves consumed as stir-fry vegetable. (5)
Folkloric
- No reported folkloric medicinal use in the Philippines.
- In Garhwal, decoction of fresh tubers and fronds drunk to treat cough, (4)
- Young leaves are used as poultice for swelling wounds and boils. (7)
- Leaves used for treating diarrhea. Leaf shoots used for coughs, healing ulcers and sores.
- In Tahiti, used for the treatment of wounds. In Fiji, use for treatment of diarrhea.
Others
- Ornamental: Used as backdrop for wreaths and bouquets.
- Crafts: In the Philippines and Indonesia, the fibro-vascular bundles of stems are extracted and occasionally used for making, hats, mats, baskets, and wickerwork. (7)

Studies
• Phytoremediation / Chromium: Study evaluated the potential of ferns for phytoremediation. The ferns showed preferential absorption of some heave metals. Of the heavy metals, chromium was the most preferred, and among nontoxic ones, iron was the highly absorbed metal. Nephrolepis hirsutula showed Cr accumulation in the leaf with 3244.44 ppm. (6)
Availability
- Wildcrafted.
- Cultivated.