Gen info
Indigenous in Southeast Asia; sometimes called the "fruit from heaven," believed to promote longevity, health and vitality.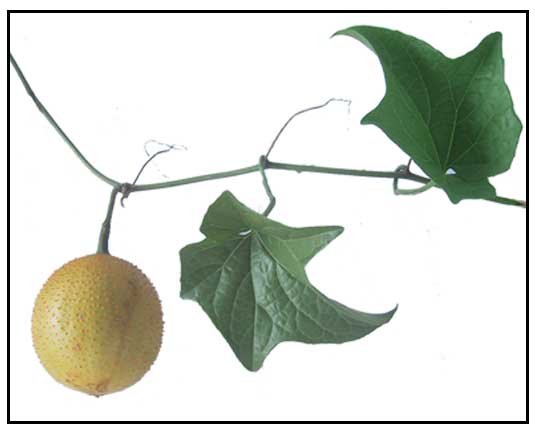 Botany
Balbas-bakiro is a coarse and dioecious vine reaching a length of 15 meters, slightly hairy or nearly smooth, climbing by tendrils. Leaves are broadly ovate, 8 to 18 centimeters long, deeply palmately 3-lobed, sometimes entire, with pointed tips and heart-shaped bases. Male flowers occur singly in the leaf axils on peduncles 5 to 15 centimeters long. Buds, enclosed by a large, green inflated bracteole which is inhabited by ants, open at full bloom and turn yellowish. Peduncles of the female flowers are 2.5 to 5 centimeters long. Calyx is nearly black with 5 acuminate lobes about 2 centimeters in diameter. Petals are pale yellow, oblong to oblong-ovate, with a large dark-colored blotch at the base. The fruit is large, ovoid to rounded, 8 to 12 centimeters in diameter, yellow and roughened with scattered, tubercle-like spines. Seeds are large, flattened, circular, embedded in an orange-yellow pulp.
Distribution
- In thickets and secondary forests at low and medium altitudes in Cagayan, Bontoc, Benguet, Ilocos Sur, La Union, Tarlac, Pangasinan, Rizal, Bulacan, Cavite, Laguna, Batangas, and Camarines Provinces in Luzon; and in Mindoro, Biliran, Panay, Guimaras, Camiguin de Misamis and Mindanao.
- Also occurs in India to China and Taiwan, through Malaya to the Moluccas.

Constituents
- Seeds contain no alkaloid.
- Yields a high ß-carotene and lycopene.
- Kernels contain 47 % oil (similar to Chinese tung oil - Aleurites cordata).
- Seeds contain a slightly bitter glucoside.
- High in phytonutrients: (1) Lycopene, relative to mass, 70 times that found in tomatoes. (2) Beta-carotene, 10 times the amount in carrots or sweet potatoes.
- Study yielded six compounds: Heptacosane, ursolic acid, oleanolic acid, 18-pentatriacontanone, stigmast-4-ene-3ß,6a-diol and stearic acid.

Properties
- Pectoral, aperient, abstergent, constructive and resolvent.
- Research suggests anti-cancer constituent.
Considered resolvent, cooling.

Parts used and preparation
Roots, seeds, leaves.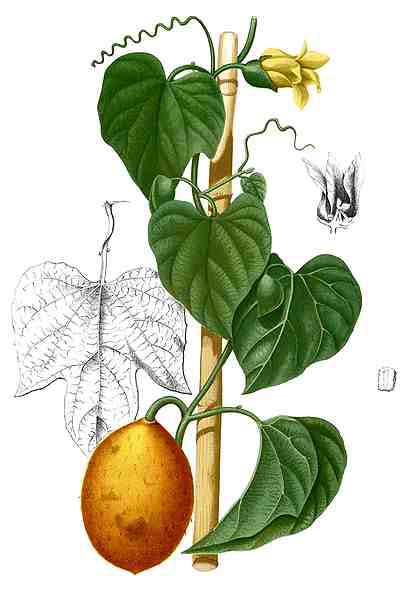 Uses
Nutritional
- Fruit of pulp is edible. Fruit eaten by jungle tribes of Pahang.
- Young shoots and leaves eaten as vegetable.
- In Thailand, young fruits, shoots and flowers are ingredient of curry. After boiling, eaten with chili sauces and rice. Young shoots fried in oyster sauce with shrimp and pork.
- Rice colorant: In Vietnam, used for dish called
"xoi gac" - a mixture of gac seed and pulp with cooked rice with its distinct color and flavor.
- Gac is considered an excellent source of carotenoids, especially beta-carotene and lycopene. The lycopene in the seed membrane, reported at 308 ug/g, is about 10-fold higher than other lycopene-rich fruits and vegetables.
- Gac oil also yield high levels of vitamin E.
Folkloric
- Roots are used for treatment of head lice.
- In the Philippines, seeds, pulverized or decocted, are used as pectoral; also good for coughs.
- In India, plaster made from roots promote hair growth.
- Seeds and leaves are aperient and abstergent; used in hepatic and splenic obstructions, in unhealthy ulcerations, and lumbago. Externally, used for procidentia uteri et ani.
- Seeds are used for treatment of hemorrhoids.
- Seeds considered constructive and resolvent, used for glandular swelling of the neck, mammary abscesses, mesenteric enlargements, bruises, wounds, swellings and ulcers. Used for chronic malaria, enlarged spleen, and fluxes.
- In Vietnam, the seed membranes are used for relief of dry eyes and to promote healthy vision; also used to make a tonic for children and lactating and pregnant women.
- In Chinese medicine, seeds known as "mubiezi," considered cooling and resolvent, used for liver and spleen disorders, wounds, hemorrhoids, bruises, swelling and pus.
Others
- Soap: Roots used as a substitute for soap; for lice infestation.
- Coloring: In Indo-China, the fruits is used for food coloring. In Vietnam, used to color rice for celebratory occasions, like weddings, new years, masking the usual white color of the rice, white considered the color of death.
- Illuminant: Oil from the seeds used as illuminant in Indo-China.

Studies
• Gac / Fruit Carotenoids: The study showed a remarkably high concentration of lycopene. (2)
• Immune Enhancing / Immuno-Modulatory: Immunomodulatory activity of a chymotrypsin inhibitor from Momordica cochinchinensis seeds: A chymotrypsin-specific inhibitor (MCoCI) was isolated from the seed of M. cochinchinensis. It was shown to possess immuno-enhancing and antiinflammatory effects that may explain some of its therapeutic actions. (3)
• Gac with its high level of bioavailable carotenoids may also promote prostate health and protect the eyes from age-related macular degeneration and cataracts. (4)
• Antioxidant: Results of study on the rat hepatocyte system suggest that M cochinchinensis possessed antioxidative activity which explains some of its pharmacologic effects. (6)
• Antioxidant / Seeds: Study showed a chymotrypsin-specific potato type inhibitor from M cochinchinensis possessed antioxidative activity which may account for some of the pharmacologic effects of MC seeds.
• Adjuvant Immune Effect: Study showed extract of C momordica seeds, when used ovalbumin in mice, may induce significantly higher specific antibody production than OVA alone. Results suggest ECMS is safe for injection and can be used as a potential vaccine adjuvant in the production of IgG2a in mice. (15)
• Momorcochin / Abortifacient: Study isolated a glycoprotein from the fresh root tubers of Momordica cochinchinensis. The protein was capable of inducing mid-term abortion in mice.(7)
• Antimicrobial: Crude, partially purified hexane and dichlormethane extracts showed antibacterial and antifungal activity. Results suggest a potential used as antimicrobial compound in traditional medicine. (9)
• Phytochemicals of Fruit Fractions / Antioxidant: Study showed the aril to have the highest contents of both lycopene and beta-carotene, while the yellow peel yielded the highest amount of lutein. Gallic acid and p-hydroxybenzoic acids were found in all fractions. Apigenin was the predominant flavonoid in the red pulp. Total phenolic and flavonoid content in the peel and pulp varied according to fruit development stage. (15)
• Immune Response Enhancement: Study evaluated the immunological effect of Mc extract of seeds on the immune response against Newcastle disease in chickens. Results showed enhancement of humoral immune response by the seed extract 14 days postimmunization. (14)
• Antimicrobial / Antioxidant: A methanolic extract exhibited significant antimicrobial activity against test organisms, particularly S. aureus and E. coli. Antioxidant activity was better than standard drug, ascorbic acid. (16)
• DNA Protective Activity / Fruit Extracts: GAC extracts from pulp, skin, seed membrane, and water were evaluated for cytotoxicity property. .Results showed GAC possesses DNA protective ability against H2O2 and UVC. The degree of anti-oxidative damage activity in human TK6 cells of GAC extracts is SK95>SMW>SK50. (17)
• Attenuation of Diabetic Renal Damage: Study evaluated the preventive effect of a methanolic extract of M. cochinchinensis fruit on renal function in alloxan-induced diabetic rats. Results showed attenuation of diabetic renal damage, probably by its anti-oxidative action and anti-diabetic activity. (18)
• Proteinase Inhibitors: Study evaluated the effects of M. cochinchinensis proteinase inhibitors on several common meat-spoilage bacteria. Results showed the MCoPIs solution inhibited the growth of 4 studied bacteria: Bacillus cereus, Bacillus cereus 3, Bacillus cereus 81 and E. coli. Results indicate an potentiality for the solution for protection of meat from bacterial infection and prolonging meat freshness. (19)
• Anti-Inflammatory / Triterpenoidal Glycoside: Seeds yielded two triterpenoidal saponins: a new gypsogenin glycoside (1) and a quillaic acid glycoside (2). Compound 2 exhibited anti-inflammatory activity on RAW 264.7 cells, through inhibition of lipopolysaccharide-induced expression of nitric oxide and IL-6 via NF-kB pathway. (20)
• Plasma ß-Carotene and Retinol Supplementation in Children / Fruits: ß-carotene from xoi gac is a good source of provitamin A carotenoids, from which severely anemic children might benefit from routine xoi gac consumption. (See Uses/Nutritional above) (21)

Availability
- Wild-crafted.
- Supplements, GAC oil capsules in the cybermarket.