Botany
Tuhod-manok is an erect, branched, smooth undershrub, 0.8 to 1.5 meters high. Leaves are opposite, lanceolate, green or variegated with short petioles, 7 to 14 centimeters long, 1 to 2.5 centimeters wide, pointed at the ends . Flowers are small, in 4- to 12-centimeters long spikes, terminal or in axils of leaves. Calyx-teeth are smooth, linear, and about 3 millimeters long. Corolla is nearly smooth, 1.5 centimeters long, white or pink, with purple spots. Capsule is club-shaped, about 12 millimeters long, and smooth.
Distribution
- Found from northern Luzon to Palawan and Mindanao, in most islands and provinces, chiefly along streams at low and medium altitudes in secondary and primary forests, and sometimes in thickets in and about towns, rarely planted.
- Also occurs in India to Malaya.
Constituents
- Leaves contain a bitter alkaloid (justiciine).
- Leaves are rich in potassium salts.
Properties
- Root is bitter in taste.
- Considered anodyne, antiperiodic, antispasmodic, carminative, diaphoretic, diuretic, emetic, febrifuge and laxative.
- Phytochemical screening showed the presence of alkaloids, flavonoids, saturated steroidal saponins or triterpinoidal saponins and amino acids.

Parts used and preparation
Leaves, roots.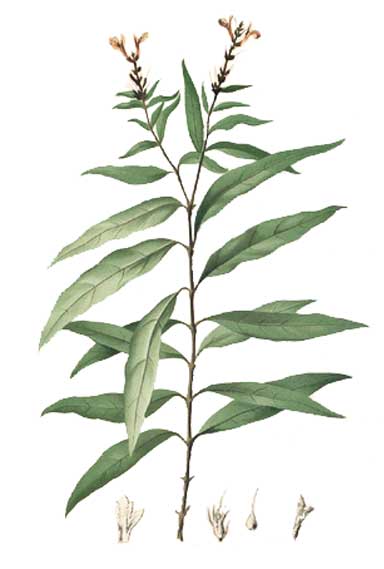 Uses
Folkloric
- Decoction of boiled leaves used for bathing during childbirth or for postpartum baths (see: Suob)
- In the Philippines the juice of 20 to 40 leaves or young shoots, extracted with water and a little wine, used as emetic in coughs and asthma.
- Tea of leaves, 50 gms to a liter of boiling water, 5 glasses daily for fevers, cough, asthma, dysuria.
- Fresh juice of leaves for children's cough and colic.
- Used for respiratory tract infections.
- Mix 2 ounces of fresh juice from leaves with 1 ounce of coconut oil as a poultice for rheumatism.
- Infusion of leaves for headaches.
- Fresh juice of leaves for ear aches.
- Fresh leaves used as topicals to cure the edema of beriberi; also used for rheumatism.
- Fresh juice of leaves, mixed with mustard, is used as an emetic; also for asthma.
- Bark used as emetic.
- Tea of bitter tasting root for diarrhea, dysuria fevers: 50 gms to a pint of boiling water, 4 glasses daily.
- Warmed salted leaves and tender stalks, in a bag, over musculoskeletal aches.
- Roots boiled in milk given for rheumatism, dysuria, fever, carbuncles, jaundice, and diarrhea.
- In the Antilles plant decoction or wine infusion (30 gm in 1 liter of water) used for intermittent fevers.
- Root, boiled in milk, for rheumatism, dysuria, fever, carbuncles, and diarrhea.
- Leaves rubbed with Crinum asiaticum and black pepper used externally for lumbago.
- Decoction of leaves for as diaphoretic and febrifuge.
- Leaves are scattered in-between clothes to protect from insects.
- Oil prepared from leaves useful for eczema.
In Sri Lanka, used for its analgesic action.
Others
- Repellant: Dried leaves repel insects from clothing.
Studies
• Antinociceptive / Antioxidant: Study of JG aqueous leaf extract showed moderate and significant antinociceptive action, dose-dependent and of moderate duration. In addition, it also showed strong antioxidant activity.
• Immunosuppressive: Study of four medicinal plants that included J gendarussa showed inhibition of lymphocyte proliferation and suggests the extracts should be further investigated for their immunosuppressive components.
• Larvicidal / Mosquitocidal: Study of 11 commonly available medicinal plants, including J gendarussa, was evaluated for it larvicidal and mosquitocidal activities against Anopheles stephensi. All the extracts were found effective and the results suggest that these extracts are easy to prepare, inexpensive and safe for mosquito control.
• In Vitro HIV-1 Reverse Transcriptase Inhibition: Study of 20 Thai medicinal plants, J gendarussa was one of the extracts that showed reverse transciptase inhibition.
• Anti-Arthritic: Study of ethanolic extract of J gendarussa showed significant anti-arthritic activity statistically similar to aspirin.
• Anti-Angiogenic: Study showed both aqueous and ethanolic extracts of leaves of J gendarussa dose-dependently inhibits angiogenesis and provides scientific basis for its traditional use in the treatment of arthritis.
• Antioxidant / Hepatoprotective: Study showed the leaf extract of Justicia gendarussa has moderate hepatoprotective effect which may be due to its antioxidant and free radical scavenging potential.
• Anti-Inflammatory: Study of ethanol extract of leaves exhibited a modulatory function in inhibition of NO, iNOS, and MMP-9 in invitro studies providing supporting evidence for the anti-inflammatory properties of J. gendarussa and its potential use in the management of inflammatory conditions like arthritis.
• Anthelmintic: Study of crude methanolic extract of dried leaves and stems exhibited significant anthelmintic activities against Pheretima posthuma. Albendazole was the positive control.
• Anti-Inflammatory / Antinociceptive: Study of ethanol extract of leaves screened for anti-inflammatory and antinociceptive activity in animals exhibited significant inhibition of pain in the acetic acid writhing and hot plate models in mice.
• Male Contraceptive / Renal Precautions: Study has yielded Gandarusin A and reported to have an antifertility effect by preventing spermatozoa penetration by degrading activity of hyaluronidase enzyme. In a 72-day study, a 70% ethanol extract altered the levels of creatinine and calcium. Results caution the use in patients with renal dysfunction.

Availability
Wild-crafted.