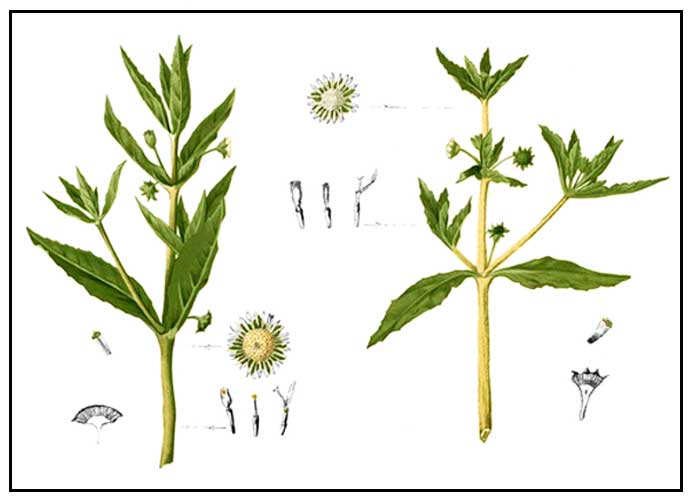 Botany
Tinta-tintahan is a decumbent, spreading or sometimes suberect, succulent annual herb with bristly hairs. Stems are rather slender, usually reddish and up to 30 centimeters or more in length. Leaves are linear-oblong to lanceolate, 1 to 5 centimeters long, without petioles, entire or slightly toothed, and pointed or blunt at the tip. Flower receptacles are scaly, bracts all similar, paleae (scale) of receptacle flat and narrow. Ray flowers female, 2-seriate, fertile or sterile, white, ligule small, narrow, entire or 2-toothed. Disk flowers very numerous, perfect, fertile, tubular, the limb 4- or 5-fid. Flowering heads white, 5 to 6 millimeters long and about 5 millimeters in diameter. Fruits are achenes, black, about 3 millimeters long and smooth or slightly hairy at the tip.

Distribution
- Ubiquitous weed in settled areas , in gardens, in open waste places, ditches, rice fields and low damp lands.
- Found in all warm countries.
Parts utilized
· Part utilized: whole plant.
· Collect when the vegetative parts are in full bloom. Sun-dry, either whole or cut into pieces.
Constituents
- Plant contains a large amount of resin and an alkaloid ecliptine.
- Studies yielded coumestans, polypeptides, polyacetones, triterpenes and flavonoids.
- Methanolic extract yielded tannins , flavonoids, coumestans, saponins, alkaloids, etc.
- Proximate analysis of fresh plant material yielded moisture 79.02 ± 0.03%, ash 15.78 ± 1.12%, organic matter 84.22 ± 1.12%, fiber 2.22 ± 0.04%, carbohydrates 67.50 ±1.5%, proteins 2.6 ± 0.05%, and lipids 4.87 ± 0.42% and major phytochemicals viz., alkaloids, saponins flavonoids, phenols, tannins, sterols, cardiac glycosides and anthraquinone glucosides. (see study below) (30)
- Study of aerial parts for volatile compounds yielded 55 compounds with main components as follows: heptadecane (14.78%), 6,10,14-trimethyl-2-pentadecanone (12.80%), n-hexadecanoic acid (8.98%), pentadecane (8.68%), eudesma-4(14),11-diene (5.86%), phytol (3.77%), octadec-9-enoic acid (3.35%), 1,2-benzenedicarboxylic acid diisooctyl ester (2.74%), (Z,Z)-9,12-octadecadienoic acid (2.36%), (Z)-7,11-dimethyl-3-methylene-1,6,10-dodecatriene (2.08%) and (Z,Z,Z)-1,5,9,9-tetramethyl-1,4,7-cycloundecatriene (2.07%). (see study below) (32)

Properties
- The crushed leaves and broken surface of the vegetative parts produce a black stain.
- Cooling, anodyne, astringent, absorbent, coagulant.
- Root is purgative and emetic.
- Anti-bleeding. A tonic for kidney organ. Tastes sweet-sour.
- Studies have suggested analgesic, antifungal, antibacterial, antihepatotoxic, antioxidant, antihemorrhagic, immunomodulatory and antihyperglycemic properties.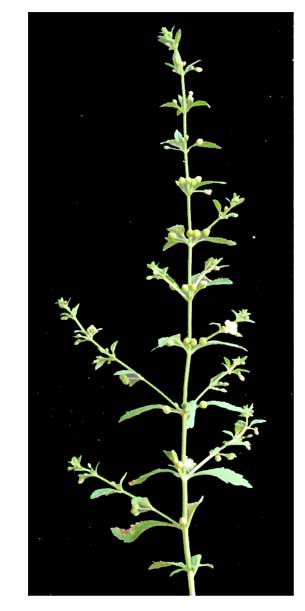 Uses
Edibility
· In Java, leaves are cooked and eaten.
Folkloric
· In the Philippines, the leaves and tops brewed in decoction are used in cases of hepatitis. Pounded, they are employed for healing wounds.
· Decoction of Eclipta (15-30 g of dried material) with equal volume of Morus fruit: Used for weakness of the kidney and/or liver causing dizziness, blurring of vision, hematemesis and lumbar pains.
· Decoction of dried or fresh plant material: Used for internal hemorrhage especially bleeding in the respiratory and gastrointestinal tracts (e.g., pulmonary tuberculosis, gastrointestinal hemorrhage, hematuria).
· For bleeding due associated with superficial injuries - get fresh plant, crush and use as an emollient over wound to aid in coagulation.
· For bloody stool and urine of any cause: boil 4 to 9 gms of dried drug to decoction and drink twice a day.
· External wash of decoction of 15-30 g dried material: Used for athlete's foot, eczema and dermatitis.
· Dysentery: boil dried drug 15 to 30 gms to decoction and smaller dosage for infants.
· For sprains, furuncle, dermatitis: 15 to 30 gms of dried material in decoction or use pounded fresh material as poultice.
· Fresh plant applied with sesamum oil in elephantiasis; expressed juice taken internally for affections of the liver and in dropsy.
· Poultice of leaves for wound healing.
· Roots used for wound healing.
· In Ayurveda used for epigastric pains, nausea and vomiting in ulcer patients. Also, used as a liver tonic, and in a variety of chronic skin ailments. Also used for hair loss treatment and hair dyeing.
· In the Antilles plant is applied as cataplasm or topical for cut wounds; also used as cicatrizant.
· In Malaya, decoction used for colic.
· In La Reunion used as pectoral and antiasthmatic.
· In Chota Nagpur used for conjunctivitis.
· In Java pounded and applied externally for ringworm.
· Among the Malays root decoction used by women after childbirth.
· In Taiwan, used for bleeding, hemoptysis, hematuria, itching, hepatitis, diphtheria and diarrhea.
· In China, leaf extract used as liver tonic. Also, used as astringent, and for checking hemorrhages and fluxes and fro strengthening the gums. Also, used as vulnerary.
· In China and Brazil, used as anti-venom against snakebites.
· In Brazil, leaves are used as remedy for diarrhea and as black stain for the hair.
· In the Gold Coast leaves are ground and mixed with water, and drunk for constipation.
· In India, used to treat hepatic diseases and hyperlipidemia. In Bombay, used as tonic and deobstruent in hepatic and splenic enlargements, and for various chronic skin diseases.
Others
· Dye: Leaves used for tattooing for a blue color to the punctures; also used for hair dyeing.
· Pounded leaves with coconut oil used for hair growth.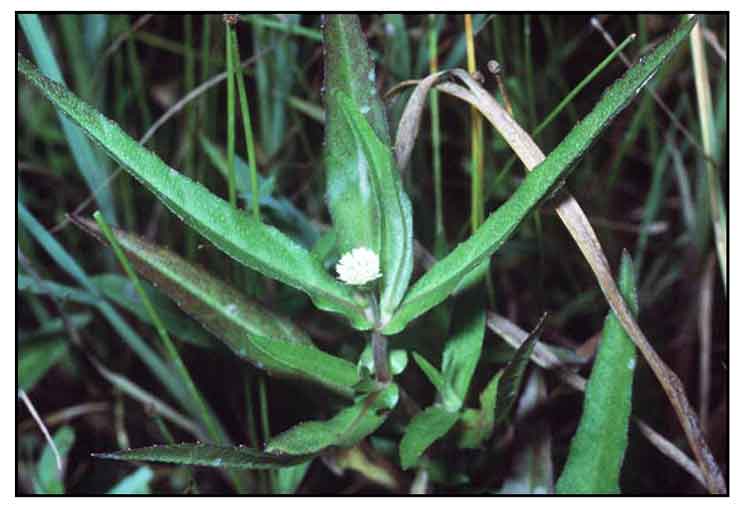 Studies
• Hypoglycemic: Study shows oral administration of a leaf suspension of E alba for 60 days resulted in significant reduction of blood glucose, HbA1c and other parameters. Results show the oral administration of E alba possess potent antihyperglycemic activity evidenced by significant reduction of liver enzymes and reduction in histopathological changes. (2)
• Hepatoprotective / Paracetamol Induced Toxicity: Treatment with ethanol extract of EA protected mice from the hepatotoxic action of paracetamol. (3)
• Hepatoprotective / Acetaminophen Induced Toxicity: Study showed different extracts of E alba have different hepatoprotective effects on injured liver induced by acetaminophen in mice. The hepatoprotective activity of the ethyl acetate extract of E alba showed to be the best.
• Hepatoprotective: Study of E alba in rats for its hepatoprotective effects on subcellular levels showed the activity is achieved by regulating the levels of hepatic microsomal drug metabolizing enzymes. (15)
• Diuretic / Hypotensive / Hypocholesterolemic: Study suggests EA is diuretic, hypotensive, and hypocholesterolemic and helps in alleviating oxidative stress-induced complications of hypertension. (6)
• Osteoporosis: Stimulatory Constituents of Eclipta prostrata on Mouse Osteoblast Differentiation : Study isolated one flavonoid, diosmetin, and two isoflavonoids. All three significantly increased osteoblast differentiation and suggests a possible therapeutic potential for the treatment of osteoporosis.
• Lipid lowering: Study showed a dose-dependent activity in albino rats and supports its traditional use in the treatment of hyperlipidemia.
• Antibacterial / Antioxidant: Screening of antibacterial and antioxidant activities of leaves of Eclipta prostrata (L): Study showed EE showed antioxidant and antibacterial activity, and that EP could be used against Salmonella typhi.
• Larvicidal: Larvicidal effect of Hemidesmus indicus, Gymnema sylvestre, and Eclipta prostrata against Culex qinquifaciatus mosquito larvae: Study showed leaves of E prostata can be an environmental friendly and sustainable source of insecticide for mosquito control. (5)
• Wedelolactone / Antibacterial: Wedelolactone is a naturally occurring coumestan isolated from the aerial parts of E alba. The compound showed good activity against Staphylococcus epidermis and Salmonella typhimurium. Results suggest wedelolactone as a promising antimicrobial agent. (9)
• Antioxidant: Ethanolic extract of the aerial parts of E alba showed significant free radical scavenging for DPPH and for hydroxyl radical and considerable inhibition of lipid peroxidation. (10)
• Analgesic: Study showed both the ethanol extract and the total alkaloids produced good analgesic activity in all the different models of analgesia. (11)
• Hypolipidemic / Antioxidant: Study showed the effects of E prostata on serum lipid and oxidative metabolism in rats. The health promoting effects demonstrated in rats may have implications for atherosclerosis and hypercholesterolemia in humans. (12)
• Anti-Inflammatory: Study of methanol extract showed significant dose-dependent anti-inflammatory activity in carrageenin and egg white induced hind paw edema in rats, with effected comparable with standard drug indomethacin. Results support the traditional use of E prostata in the treatment of inflammatory diseases. (13)
• Learning and Memory: Traditionally used for its memory enhancing property, study of extract from shade-dried leaves revealed significant improvement of retrieval memory. Luteolins in the extract may be responsible for minimizing cognitive deficits dues to cholinergic dysfunction. The free radical scavenging activity might insulate neuronal tissues from degeneration. E Alba presents a potential as memory modulator. (14)
• Anthelmintic: Study showed anthelmintic potential of a methanolic extract of whole plant of Eclipta alba against Pheretima posthuma as a species of earthworm. (16) Study investigated the anthelmintic activity of various extracts of Eclipta prostata against adult Haemonchus contortus worm model. A methanolic extract gave the most activity, followed by water and acetone. (31)
• Hair-Growth Promoter: A methanol extract tested for hair growth promoting potential. It showed dose dependent activity in mice, promoting hair growth by inducing anagen transformation in telogen phase hair follicles. Effect was similar to minoxidil. Results suggest a potential for the fraction to be a hair growth promoter. (19)
• Antioxidant / Cytotoxic / Antimicrobial: An ethanol extract showed DPPH free radical scavenging activity, antimicrobial activity, and a brine shrimp lethality bioassay of 94.3 ug/ml. Extract was non-toxic in acute toxicity study in mice. (20)
• Anticancer: Study evaluated E. alba as an anti-cancer agent using HepG2, C6 glioma and A498 cell lines. Results showed dose-dependent inhibition of cell proliferation, DNA damaging and anti-metastasis properties of EA. (21)
• Antileptospiral / Antioxidant / DNA Damaging Property: Study of E. alba and P. amarus showed effective inhibitory action against Leptospirosis. Methanol extracts of both plants showed dose dependent scavenging of free radicals and damaged the DNA from reactive oxygen species induced cleavage. (22)
• Corrosion Inhibition: Study evaluated A. vasica, Eclipta alba, and Centella asiatica on the corrosion of mild steel in 1N HCl. Among the three plant extracts studied, maximum inhibition efficacy was found in Eclipta alba which showed 99.6% inhibition efficacy at 8.0% v/v concentration of the extract. (23)
• Antidepressant: Study evaluated the antidepressant activity of a leaf extract of E. alba in a rat model. Results showed significant antidepressant effect comparable to Fluoxetine and imipramine. (24)
• Hepatoprotective / CCl4- Induced Damage / Reduction of Lysosomal Enzymes: A methanolic extract of leaves and chloroform extract of roots showed significant hepatoprotective activity in CCl4-induced liver damage model in wistar albino rats. (25)
• Anticonvulsant / GABA A- Mediated Effect: Study evaluated a methanol extract of E. alba in pentylenetetrazole- and picrotoxin-induced seizure models for its effects on levels of GABA in mice brain. Results showed potent anticonvulsant activity attributed to positive modulatory effects on GABA A receptors. (26)
• Modulation of Genotoxicity of Ethinylestradiol in Cultured Human Lymphocytes: Estradiol is both a genotoxic agent and a tumor initiating agent, used in oral contraceptive formulations and treatment of various sexual and metabolic disorders. Study of E. alba extract did not show any genotoxic potential per se, but can modulation of genotoxicity in cultured human lymphocytes. (27)
• Hair-Growth Promoting Activity / Comparison with Minoxidil : Study of 2 and 5% petroleum ether extracts showed hair growth promoting activity better than positive control minoxidil 2% treatment. (28)
• Antimicrobial: Various extracts showed varying antimicrobial activity against tested microorganisms. Maximum number of test strains were inhibited by the ethyl acetate extract. The aqueous extract inhibited four strains viz., B. subtilis, B. cereus, S. aureus, and Candid albicans. (see constituents above) (30)
• Osteoblastic Proliferation: Study of aerial parts for volatile components yielded 55 compounds. (see constituents above) Study showed volatile components and ethanolic extract of aerial parts significant stimulated the proliferation and increased ALP activity of primary osteoblasts. Results suggest an important role in osteoblastic bone formation and a potential in the development of bone-forming drugs. (32)
• Effect on 11Beta-Hydroxysteroid Dehydrogenase: The oral administration of EP significantly increased activity and expression of of 11ß-HSD I in liver and 11ß-HSD II in kidney, which may attribute to the mechanism by which EP improves the efficacy and reduces adverse drug reactions of glucocorticoid in patients undergoing combinational therapy. (33)
• Anti-Aggression Activity: Study investigated the ability of an aqueous extract of E. alba to circumvent aggression, using foot shock induced aggression test and water competition test in animal models. E. alba significantly minimized dominance which correlated with the level of aggression. (Lobo OJ, Banjid et al / Evaluation of anti-aggressive activity of E. alba in experimental animals. Pak J. Pharm Sci, 2008, Vol 21, No 2) (34)
• Inhibitory Effect on Skin Carcinogenesis: Study evaluated the anti-tumor promoting activity of Eclipta alba on two stage carcinogenesis induced by single topical application of DMBA in Swiss albino mice. Results showed significant reduction of cumulative number of papillomas, tumor yield, and tumor burden with histopath evidence of reduction in tumor size and slow growth of tumors in the treated group. (35)
• Mosquito Larvicidal and Ovicidal / Aedes aegypti: Study investigated the larvicidal and ovicidal activities of various leaf extracts of E. alba against dengue vector, Ae. aegypti. Results showed the crude extract has an excellent potential for controlling Ae. aegypti mosquito. (36)
• Eclipta alba VS Metformin in Diabetic Patients: Study investigated the antihyperglycemic effect of metformin compared with Eclipta alba. There was no difference in the reduction of fasting blood glucose in Eclipta alba and metformin group. Results suggest the antihyperglycemic effect of E. alba is comparable to that of metformin. (37)

Availability
Wild-crafted.
Capsules, tinctures and supplements in the cybermarket.