Botany
Tayum is an erect, branched, half-woody plant, 1 meter or less in height. Stems are sparsely covered with short, appressed hairs. Leaves are 5 to 8 centimeters long. Leaflets are 9 to 11, oblong to elliptic-oblong, 1 to 2 centimeters in length, pale, and appressed-hairy beneath. Flowers are red, about 5 millimeters long, borne on axillary and solitary racemes 2 to 3 centimeters in length. Pods are numerous, crowded, reflexed, strongly curved, 1 to 1.5 centimeters long, containing 6 to 8 seeds.
Distribution
- In waste places in and about towns, locally abundant, occasionally cultivated, from the Batan Islands and northern Luzon to Mindanao.
- Pantropic.
Constituents
- Indigo: One of the sources of natural indigo; along with Indigofera tinctoria, represents the chief indigo of commerce.
- Phytochemical screening yielded alkaloids, iridoids, saponins, carbohydrates, coumarins, flavonoids, phenol, terpenoids, and indigo carmine, sterol and essential oils (linalool and pinene).
- Phytochemical screening of leaves yielded reducing sugar, tannin, flavonoid, phenol, alkaloid, glycoside, and steroid. (see study below) (15)
- GC-MS analysis of leaves yielded the presence of nine different phytochemical compounds viz., pentadecanoic acid,14-methyl-,methyl ester (5.86%), n-hexanedecanoic acid (9.83%), z-[13, 14- epoxy]tetradec-11-en-1-ol acetate(6.37%), oleic acid(10.43%), 9-octadecenoic acid[z]-,2-hydroxy-1-[hydroxyl methyl]ethyl ester(10.21%), heptanoic acid, docosyl ester(6.28%), octadecanoic acid, 7-hydroxy-, methyl ester(4.89%), 6-octadecenoic acid[z]-(18.47%), and 8-octadecenoic acid, methyl ester(14.97%). (17)
Properties
- Considered febrifuge, vulnerary, purgative, antispasmodic, diuretic, stomachic.
- Studies have suggested antifungal, antibacterial, antitumor, antimycobacterial, mosquitocidal, immunostimulatory, gastroprotective properties.

Parts used
Seeds, roots, leaves.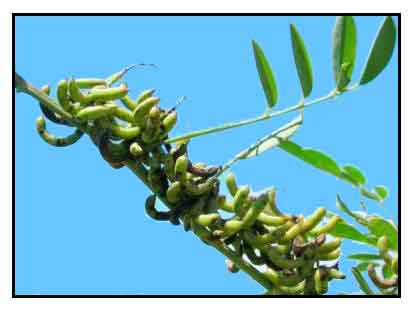 Uses
Folkloric
- Bruised leaves used as anodyne in warm baths.
Decoction of leaves used as sudorific.
Aztecs used the seeds for urinary diseases and ulcers.
Poultice of seeds applied to the head for fever.
Whole plant used as a remedy for syphilis.
Used for epilepsy.
In Brazil, a reputed remedy for snake bites.
In the U.S., applied to stings of bees and other insects.
In Mexico, leaves used as cataplasm or decoction, applied to child's forehead for fever, or other painful areas.
Powdered seeds used for ulcers.
Others
- Manure: In Malaya and Java, used to be cultivated as green manure.
- Dye: Source of indigo dye.
- Cover crop: Also used as a perennial cover crop for coffee.
- Roots and seeds, powdered, decoction or infused in rum, used for destroying vermin upon the human body.

Studies
• Antibacterial / Antifungal / Leaves: Studies of various extracts of Indigofera suffruticosa showed the aqueous extract of leaves with strong inhibitory activity against S aureus and against dermatophyte strains - Trichophyton rubrum and Microsporum canis. Results suggests aqueous extracts of leaves of IS by infusion can be used as treatment of dermatophytic skin diseases. (1)
• Mutagenicity: Flavonoid and alkaloid fractions showed mutagenicity. The alkaloid fraction contained indigo and indirubin; indigo was found mainly responsible for the mutagenic activity. Results also suggest that indiscriminate use of homemade preparations of the plant can be dangerous to health, and that natural products, like synthetic medicines, need to be evaluated with regard pharmacologic properties, toxicity, dosage and safety. (2)
• Antitumor / Leaves: Aqueous extracts of leaves of Indigofera suffruticosa showed a tumor reducing activity on Sarcoma 180 in mice. The actual mechanism is not known, but the antitumor activity may be due to its interference with cell development. (3)
• Embryotoxicity: In a study of the aqueous extract of leaves of IS for adverse effects in preimplantation mouse embryos showed embryotoxicity effects that suggest use of AELIs may be hazardous to humans who make use of it in folk medicine. (4)
• Antimycobacterial: A study evaluated the antimycobacterial activity and innate immune response of methanol and dichlormethane extracts of I. suffruticosa. Results showed induction of innate immune response through the production of high levels of NO and TNF-a (p<.001) suggesting a possible important immunological role in TB control once macrophage activity is induced. (5) (13)
• Mosquitocidal / Repellent / Embryotoxicity / Leaves: A study of aqueous extract of I. suffruticosa leaves showed repellent activity, specific embryotoxicity, and general growth retardation in Aedes aegypti (6).
• Immunostimulatory / Cytotoxic Activities: Study of an alkaloidal fraction and a pure alkaloid indo showed cytotoxic activity against both breast and lung adenocarcinoma cell lines. Results showed immunostimulatory and cytotoxic activity of IS, enhancing macrophage function and contributing to host defense against tumors. (7)
• Gastroprotective / Ulcer Healing: Study of methanolic extract of IS in a rodent experimental model investigated ulcer healing and gastroprotective effects via mucus and gastric secretion. Results showed the AcF accelerated ulcer healing, acting as gastroprotective agent stimulating prostaglandin, mucus and HSP70. (8)
• Anticonvulsant / GABAergic / Leaves: Study a methanol extract of leaves of Indigo suffruticosa for anticonvulsant effect. Results showed an anticonvulsant effect, attributed, at least partly, with involvement of GABA-BDZ system. (11)
• Molluscicidal Activity / Leaves: Study evaluated the molluscicidal effect against Schistosoma mansoni life cycle. An aqueous extract showed a dose-dependent toxic effect against the mollusk, suggesting a potential natural product as molluscicidal agent. (12)
• Antimicrobial / Leaves: Study of ethanol extract of leaves showed significant antimicrobial activity against bacteria (S. aureus, E. coli, P. aeruginosa, K. pneumonia) and fungi (Aspergillus niger and C. albicans). (see constituents above). (15)
• Anti-Inflammatory: Study evaluated the anti-inflammatory potency of I. suffruticosa and its mechanisms of action in lipopolysaccharide (LPS)-induced RAW 264.7 macrophages. Results showed strong anti-inflammatory property with diminution of pro-inflammatory mediator expressions by lessening LPS-induced NF-kB activation and inducing HO-1 expression in macrophages. (16)

Availability
Wild-crafted.