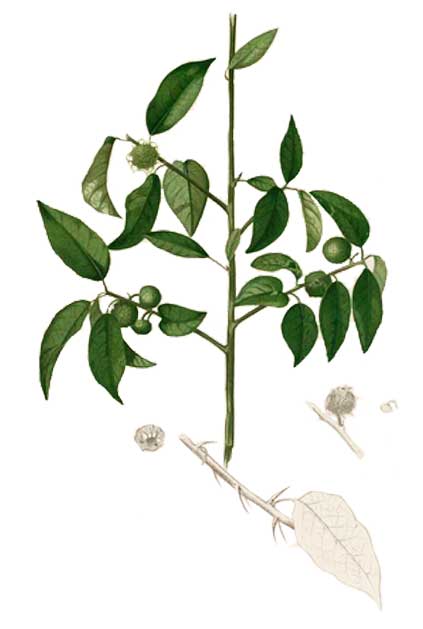 Botany
Tahid-labuyo is a scandent or strangling, smooth shrub, growing from 2 to 4 meters in length, with branches armed with stout, sharp, straight or somewhat recurved spines, 1 to 1.5 centimeters long. Leaves are elliptic-ovate to oblong-ovate or oblong-obovate, 3 to 8 centimeters long, shining, with tapering tips and rounded bases. Heads are solitary or in pairs, rounded, and short-peduncled. Female heads are 7 to 8 millimeters in diameter, yellowish, dense. Fruit is fleshy, up to 5 centimeters in diameter.
Distribution
- Found from northern Luzon to Mindanao from sea level to an altitude of 1,400 meters.
- Also occurs in India to East Africa, China, Malaya, and Australia.
Constituents
- Heartwood produces a yellow dye.
- Bark of the Cudrania javanensis yielded osajaxanthone, vanillic acid, monmethyl fumarate, p-hydroxybenzoic acid and (-)-(S)-stachydrine. (1)
- Study isolated an isoflavonoid – 5,7,4'-trihydroxy-6,3'-diprenylisoflavone. (2)
- Study of roots isolated a new xanthone (1) and a new naturally occurring xanthone (2) together with 10 known xanthones (3-12). (see study below) (11)
- Study of roots of Cudrania cochinchinensis isolated six compounds identified as 3, 5, 7, 4"-tetrahydroxyflavanone-7-O-(6"-acetyl)-glucoside (1), 3, 5, 7, 4'-tetra hydroxyflavanone-7-O-glucoside (2), 2', 4', 5, 7-tetrahydroxy-6-prenyldihydroflavanone (3), 5, 7, 4'-trihysdroxy-6-prenylisoflavanone (4), 1, 3, 5, 6-tetrahydroxyxanthone (5), stilbene-2, 4, 3', 5'-tetraol (6). (14)
- Study of ethanolic extract of roots isolated a new flavonoid (6S,12S,13R)-1-methoxy cyanomaclurin   (1), together with seven known compounds, 1,3,5-trihydroxy-4-(3′-hydroxy-3′-methylbutyl)xanthone (2), 1,3,6-trihydroxy-4-prenylxanthone (3), 1,3,6,7-tetrahydroxyxanthone (4), 1,3,5,6-tetrahydroxyxanthone (5), 1,3,6-trihydroxy-5-methoxyxanthone (6), resveratrol (7) and oxyresveratrol (8). (17)
- Study of root bark yielded new xanthone, 1,6,7-trihydroxy-4-(1,1-dimethylallyl)-3-methoxyxanthone (1)  and a known prenylated xanthone 1,5,6-trihydroxy-4-(1,1-dimethylallyl)-3-methoxyxanthone (isocudraniaxanthone B (2). (21)
Properties
- Studies have reported anti-ulcer, antipyretic, antihepatitis, antihistamine, antispasmodic, antiviral, antifungal, antimycobacterial, anti-inflammatory properties.
Parts utilized
Bark, leaves.
Uses
Edibility
• In the Moluccas, the young leaves are eaten raw.
• In Japan, fruit of Cudrania javanensis considered edible.
Folkloric
• In the Philippines, decoction of roots used to alleviate coughing; also used for gastralgia.
• In Sarawak, plant used after childbirth.
• In the Moluccas, paste made from ground wood applied as a cooling agent for fevers.
• In Taiwan, used as analgesic and anti-inflammatory.
• In Thailand, traditionally used for chronic fever, skin infections, and abnormalities of the lymph nodes. (8)
Others
• Dye: The heartwood produces a yellow dye used in the Batik industry in Java; in Thailand for traditional fabric dyeing. Mixed with indigo, it produces a green dye.

Studies
• Antibacterial / Antidermatophytic: Study of crude chloroform extract of Maclura cochinchinensis wood showed strong antibacterial activity against S. aureus, S. epidermis, and B. subtilis and showed inhibition against all dermatophytes. (4)
• Anti-Herpes / Morin: Study evaluated the in vitro anti-herpes activity of Maclura cochinchinensis. Ethyl acetate and methanol extracts exhibited anti-HSV activity at E50 values of 38.5 and 50.8 microorganisms/ml, respectively. Study yielded morin which exhibited anti-HSV activity at an EC50 values of 53.5. (7)
• Gerontoxanthone B / Anti-Inflammatory as Aryl Hydrocarbon Receptor Agonist: Study evaluated the AhR agonistic activities of 12 xanthones isolated from the roots of M. cochinchinensis var. gerotogea using HepG2 cells transfected with px4TK-Luc reporter plasmids. GXB showed XRE-dependent transcriptional activity and XRE-independent activity involving AhR. (10)
• Xanthones / Retinoic Acid Receptor-a Agonistic Activity / Roots: Study of roots isolated a new xanthone (1) and a new naturally occurring xanthone (2) together with 10 known xanthones (3-12). Study evaluated the retinoic acid receptor-a agonistic activity. Compound 2, gerontoxanthone A (3) and gerontoxanthone B (4) and cudraxanthone (11) showed moderate concentration dependent activity. (11)
• Flavonoids / Hepatoprotective: Study evaluated the liver protective effects of flavonoids from Maclura cochinchinensis in an acute liver injury model induced by CCl4 in rats. Results showed flavonoids possess hepatoprotective activity as shown significant prevention of the increase in ALT, AST, and MDA and increase in the SOD. (12)
• Antioxidant / Leaves: In a study of 57 methanol extracts from 54 species, Maclura was one of 16 that showed strong antioxidant activity showing free radical scavenging activity with IC50 of 196±89.56 µg/mL. (13)
• Flavonols / Antioxidant / Roots: Study of roots isolated two new flavonols, 6-p-hydroxybenzyl kaempferol (1) and 6-p-hydroxybenzyl quercetin (2), together with six known compounds. Evaluation for antioxidant capacity showed compounds 2, 4, and 7 to have significant radical scavenging activity. (14)
• Hepatoprotective / Flavonoids / Wighteone and Naringenin: Study of ethanol extract yielded three flavonoid components from EtOAc and n-BuOH fractions. Three flavonoids viz. wighteone, naringenin, and populnin (kaempferol-7-glucoside) showed greater hepatoprotective effects on CCl4-induced liver injury than on D-GaIN induced hepatotoxicity by reversing altered serum enzymes and preventing the development of hepatic lesions. Results demonstrated wighteone and naringenin as two active hepatoprotective principles. (17)
• Phenolic Tyrosinase Inhibitors / Stem: Study showed Cudrania cochinchinensis stem extract contained unknown natural products with potential tyrosinase inhibitory activities. Study isolated a racemic mixture of (±)2,3-cis-dihydromorin and 15 known compounds. Study on mushroom tyrosinase revealed (±)2,3-cis-dihydromorin (IC50 = 31.1 μM), 2,3-trans-dihydromorin (IC50 = 21.1 μM), and  oxyresveratrol  (IC50 = 2.33 µM), were more potent than that of kojic acid (IC50 = 50.8 μM), a well-known tyrosinase inhibitor. Results suggest C. cochinchinensis stem could be a potential source for the development of effective natural tyrosinase inhibitors. (18)
• Antifungal Constituents / Roots: Bioassay-guided fractionation of roots extract isolated four antifungal agents, two were new compounds viz . cudraxanthone S (1) and cudraflavanone B (2), and two were known compounds, toxyloxanthone C (3) and wighteone (4). Compounds 1, 3, and 4 exhibited antifungal activities against Cryptococcus neoformans, Aspergillus fumigatus and A. nidulans; compounds 1 and 3 also showed antifungal activity against Candida glabrata. (19)
• Attenuation of Aß Protein-Mediated Microglial Activation / Potential Benefit for Alzheimer's Disease: Study evaluated the potential of C. cochichinensis to ameliorate amyloid ß-protein (Aß)-induced migroglial activation, BV-2 microglial cell line, and the ramified microglia in the mixed glial culture. Components of C. cochinchinensis including CC-EW and CCB showed potential for therapeutic intervention for Alzheimer's disease. (20)
• Anti-H5N1 Constituents: Avian influenza virus is a threat to poultry and human. A previous study sowed extracts of C. cochinchinensis had significant activity against highly lethal human H5N1 influenza virus. This study isolated 36 compounds from active fractions. Activity evaluation showed GJ-10 and GJ-15 had potent anti-H5N1 virus activities with EC50 at 37.5 and 150 µg/mL, respectively, with a good dose-response relationship. (22)
• Therapeutic Effect on Liver Fibrosis Induced by CCl4: Study investigated the anti-liver fibrosis effect of a water extract of Cudrania cochinchinensis in rats. Results showed significant therapeutic effect on the liver fibrosis induced by carbon tetrachloride in rats. (23)
Availability
Wild-crafted.