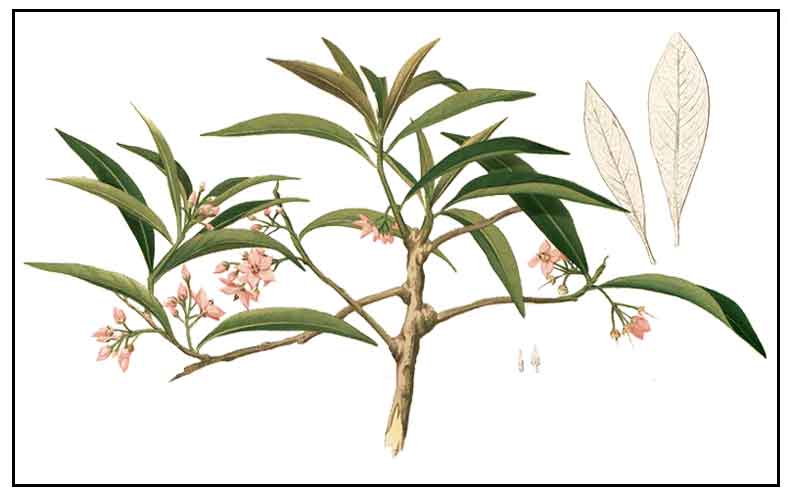 Botany
Tagpo is a small tree reaching a height of about 10 meters. Leaves are alternate, oblanceolate to elliptic-oblanceolate, 6 to 15 centimeters long, 2 to 6 centimeters wide, and pointed at both ends. Flowers are white or pink, fragrant, borne on compound, terminal or lateral inflorescences, and about 1 centimeter in length. Fruit is dark blue or purple, rounded, and 5 to 8 millimeters in diameter.
Distribution
- Common in primary forests at low and medium altitudes, ascending to 1,000 meters throughout the Philippines.
- Occurs in India, Sri-Lanka, Indo-China, Malaysia, Indonesia and New Guinea.
Properties
- Vulnerary, febrifuge, anti-diarrheal.

Parts used
Leaves.

Uses
Culinary
- Flowers and fruit cooked as flavoring for fish.
Folkloric
-- In the Philippines, leaves used on wounds.
- Malays use a decoction of leaves for treatment of chest pains; roots may be substituted for the same use.
- Plant used for complications of parturition, liver poisoning, fever, and diarrhea.

Studies
• Health-Promoting Compounds / Phytopharmaceuticals: Species of Ardisia are a rich source of novel and potent phytochemical compounds, such as bergenin and ardisin. Report reviews the usage and biological activities of Ardisia compounds.
• Anti-Herpes Simplex Virus / Anti-Adenovirus: In a search for new antiviral agents from traditional medicine, the hot water extracts of 12 traditionally used medicinal plants in Taiwan, including Ardisia squamulosa, showed anti-HSV and anti-ADV activities. A. squamulosa was more effective in inhibiting ADV-8 replication than the other four viruses.
• Antibacterial / Anti-Salmonella: Study of dried fruit extracts yielded three compounds, viz., syringic acid, isorhamnetic and quercetin, which showed activity against veterinary Salmonella.
• ß-Amyrin / Anti-Platelet Aggregation: Study of a methanol extract of fresh Ardisia elliptica leaves showed inhibition of platelet aggregation. ß-amyrin was isolated, and showed to be more potent than aspirin in the inhibition of collagen-induced platelet aggregation.

Availability
Wild-crafted.