Botany
Tagpong-gubat is a smooth, erect shrub growing to a height of 1.5 to 5 meters. The leaves are smooth, shining, oblong to oblong-elliptic, 8 to 20 centimeters long, short-petioled and pointed at both ends. Flowers are white, in crowded terminal inflorescences 2 to 3 centimeters long. Corolla is 4 to 4.5 millimeters long with a hairy throat. Fruit is somewhat fleshy, obovoid, 5 to 6 millimeters long, yellow or reddish. Seeds are plano-convex.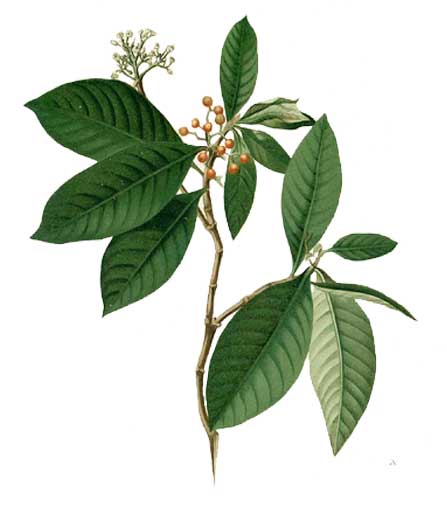 Distribution
- Only in the Philippines, in thickets and secondary forests at low and medium altitudes, in most or all provinces of Luzon, and in Mindoro, Masbate, Leyte, and Panay.

Parts used
Leaves and roots.

Uses
Folkloric
- Fresh leaves used topically for headaches.
- Bark decoction used for intestinal pains.
- Decoction of fresh young leaves used for cleaning ulcers and as a topical for ulcerated wounds.
- Decoction of the root used for dysentery.
Studies
• Gastroprotective / Anti-Ulcer / Leaves: Study evaluated the gastroprotective property of P. luzoniensis in 15 male Balb/c mice with HCl/ethanol induced gastric ulcerations. Results showed significant reduction in gastric ulcers. The gastroprotective effect was comparable to sucralfate. (2)

Availability
Wild-crafted.