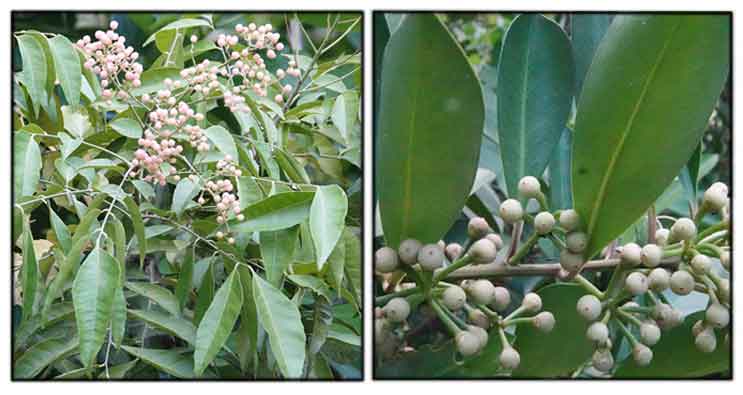 Gen info
- Ardisia (coralberry or marlberry) is a genus of flowering plants of trees, shrubs, and subshrubs in the family Primulaceae, consisting of over 700 species. Formerly in the Myrsinaceae family, it is now recognized as the myrsine subfamily Myrsinoideae. (26)
- Ardisia elliptica is an evergreen tree in the genus Primulaceae, grown as an ornamental in gardens, but an invasive species in some countries viz., Puerto Rico, tropical Australia, southern Florida, the Caribbean, Seychelles, Mascarene Islands, and Hawaii. (27)
Botany
• Tagpo is a small tree reaching a height of about 10 meters. Leaves are alternate, oblanceolate to elliptic-oblanceolate, 6 to 15 centimeters long, 2 to 6 centimeters wide, and pointed at both ends. Flowers are white or pink, fragrant, borne on compound, terminal or lateral inflorescences, and about 1 centimeter in length. Fruit is dark blue or purple, rounded, and 5 to 8 millimeters in diameter.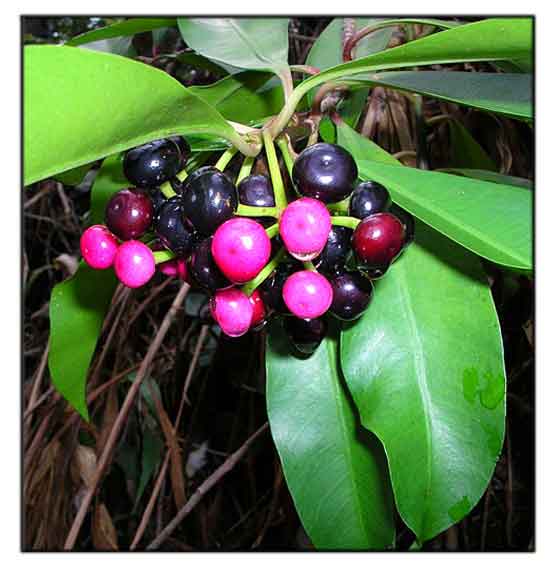 • Shrub or small tree to 4 m high; branchlets somewhat angular. Leaves spirally arranged; petiole (2–) 5–12 (–15) cm long; lamina usually oblanceolate to elliptic-lanceolate, (5–) 8–13.2 cm long, (1.4–) 3–4.6 cm wide, chartaceous, margin smooth, glands globular to lineate pellucid, drying to red. Inflorescence terminal or subterminal, umbellate to subumbellate, 4–5 cm long, 6–11 flowers per inflorescence; peduncle 2–3.5 cm long; pedicels 8–17 mm long, often curved. Flowers 5-merous, to 10 mm long; calyx tube 0.5–1 mm long, lobes rounded, 1.5–3 mm long, 1.5–2 mm wide, ciliolate; corolla rotate, pale pink, tube c. 1 mm long, lobes 7–9 mm long, 3–4 mm wide; stamens may alternate with 1–5 pink petaloid staminodes; filaments c. 2 mm long, fused at base, anthers cohere around exserted style, 4–5 mm long, septate, opening by introrse longitudinal slits; ovary globular, c. 1 mm diam.; ovules multiseriate, 17–20. Fruit depressed-globular, 5–7 mm high, 6–8 mm wide, whitish to pinks, reds and purples, maturing purplish black to black. Seed c. 5 mm diam. (Flora of Australia)
Distribution
- Native to the Philippines.
- Common in primary forests at low and medium altitudes, ascending to 1,000 meters throughout the Philippines.
- Also native to Bangladesh, Borneo, Cambodia, India, Jawa, Laos, Malaya, Maldives, Myanmar, Nansei-shoto, New Guinea, Nicobar Is., Sri Lanka, Sulawesi, Sumatera, Taiwan, Thailand, Vietnam.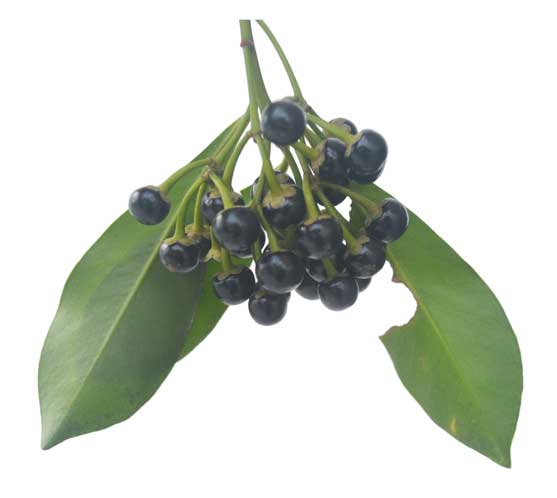 Constituents
- Leaf extract yield ß-amyrin compared to 0.098% in fresh leaves. (see study below) (14)
- Methanol extracts of fruits and leaves yielded similar major compounds viz. 5-hydroxymethyl-2-furancarboxaldehyde with percentage area of 58.42% and 45.13% respectively; and 2,4-di-tert-butylphenol with 3.04% and 20.87%. (see study below) (15)
- Study of ethyl acetate extract of leaves isolated three compounds: 5-pentadecylbenzene-l,3-diol or 5-pentadecylresorcinol (1), α-amyrin (2) and taraxerone (3). (20)
- Fruits contain a quinone derivative, embelin, as major constituent. There constituents reported are myricetin, quercetin, berginin, norberginin, kaempferol quercetin 3-O-ß-d-glucopyranoside and gallic acid. (23)

Properties
- Vulnerary, febrifuge, anti-diarrheal.
- Studies have suggested antiviral, antibacterial, antioxidant, anti-platelet aggregation, anti-diarrheal, anti-spermatogenic, anticancer, anticoagulant, analgesic properties.

Parts used
Leaves, fruits.

Uses
Edibility
- Leaves and young shoots eaten as vegetable; used as greens for salad or cooked with meat or fish.
- Flowers and fruits cooked as flavoring for fish.
- In the Malay Peninsula, young shoots are eaten.
Folkloric
- In the Philippines, leaves used on wounds.
-

Malays

use a decoction of leaves for treatment of chest pains, fever, diarrhea, and parturition problems; roots may be substituted for the same use.
- Leaf paste used to treat herpes and measles.
- Leaves used to treat scabies and intestinal worms.
- Plant used for liver poisoning, fever, diarrhea, gonorrhea, venereal diseases, and complications of parturition.

Studies
• Health-Promoting Compounds / Phytopharmaceuticals: Species of Ardis are rich sources of novel and potent phytochemical compounds, such as bergenin and ardisin. Report reviews the usage and biological activities of Ardisia compounds. (

1

)
• Anti-Herpes Simplex Virus / Anti-Adenovirus: In a search for new antiviral agents from traditional medicine, the hot water extracts of 12 traditionally used medicinal plants in Taiwan, including Ardisia squamulosa, showed anti-HSV and anti-ADV activities. A. squamulosa was more effective in inhibiting ADV-8 replication than the other four viruses. (

2

)
• Antibacterial / Anti-Salmonella / Dried Fruits: Study of dried fruit extracts yielded three compounds, viz., syringic acid, isorhamnetic and quercetin, which showed activity against veterinary Salmonella. The minimal inhibitory concentrations (MICs) of the isolated compounds ranged between 15.6 and 125.0 µg/mL. (

4

)
• Antiplatelet / α- and ß-Amyrin: A methanol extract yielded two compounds, viz., α- and ß-amyrin, and screened for antiplatelet activity. The pharmacokinetics and multivariate date analysis predicted both α- and ß-amyrin to be antiplatelet. (

7

)
• ß-Amyrin vs Aspirin in Inhibition of Platelet Aggregation: Study investigated the effect of fresh leaves extracts of A. elliptica on collagen induced platelet aggregation and to isolate and purify potential antiplatelet components. Fractionation isolated and purified ß-amyrin. Results suggest ß-amyrin was the bioactive component, which was more potent than aspirin in inhibiting collagen-induced platelet aggregation. (

8

)
• Antioxidant: Study evaluated the antioxidant activities in Syzygium cumini and Ardisia ellipitica using various assays in relation to total flavonoid, phenolic, and anthocyanin contents. Total flavonoid content and anthocyanin content exhibited a very strong relationship with FRAP, ABTS, and DPPH scavenging activities, and A. elliptica showed better in chromatic properties compared to Syzygium cumini. (

9

)
• Antimicrobial: Study has shown Ardisia elliptica to have antimicrobial activity. A hexane extract of leaves yielded hydrocarbons, apolar and polar fatty esters, triterpenoid alcohols (bauerenol, α- and ß-amyrin), sterols (ß-sitosterol) and polar compounds. Polar fraction showed most effective activity against P. aeruginosa and nine other bacteria. (

10

)
• Anticancer Activity: Ardisia elliptica plant extract was 1 of 9 Thai medicinal plants that exhibited antiproliferative activity against SKBR3 human breast adenocarcinoma cell line using MTT assay. (

10

)    (

18

)
• Antidiarrheal / Antioxidant / Fruits: Study evaluated a crude ethanol extract of fruits for antioxidant and antidiarrheal activities. Results showed significant DPPH radical scavenging activity. The extract also showed a significant protection against experimentally induced diarrhea by castor oil and magnesium sulfate. (

11

)
• Toxicity Testing / Fruits: Study evaluated the safety of an ethanolic extract of A. elliptica fruits in animal models. Results showed no acute or subchronic toxicity in experimental animals. (

12

)
• Effect on Spermatogenesis / Decreased Epididymal Sperm Count / Leaves: Study on male rats examined the effects of a hexane leaf extract on epididymal sperm count, viability and aberration. Results showed a significant decline in epididymal cell count with negligible effect on sperm morphology and viability. (

13

)
• Antiplatelet and Anticoagulant Effects / Leaves: Study investigated the potential antiplatelet and anticoagulant effects of ß-amyrin isolated from leaves of A. elliptica in vivo in human blood and ex vivo in SD rats and in vivo effects on tail-bleeding in SD rats. Results showed the leaf extract prolonged bleeding time more than ß-amyrin probably due to the presence of both antiplatelet and anticoagulant compounds in the leaf extracts producing synergistic antithrombotic effects. The ß-amyrin exhibited only antiplatelet effects. (

14

)
• Antibacterial / Antioxidant / Leaves and Fruits: Study of methanol extracts of leaves and fruits showed antibacterial activity against Staphylococcus aureus and Escherichia coli. Anitoxidant assay showed both fruits and leaves extracts decolorized DPPH. (see constituents above) (

15

)
• Alkenylresorcinol / Potent Platelet Activating Factor Antagonist / Leaves: An ethyl acetate fraction of a methanol extract of leaves isolated a new alkenylresorcinol, 5-(Z-heptadec-4'-enyl)resorcinol, together with 5-pentadecylresorcinol. The alkenylresorcinol showed strong inhibitory activity on PAF receptor binding to rabbit platelets. (

16

)
• Antioxidant / Leaves: Study evaluated the antioxidant activity of various extracts of four Ardisia sp. using DPPH and CUPRAC testing and correlation with total flavonoid, phenolic and carotenoid content in various leaves extracts. Ethanolic leaves extracts of A. elliptica showed the highest phenolic content (29.54 g GAE/100 g. The EA extract of leaves showed the lowest EC50 of CUPRAC with EC50 of 30.34 µg/ml. Results suggest leaves extracts of A. elliptica, A. crenata, A. cymosa, and A. fuliginosa may be exploited as natural antioxidant sources to alleviate oxidative stress. (

21

)
• Analgesic Activity / Leaves: The dichlormethane extract of air-dried leaves of Ardisia cf. elliptica (subgenus Tinus) yielded a mixture of bauerenol (1a) α-amyrin (1b) and ß-amyrin (1c). On hot-plate assay, 1a-1c showed analgesic activity comparable to drug control Diclofenac. (

22

)
• Antiproliferative / Human Colon Cancer Cell Line / Fruit and Leaves: Study screened ethanolic extracts of 30 Thai edible plants for in vitro antiproliferative effect on HT-116 human colon cancer cell line. Fruit and leaf extract of A. elliptica was one of five plants that exhibited antiproliferative activities. The fruit extract of A. elliptica showed highest antiproliferative activity. (

24

)
• Comparative Cytotoxicity / Growth Inhibition of HepG2 Cells: Study evaluated the chemical composition and relative anticancer potential of six Ardisia species. Ardisia elliptica showed the third most potent in vitro inhibition of proliferation of HepG2 cells. (

25

)
• Antiproliferative / Human Colon Cancer Cell Line / Embelin / Fruit: Study evaluated the anti-proliferative activity of A. elliptica fruit extract and its embelin content. The extract and embelin showed strong anti-proliferative effects on HCT-116 cells with 50% inhibition concentration (IC50) of 19.16 and 25.93 µg/mL, respectively. The extract exhibited significant increase in mRNA level of Bad, Bax, and Caspase-8 and a significant decrease in c-IAP1, Mcl-1, and XIAP. Embelin showed a significant decrease in Mcl-1 and XIAP. (

28

)
• Antidiabetic: Study evaluated the effect of ethanolic extract of A. elliptica on type 2 diabetic Sprague-Dawley rats induced by high-fat diet (HFD) and streptozotocin (STZ). Results showed significant decreases in blood glucose levels, with best results from 80 mg/200 gBW with 39% decrease in glucose level. Histopathological analysis showed the extract could increase the number of ß-cells. (

29

)


Availability
Wild-crafted.