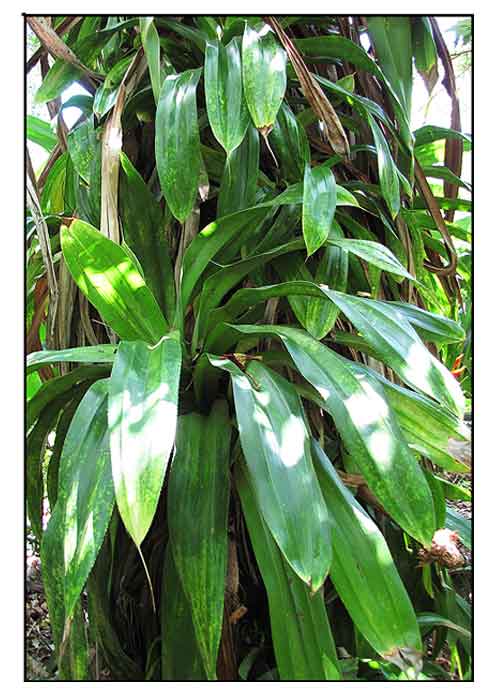 Gen info
- Pandanus is a genus of monocots with about 750 accepted species, classified in the order Pandanales, family Pandanaceae. They are palm-like dioecious trees and shrubs native to the Old World tropics and subtropics, the greatest number found in Madagascar and Malaysia. (3)
- The genus is named after the Malay word pandan given to Pandanus amaryllifolius, the genus' most commonly known species. (3) Pandanus dubius was first described by the German botanist Kurt Polycarp Joachim Sprengel in 1826. It is classified in the subgenus Rykia, section Hombronia. (4)
- The oldest fossil of the genus is Pandanus estellae, dating to the Oligocene, around 32-28 million years ago. (3)

Botany
Pandanus dubius is a dioecious, finally stout, sparingly branched tree, 8-20 m tall with numerous massive prickly prop roots 2-5 m long, but often remaining a rather slow-growing low-rosette shrub; bark brownish, rather smooth. Leaves thick-spongy-coriaceous, 1-5 m × 10-15 cm, rigid toward the base, margins and underside of midrib prickly, outer one-third folded down, veins tessellate with 140-170 parallel secondary veins and conspicuous tertiary cross veins. Male inflorescence a stout raceme 40 cm long, with up to 12 spikes subtended by softly leathery, yellow, boat-shaped, spiny bracts; spike creamy-white, cylindrical, 12-20 cm long, consisting of staminate phalanges 7-14 mm long, with about 6-15 stamens (filaments 1-3 mm, anthers 3-6 mm long) borne subumbellately at apex of a column of 4-6 mm length. Female inflorescence a solitary, globular head, 20-35 cm in diameter, subtended by yellowish bracts; peduncle 60-85 cm long Head composed of 50-90, relatively large carpellate phalanges with 2-5 carpels or of 1-celled drupes, usually a combination of these in one head; ripe carpellate phalange ellipsoid or obovoid, large, 9-13.5 cm × 4-7.5 cm × 4-5 cm, 1-2(-4)-celled, upper one-third free; upper mesocarp solid, 4-7 cm long, consisting of dense parenchyma traversed by longitudinal fibers; lower mesocarp fibrous and fleshy, 3-5 cm long; endocarp 20-35 mm long, hard, thin; stigmas large, often in a row and facing the apex of the syncarp. Seed broad ellipsoid, 10-16 mm long. (1)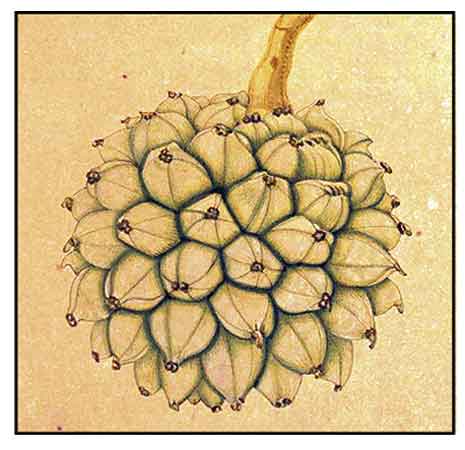 Distribution
- Native to the Philippines.
- Also native to the Bismarck Archipelago, Borneo, Caroline Is., Fiji, Jawa, Lesser Sunda Is., Maluku, Marianas, New Caledonia, Niue, Solomon Is., Sulawesi, Tonga, Vanuatu, Wallis-Futuna Is. (2)
Constituents
- Three Pandanus species (P. amaryllifoius, P. utilis, and P. dubius) yielded new alkaloids possessing a pyrrolidinyl-α,β-unsaturated γ-lactone, a γ-butylidene-α-methyl-α,β-unsaturated  γ-lactam, and/or indolizidine residues. (4)
- Study of crude base of Pandanus dubius isolated two new alkaloids, dubiusamine-A (1) and dubiusamine-B (2). (5)
- Study reports on the isolation and total synthesis of dubiusamin C, a minor alkaloid isolated as a diastereomeric mixture with dibiusamine A. (6)
Properties
- Studies have suggest antinociceptive, anti-inflammatory properties.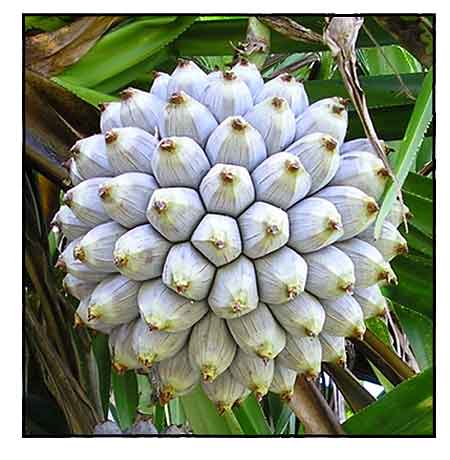 Parts used
Roots, stems.

Uses
Edibility
- Large seeds are edible, with a taste of coconut. In Guam, eaten as relish. (1)
Folkloric
- No reported folkloric medicinal use in the Philippines.
- In India, roots used for treatment of diarrhea.
Others
- Crafts: In the Philippines, Indonesia, and New Guinea, broad and thick leaves used for coarse weaving to make mats. Also used as material for floors and walls as thatch. Root fibers are dried and woven into mats. In the Solomon Islands, leaves used for thatching, making hats, mats, and "umbrellas" for shield against sun and rain. (1)
- Cordage: In Indonesia, fibers from core of prop roots used for tying or plaiting work in chairs. In northern Moluccas, used for making durable thread, rope, and fishing lines. (1)

Studies
• Antinociceptive / Anti-Infllammatory / Root and Stem: Study evaluated the antinociceptive and anti-inflammatory effect of methanolic roots and stem extract of P. dubius in mice using tail flick assay, writhing assay and white blood cell count. F1 and F4 showed average maximum effect of 90.4% and 88.48% in root and stem methanolic extract, respectively, which were higher compared to ibuprofen with 76.1%. Computed p-values for WBC count showed the anti-inflammatory effects of F1 (p-value 0.012) and F4 (0.001) are comparable to the positive control. Results showed certain fractions of root and stem MEs possess anti-inflammatory and antinociceptive effects. (7)
Availability
Wild-crafted.