General info
Pandanus is a genus of monocots of about 600 known species, varying in size from small shrubs less than a meter to medium-sized trees of about 20 meters.

In the Philippines there are 48 species of Pandanus, many of them are endemic, growing in various habitats, from sandy beaches, mangroves and primary forests. The fruit of some species are edible, eaten by bats, rats, crabs, elephants and lizards. The majority of species are dispersed primarily by water.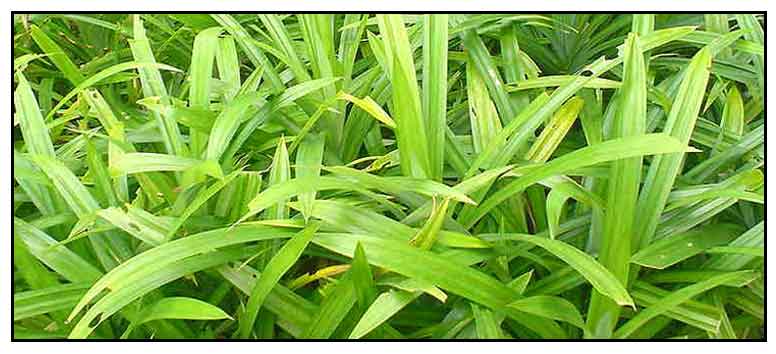 Botany
Pandan-mabango is small, leafy herb, less than 1 meter tall. Stems are cylindrical, sending numerous roots at its nodes where it touches the ground. Leaves form a rosette, and are long and narrow, acute, glossy green and with smooth margins.

Note: Quisumbing's botanical description for pandan mabango (P. odoratissimus) is that of a small plant that does not grow over a meter. It has not been known to flower or fruit in the Philippines.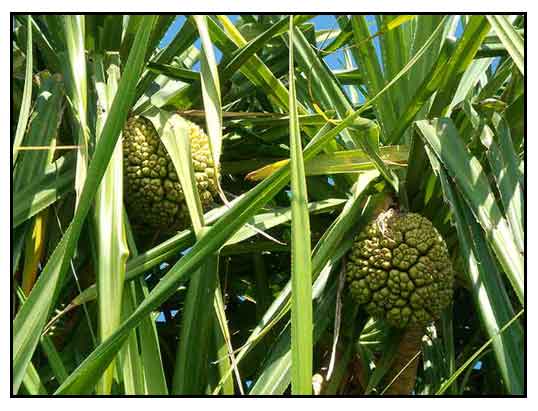 Distribution
- Introduced in the Philippines.
- Common along sandy beaches.
- Now, cultivated as an ornamental.
- Also occurs in India, Persia, and Arabia; and cultivated in Malaya.
Constituents
- Contains an essential oil, bitter and aromatic.
- Perfumed oil, called Kevda oil, is extracted from floral bracts.
- Phytochemical study yielded phenols, tannins, terpenes, alkaloids and flavanoids.
- Study of essential oil showed the major components to be: 2-phenyl ethyl methyl ether (37.7%), terpinen-4-ol (18.6%), α-terpineol (8.3%) and 2-phenyl ethyl alcohol (7.5%). (11)
- Study of air-dried alcoholic extract of dried leaves yielded alkaloids: Pandamarilactone- 1 (2),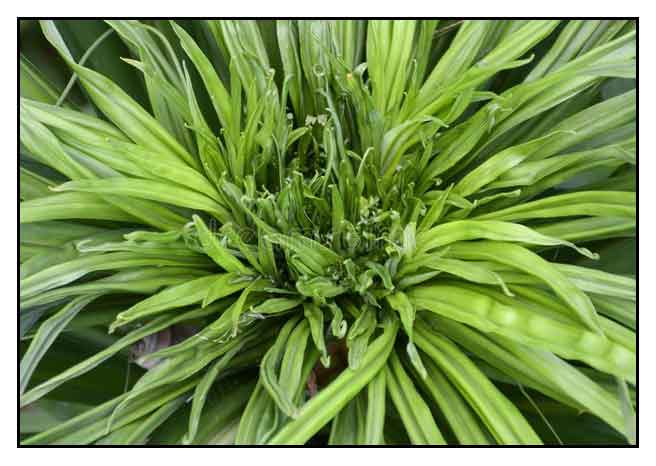 Pandamarilactam-3x, -3y (5-6), Pandamarilactonine-A, -B, -C (7-9), and 6Z-Pandanamine (13). (9)
- Study of crude base of P. amaryllifolius leaves yielded alkaloids, pandamarilactone-1 (1), pandamarilactone-32 (2), pandamarilactonine-A (3) and pandamarilactonine-B (4). (see study below)   (23)
- GC-MS study of leaf essential oil yielded 128 peaks and identified 98 compounds. Main components were phytol (42.16%), squalene (16.81%), pentadecanal (6.17%), pentadecanoic acid (4.49%), 3,7,11,15-tetramethyl-2-hexadecen-1-ol (3.83%), phytone (2.05%) among others. (28)

Properties
- Oil is considered a stimulant, antispasmodic and antiseptic.
- Roots are diuretic, tonic and depurative.
- Considered cardiotonic, cephalic and aphrodisiac.
- Studies have suggested antioxidant, hepatoprotective, antibacterial, hypoglycemic properties.

Parts used
Leaves, anthers, tops, seeds.

Uses
Culinary
- In the Philippines, leaves are popularly used in the cooking of rice, imparting a pleasant fragrance and flavor.
- Leaves are also used to flavor ice cream and sherbets
- Used in cooking bread for its nutty flavor. .
- In Malaysia, used for coloring and flavoring; also as appetizer.
Folkloric
- Powder made from interior of anthers, smoked for sore throat.
- Roots, brayed in milk, used internally for sterility and threatened abortion.
- Used for small pox and leprosy.
- Ashes of wood used for wound healing.
- Seed concoctions used to strengthen the heart and liver.
- Oil used as stimulant and antispasmodic; used for headaches and rheumatism.
- In India, oil is used as remedy for earache and meatal suppuration.
- In northern India, used for jaundice.
- In Malaysia, said to be a cure for measles, gonorrhea, syphilis, dengue, and anemia.
- Powder made from anthers and tops of bracts used for epilepsy.
Others
• Perfumery / Cosmetics: Oil is valued as perfumery and cosmetic ingredient. Kevda oil, a perfumed oil, is extracted from floral bracts.
- Repellent: Essential oil used as repellent against ordinary cockroach, Periplaneta americana. Powdered leaves used as repellent against Callosobruchus chinensis infestation of mung bean seeds. (26)
- Crafts: Leaves used for making sleeping mats, baskets, and containers.
Studies
• Antioxidant: Study of methanol and aqueous extracts of P. odoratissimus roots showed higher antioxidant potential in the DPPH scavenging assay and reducing capacity. A positive correlation was found between phenolic and flavonoid content. (1)
• Hepatocurative: Study of Ketaki (P. odoratissimus) root decoction on carbon tetrachloride-induced liver damage in albino rats showed it to be hepatocurative but not hepatoprotective. (2)
• Antibacterial: (1) Study showed a broad spectrum of antibacterial activity and a potential source for new classes of antibiotics. (2) Study evaluated the in vitro activity of pandan leaves crude extract against bacterial isolates such as S. aureus, E. coli and P. aeruginosa.(10)
• Free Radical Scavenging Activity: Study of the methanolic effect of P. odoratissimus against free radical damage showed 87.52% reduction of DPPH and 73.55% inhibition of nitric acid.
• Hypoglycemic / 4-hydroxybenzoic acid: Study of root extract of P. odorus showed significant lowering of plasma glucose in streptozotocin-induced diabetic rats. No significant alteration of plasma glucose was noted in healthy rats. Study isolated a known compound, 4-hydroxybenzoic acid, that produced a hypoglycemic effect through increases peripheral glucose consumption. (6)
• Antihyperglycemic / Leaves: Study evaluated a crude extract of Pandanus amaryllifolius leaves for effect on blood glucose level and hypoglycemic mechanisms. Results showed reduction of postprandial blood glucose, stimulation of insulin secretion from pancreatic beta cell line and inhibition of alpha glucosidase enzyme activity. Study suggests a potential natural source of antihyperglycemic agent. (13)
• Effect on Growth of E. Coli and S. aureus / Food Safety Concerns / Leaves: Pandanus amaryllifolius leaves are used in food preparation in Asian countries as flavoring agent. Study evaluated the effect of leaf extracts on the growth of two important microorganisms i.e. E. coli and M. aureus from the point of view of food safety. Study showed the leaf extracts in water and ethanol stimulates the growth of these microorganisms--an alarming signal as both these organisms are capable of producing potent endotoxin and exotoxin. M. aureus produces heat stable exotoxins in rice preparations, which may be due to the reducing sugar content of 17% (glucose) in eaves, extracted during cooking. (14)
• Potential as Food Preservative / Leaves: Study evaluated the potential of pandan leaves extract in lowering the total count and number of mold on traditional food. Results showed pandan leaves extract contained bioactive compounds like tannin, alkaloids, flavonoids, and polyphenols. There was no colonization found in Putu Ayu with 15% pandan leaves extract. Results showed pandan leaves extract in concentration of 15% was able to decrease Total Plate Count and number of mold in traditional food. (15)
• Effect on Fructose Induced Metabolic Syndrome / Leaves: Study evaluated the ability of Pandanus amaryllifolius leaf water extract to reverse the cluster of diseases in a metabolic syndrome rat model induced by fructose in drinking water. Administration of P. amaryllifolius attenuated most of the metabolic syndrome symptoms as well as improved obesity. Results suggest PA which is rich in total flavonoids and total phenolic acids may be suggested as useful dietary supplement to improve metabolic syndrome components induced by fructose. (16)
• Effect on Insulin Sensitivity in High-Fat Diet-Induced Obese Mice / Leaves: Study evaluated the effect of P. amaryllifolius leaf extract on insulin resistant state in mice fed on high fat diet. Results showed significant reduction in blood glucose level as well as improvement in insulin resistance. There was increased liver glycogen storage and serum adiponectine and decreased serum leptin levels, along with reduced lipid droplet in liver tissue and adipocyte size in epididymal fat tissues. Results showed decrease in several parameters of impaired glucose and lipid metabolism. (17)
• Anticancer / Antimicrobial / Antioxidant / Leaves: Study evaluated the antioxidant, antimicrobial, and cytotoxic effect of ethanol leaf extracts of P. amaryllifolius. Results showed antimicrobial activities against tested oral bacteria with MICs in range of 32 to 125 µg/ml. Extract exhibited cytotoxicity effect against head and neck squamous cell carcinoma cell line (HNSCC cell line: HN31) . Antioxidant activity showed reduction of free radical DPPH by about 50%. (18)
• Acute and Chronic Toxicity Studies / Roots: Study for acute toxicity in male and female rats showed no significant toxicity at oral dose of 5000 mg/kbw. On chronic toxicity testing, at doses of 1, 2, 4, and 8 g/kbw for 180 days. Both oral and acute toxicity studies showed no toxicity in measures of body weight and organ weight, histology and gross examination, hematologic and biochemical parameters. (19)
• Insecticidal Against Diamondback Moth / Leaves: Study evaluated the insecticidal effects of chloroform extract of leaves against diamondback moth, Plutella xylostella. At 72 hours post-exposure at 8 mg/ml concentration there was 86.67% mortality. Larvae mortality and duration of exposure were directly related to the concentration o the leaf extract and inversely related to fecundity. (20)
• Antihyperuricemic / Xanthine Oxidase Inhibitory Activity / Leaves: Study evaluated the antioxidant and xanthine oxidase inhibitory activities of P. amarylliflius leaf extracts in potassium oxonate-induced hyperuricemic rats.. The leaf water extract showed highest total phenols while a petroleum ether extract showed highest total flavonoids. The water extract showed highest antioxidant activity by DPPH, metal chelating and H2O2 assays. Treatment with the water extract showed significant (p<0.001) decrease in serum uric acid level by 85% and XO activity by 64%. Results suggest a potential therapeutic option in hyperuricemia treatment. (21)
• Hypolipidemic Effect / Leaves: Study evaluated the hypolipidemic effete of ethanolic extract of P. amaryllifolius leaves on triton WR-1339 induced hyperlipidemic in mice. Oral administration of PA extract significantly reduced total cholesterol as well as triglyceride levels. The extract also inhibited HMG-CoA reductase activity with 32% reduction, comparable to positive control, atorvastatin. (22)
• Antimicrobial Alkaloids / Leaves: Study of crude base of P. amaryllifolius leaves yielded alkaloids, pandamarilactone-1 (1), pandamarilactone-32 (2), pandamarilactonine-A (3) and pandamarilactonine-B (4). Compound 3 was most active among the four isolates with MIC of 15.6 µg/mL and MBC of 31.25 µg/mL against Pseudomonas aeruginosa. (23)
• Extraction of Aroma Compound / Enhancement of Rice Flavor / Leaves: Study reported on the extraction of 2-AP (2-acetyl-1-pyrroline) from pandan leaves. The work reports on phenomena that occur during cooking and storage, in particular, changes to 2-AP absorption when cooking rice grains with pandan leaves. Parameters measured were cooking method of excess and optimal water conditions. Grinding and freeze-drying method revealed the best pre-treatments for supercritical extraction. Study quantified the potential of leaves to enhance the flavor of cooked rice under excess water conditions. Storages for 15 min at 24.0 ± 1.0º C is considered optimum time for obtaining cooked rice with a high quality of flavor. (24)
• Extraction of 2AP in Pandan Leaves: Study showed ethanol was the best solvent to extract 2AP from pandan leaves compared to methanol. Ethanol provided a higher 2AP peak on the chromatogram. No 2AP was detected with propanol. Results suggest polarity of the solvent plays an important role in 2AP extraction. (25)
• Prolonged Sleeping Time / Reduced Locomotor Activity / Root: Study evaluated the hypnotic and locomotor effect of root decoction of P. amaryllifolius in mice. Results showed significant decrease in spontaneous locomotor activity in a dose dependent manner 10 minutes after feeding and significantly suppressed locomotor activity in amphetamine-treated mice. The extract also prolonged the pentobarbital-induced sleeping time. (27)
• Anticholinergic / Antihistaminergic: Study evaluated the interaction of ethanolic extract of Pandanus amaryllifolius with cholinergic and histaminergic receptors in the guinea pig ileum. Results showed competitive reversible antagonistic effects on actions of histamine or acetylcholine in guinea pig ileum.    (29)
• Effect on Total Phenolic Content, Antioxidant Activity, and Sensorial Quality of Ice Cream / Leaves: Study showed increase in pandan juice concentrations did not significantly affect (p<0.05) the sensorial attributes of tested ice cream samples. However, it significantly (p>0.05) increased the total phenolic content and antioxidant property of pandan ice creams. (30)
• Potential Treatment for Cholera / Leaves: Study evaluated the antimicrobial property of P. amaryllifolius against gram-negative and gram-positive bacteria. A methanol extract was shown to inhibit the growth of Vibrio cholera and C. freundii. Further studies were suggested to find out the anti-cholerae compound of the methanol extract. (31)

Availability
Wildcrafted.
Small scale commercial production.