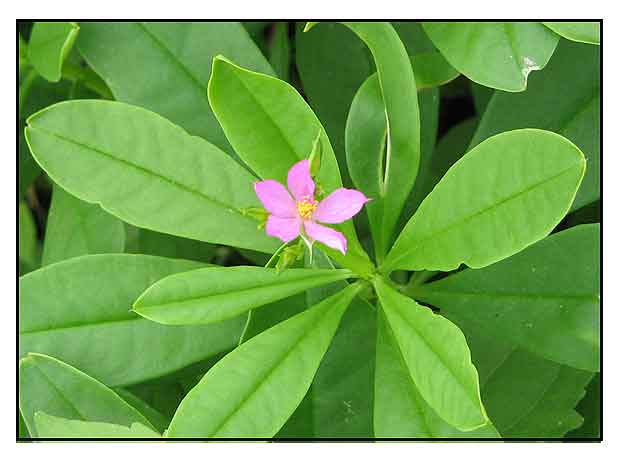 Gen info
- Talinaceae is a family of two genera and 28 species of flowering plants comprising shrubs, lianas, and herbaceous species native to the Americas, Africa, and Madagascar. (22)
• Talinum fruticosum is often confused with Talinum paniculatum. NatureLoveYou suggests this observation point, based on sepal and flower size. Based on the description in PIER (Pacific Island Ecosystems at Risk) website, the sepals of T. paniculatum is 2-4 mm long while that of T. fruticosum is 4-5 mm long. It is therefore quite clear that the one with small flowers should then be T. paniculatum.  (20)

Botany
• Talinum fruticosum (Philippine spinach) is a small, short-lived, perennial plant with succulent stems, growing to a height of 80 centimeters and a width of 50 centimeters, with swollen and fleshy roots. Flowers are small, usually pink, occasionally yellow or white.

• Talinum fruticosum is an erect perennial herb with swollen roots and obtuse-angular to terete, glabrous, succulent stems, 30-100 cm tall. Branches with 2 lateral, basal buds. Leaves spirally arranged to nearly opposite, often crowded at the top of the stem, indistinctly or shortly petioled; leaf-blades usually spathulate, 3-15 cm × 1-6 cm, entire and succulent, obtuse to rounded and occasionally notched at the apex. Inflorescence a long peduncled, terminal, corymboid thyrsus, 5-30 cm long, with 2-5 erect, sharply triangular axes, each 8-28-flowered; flowers bisexual, 0.5-2.5 cm in diameter; pedicels elongate after anthesis; sepals 2, free, green, persistent; petals 5, obovate, up to 10 mm × 4 mm, pink; stamens 20-40; style 2-3-fid, ovary superior. Fruit capsular, ellipsoid to globular, 4-7 mm long, 2-3-valved and elastically dehiscent, yellow. Seeds numerous, compressed globose-reniform, 0.8-1.2 mm long, granulate, glabrous, shining black. (23)
Distribution
- Introduced.
- Harvested from the wild.
- In waste places, forest edges, sea-level up to 1000 m elevation.
- Occasional ornamental planting
- Commercially cultivated for its edible leaves in many countries (Nigeria, Cameroon, Caribbean, Brazil).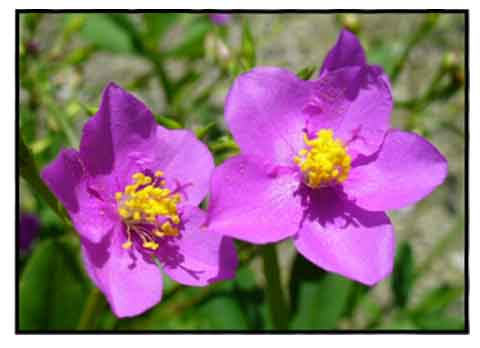 Constituents
- Contains oxalic acid, which is reduced by blanching and cooking.
- An aqueous leaf extract evaluated for bioactive molecules yielded high carotenoids; moderate benzoic acid derivatives, hydroxycinnamates and flavonoids; and low terpenes, alkaloids, phytosterols, allicins, glycosides, saponins, and lignans. Study detected ten known carotenoids (mainly 50.42% carotene and 33.30% lycopene); nine benzoic acid derivatives (mainly 84.63% ferulic acid and 11.92% vanillic acid), and six hydroxycinnamates (55.44% p-coumaric acid and 44.46% caffeic acid), along with eight lignans (88.02% retusin) and thirty flavonoids (59.35% quercetin and 39.36% kaempferol). (2)
- Quantitative study of leaf extracts yielded alkaloids (0.637 ± 0.191 mg/gm dry weight), flavonoids (0.225 ± 0.041 mg/gm dw), phenolics (0.319 ± 0.059 mg/gm dw), carbohydrates (1.295 ± 0.229 mg/gm dw), amino acids (2.033 ± 0.120 mg/gm dw) and proteins (1.218 ± 0.049 mg/gm dw). (3)
- Aqueous extract of roots yielded alkaloids, saponins, tannins, combined anthraquinones, cardiac glycosides, and phenols. (see study below) (9)
- A dichloromethane extract of leaves isolated squalene (1), triglyceride (2), lutein (3), and ß-carotene (4). (see study below) (10)
- Phytochemical study of leaves yielded alkaloids, tannins, phenols, flavonoids and saponins, with an absence of glycosides, steroids, and carbohydrates. Quantitative analysis showed 0.04% alkaloids, 12.5% tannins, 2.12% phenols, 26% flavonoids, and 0.19% saponins. (11)
- Nutrient analysis per 100 g of edible portion contains: water 90-92g, protein 1.9-2.4g, fat 0.4-0.5g, carbohydrates 3.7-4.0 g, fiber 0.6-1.1 g, ash 2.4 g, Ca 90 g. (23)
- Study of aqueous extract of leaves of T. triangulare isolated and detected flavonoids, benzoic acid derivatives, hydroxycinnamates, and lignans. (25)
- Study of aqueous extract of leaves isolated carotenoids, phytosterols, glycosides, saponins, and allicins. (25)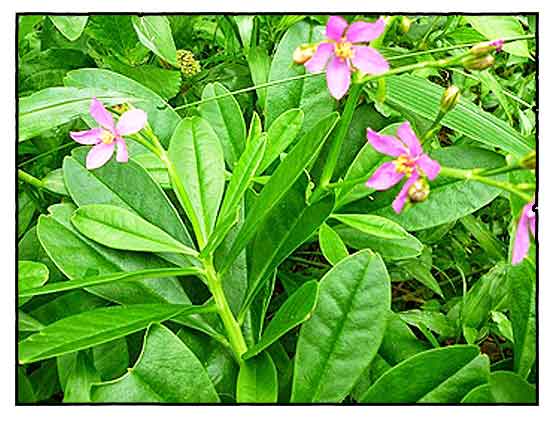 Properties
- Used as softening agent for other vegetables because of its pectinase content, the enzyme that breaks down pectin.
- Mucilaginous with high calcium oxalate content.
- The oxalic acid is reduced by blanching and cooking.
- Concerns: Contains hydrocyanic acid and nitrates, and should be avoided by people afflicted by kidney stones, gout, or rheumatoid arthritis. Caution is also advised against use of the vegetable in infant foods because of nitrates and nitrite contents, which is not removed by cooking.
- Studies have suggested antimicrobial, antioxidant, antidiabetic, antihyperlipidemic, neuropharmacological, antidiarrheal properties.

Parts used
Leaves, roots.

Uses
Edibility
- Fresh leaves and stems eaten raw or added to omelets, sandwiches.
- All parts, including roots are used in soups and stews.
- In many countries, used as a substitute for spinach.
- Tonic drink made from the leaf ginseng root.
- The high calcium oxalate content is easily destroyed by cooking.
Folkloric
- Mayan people applied crushed leaves on sores, inflammation, and swelling.
- Root decoction used as tonic.
- In eastern Indonesia, used for treatment of urinary tract problems.
- In Nigeria, used as diuretic and for treatment of gastrointestinal disorders, schistosomiasis, scabies, fresh cuts, hypertension, and anemia. (25)

Studies
• Hemolytic and Hyperglycemic: Study of an ethanol extract of T. triangulare in Wistar albino rats showed significant reduction in creatinine and increased glucose concentration. Results suggest hemolytic and hyperglycemic effect and advises caution in consumption by diabetic patients. (4) (see contrasting studies below)
• Antioxidant / Phenolic Content / Leaves: Study evaluated various extracts of leaves for antioxidant properties, total phenolic content and bioactive principles. Radical scavenging activity was determined by DPPH, superoxide, hydroxyl radical scavenging, and ferric reducing ability. A methanolic extract showed highest antioxidant activity with direct relationship between activity and polyphenolic content. Fractions 1 and 2 yielded kaempferol-7-O-neohesperidoside and luteolin. Results suggest a natural source of antioxidant in the form of a leafy vegetable. (5)
• Hypoglycemic Effect / Synergism with Glipizide / Leaves: Study evaluated the hypoglycemic effect of a methanolic extract of leaves in healthy, glucose loaded and STZ-induced diabetic rats. Results showed significant reduction of blood glucose. The co-administration of the methanol extract of leaves with glipizide, an oral hypoglycemic drug, produced a synergistic effect. (6)
• Acute Toxicity Study: Acute toxicity of methanol extract of leaves in doses of 500, 1000, and 2500, mg/kbw showed no changes in behavioral pattern, with no significant difference in body weight and food consumption, with LD50 >2,500 mg/kg. (6)
• Antihyperlipidemic / Antioxidant / Leaves: Study evaluated the effects of a methanolic leaf extract of T. triangulare on hematologic parameters, antioxidant status, and serum lipid in diet-induced hyperlipidemia in Wistar rats. The methanolic leaf extract significantly (p<0.05) restored the elevated serum lipid profile, MDA, and deranged hematological parameters to near normal. Results compared favorably with gemfibrozil. The extract also improved the status of the antioxidant defense system and hematopoiesis. (7)
• Comparative Mineral and Phytochemical Content / Sun-Dried vs Steam Blanched: Study compared the mineral and phytochemical content of talinum triangulare sundried vs steam-blanched leaves. Results showed sundried samples produced more value of mineral content over steam blanched. Phytochemical analysis of sundried sample yielded saponin 2,200 mg/g, phytate 0.434 mg/g, while steam blanched showed highest alkaloid value of 5,200 mg/g and oxalate of 3,600 mg/g. All processing methods showed considerable reduction in minerals and phytochemical content, but sun drying is the most preferred processing method to retain minerals and phytochemicals. (8)
• Antidiarrheal / Roots: Study in mice and rats evaluated the effects of an aqueous root extract of Talinum triangulare on the gastrointestinal systems using castor oil induced diarrhea and castor oil enteropooling models. Results showed dose dependent and biphasic effects in the models used, with significant (p<0.05) decrease in frequency of defecation, severity of diarrhea, and protection from diarrhea in rats treated with castor oil. The extract also significantly (p<0.05) inhibited castor oil induced enteropooling. Extract had an LD50 of 5514 mg/kg orally and 403 mg/kg intraperitoneally. (see constituents above) (9)
• Chemical Constituents / Biologic Activity: A dichlormethane extract of leaves isolated squalene (1), triglyceride (2), lutein (3), and ß-carotene (4). Squalene (1) has been reported to possess chemopreventive activity against colon carcinogenesis, cardioprotective effect and antioxidant properties. Lutein (3) has been shown to inhibited tumor growth by selectively modulating apoptosis and by inhibiting angiogensesis. ß-carotene and lutein inhibit hydrogen-peroxide induced activation of NF-kB and IL-8 expression in gastric epithelial cells. ß-carotene is also known to possess antioxidant activity. (10)
• Effect on Hematological and Liver Parameters / Safety Study / Leaves: Study of methanol extract of T. triangulare showed no effect on ALT and alkaline phosphatase, with increase in AST and RBC, with decrease in PCV and biliburin. Study showed dose dependent suppression of oxidative damage in the liver cells, suggesting overall protection of hepatocytes. The safety profile suggests it can be used to contribute to daily nutrition. (12)
• Immunomodulatory Effects / Flavonoids and Phenolic Acids / Leaves and Stems: Study evaluated leaves and stems of T. triangulare for antioxidant activity and stimulations on human mononuclear cell (MNC) growth and secretion of cytokines and NO, and inhibitory effect on human leukemic U937 cell growth. Results showed significant antioxidant activity. The water extract showed highest stimulatory effect on human MNC growth. Results suggest T. triangularis extracts have potential as health foods for their immunomodulatory properties. (13)
• Effect on Carbohydrate Metabolism and Antioxidant Systems: Study suggests oral supplementation of aqueous leaf extract of T. triangulare in alloxan induced diabetic rats is able to control diabetes induced alterations in enzymes related to carbohydrate metabolism and antioxidant defense enzymes like SOD, CAT, and GPs. (14)
• Neuropharmacological Effects on Learning and Memory: Study evaluated the neurochemical effect of aqueous extracts of Vernonia amygdalina and Talinum triangulare on cognitive functions in male Wistar rats. Results showed both VA and T. triangulare enhanced learning and memory via modulation of brain cholinergic neurotransmission. (15)
• Effect on Hematological and Kidney Parameters / Leaves: Study investigated a methanol extract of T. triangulare for effects on blood and kidney of experimental albino rats. Results showed significant increase (p<0.05) on PCV and RBC, with no significant changes in serum urea and creatinine compared to control. Phytochemical screening yielded alkaloids, flavonoids, glycosides, reducing sugars, saponins, proteins, carbohydrate, fats and oil, tannin, steroids, resins and terpenoids. Results suggest potential benefit for the management of anemia or kidney related disorders caused by erythropoietin suppression. (16)
• Gastroprotective / Anti-Gastric Ulcer: Study evaluated the effects of a methanolic extract of Talinum triangulare for treatment of gastric ulcer in 28 male wistar rats induced by acetic acid injection into the glandular part of the stomach. Results showed accelerated healing of gastric ulcers probably through reduced oxidative stress, increased cell proliferation, and angiogenesis. (17)
• Antimicrobial: Study evaluated the phytochemical and antimicrobial properties of Talinum fruticosum. Phytochemical screening yielded flavonoids, glycosides, carbohydrates, and protein. A chloroform extract showed activity against gram positive organisms. (18)
• Inhibitory Effect on Fe Induced Lipid Peroxidation: Study evaluated an ethyl acetate fraction for total phenolic content (TPC) of T. triangulare. As concentration of solvent extract increase, there was also increase in inhibition of formation of MDA in Fe-induced lipid peroxidation. Results showed considerable antioxidant properties in vitro. Likely, the inhibition against induced oxidative stress is due to the phenolic compounds present in T. triangulare. (19)
• Anti-Inflammatory: Study evaluated the anti-inflammatory activity of T. fruticosum on formalin induced paw edema in rats. Phytochemical screening yielded secondary metabolites like alkaloid, flavonoid, tannin, saponin, and quinine. Oral administration of formalin produced reduction of SOD, GSH, GPX, GR, serum protein, total RBC and Hb. Pretreatment with T. fruticosum at doses of 100, 200, and 300 mg/kbw significantly increased levels of above parameters, along with normalization of length of paw thickness and normalization of serum enzymes, and reduced effects pm cartilage and osteoblast. (24)

Availability
- Wild-crafted.
- Seeds in the cybermarket.