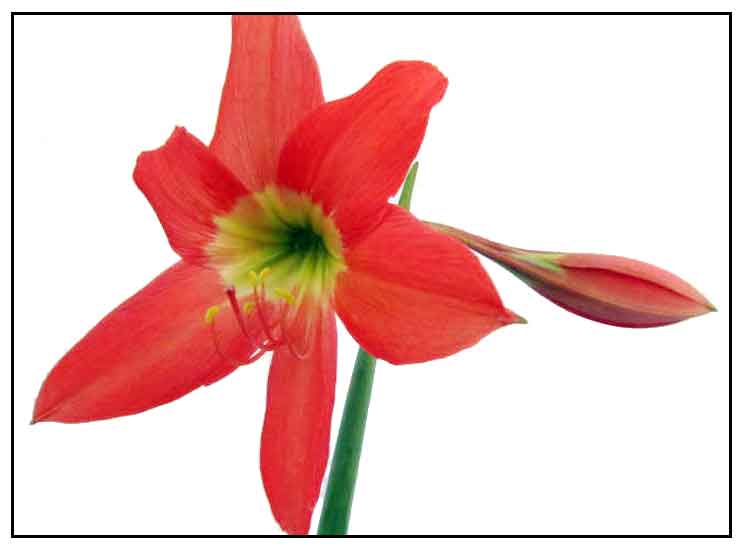 Botany
Orange lirio is a bulbous perennial with runners or stolons. Leaves are fleshy green, sword like, 25 to 40 centimeters long, 3 centimeters wide, strap-shaped, narrowed at the tip, developing fully as the flowers wilt. Stem arising from the bulb is cylindrical, hollow, 30 to 40 centimeters long, the tip bearing 2 to 4 stalked, showy, more or less nodding, red or orange colored flowers. Flowers are trumpet-shaped, 8 to 10 centimeters in diameter, the tube about 2.5 centimeters long, and the 6 segments 10 to 12 centimeters long. The fruit is a roundish capsule.
There are several cultivated forms, including a hybrid with dark red flowers with a white stripe running along the center of each segment.
Distribution
- Cultivated.
- Planted in towns and cities in the Philippines.
- Native to South America.
Constituents
- Study isolated an alkaloid, 3-O-acetyl-narcissidine.
- Phytochemical screening of various extracts of bulbs yielded alkaloids, carbohydrates, flavonoids, tannins, saponins, terpenoids, proteins and amino acids. The chloroform extract showed the highest amount of phenolics while the ethyl acetate extract yielded the highest amount of flavonoid. (see study below) (4)
- GC-MS analysis of methanolic extract of bulbs and fractions yielded 11 alkaloids: 9-O-demethyllycoramine (1), lycoramine (2), galantamine (3), assoanine (4), kirkine (5), pancratinine (6), 8-demethylmaritidine (7), 11-hydroxyvittatine (8), pseudolicorine (9), 2α-hydroxyhomolycorine (10) and lycorine (11). Four were isolated and identified from the class of isoquinoline alkaloids. (6)


Properties
- Considered antispasmodic, emetic, purgative.
- Toxicity: Contains alkaloids with reported toxicity, especially to cats. Bulbs considered the most poisonous part of the plant. Toxicity is attributed to phenanthridine alkaloid derivatives i.e., lycorine, crinidine, clivacetine clivorine, cliviasine and clividine. Manifestations of poisoning may include gastrointestinal (vomiting, salivation, diarrhea, abdominal pain), convulsions, cardiac arrhythmias, low blood pressure and respiratory depression. (7) (8)
- Studies have suggested antioxidant and anti-inflammatory properties.

Parts used
Flowers, bulbs.

Uses
Folkloric
- No reported medicinal use in the Philippines.
- Used for stomachaches.
- In French Guiana, flower infusion is considered antispasmodic; locally used for whooping cough. In NW Guyana, root used to treat asthma, biliousness, as laxative and to induce vomiting. (2)
- In India fresh bulbs traditionally used for healing wounds, tumors, and piles.
- In Jamaica, bulb is used to make plaster with bread or Eryngium foetidum for use on swelling and sores. Also used for abscesses and ulcers. (3)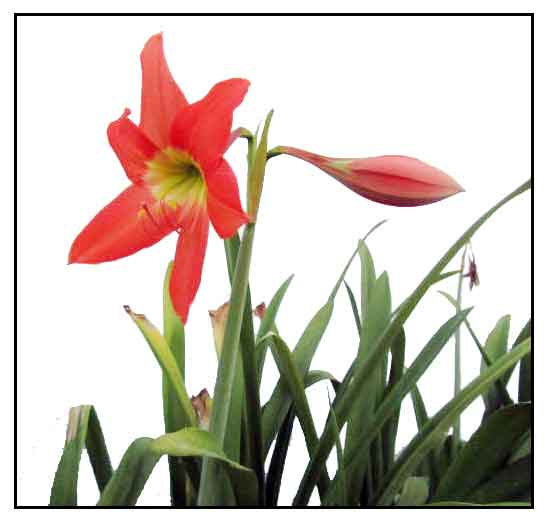 Studies
• Bioactive Alkaloid / Antifeedant / Plant Protective: Study isolated a bioactive alkaloid, 3-O-acetyl-narcissidine, which showed antifeedant activity against the polyphagous insect Spodoptera littoralis. The compound also inhibited root growth, root development, and germination of several weeds. Results suggest a plant protective role for H. puniceum alkaloids. (1)
• Phytochemical Examination of Bulbs: Microscopic examination of bulbs showed starch grains, mucilage cells and xylem fibers. Phytochemical screening of various extracts yielded alkaloids, carbohydrates, flavonoids, tannins, saponins, terpenoids, proteins and amino acids. A chloroform extract showed the highest phenolic content. (4)
• Antioxidant / Anti-Inflammatory / Bulbs: Study evaluated an aqueous extract of bulbs of H. puniceum for anti-inflammatory activity using protein denaturation and proteinase inhibition methods and antioxidant activity by iron chelating and total antioxidant assay. Results showed antioxidant and anti-inflammatory potential attributed to flavonoids and phenolics. (9)
• Neuroprotective / Acetylcholinesterase Inhibitory Activity: Study evaluated alkaloidal fractions of five Amaryllidaceae species for neuroprotective activity and acetylcholinesterase inhibitory activity. Hippeastrum puniceum showed AChE enzyme inhibition of 53.95 ± 1.20% at 28.7 µg/mL and IC50 of 25.73 ± 1.75. Exposure to glutamate (125 µM) induced a significant decrease in cell viability of primary cerebral cortical neurons. Pretreatment with some alkaloidal fractions reversed the decrease in cell viability of primary hippocampal neurons in a concentration-dependent manner. Among others, H. puniceum exhibited significant reversing effect (2.9 µg/mL) with statistically significant difference (p<0.001) with respect to glutamate. Galanthamine control did not show any protective effect. (10)
Availability
- Wild-crafted.
- Ornamental cultivation.