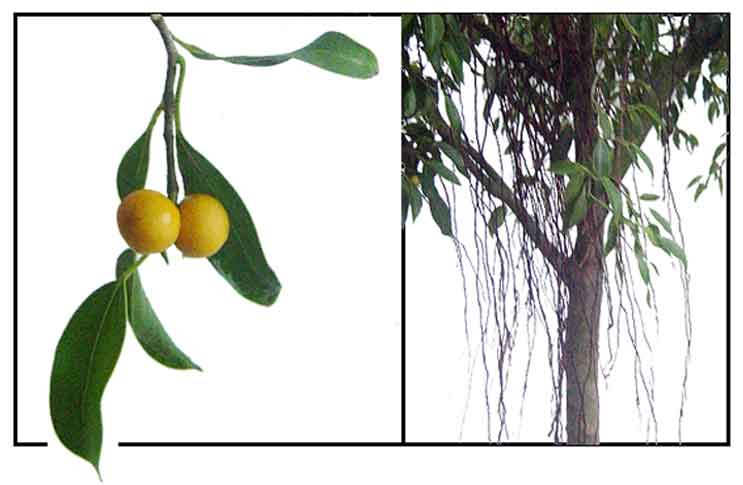 Botany
Marabutan is a large tree, often epiphytic, with slender aerial roots. Bark is brown and smooth. Leaves are dark green, with a thick waxy outer covering, elliptic, ovate or obovate, 5 to 10 centimeters long, the apex rounded or with short and blunt tapering points, narrowing into a petiole 6 to 12 millimeters long. Male flowers are numerous, scattered, stalkless or short-pedicelled. Female flowers are stalkless and much smaller. Fruit is stalkless, yellow or reddish, about 1 centimeter in diameter.
Distribution
- In thickets and forests at low and medium altitudes throughout the Philippines, ascending to 1,500 meters.
- Native to Borneo, Java, and Malaya.
- Also occurs in India to southern China, in Taiwan, and through Malaya to Australia and New Caledonia.

Constituents
- Study yielded a wide range of phytochemicals: sterols, terpenoids, glycoside, flavonoids, polyphenols, proteins and carbohydrates. (1)
- HPLC analysis of bark showed the predominant presence of oleanolic, betulinic acid, lupeol, ß-sitosterol, catechin, and gallic acid. (11)
- Study of aerial parts yielded two new polyphenolic compounds named retusaphenol [2-hydroxy-4-methoxy-1,3-phenylene-bis- (4- hydroxy-benzoate)] and (+)-retusa afzelechin [afzelechin - (4α-->8) - afzelechin - (4α-->8) - afzelechin] together with ten known compounds: luteolin, (+) - afzelechin, (+) - catechin , vitexin, ß-sitosterol acetate, ß-amyrin acetate, moretenone, friedelenol, ß-amyrin and ß-sitosterol. (see study below) (17)
Properties
- Leaves and bark are antirheumatic.
- Plant considered pungent, bitter, and aphrodisiac.
- Studies have suggested radical scavenging, analgesic, anti-inflammatory, hepatoprotective, anti-secretory, wound healing, antiulcer, antibacterial, bioindicator, antidiarrheal, antispasmodic properties.
Parts utilized
Leaves, rootlets and bark.

Uses
Folkloric
- Leaves and bark used as poultice for rheumatism.
- In Concan, juice of leaves used for flatulent colic and the juice of bark used for liver diseases.
- Bark juice used for liver diseases.
- Bark has been used for diabetes, ulcers, hemorrhages, leprosy.
- The rootlets are dried and powdered, mixed with salt and applied to toothaches.
- Latex considered aphrodisiac.
- In India, used for diabetes; Leaves fumigated and steam inhaled for relief of fever. Leaf paste along with fruit, combined with cumin, is taken orally to cure swellings, lung blockage. Also, applied topically over fractured bones. (15)
- In China, adventitious rootlets used for toothaches, for which they are dried, powdered and applied to the decaying or aching tooth.
- In Ayurveda, used to treat liver disorders, hepatomegaly, wounds and ulcers.
- In Kerala, India used for treatment of leucoderma, ulcers, leprosy, itching, and biliousness. Bark used for liver diseases. Powdered leaves and bark used for rheumatic headaches. Leaves and roots used for wounds and bruises. (5)
- Bark and fruit used by the ethnic communities of South India for treatment of male sterility, to increase stamina, for wound healing and swelling. (21)
Others
- Coir: Stem fibers used in coir production.
- Latex: Latex used to produce rubber, although three-quarters of the latex is resin.
Studies
• Phenolic Content / Radical Scavenging Activity: Study of the leaves of eleven Ficus species growing in Egypt were subjected to free radical scavenging activity. Six methanol extracts, including Ficus nitida showed high activity. (2)
• Anti-Diabetic: Study of water and methanolic extracts of Ficus retusa leaves showed significant lowering of blood glucose in a dose-dependent manner. No over sign of hepatotoxicity and renotoxicity were observed in chronic toxicity studies. Results conclude the extracts present a potential and safe alternative antidiabetic treatment. (3)
• Anti-Inflammatory: Study evaluated the anti-inflammatory effects of ethyl acetate and methanolic extract of leaves in albino wistar rats. Results showed significant anti-inflammatory effects in reducing rat paw edema induced by carrageenan. Diclofenac was the reference anti-inflammatory agent. (7)
• Hepatoprotective / Leaves: Study of ethyl acetate and methanolic extracts of leaves showed significant dose dependent hepatoprotective (p<0.001) activity against carbon tetrachloride induced hepatotoxicity in rats. (8)
• Anti-Secretory / Antiulcer: Study evaluated an ethanol extract of stem bark in albino rats. Phytochemical analysis yielded alkaloids, triterpenoids, and flavonoids. The ethanol extract showed dose-dependent inhibition in ethanol-induced gastric lesions. Results support it ethnomedical use in the treatment of gastric ulcer. (9)
• Wound Healing: Study evaluated various extracts and solvents of air-dried parts of plant for wound healing activity on incision and excision models in rats. A 5% of petroleum ether and ethanolic extracts showed safety for topical administration. Results showed wound healing activity which was attributed to its antimicrobial, hemostatic, and antioxidant properties, together with the involvement of secondary metabolites. (12) The comparative wound healing effect of F. retusa extract and framycetin 1% w/w suggests an antimicrobial effect of the extract plays a major role in its wound healing activity. Furthermore, wound healing activity is probably partly due to tannins which act as free radical scavenger and secondary metabolites saponins. (18)
• Analgesic / Anti-Inflammatory: Study evaluated a methanol extract of leaves for analgesic and anti-inflammatory activity in animal models. Results showed significantly reduced edema induced by carrageenan and histamine. In acetic acid-induced writhing model, the extract showed good analgesic effect with dose dependent decrease of licking time and licking frequency. (13)
• Biologic Activity / Aerial Parts: Study of aerial parts yielded two new polyphenolic compounds plus ten known compounds. Study for anticancer (Ic50 68.64 µg/ml against Hep G2 cells and >100 µg/ml against HCT-116 cells), antioxidant (SC50 0.85 µg/ml), antidiabetic, hepatoprotective, anti-inflammatory and antimicrobial activities of different plant extracts showed significant results. (see constituents above) (17)
• Silver Nanoparticles / Antibacterial / Dye Decolourising / Leaves: Study reports on the synthesis of AgNPs using aqueous F. retusa leaf extract. The AgNPs were evaluated for antibacterial and high catalytic activity in enhancing decolourisation of eriochrome black T dye. (18)
• Indicator of Air Metallic Pollution: Study evaluated the accumulation potential of heavy metals (HMs) by Ficus retusa and its possible use for air pollution biomonitoring in urban areas. Plant material was sampled along national roads in Constantine city (NE Algeria), characterized by intense traffic load. Concentration of cadmium, copper, lead, and zinc were measured in leaves. The mean concentrations of HMs were in the order of Zn > Pb > Cu > Cd for both washed and unwashed leaves. The studied metal concentrations were significant higher than those cited in literature, indicating traffic road impact on HMs emissions and uptake by plants. Higher values of metal accumulation index (MAI) indicates the effectiveness of the studied species for for monitoring air metallic pollution in urban areas. Results of the study may be beneficial as reference values for HMs uptake by Ficus retusa in urban environments. (22)
• Antidiarrheal / Antispasmodic / Leaves: Study evaluated the traditional claim of Ficus retusa as an anti-diarrheal and anti-spasmodic agent using different pharmacologic models. Anti-diarrheal activity was evaluated by magnesium sulfate induced diarrhea and 5-hydroxy tryptamine (5HT) induced diarrhea and gastrointestinal motility test using standard procedure. An ethanolic leaf extract at 400 mg/kbw exhibited significant and potent dose-dependent antidiarrheal and antispasmodic activity. (23)

Availability
Wild-crafted.