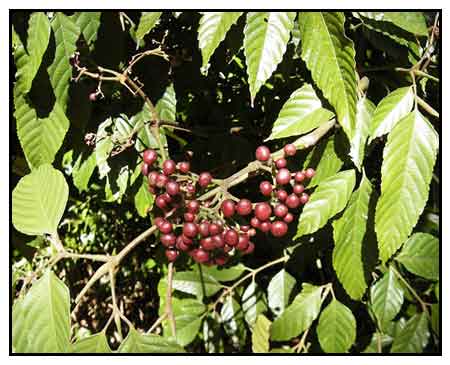 Botany
Mali is a shrub with straight branches. Leaves are pinnate or tripinnate, 90 to 120 centimeters long. Leaflets are extremely variable in size and shape. Flowers are greenish-white. Fruit is small.
Distribution
- In thickets at low altitudes in Mindoro, Mindanao, Panay, and the Sulu Archipelago.
- Rare in the Philippines.
- Also occurs in India to Indo-China, the Malay Peninsula, Java, Sumatra, and Borneo.
Constituents
- Study of leaves of Leea indica yielded twenty-three known chemical compounds including 11 hydrocarbons, phthalic acid, palmitic acid, 1-eicosanol, solanesol, farnesol, three phthalic acid esters, gallic acid, lupeol, b-sitosterol and ursolic acid.
- Phytochemical screening isolation a novel carotenoid, leeatene, and nine other known compounds including squalene, hexadecanoyl-0-amyrin, vitamin E, 1 - tetratriacontanol, P-amyrin, 3-hydroxy-12-oleanen-28-oic acid, Psitosteryl- P-D-glucopyranoside, 2a,3a,23-trihydroxy-12-oleanen-28-oiacc id and phloridzin.
Properties
- Root considered cooling, digestive, thirst-quenching.
- Elsewhere considered anticancer, antioxidant, antidiabetic, antidiarrheal, antidysenteric, antispasmodic.

Parts used
Roots, leaves.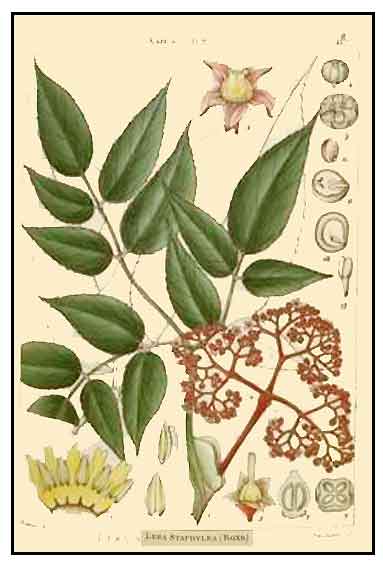 Uses
Folkloric
- Decoction of roots used in colics and for relieving thirst.
- In Goa, roots used for diarrhea and chronic dysentery.
- Roasted leaves applied to the head to relieve vertigo.
- Leaf juice applied on the head for dizziness or vertigo.
- Juice of young leaves used as digestive.
- In La Reunion, roots used as sudorific.
- Jakuns reported to use poultice of leaves for body pains.
- Paste of roots applied to relieve skin complaints with rashes and allergic reactions.

Studies
• Antioxidant: Study of extracts from Leea indica and Spermacoce articularis showed strong DPPH free radical scavenging activity comparable with standard quercetin, BHT and vitamin C. Leea indica also showed strong inhibitory activity on nitric oxide production.
• Anti-Cancer: Several extracts and fractions were evaluated for cytotoxicity on various cell lines. The ethyl acetate fraction showed the greatest cytotoxic effect against Ca Ski cervical cancer cells via induction of growth suppression and apoptosis effects. It presents a potential as an anticancer drug.
• Anti-Cancer / Antioxidant: Study yielded a nove carotenoid, leeatene, and 9 other known compounds. Compounds 3, 7 and 10 exhibited antioxidant activity, while compounds 1, 2, 4, 7 and 9 showed cytotoxicity against different cancer cell lines.
• Essential Oil Constituents / Antimicrobial: Study showed more than 95% of the oil consisted of esters of phthalic acid. The essential oil showed moderate antibacterial activity against three Gram positive and two Gram negative and three pathogenic fungi.
Availability
Wild-crafted.