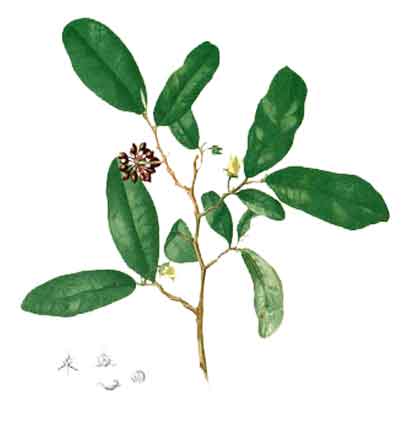 Botany
Kalimatas is a small tree growing up to 15 meters in height. Leaves are ovate-lanceolate, 10 to 20 centimeters long, 3.5 to 6.5 centimeters wide, pointed at both ends, and borne upon 5-millimeter petioles. Flowers are solitary, or grow 3 to 4 together on the axils of the leaves, with 2- to 3-centimeter pedicels. Sepals are minute, triangular, and hairy. Petals are very unequal; the outer ones, oblong and 1.5 to 2 centimeters in length; the inner ones, ovate and smaller. Fruit are numerous, ovoid or ellipsoid-spiculate, yellowish when immature, reddish black when ripe, smooth, and borne in round clusters upon smooth stalks 2 to 3 centimeters long.
Distribution
- Widely distributed in the Philippines at low and medium altitudes.
- Also occurs in Brunei, Sabah, East Kalimatan, Sulawesi, Moluccas, Kai Islands, Aru Islands, Papua and Papua New Guinea.
Constituents
- Yields two alkaloids: one is a tertiary, nonphenolic, crystalline base, occurring in the amount of 0.7% with the formula C34H38N2O6 or C35H40N2O6, given the name phaeanthine. The other alkaloid has the properties of a quarternary base.
- Structure of phaeanthine is similar to that of oxyaeanthine and of berbamine.
- Study yielded another tertiary alkaloid in the form of fine crystals, kalimatine.
Properties
- The quarternary solution and galenical preparations (tincture and fluid extract) have shown important pharmacodynamic effects of lowering blood pressure and relaxing smooth muscle. The fall in blood pressure may be partly due to depression of the heart. Sufficiently large doses also depress the intestine, tracheal muscles, and uterus.

Parts used
Bark, leaves, stems.

Uses
Folkloric
- After the outer portion of the bark has been removed, very thin pieces of plant scrapings are placed in a small amount of water. The mixture is macerated and filtered through a piece of cloth, and dropped into sore eyes with inflamed conjunctiva, daily until the conjunctivitis is cured.
- The Ayta people of Porac, Pampanga province mash fresh or dried leaf and stems, then burned and applied to the body as repellent against hematophagous insects. . (5)
Others
- Wood: Bark is used for tying purposes. Wood used for light house construction.
Studies
• Phaenthine / Leaves: Study of chloroform-soluble fractions of leaves of P. ebracteolatus isolated fine needle-like crystals identified as phaenthine by spectroscopy. (2)
• Cyclic Tetrapyrrolic Photosensitisers / Leaves: The ethanolic extract of leaves reduced the in vitro viability of leukemic HL60 cells to <50% when exposed to 9.6 J/cm2 of broad spectrum light at concentration of 20 µg/mL. Study reports the main photosensitisers in plants are based on the cyclic tetrapyrrole structure. (4)
Availability
Wild-crafted.