Gen info
The Calophyllum genus is composed of about 200 species with a pantropical distribution. Some species are part of many indigenous systems of folkloric treatment for a wide range of maladies – tumors, inflammation, ulcers, pain.
Botany
Bitangol is an erect tree, growing to a height of about 25 meters. Leaves are opposite, slightly hairy, oblong, about 10 centimeters long and 3 centimeters wide, with numerous parallel and closely set veins. Panicles are shorter or equal to the leaves in length, erect or ascending from the upper leaf axils. Flowers are creamy white, about 2 centimeters across. Fruit is ellipsoid.

Distribution
- In primary forests, in low and medium altitudes.
- Abundant from Cagayan to Sorsogon Provinces in Luzon; and in Ambil, Palawan, Masbate, Leyte, Panay, and Mindanao.
- Also reported in Taiwan, Indonesia, and Malaysia.

Constituents
- Fractionation of acetone extract of seeds yielded six pyranochromanone derivatives: apetalic acid (1), isoapetalic acid (2), apetalic acid methyl ester (3), apetalic acid 5-O-acetate (4), isoapetalic methyl ester (5), and isoapetalic acid 5-O-acetate (6), together with one new dihydrocoumarin derivative, isorecedensolide and recedensolide (8). (see study below) (1)
Properties
- Studies have suggested anti-tumor, antiviral, antiplasmodial properties.

Uses
Folkloric
- Sap of the bark, when mixed with sulphur, used in the treatment of boils and wounds.
- For asthma, a piece of cloth moistened with the sap is applied to the breast of a patient.
- For foreign body discomfort in the eyes - "napuwing" - infusion of slices leaves used for removal.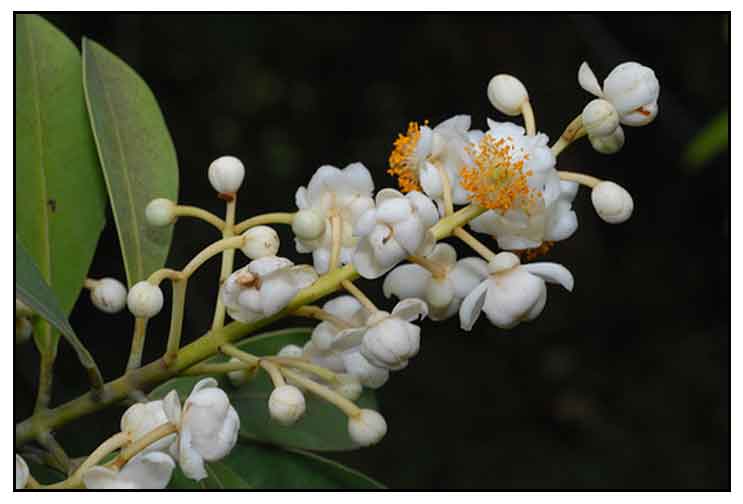 Studies
• Chromanones / Anti-Cancer / Seeds: Study on the fractionated acetone extract of Calophyllum blancoi seeds yielded six pyranochromanone derivaties, together with isorecedensolide and recedensolide. Compounds 3, 4, 5, 7, and 8 showed showed mild activity against KB (human oral epidermoid carcinoma) and Hela (human cervical epitheloid carcinoma) tumor cell lines. (see constituents above) (1)
• Xanthones / Anti-Viral: Root phytochemical studies in Taiwan isolated three new pyranoxanthones – blancoxanthone, acetyl blancoxanthone, and 3-hydroxyblancoxanthone. Biological study of the isolated xanthones revealed that blancoxanthone exhibited significant anti-coronavirus activity. (2)
• Betulinic Acid / Anti-Melanoma: Three Calophyllum species–C. blancoi, C. gracilipes, C. teysmannii–isolated betulinic acid, a strongly cytotoxic triterpene reportedly useful for the treatment of melanoma. (3)
• Anti-Plasmodial Acid: The crude extract of 30 plants species were evaluated for anti-plasmodial activity. Of 14 species that showed significant antiplasmodial activity, C. blancoi was one of six that displayed varying degrees of activity towards both the sensitive and resistant P. falcifarum strains, although only weak activity towards the resistant strain. (5)

Availability
Wildcrafted.