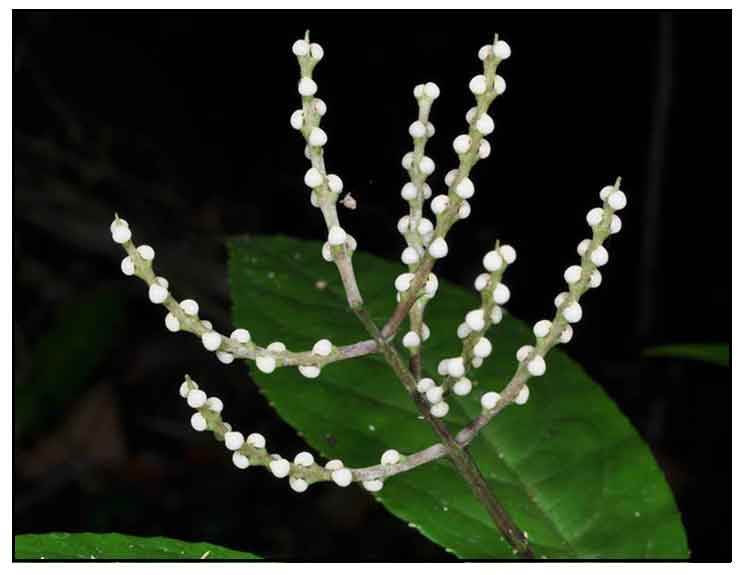 Botany
Barau-barau is a spreading undershrub, with a similar habit to apot (Chloranthus glabra). Stems are 30 to 70 centimeters high. Leaves are smooth, obovate-oblong or elliptic, the smaller ones broadly lanceolate, averaging 10 to 15 centimeters long, the larger ones being about 5 centimeters wide, with pointed tip, finely granular margin and with short stalks. Spikes are about 3 centimeters long, in few-branched terminal panicles, upon a 3- to 5-centimeter long peduncle. Flowers are minute. Fruit is white, juicy, 5 to 8 millimeters in diameter, with a relatively large seed.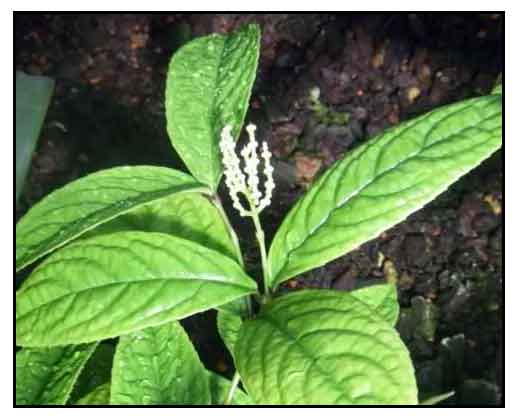 Distribution
- Widely distributed in forests at low and medium altitudes from central Luzon southward to Palawan and Mindanao.
- Occurs in India to Western China and southward through Malaya.
Constituents
- Study of whole plant yielded two new eudesmane-type sesquiterpenoid lactones, chlorelactone A (1) and chlorelactone B (2), and one new labdane-type diterpenoid, elatiolabdane (3), along with seven known sesquiterpenoids and one known disesquiterpenoid. (8)
- Study of ethanol extract of aerial parts yielded four novel naturally occurring diasterioisomers of dinor-eudesmenes, named chloranthones A-D. (9)
Properties
- All plant plant parts have a camphoraceous odor and bitter, aromatic taste.
- Leaves and stems lose the aromatic property after drying. Root, if properly dried, preserve it for a long time. (6)
- Considered febrifuge, sudorific and stimulant.
- Studies have shown anti--inflammatory, antibacterial, antipyretic properties.

Parts used
Flowers, roots, leaves.

Uses
Culinary
- Flowers used to scent tea in China.
- Young leaves eaten raw as vegetable.
- Leaves used to make a drink in Malaya and Indonesia.
Folkloric
- In Java, an infusion of the powdered root and the bark of Cinnamomum culilowan used to treat puerperal eclampsia.
- Infusion used in fever accompanied by debility and suppression of the function of the skin.
- Tea made from leaves and roots has a sudorific action.
- Infusion of flowers and leaves used to treat coughs.
- Roots are boiled, then powdered, rubbed over the body for fever.
- Sudorific and stimulant, it is used for malarial fevers.
- Bruised roots used as poultice for boils and carbuncles.
- In India and South-East Asia traditionally used as folklore medicine for localized swelling, joint pains, skin inflammation, fever and body aches. (3)
- Khamti tribe of Arunachal Pradesh use leaves for elephant foot swelling. (5) Paste of leaves with Curcuma longa applied on area of fracture bones to reduce pain and swelling. (10)
- C. erectus is considered an aphrodisiac, particularly in women. In India, the juice from boiled branches is used as contraceptive; root and bark used as antispasmodic during childbirth. Leaf extract used for venereal diseases. (2)
Others
- Dye: Plant yields a dark blue or black dye.

Studies
• Anti-Inflammatory: Preliminary study of a methanol extract of C. erectus in acute, sub-acute, chronic mouse models exhibited significant anti-inflammatory activity in tested models (carrageenan-induced rat hind paw edema, histamine- and serotonin-induced sub-acute model). (3)
• Antipyretic / Antibacterial: A methanol leaf extract was evaluated for antipyretic potential in an albino rat model and for antibacterial activity against Gram(-) and Gram(+) bacterial strains. Results showed significant antipyretic activity in the tested models and antibacterial activity against both groups of bacteria. (4)
Availability
Wild-crafted.