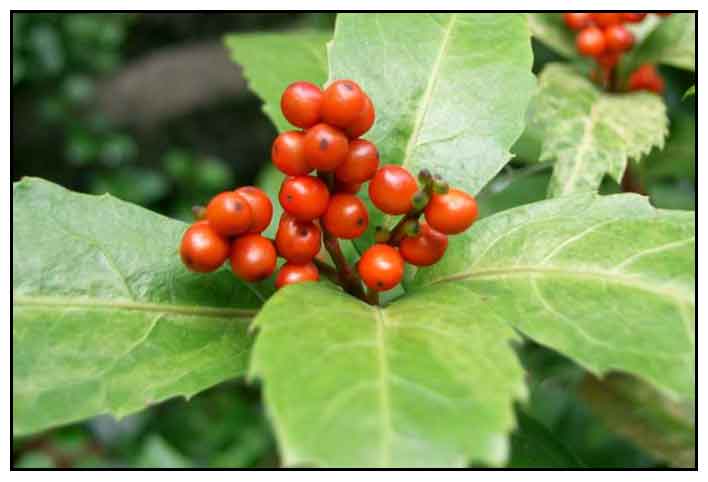 Botany
Apot is a spreading undershrub, 60 to 90 centimeters tall. Stems and branches are terete, the latter opposite or in subwhorls, and smooth. Leaves are opposed, with short petioles, narrowly oblong to lanceolate, 10 to 15 centimeters long, and only the larger ones 5 centimeters wide, leathery and smooth, with the margins (except near the base), toothed with sharp teeth and the tip pointed. Inflorescence is paniculately few-branched, upon a 3-centimeter long peduncle, with ascending spicate branches. Flowers are minute, sessile, with a subtended bract. Fruit is a rather small, one-seeded drupe, with somewhat juicy flesh and vermilion-red skin.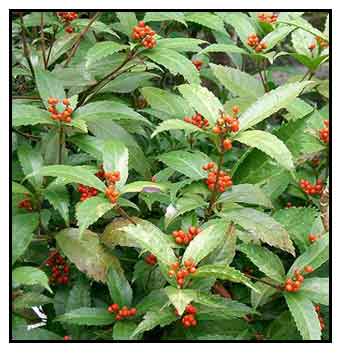 Distribution
- Common and widely distributed in the Philippines in primary forests at medium and higher altitudes.
- Also occurs in India to Japan, southward to Malaya.
Constituents
- Study yielded 11 compounds: shizukanolide, furanodienone, lupeol, 24-hydroxylupeol, pinostrobin, 2', 6'-dihydroxy-4'-methoxydihydrochalcone, 7-rnethylnaringenin, eleutheroside B1, 3,4-dihydroxybenzonic acid, palmitic acid and β-sitosterol.
- Yields terpenoids, flavanoids, coumarins and phenolic acids.
- Study yielded two new sesquiterpenes: glabranols A and B. (4)
- Chloroform and EtOH extracts yielded six compounds, viz. 4, 4'-biisofraxidin, esculetin, fraxetin, scoparone, isofraxidin, scopoletin. (See study below) (11)
- Study of aqueous acetonic extract of whole plant yielded a new eudesmanolide sesquiterpene, atractylenolide IV, together with 7 known compounds. (14)
- Study yielded flavonoid glycosides identified as kaempferol-3-O-beta-D-glucuronide (1), quercetin-3-O-alpha-D-glucuronide (2), quercetin-3-O-beta-D-glucuronopyranoside methyl ester (3), 5, 7, 4'-trihydroxy-8-C-beta-D-glucopyranosyl flavanone (4), neoastilbin (5), 5-O-caffeoylquinic acid methyl ester (6), 3, 4-dihydroxybenzoic acid (7), isofraxidin (8). (17)
- Total water extract yielded nine compounds identified as isofraxidin(1), 8-methoxy- 6,7-methylenedioxy-coumarin (2), 7-methylnaringenin (3), kaemferol (4), kaemferol-3-O- rhamno- pyranosyl (1→6)glucopyranoside (5), eleutheroside B1 (6), isofraxidin-7-O-β-D-xylopyranosyl (1- 3)-α-D-glucopyranoside (7), rosmarinic acid (8), 3,4-dihydroxyphenethyl caffeate (9). (19)
Properties
- Both warm and sweet, detoxifying, anti-inflammatory.
- Studies have suggested anti-tumor, immunoprotective, and antibacterial properties.

Parts used
Whole plant, leaves.

Uses
Edibility
In Malaya, leaves reportedly used to scent tea or added to tea for bulk.
Folkloric
- Infusion of the plant used for headaches.
- In traditional Chinese medicine used for treatment of bruises, bone fractures, arthritis, nausea, joint swelling and cough.
- An herb included in Chinese Pharmacopoeia used as anti-tumor, antibacterial, anti-inflammatory, and for increasing blood platelets.
- In Chinese medicine, used for reducing heat in the blood.

Studies
• Beneficial Effect on Chemotherapy-Induced Thrombocytopenia: Study showed Sarcandra glabra had obvious activity in the treatment of thrombocytopenia and can prevent thrombocytopenia induced by 5-FU in a Babl/c mice model. Before chemotherapy, the platelet counts in mice treated with SG were higher than control (p<0.05) and were not significantly decreased after chemotherapy with 5-FU. (5)
• Toxicity Study: Study to provide toxicology evidences for the dietary safety of Sarcandra glabra showed its oral LD50 for mouse was within the limit of nonpoisonous. All mutagenic tests were negative. (6)
• Chemical Constituents: Study isolated 9 compounds: isoscopletin, syringaresinol monoside, styraxjaponoside B, 5-O-caffeoylshikimic acid, shizukanolide E, isoastilbin, neoisoastilbin, astilbin, neoastilbin. (7)
• Anti-Cancer / Anti-Leukemic: Study showed selective growth inhibition of an EA (ethyl acetate) extract on cancer cells; leukemic HL-60 was most responsive. Cytometric studies showed the extract might interfere with DNA replications and pro-apoptotic Bax/Bcl-2 ratio was up-regulated by more than 178%. Findings suggest the extract initiated apoptosis to kill the leukemic cells. Results suggest further research and a potential for S. glabra as an efficacious anticancer agent. (8)
• Anti-Tumor / Apoptosis of Nasopharyngeal Ca Cell Line: Study evaluating Sarcandra glabra extracts on anti-tumor effect and apoptosis of implanted human nasopharyngeal carcinoma cell lines in nude mice showed SG suppresses the growth of tumor in vivo through a mechanism of down-regulation of the expression of Bcl-2 and up-regulation of the expression of Bax to promote apoptosis. (9)
• Immune System Effect: Study showed SG extract has an immunologic protective effect in restrained mice probably via the amelioration of immune cells proportion and number. (10)
• Constituents / Antibacterial Potential: Study of chloroform and EtOH extracts isolated six compounds, viz. 4, 4'-biisofraxidin (1), esculetin (2), fraxetin (3), scoparone (4), isofraxidin (5), scopoletin (6). Results suggest potential in some compounds for the development of plant-derived oral antibacterial agents. (11)
• Decreased Susceptibility and Severity of Influenza: Extract of SG was investigated in mice for its effect against influenza. Results showed improvement in susceptibility markers and inhibition of inflammatory cytokines through down-regulation of NF-kB protein expression to ameliorate lung injury. Data showed reduction of susceptibility and severity of influenza. (12)
• Hepatoprotective / Sesquiterpene Glycosides: Study of whole plant yielded six new sesquiterpene glycosides, compounds 1-6, with eudesmanolide, elemanolide, lindenane, and germacranolide sesquiterpene aglycons, along with one known compound chloranoside A (7). Compounds 1-7 showed pronounced hepatoprotective activities against D-galactosamine-induced toxicity in WB-F344 rat hepatic epithelial stem-like cells. (16)
• Anti-Inflammatory / Attenuation of LPS-Induced Acute Lung Injury: Study evaluated the protective effects of Sarcandra glabra extract on LPS-induced acute lung injury (ALI) induced by lipopolysaccharide (LPS) in mice. Results suggest SGE may ameliorate ALI induced by LPS. The SGE significantly reduced the release of TNF-α and IL-6 in lung and also inhibited the expression of NF-kB and TLR4. (18)
• New Coumarin / Potential Anti-Inflammatory: Study of whole plant isolated one new coumarin i.e., 3,5-dihydroxy-7-O-α-L-rhamno pyranosyl-2H-chromen-2-one. The compound significantly inhibited nitric oxide (NO) production in LPS-induced RAW264.7 macrophages and inhibited iNOS mRNA expression. Results suggest the compound could be a potential anti-inflammatory agent by down-regulating iNOS expression. (20)
• Sarglaperoxides / Bioactivities: Study isolated a pair of unusual sesquiterpene- monoterpene conjugates with a peroxide bridge, i.e., sarglaperoxides A (1) and B (2). The two compounds were screened in antimicrobial, anti-inflammatory, and cytotoxic bioassays and showed moderate bioactivities. (21)
• Protective Against Influenza Virus Induced Pneumonia: Sarcandra glabra extract exhibited protective effects against influenza and its subsequent viral pneumonia in restrained-stressed mice. The mechanism may be related with the inhibition of virus replication and decrease of virus-induced inflammatory cytokine levels. (see also study 12) (22)
• SG Polysaccharide / Anti-Diabetic / Hypolipidemic / Antioxidant: An in vitro a-glucosidase inhibition assay showed the acidic S. glabra polysaccharide (SGP-2) has an IC50 of 87.06 ± 11.76 µg mL, which was much lower than acarbose t 338.90 ± 46.86 µg mL. The SGP2 could also significantly improve (p<0.05) the insulin resistance and glucose tolerance in diabetic mice. Activities of antioxidant enzymes, hexokinase and pyruvate kinase were significantly increased (p<0.05) in SGP2 treated groups. The hypoglycemic effect may be through decrease of insulin resistance, reduction of postprandial blood glucose, amelioration of lipid metabolism, and alleviation of oxidative stress. (23)
Availability
Wild-crafted.
Tablets and herbal formulations in the cybermarket.