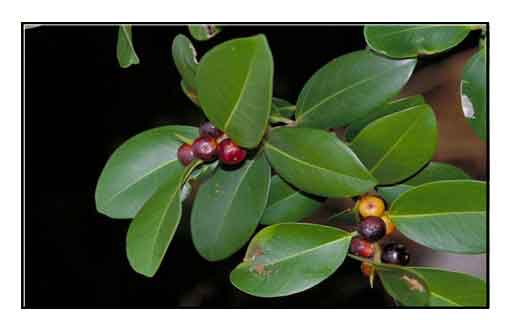 Gen info
- Etymology: The name derives from Latin: Ficus, commercial edible figs; micro is Latin, small; and karpos, fruit, referring to the plant's small fig. (2)
- Worldwide there are over 800 species of the genus Ficus (Latin: fig) and of the more than 10 species found in the Philippines, Balete is a shared common name for six of them: (1) Ficus benjamina, salisi (2) Ficus elastica, Indian rubber tree (3) Ficus indica, baleteng-baging (4) Ficus payapa, payapa (5) Ficus retusa, marabutan, and (6) Ficus stipulosa, botgo.
- Superstition: In Southeast Asia, F. microcarpa is one of the species thought to harbor spirits, such as the Pontianak, a vengeful mythological spirit, In China, big fig trees are associated with good spirits and vital energy, Qi. (13)
- The introduction of the pollinator wasp in many countries where the tree is cultivated, including Hawaii, has allowed the species to spread beyond its initial plants. F. microcarpa is a notorious invader in Hawaii, Florida, Bermuda Central to South America. (18)
- Seeds in the small fruit are ingested by fruit eating animals, including birds, efficiently dispersing the seeds to almost anywhere they land, even in concrete cracks or the crotch of other trees. Seeds grown in the host tree, sending down aerial roots and eventually straggling and replacing it. (18)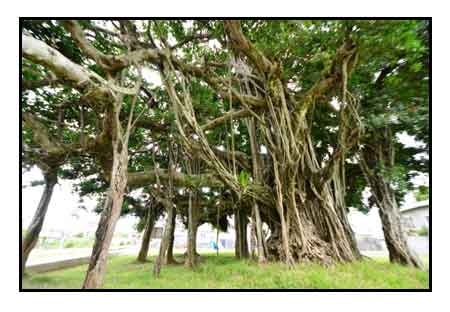 Botany
Ficus microcarpa is a medium-sized evergreen tree growing 16m to 30 m,, with a rounded or flattened crown, with numerous, slender aerial roots hanging from the branches and twigs in a curtain-like mass. Some of the roots develop into woody, pillar roots that help support the spreading tree crown. Roots eventually develop into stout, pillar roots—a straggler fig that may begin life as an epiphyte. Bark is light grey and smooth. Branches are held horizontally or inclined. Leaves are alternate, stalked. Leaf blades are leathery, oval, elliptic to slightly reverse egg-shaped, with blunt or scarcely pointed tips, 2-14 by 1-9 cm. Monoecious, the flowers are unisexual—both male and female flowers are stalkless. Fruit is a round syconia (fig) developing singly or in stalkless pairs, 5-7 mm wide, ripening to a dark pink or deep purple at maturity (2)
The species resembles Ficus benjamina, but the twigs do not droop and the leaf tip is usually more blunt.
Distribution
- Native to the Philippines.
- Also native to Andaman Is., Bangladesh, Bissmark Archipelago, Borneo, Cambodia, Caroline Is., China, Christmas I., Cocos Is., East Himalaya, Hainan, India, Japan, Jawa, Laccadive Is., Laos, Lesser Sunda Is., Malaya, Maluku, Marianas, Marshall Is., Mayanmar, Nansei-shoto, Nepal, New Caledonia, New Guinea, Nicobar Is., Queensland, Solomon Is., South China Sea, Sri Lanka, Sulawesi, Taiwan, Thailand, Vietnam. (1)
- Found in varied locations, from rocky sea coasts to limestone hills, from swampy areas near the sea to montane forests. (6)
- Widely grown as an ornamental; however, om some countries it has escaped cultivation and has become invasive. (6)
Constituents
- The aerial roots are the most studied and has yielded the highest number of compounds (86), notably, triterpenoids (56), phenylpropanoids (13), and phenolic acids (12).
- Study for phytoconstituents yielded beta-amyrin (1), lupeol (2), lupeol acetate (3), maslinic acid (4), epifriedelinol (5), stearic acid (6), beta-sitosterol (7) and daucosterol (8). (7)
- GC-MS study of ethyl acetate fraction of aerial roots yielded protocatechuic acid, catechol, p-vinylguaiacol, syringol, p-propylphenol, vanillin, p-propylguaiacol, isovanillic acid, 4-n-propylresorcinol, syringaldehyde, and oleanolic acid. (see study below) (9)
- Study of aerial roots isolated three new water-soluble constituents: ficuscarpanoside B (1), (7E,9Z)-dihydrophaseic acid 3-O-β-d-glucopyranoside (4) and ficuscarpanic acid (6)] and the natural product 2,2′-dihydroxyl ether (7), together with three known compounds [(7S,8R)-syringoylglycerol (2), (7S,8R)-syringoylglycerol-7-O-β-d-glucopyranoside (3) and icariside D2 (5), (10)
- Study of aerial roots isolated six new triterpenes, 3β-acetoxy-12β,13β-epoxy-11α-hydroperoxyursane (1), 3β-acetoxy-11α-hydroperoxy-13αH-ursan-12-one (2), 3β-acetoxy-1β,11α-epidioxy-12-ursene (3), (20S)-3β-acetoxylupan-29-oic acid (4), (20S)-3β-acetoxy-20-hydroperoxy-30-norlupane (5), and 3β-acetoxy-18α-hydroperoxy-12-oleanen-11-one (6), together with 3β-acetoxy-12-oleanen-11-one (7). (12)
- Study of aerial roots isolated 12 compounds from the 95% ethanol extract and identified as: 3-beta-hydroxy-11-oxours-12-ene (1), 3-beta-acetoxy-11-oxours-12-ene (2), oleanic acid (3), 3-beta hydroxy-oleana-11,13(18)-dien-28-oic acid (4), betulinic acid (5), pyracrenic acid (6), platanic acid (7), isowigtheone (8), myrsininone A (9), derrone (10), alpinumisoflavone (11), and caffeic acid methyl ester (12). (15)
- Study of leaves isolated two novel triterpenes: 20(20 ->19)abeolupane-3,20-dione (4) and 19,20-secoursane-3,1920-trione (5), along with (3beta)-3-hydroxy-29(20->19)abeolupane-20-one (2), lupenone and alpha-amyrone (6). (16)
Properties
- Studies have suggested antibacterial, antioxidant, antidiabetic, anti-diarrheal, anticancer, hepatoprotective, hypolipidemic properties.

Parts used
Bark, roots., leaves, latex..

Uses
Edibility
Culinary
Folkloric
- Bark and latex from leaves and roots used for headaches, toothaches, and wounds. Also used for treating colic and liver problems. (2)
- Aerial roots used in traditional Chinese medicine to treat toothaches, rheumatism and inflammation of the feet.
- In India, latex extracted from leaves is ingested to treat liver disease or applied to the skin to treat colic. Bark and leaves used to relieve headaches, while leaves and roots are used to promote healing of bruises and wounds. (2)
- In India, used for ulcers, diarrhea, diabetes, dropsy, skin diseases, and inflammations. (14)
- Steam from boiling young leaves used as a steam bath for fever or headache. (6)
Others
- Fodder: In Singapore, the preferred food plant for caterpillars of the butterfly, the scarce silverstreak (Iraota rochana boswelliana), the adult laying eggs singly on the stem of the undersides of leaves. Ripe figs are eaten by frugivores (birds, bats, rodents, squirrels and long-tailed macaques). (2)
- Rituals: Some Buddhists consider the species sacred, making offerings on small alters at its base. (2)
- Wood : The wood, including aerial roots, used in light construction and tool making. Also used for fuel. (6)

Studies
• Antioxidant / Antibacterial / Bark, Fruits and Leaves: Results showed the methanol extracts of bark, fruits and leaves of F. microcarpa exhibited excellent antioxidant activities and also possessed activity against gram-positive and gram-negative bacteria. The activities may be attributed to its high level of phenolic compounds. (4)
• Antidiarrheal / Leaves: Study evaluated the antidiarrheal activity of F. microcarpa against experimentally induced diarrhea in albino rats. Results showed a marked anti-diarrheal effect with anti-enteropooling activity. (5)
• Antibacterial / Leaves: Study evaluated aqueous and acetone extracts of the plant against both gram positive and gram negative bacteria using disc diffusion and MIC studies. Cefotaxime was used as reference drug. The aqueous extract showed to be more effective against all tested bacteria. The extracts showed moderate inhibitory activity with zones of inhibition range from 7-18 mm. Maximum inhibition was observed against Pseudomonas aeruginosa (18mm) and minimum against E. coli (7 mm). (8)
• Phenolic Content / Antibacterial / Antioxidant / Aerial Roots: Study evaluated a methanol extract and sub-fractions of aerial roots for total phenolic content, antioxidant and antibacterial activity. The ethylacetate subfraction showed the highest amount of phenolic compounds and also showed the highest antioxidant activity on DPPH, ABTS radical scavenging, and superoxide radical scavenging, reducing power and ß-carotene linoleic acid-bleaching. Protocatechuic acid, catechol, and syringol from the ethyl acetate subfraction exhibited nearly the same antioxidant activity as the positive control Trolox using the same assays. (see constituents above) (9)
• Antidiabetic / Multi-Mode Bioactive Agent: Study evaluated the antidiabetic potential of Ficus microcarpa and isolated bioactive compounds i.e., plectanthroic acid (PA) and 3,4,5,7-flavantetrol (FL). Anti-hyperglycemic potential was evaluated via α-glucosidase, α-amylase, and dipeptidyl peptidase 4 (DPP-4) assays. Ethyl acetate fraction exhibited significant inhibition of α-glucosidase, α-amylase and DPP-4. Among the isolated compounds PA was more potent and possessed pleotropic inhibitory activity. Results suggest PA is also a potent activator of AMPK, which is a central hub of metabolic regulation. The maximum concentration of PA was found in the stem (2.25 µg/mg dw). Study suggests that PA should be explored for use i the treatment of type 2 diabetes. (11)
• Nalpamara / Synergism of Four Ficus Species: Study evaluated th four Ficus species in Nalpamara, an Ayurvedic formulation made up of bark, leaves, and fruits from four Focus species, i.e., Focus benghalensis (FB), F. racemosa (FR), F. religiosa (FRe), and F. microcarpa (FM). The formulation prepared with equal proportion of the four plants showed maximum %AA value pf 93.36% and EC50 value of 8.00 µg/ml while the marketed drug showed maximum AA% of 87.30% and EC50 of 29.0 µg/ml. Results justify the traditional use of these medicinal plants as antioxidant and antibacterial agents and validates their synergistic effect with improved activity in the formulation. Study suggests it is judicious to mix all four Focus species in the formulation of Nalpamaradi choorna and Nalpamaradi keram. (19)
• Antioxidant / Leaves: Study evaluated the antioxidant activity of methanol extract of F. microcarpa leaves in in vitro conditions, Results indicated some antioxidant constituents. The extract yielded phenolics in the concentration range of 20.50 mg TAE/g to 36.75 mg TAE/g. The extract exhibited concentration-depended free radiccal scavenging activity on DPPH assay. At concentration of 1.5 mg/ml the extract caused maximum inhibition of lipid peroxidation (85.9%). Results suggest the methanol leaf extract possess significant antioxidant activity, which is attributed to adequate amounts of phenolics and flavonoids. (20)
Availability
Wild-crafted.