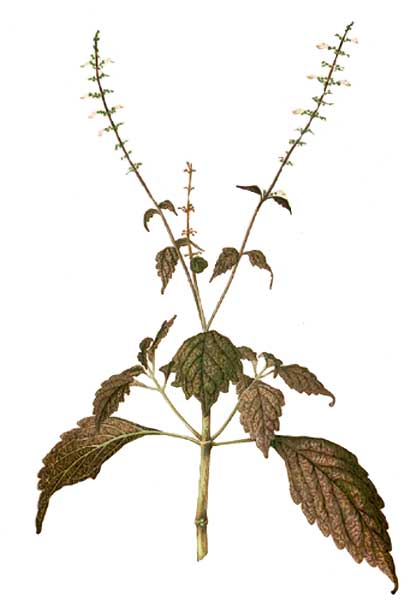 Taxonomy
Quisumbing's compilation lists Coleus atropurpureus (badiara) and Coleus blumei (mayana) as separate species. More recent compilations list the species as synonymous. K. Heyne does not separate it from C. blumei (now Solenostemon scutellarioides). • See: Mayana
Coleus is considered a defunct genus with species placed under genus Solenostemon and genus Plectranthus. (5)
Botany
Badiara is a slender, hairy herb growing 60 to 89 cm high. Leaves are downy and dark violet, broadly ovate or rounded or notched, with scalloped margins. Petioles are 2.5 to 5 cm long. Flowers are stalked, borne in lax, erect panicles, 18 to 23 cm long. Calyx is bell-shaped, with 2 lips, the upper lip being ovate, lower one narrow-toothed. Corolla is pale violet and longer than the calyx.
Distribution
Cultivated for ornamental purposes.

Parts used
Leaves, stems, roots.

Uses
Folkloric
- Poultice of fleshy leaves applied to bruises, contusions, etc.
- Elsewhere, decoction used internally for dyspepsia and wasting.
- Used as drops for ophthalmic.
- From Thailand to Malaya, pulped leafy stems or decoction used to stimulate digestion, used to relieve pain ascribed to the heart, congestion of the liver with swollen hands and feet. Leaf paste sometimes applied over the stomach, heart and glandular swellings.
- Also used for hemorrhoids and to regulate menstruation.
- Elsewhere, was once used to prevent conception.
- Roots used for colic and diarrhea.

Studies
• Bacteriostatic / Anti-Salmonella: Study evaluated the effect of an ethanol extract of Coleus atropurpureus L. Benth on S. enteritidis infection in mice. Results showed CA to be bacteriostatic and therapeutic at studied doses for S. enteritidis in mice. (2)
• Activation of Anti-Tuberculous Drug Rifampicin: Study evaluated the anti-mycobacterial bioactivity of non polar compounds from Coleus atropurpureus. A cyclic ester terpenoid, 2', 5'-dimethyl nzopelargonolactone has been isolated from the chloroform fraction from the leaves of C. atropurpureus. The isolate was active against M. tuberculosis and could also increase the sensitivity of the pathogen to rifampicin. (4)
Availability
Wild-crafted.