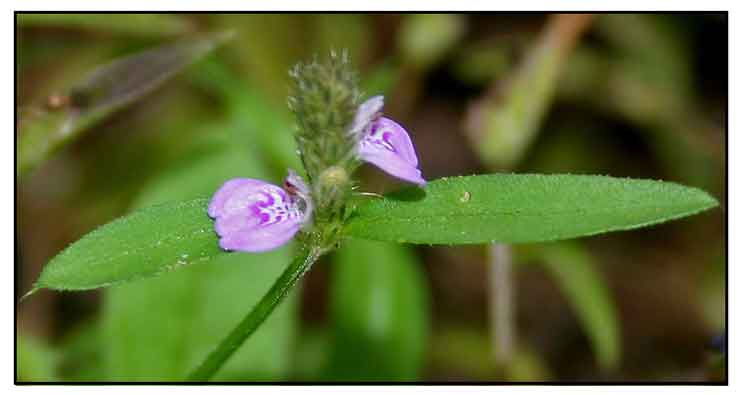 Botany
Justicia procumbens is a slender, often tufted, prostrate or ascending, branched annual. Stems are 10 to 40 centimeters long. Leaves are elliptic to oblong-ovate or ovate, 7 to 20 millimeters long, 5 to 20 millimeters wide, obtuse at both ends, and entire or with slightly crenated at the margins. Flowers are pink, 6 to 7 millimeters long, and borne in terminal, rather dense cylindric spikes 1 to 5 centimeters long and about 5 millimeters in diameter. Bracts and calyx-teeth are green, linear-lanceolate, and hairy. Fruit is slightly hairy and about 4 millimeters long.
Distribution
- In open places at low and medium altitudes, from the Batan Islands and northern Luzon to Mindanao, in most islands and provinces.
- Also in China and southward to Australia.
Constituents
- Contains a bitter alkaloid.
- Study has reported arylnaphthalene lignans as major components; some have shown antiviral and antitumor activities.
- Phytocemical studies yielded justicidin-C and justicidin-D.
- Fractionation studies isolated five 2,3-naphtalide lignans: justicidin-A, neojusticin A, diphyllin, justicidin-D, neojusticin-B and justicidin-E.
- Study yielded three new lignans, Pronaphthalide A, Procumbiene, and Procumbenoside, together with Juspurpudin, a novel natural product, and twelve other known lignans. (see study below) (14)
• Study of whole plant yielded four new lignan glycosides, procumbenosides I, K, L, and M, toghether with cleistanthin B and five over known arylnaphthalene lignan glycosides. (16)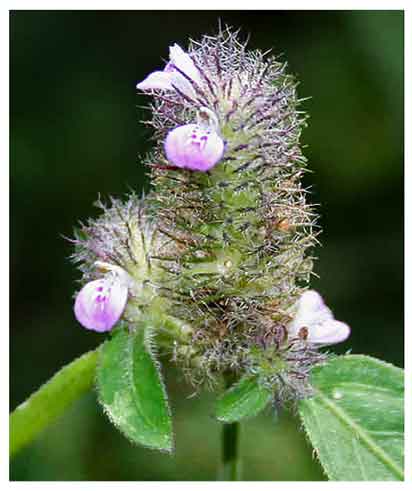 Properties
- Plant exudes an unpleasant odor.
- Leaves considered alterative, astringent and expectorant.
- Considered laxative and diuretic.

Parts used
Leaves, whole plant.

Uses
Edibility
- Used as ingredient in a Taiwan herbal tea.
- Boiled young leaves reportedly edible.
Folkloric
- In the Philippines, leaves are used externally as astringent for the treatment of certain skin eruptions.
- Alterative and expectorant, given as Infusion for asthma, coughs and rheumatism.
- Juice of leaves squeezed in the eyes for treatment of ophthalmia.
- Used as laxative and diuretic.
- Whole plant decoction used for backache, plethora and flatulence.
- In traditional Chinese medicine, used for fever and pain associated with pharyngolaryngeal swelling. Also used for cancer.

Studies
• Cytotoxicity / Lignans / Anti-Cancer: Study isolated a new lignan glycoside, procumbenoside A. and 11 known compounds. Known compounds justicidin A, diphyllin, and tuberculatin showed potent cytotoxic effects against some cancer cells in vitro. Two compounds strongly enhanced tumor-necrosis factor-a. (1)
• Inhibition of Benzo(a)pyrene Hydroxylation: Study isolated five lignans: neojusticin A, neojusticin B, justicidin A, justicidin B and chinensinaphthol methyl ether; in vitro effects on rat hepatic cytochrome P450-catalyzed oxidations were studied. Results showed inhibition of monooxygenase activities differentially and neo B may have a role in diminishing the oxidative activation of benzo(a)pyrene. (2)
• Anti-Platelet Aggregation: Study isolated constituents with antiplatelet effect in human platelet-rich plasma. One compound szhoswed strong inhibitgory effect on plate aggregation induced by adrenaline in a concentration-dependent manner. (3)
• Anti-Viral Lignans: Study isolated 10 antiviral lignans from the methanolic extract of aerial parts of Justicia procumbens. Some compounds showed strong antiviral activity against vesicular stomatitis virus and low cytotoxicity against cultured rabbit lung cells. (4)
• Anti-Inflammatory: Study of alcohol extract of Justicia procumbens showed promising antiinflammatory activity at a dose of 100 mg/kg weight. (5)
• Cytotoxicity: Study of a methanolic extract of the whole plant showed significant inhibitory activity in vivo against lymphocytic leukemia growth in male mice and in vitro cytotoxicity in human nasopharyngeal carcinoma cell culture assay. (8)
• Justicidin / Tumor Necrosis Factor Inhibition: Exposure of macrophages to liposaccharide induces release of tumor necrosis factor-alpha. Study isolated justicidin which was found to inhibit LPS-stimulated TNF-alpha release from RAW 264.7 macrophages in a concentration- and time-dependent manner. (7)
• Justicidin A / Apoptosis in Human Colorectal Cancer Cells: Justicidin A, an arylnaphthalide lignan significantly inhibited the growth of human colorectal cancer cells HT-29 and HCT-116, causing cell death by apoptosis. Results of the study in mice suggest a chemotherapeutic potential of justicidin A on colorectal cancer cells. (9)
• JR6 / Apoptosis in Human Bladder Cancer: Study identified a new compound 6′-hydroxy justicidin A (JR6) from Justicia procumbens which showed obvious anti-cancer effects. Results showed JR6 may be inducing intrinsic and extrinsic apoptosis pathways. JR6 induced apoptosis through caspase-dependent pathway in human bladder cancer EJ cells, presenting a potential novel pathway to bladder cancer therapy. (11)
• Pesticidal Against Plutella xylostella: Plutella xylostella is an agricultural pest of cruciferous vegetables, causing damage throughout the year. Study of methanol extracts of J. procumbens showed strong concentration related contact toxicity to P. xylostella. LC50 against 3rd instar larvae were 5.17, 4.05, and 3.06 mg/mL witin 1, 2, and 3 days after treatment, respectively, while IC50 were 2.02 and 1.40 mg/mL wiithin 1 and 2 days after treatment.The extracts showed strong antifeedant effects and a significant growth inhibitory effect on larval growth of Px. The ME showed a significant dose-dependent repelling effect onn adult oviposition of Px. Overall, results showed significant insecticidal activity against Px and a potential for development of a botanical pesticide with high efficacy and low non-target toxicity. (13)
• Cytotoxicity / Lignans: Study yielded three new lignans, a novel natural product, Juspurpudine, and twelve known lignans. Eight of the compounds showed in-vitro cytotoxic activity against Human LoVo and BGC-823 cell. (see constituents above) (14)
• Suppression of Th2 Cytokines and Amelioration of Induced Airway Inflammation / Anti-Asthma: Study evaluated an anhydrous ethanol extract of J. procumbens (DW2008) for anti-asthmatic activity. Analysis showed major peaks of Justicidin A and B which significantly suppressed Th2 cytokine levels in mouse spleen cells and exhibited a protective effect in ovalbumin-induced airway inflammation and airway responsiveness in a mouse model, suggesting potential as an anti-asthmatic agent. (15)
Availability
Wild-crafted.