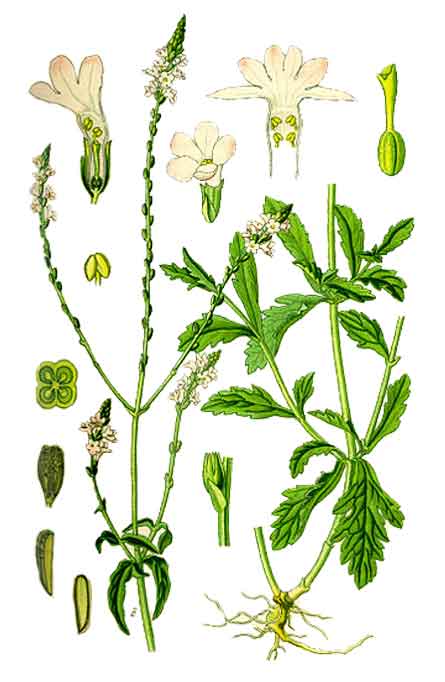 Botany
Verbena is a more or less hairy herb, growing up to 90 centimeters in height, erect, but decumbent at the base. Leaves are 5 to 10 centimeters long, variously lobed and narrowed to the base; the lower ones are stalked, pinnatifid or coarsely toothed, more or less hairy, and usually hoary on the nerves beneath; this upper ones are without stalks and 3-lobed. Flowers are small, 4 to 6 millimeters long, without stalks and borne on dense, bracteate heads which elongate as the fruit ripens. The calyx is twice as long as the bracts and half as long as the corolla tube, minutely 5-toothed, and glandular- hairy. The corolla is blue or lilac, and hairy, with spreading limb; the lobes are subquadrate, with a hairy throat. Fruit is dry, ultimately spreading into four 1-seeded nutlets which are oblong and dorsally smooth, their under faces covered with minute, white flaking cells.
Distribution
- A weed in waste places in and about towns, at low and medium altitudes, only in the provinces of Cagayan, Isabela, and Nueva Viscaya Provinces in Luzon.
- Introduced, cosmopolitan in subtemperate and subtropical regions.
Properties
- Bitter tasting, refrigerant.
- Eases out lymphatic circulation.
- Considered analgesic, antibacterial, anticoagulant, anticontusive, antifebrile, antispasmodic, antitumor, astringent, depurative, diaphoretic, diuretic, emmenagogue, galatagogue, stimulant, tonic.
Constituents
• Contains verbenalin, transferase, amygdalase, and tannin
• Study yielded four compounds: apigenin, 4'-hydroxywogonin, verbenalin and hastatoside. (7)
• Study of methanol extract of aerial parts yielded 3,4-dihydroverbenalin and daucosterol.
• Study of aqueous and hydroalcoholic extracts from Verbena officinalis yielded three iridoids, fifteen flavonoids and four phenolic acid derivatives. Four flavonoids were reported for the first time: scutellarein 7-diglucuronide, scutellarein 7-glucuronide, pedalitin 6-galactoside and scutellarein 7-glucoside. (See study below) (12)
• Study showed all plant parts to be good sources of potassium, approximately four times higher than sodium, with the seed husk highest in potassium. Roots yielded good values for iron, manganese, while the husk showed higher quantities of magnesium and zinc. (16)
• Study yielded five triterpenoid constituents: 3α,19,23-trihydroxyurs-12-en-28-oic acid, namely, 4-epi-barbinervic acid (1), 2α,3β-dihydroxyurs-12-en-28-oic acid (2), 3α,24-dihydroxyurs-12-en- 28-oic acid   (3), 3α,24-dihydroxy-olean-12-en-28-oic acid (4), ursolic acid (5). (see study below) (20)
• Study of aerial parts for volatile constituents yielded by GC and GCMS yielded major components of 3-hexen-1-ol (7.28%), 1-octen-3-ol (32.76%), linalool (4.66%), verbenone (20.49%) and geranial (7.22%). (26)
• Study of aerial parts yielded two new iridoids, verbeofflin I (1), and 7-hydroxydehydrohastatoside (2), along with three known iridoids, verbenalin (3), 3,4-dihydroverbenalin (4), hastatoside (5). (27)
• Study of aqueous and ethanol extracts yielded tannins, carbohydrates, phenols, alkaloids, steroids, glycosides (A) and diterpenes, with absence of saponins, proteins, and flavonoids. (34)
Parts utilized
· Entire plant.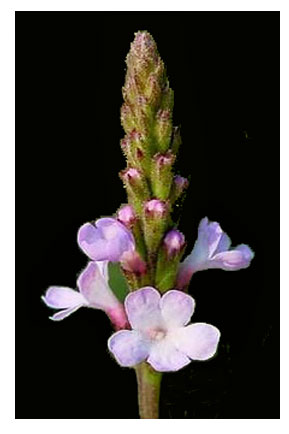 Uses
Edibility
- Leaves are parboiled, seasoned, eaten.
- Leaves used as tea substitute.
- Flowers: as garnish.
Folkloric
· Used for amenorrhea, difficult menstruation.
· Used for high fever during influenza, malaria, hepatitis, hepatic sclerosis, nephritis, edema, urinary tract infection, urinary tract lithiasis, sprains, eczema, dermatitis.
· Infusion of plant given against colic, ophthalmic, ulcers of the mouth.
· Plant used as cephalic, vulnerary, aperative, purgative, and a cure for pleurisy.
· Herbal tea traditionally used in treatment of insomnia and various nervous disorders.
· Fresh leaves used as febrifuge and tonic, and as rubefacient in rheumatism, and diseases of the joint.
· Decoction of dried material used as wash for eczema and dermatitis.
· Poultice of pounded fresh material for sprains and contusions.
· Used for headaches, fever, insufficient lactation.
· Used to assist contractions during labor.
· Root used for dysentery.
· Mohammedan physicians considered it tonic, astringent, and useful for paralysis and amenorrhea, and used a plaster of the leaves to promote wound healing.
· Ointment used for swelling of the womb.
· In Indo-China, plant is used for nervous complaints and as deobstruent for dropsy.
· Root used as a remedy for scrofula and snake bites.
· In Tuscany, reported to be used as a poultice for liver complaints; taken internally for the same complaints and for leprosy.
· In China, stalk and leaves believe to act on the blood - relieving congestion, obstructions, dropsical effusions, hematoceles. Also used as emmenagogue, anthelmintic, antiscorbutic, and antimalarial.
· Root considered astringent and used in dysentery.
· Plant used as vulnerary, detersive, aperative, and febrifuge.
· Oil considered siccative.
· In Persia, fruit and leaves used to lower blood fat; fruit to treat high blood sugar. (31)
Studies
• Anti-Inflammatory: Study isolated ß-sitosterol, ursolic acid, oleanolic acid, 3-epiursolic acid, 3-epioleanolic acid and showed the ether, chloroform and methanol extracts of VO to have anti-inflammatory activity. (3)
• Neuroprotective: Study of aqueous extracts of V officinialis showed novel neuroprotective effects supporting its folkloric use and a potential as a neuroprotective agent against neuronal loss in Alzheimer's Disease. (2)
• Gastroprotective / Antioxidant / Anti-Inflammatory: Study showed extracts to exhibit anti-inflammatory activity and reduction of gastric damage. It also showed improved wound healing suggesting the presence of some lipophilic active principle. (4)
• Volatile Constituents: Study of of aerial parts of VO yielded volatile constituents: 3-hexen-1-ol, 1-octen-3-ol, linalool, verbenone and geranial. (5)
• Antioxidant / Antifungal: Study of 50% methanolic extract and caffeoyl derivatives showed excellent and readily available sources of antifungal and antioxidant compounds. (6)
• Antibacterial: In a microbiological assay, V. officinalis showed activity against E. coli, S. epidermis, S. aureus, B. subtilis. (9) Study evaluated the antibacterial activities and mineral content of various parts of the V. officinalis. All plant parts showed highest activity against S. aureus, with stems showing better antimicrobial activity than leaves and roots. (16)
• Contragestational: Study evaluated the mechanism of contragestational effect of an alcohol extract of V. officinalis. Data showed VO at certain concentrations directly damaged trophoblast cells and inhibited HCG secretion, providing theoretical evidence for the clinical contragestational application of VO. (10)
• Anti-Tumor Effect: Study investigated the anti-tumor effects of V. officinalis extract on H22 tumor-bearing mice and its effect on immune function. Results showed an anti-tumor effect with an inhibition rate approaching 38.78%, without causing any damage to immune function. (11)
• Antioxidant: Study of aqueous and hydroalcoholic extracts showed significant antioxidant activity in three in vitro models correlating with total phenolic and total flavonoid contents. (See study above) (12)
• Hastotoside and Verbenalin / Sleep-Promoting Activity: Study investigated the sleep-promoting activity of hastatoside, verbenalin, and verbascodise, major iridoids and polyphenol components responsible for its pharmacologic activity. Results showed hastatoside and verbenalin to be the major sleep-promoting components. Verbascoside had no effect on the amount of sleep. (13)
• Essential Oil / Apoptotic Inductors: Vervain essential oil induced a significant apoptosis in granulocytes from healthy donors and chronic myeloid leukemia patients, with the percentage apoptosis more significant in the latter. (15)
• Anti-Inflammatory / Radical Scavenging: Study evaluated the anti-inflammatory and antioxidant activities of a methylene chloride fraction of V. officinalis. Results showed suppression of nitric oxide production, inducible nitric oxide synthase and COX-e expression dose-dependently without notable cytotoxicity. It exhibited strong scavenging effect on various assays. Results suggest it may be beneficial in oxidative stress-mediated inflammatory disorders. (17)
• Antibacterial / Stems / Aerial Parts: Study evaluated the antimicrobial potential of stems, leaves, and roots against 24 strains of Gram-positive and Gram-negative bacterial. Stems showed best potency against al the strains. Activity against Staphylococcus aureus and Pseudomonas aeruginosa was higher than antibiotic Amoxicillin. (19) Study evaluated the antibacterial activity of different solvent fractions of aerial parts against four bacterial species viz. S. aureus, E. coli, S. enteritidis and S. typhimurium. All tested solvent fractions exhibited activity against the tested bacteria. The acetone fraction exhibited maximum zone of inhibition. (22)
• Triterpenoids / Antitumor: Study yielded five triterpenoid constituents. Compound 1 (4-epi-barbinervic acid) is a new triterpenoid which exhibits higher antitumor activity against human hepatoma cell line Bel 7302 in vitro than the blank control. (see constituents above) (20)
• Anticonvulsant / Anxiolytic / Sedative: Study of crude extract of V. officinalis indicated anticonvulsant, anxiolytic, and sedative activities providing scientific basis for its application in various neurological ailments such as epilepsy, anxiety and insomnia. (21)
• Anticonvulsant / Aerial Parts: Study evaluated the anticonvulsant activity of aerial parts of Verbena officinalis by PTZ and MES induced seizures in mice. Results showed anticonvulsant activity which may be related to potentiation of the GABAergic system. (23)
• Antioxidant / Anti-Inflammatory / Wound Healing / Gastroprotective: Study evaluated various solvents extracts of V. officinalis for anti-inflammatory, gastroprotective, cicatrizing, and antioxidant activities. All extracts showed remarkable anti-inflammatory activity, significant reduction of gastric damage, wound healing effect and antiradical efficacy. (24)
• Antidepressant / Leaves: Study evaluated the antidepressant activity of methanolic extract of leaves of V. officinalis in mice using tail suspension test (TST) and forced swimming test (FST), together with influence on spontaneous locomotor activity (SLMA). Results showed dose-dependent antidepressant effects. (25)
• Antispasmodic / Antisecretory / Antidiarrheal / Roots and Leaves: Study evaluated the antidiarrheal activity of an 80% methanol extract of V. officinalis roots and leaves in mice. Loperamide was used as standard drug. Results showed significantly decreased frequency of wet fecal outputs (p<0.01). The charcoal meal test showed significant antimotility effect. The entero-pooling test showed significant decline in both volume and weight of intestinal contents. Results showed the extract, The root extract produced more significant antidiarrheal activity. (28)
• Anti-Inflammtory / Analgesic / Topical Formulation: Study evaluated the anti-inflammatory activity of an 80% methanolic extract using several topical formulations. The anti-inflammatory effect of VO-3% was similar to the effect of piroxicam gel. The analgesic effect of topical formulation with more than 2.5% w/w was observed in the early phase. Activity was observed in concentrations more than 2% w/w in the late phase. The topical analgesic activity was less than analgesic activity of methyl salicylate ointment. (29)
• Chlorogenic Acid / Antibacterial: Study evaluated the-quantitative chlorogenic acid content of V. officinalis extract and its antibacterial activity. Results showed inhibitory zone diameters all reaching above 15 mm against E. coli, P. vulgaris, and B. subtilis at concentration of 100 mg/ml, with MICs ≤ 100 mg/ml. The extract exhibited weak scavenging effect on superoxide anion radicals and strong effect in DPPH and OH radicals scavenging and inhibition of lipid peroxidation. Chlorogenic acid content in the extract was 30.23%. The method is accurate, sensitive and highly specific. (30)
• Silver Nanoparticles / Antibacterial / Leaves: Study reports on the synthesis of silver nanoparticles synthesized using V. officinalis leaf extract and its antibacterial effects against Yersinia ruckeri, Vibrio cholera, and Listeria monocytogenes. Results showed the AgNPs have potential antimicrobial activity against gram=positive and gram-negative bacteria. The silver NPs were more effective against Y.ruckeri and L. monocytogenes and less effective on V. cholerae. (32)
• Pro-Apoptotic Activity / Chronic Lymphocytic Leukemia Cells / Essential Oil: Study evaluated the pro-apoptotic activity of V. officinaiis essential oil and its main component, citral, on lymphocytes from ten patients with chronic lymphocytic leukemia (CLL). Results showed both VO essential oil and citral were able to induce significant apoptosis in CLL cells and to activate caspase-3 which mediates events culminating in cell death. Results suggest potential lead structure for new therapeutic agents for CLL. (33)
Availability s
Wild-crafted.
Seeds, extracts and teas in the cybermarket.