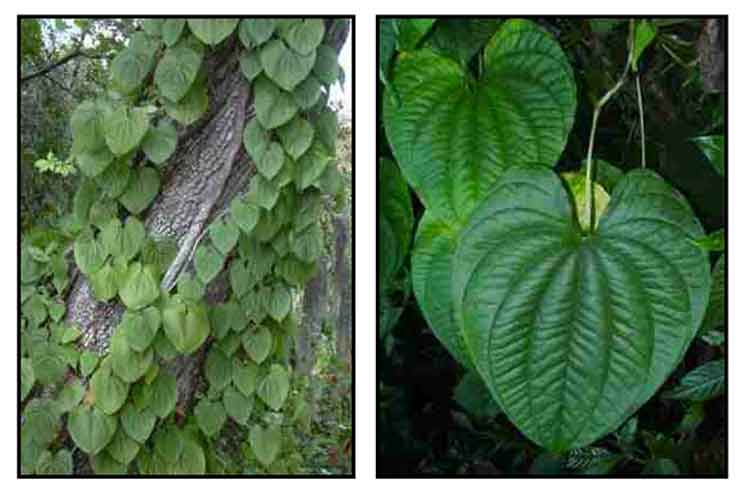 Botany
Ubi-ubihan is a climbing or twining, dioecious, smooth, unarmed vine reaching a length of several meters. Tubers are rounded, not larger than a man's fist. Stems are terete, bearing numerous little tubers. Leaves are simple, ovate, 7 to 14 centimeters long, with a broad and prominently heart-shaped base, broad and rounded sinus, rounded lobes, and 7- to 9-nerved. Spikes are slender, panicled, numerous, 8 to 10 centimeters long, and rather densely many-flowered. Flowers are about 3 millimeters long. Capsules are longer than broad. Seeds are winged at the base only.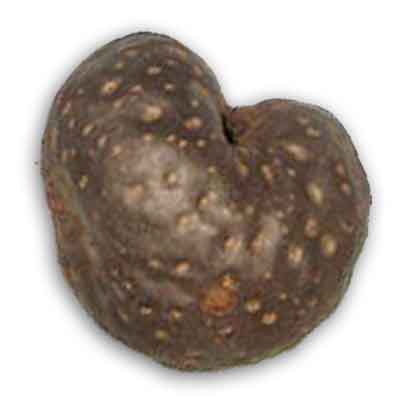 Distribution
- In thickets at low and medium altitudes.
- Sometimes cultivated as an oddity for its tubers.
- Also occurs in India to China and Malaya.
Constituents
- Tubers reported to contain a poisonous glucoside.
- Tuber extract is rich in flavonoid, phenolics, reducing sugars, starch, diosgenin, ascorbic acid, and citric acid.
- Study yielded14 compounds: : stigmasterol, mono-arachidin, 1,7-bis-(4-hydroxyphenyl)-1E,4E,6E-heptatrien-3-one, behenic acid, demethyl batatasin IV, 2,3'-di-hydroxy-4',5'-dimethoxybibenzyl, diosbulbin B, diosbulbin D, docosyl ferulate, 7-bis-(4-hydroxyphenyl) -4E, 6E-heptadien-3-one, 5,3,4-trihydroxy-3,7-dimethoxyflavone, tristin, protocatechuic acid, adenosine.
- Study yielded three norclerodane diterpenoids: diosbulbins K-M, and one enoglycoside, diosbulbinoside G, with four norclerodane diterpenoids, disobulbins B, E, F and G from the rhizomes.
Properties
- In the wild, tubers, when fresh, are bitter.
- Cultivated tubers are less or non-bitter.
- Tubers considered tonic, expectorant, aphrodisiac and anthelmintic.

Parts used
Tubers.

Uses
Edibility / Culinary
- Tubers are reported edible, with a flavor similar to potato.
- Some report the tubers are poisonous when raw.
Folkloric
- Tubers taken internally as remedy for dysentery and syphilis.
- Tubers used as resolvent for boils and as diuretic.
- Powdered tubers used as application for sores, piles and to stop diarrhea.
- In India, a folk remedy used to cure wounds, leucoderma and boils. Also, used as tonic, expectorant in asthma, as aphrodisiac and anthelmintic.
- In Chinese medicine, used to treat diseases of the lungs, kidney, spleen and many types of diarrhea.

Studies
• Anticancer: Anticancer screen carried out in vivo with HepA in mice showed active anticancer compounds from the hydrophobic constituents of D. bulbifera. The anticancer effects were related to direct toxicity on tumor cells.
• Liver Toxicity Studies: Study to evaluate the liver-toxic fraction in Rhigoma of Dioscorea bulbifera is rats showed significant liver toxicity. The chloroform extract was the liver toxic fraction.
• Antioxidant: Study showed impressive levels of enzymatic (GPx, CAT, SOD, G6PD, GST) and commendable stores of non-enzymatic antioxidants (reduced GSH, vitamins C and E).
• Antitumor Promoting / Constituents: Study of rhizome extracts yielded 28 compounds. some showed different inhibitory activities against tumor promotion of JB6 (CI22 and CI41) cells. The EtOAc and n-BuOH fractions were found to be potent anti-tumor promoters.
• Hepatotoxicity: Study in mice showed the EtOAc fraction contains the main toxic ingredients of D. bulbifera rhizome, and the mechanism of hepatotoxicity may be due to liver oxidative stress injury in mice.
• Wound Healing: Study of tuber extract revealed significant wound healing activity, high rate of wound contraction and decrease in the period for epithelization.
• Antihyperglycemic / Antidyslipidemic: Study of aqueous extract of tubers in glucose-primed and STZ-treated Wistar rats showed significant antihyperglycemic and antidyslipidemic effects.
• Myocardial Protective Effect: Study of hydroalcoholic extract showed D. bulbifera could ameliorate myocardial ischemia and reperfusion injury by improving ventricular function and inhibition of cardiomyocyte necrosis and apoptosis.
• Anthelmintic: Study of D. bulbifera extract showed significant anthelmintic activity, especially against Eicinia fetida, Ascardia galli and Raillietina spiralis. Results provide a rationale for its traditional use as an anthelmintic.
• Analgesic / Anti-Inflammatory: Study of aqueous and methanol extracts from the dry bulbils of D. bulbifera L. var sativa showed a dose-dependent inhibition of pain and inflammation. The exhibited potent analgesic and anti-inflammatory effects may result from inhibition of inflammatory mediators such as histamine, serotonin and prostaglandins.
• Hepatotoxicity: Study investigated the hepatotoxicity induced by D. bulbifera in mice. Results showed the EtOAc fraction (EF) contains the main toxic ingredients of D. bulbifera rhizome, and the mechanism of hepatotoxicity induced by it may be due to liver oxidative stress injury in mice.
• Antidiabetic Activity: A preliminary study has shown antihyperglycemic and antihyperlipidemic activity of D. bulbifera on Wistar rats. Study explored D. bulbifera as potential glycosidase inhibitors. D bulbifera showed significant inhibition with porcine pancreatic amylase and crude murine glucosidase as well as pure a-glucosidase. It suggests a potential as an effective herbal formulation in combinational therapy.
• Nanoparticles using D. bulbifera / Synergism with Antimicrobial Agents: Study is the first report on the synthesis of silver nanoparticles using D. bulbifera tuber extract, with an estimation of its synergistic potential for enhancement of the antibacterial activity of broad spectrum antimicrobial agents.
Availability
Wild-crafted.