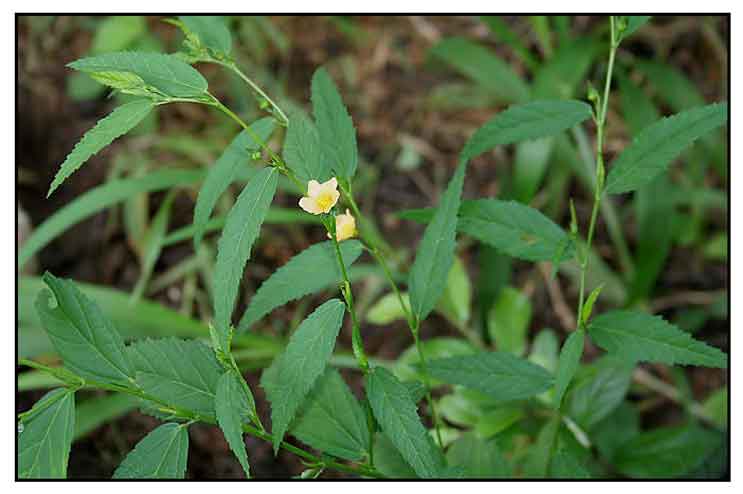 Botany
Ualisualisan is an erect, branched, slightly hairy or neary smooth, half-woody shrub growing to a height of a meter or less. Leaves are lanceolate, 3 to 5 centimeters long, with toothed margins, pointed tip and blunt or rounded base. Flowers are yellow, about 1.3 centimeters in diameter, borne singly at the axils of the leaves. Fruit is a capsule about 3.5 millimeters long, with two projections and consists of 4 to 9 carpels enclosed by the calyx.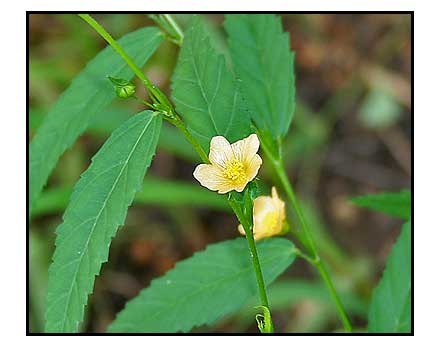 Distribution
- Weed found in open places throughout the Philippines.
- Pantropic.
Constituents
- Roots contain asparagin.
- Leaves contain saponin.
- Saponifiable fraction of fixed oil of seeds yielded oleic, linoleic, palmitic, stearic, myristic and palmitoleic acids. The unsaponifiable fraction yielded ß-amyrin, ß-sitosterol, and an unknown waxy nonsteroidal substance. (15)
Properties
- Plant considered abortifacient, anthelmintic, and antiemetic.
- Leaves considered demulcent, diuretic, anthelmintic, vulnerary.
- Roots considered a bitter tonic, aphrodisiac, antipyretic, antirheumatic, demulcent, diaphoretic, stomachic and vulnerary.
Parts utilized
Leaves.

Uses
Folkloric
- Poultices made from boiled leaves are applied to ulcers and sores.
- Decoction of roots and leaves are emollient; taken internally for hemorrhoids, fever, impotency and as a tonic.
- Decoction also used as demulcent; for gonorrhea and rheumatism.
- Roots use as stomachic and antipyretic.
- Decoction or infusion used for fevers, dyspepsia and debility.
- An infusion with ginger added is given in intermittent fevers and chronic bowel complaints, a teacupful twice a day.
- Root juice, sugared or mixed with honey, used to expel worms.
- Juice of leaves, mixed with honey, given for dysentery and chest pains.
- Fresh juice of roots applied to wounds and ulcers to promote healing.
- In Nicaragua, whole plant used for asthma, colds, fever, worms, and renal inflammations. In India, used for fever, bronchitis, ulcers, diarrhea, skin diseases; paste of leaves mixed with coconut oil used for dandruff and hair strengthening. In Nigeria, used for malaria, ulcer, fever, breast cancer, poisoning, inducing abortion. In Sri Lanka, roots and leaves used for hemorrhoids, fever, impotency, gonorrhea, and rheumatism. (13)
- In the Yucatan, decoction of roots used for vomiting of blood; decoction of leaves used for fever.
- In India, seeds are given for enlarged glands and for inflammatory swellings.
- In Togo, West Africa, leaves used for eczema, kidney stones, headache.
- In Indian traditional medicine, used for treating liver disorders, urinary disease and disorders of the blood and bile.
- In the Ivory Coast, used for malaria.
Others
• Fiber from the bark is yellow, delicate, filamentous, soft, very lustrous and silky in appearance, of medium strength. In the Ilocos it is used to make a superior-quality rope, of pleasing color and gloss.
• Stems are used for making brooms and baskets.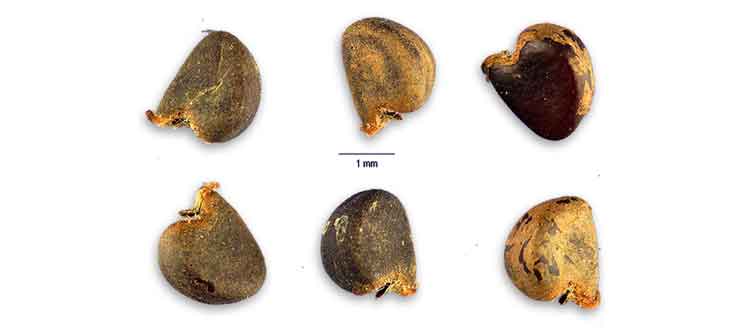 Studies
• Antimalarial: (1) In a study for antimalarial activities of traditional medicinal plants, screening showed Sida acuta has a significant activity. Effect was attributed to its alkaloid contents. (1)
• Anti-Viral / Anti-HSV: Sida acuta was on of five plants extracts found to have selective activity against HSV. (2)
• Hepatoprotective: Phytochemical testing confimed the presence of phenolic compound, ferulic acid in the roots. Results show significant hepatoprotective effects and provides a rationale for its traditional use in liver disorders. (3)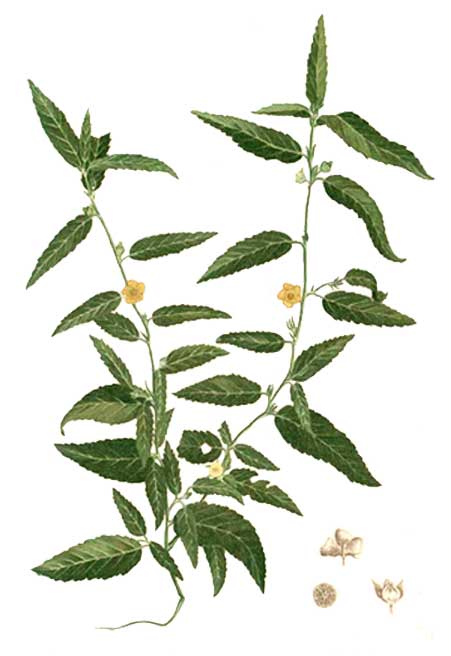 • Antibacterial / Alkaloids: Study yielded indoloquinoline alkaloids which showed good antimicrobial activity against the test microorganisms. Further analysis led to isolated of cryptolepine and quindoline. (4)• Antiplasmodial / Cyptolepine: Study led to the identification of cyptolepine as the active antiplasmodial constituent of the plant. (5)
• Antimicrobial: Study of the antimicrobial activity of the crude extract of the aerial parts of Sida acuta showed activity against standard strains and isolates of S aureus, B subtilis and Strep faecalis. (6)
• Anti-ferlity / Contraceptive: Study yielded alkaloids, steroids, flavones, anthocyanins and phenolic compounds. The ethanolic extract had the most potent antiimplantation activity. The petroleum ether extract possessed estrogenic activity. The adverse effects on fertility were reversible on withdrawal of the extract treatment. (7)
• Anti-Neoplastic: A study on a bioassay based on the induction of quinone reductase yielded ten active compounds along with five inactive compounds. Of the compounds, cryptolepinone, N-trans-feruloyltyramine and 5,10-dimethylquindolin-11-one exhibited inhibition of chemically induced preneoplastic lesions. (8)
• Anti-Ulcer: Results showed S acuta extract possessed antisecretory and cytoprotective mechanisms and can be a potential source for ulcer treatment. The antiulcer activity has been attributed to alkaloids and flavanoids (9).
• Antibacterial / Antifungal / Phytochemicals: Study of chloroform and ethanol extracts yielded carbohydrates, alkaloids, phytosterols, saponins and fixed oils. Antimicrobial screening with S aureus, B subtilis, E Coli, P aeruginosa, C albicans and A niger. There was appreciable antibacterial activity against all the selected bacteria, with maximum activity against S aureus and E coli. (10)
• Antioxidants / Tocopherols / Triterpenoids: Study of the whole plant yielded a new tocopherol derivative, 7a-methoxy-a-tocopherol, and a new taraxastane triterpene, taraxast- 1,20(30)-dien-3-one, together with four known compounds, b-tocopherol, a-tocopherol, a-tocospiro B and taraxasterone. Three compounds showed significant antioxidant effect in the DPPH radical scavenging assay. (11)
• Negative Effects of High Doses on Cerebral Cortex: Study evaluated the effect of an ethanolic leaf extract of Sida acuta on the histologic features of the cerebral cortex on rats. Results suggest high doses of the extract may affect cerebral cortex functions, indicated by hypoplasia and hypertrophy of cells in the cortical, intermediate, and sub-ventricular layers. (14)
• Antibacterial / Staphylococcus Aureus / HIV/AIDS Patients: Study evaluated the effects of aqueous and ethanol extracts of leaves of Sida acuta against 45 clinical isolates of Staphylococcus aureus from the nasal cavity of HIV/AIDS patients. Results showed S. acuta has appreciable activity against S. aureus, and suggests a potential for use in the treatment of opportunistic infections caused by S. aureus in the HIV/AIDS setting. (16)
• Antibacterial Flavonoids: Study investigated the antimicrobial activity of free and bound flavonoids of Sida acuta. The flavonoid extracts showed only antibacterial activity against all tested bacteria, with S. aureus being the most susceptible. The extract was inactive against tested fungi. (17)
• Renal Electrolyte Effects: Study evaluated the effect of an ethanolic extract of leaf on kidney electrolytes of adult Wistar rats. Serum chemistry revealed significantly elevated sodium and decreased potassium levels in animals at doses of 200 mg/kbw. Results suggest the leaf extract could have adverse effects on kidney electrolytes of adult Wistar rats at the experimental doses and duration. (18)
• Removal of Fluoride from Drinking Water: Excessive fluroride can be lethal, and may cause dental and skeletal fluorosis. Study showed Sida acuta leaves extract can reduce the fluoride content of water. (19)

Availability
Wildcrafted.
Cultivated.