Botany
Spathodea campanulata is a robust tree, growing to a height of 20 meters, with a dense, dark, shining, green crown. Leaves are pinnately compound, 20 to 25 centimeters long, divided into 5 to 8 pairs of leaflets. Leaflets are elliptic-oblong, 7.5 to 11 centimeters long, and 3.5 to 7 centimeters wide, with a pointed tip, and several glands along the midrib near the base. Flowers are large, bell-shaped, up to 10 centimeters long and 5 centimeters wide, borne in terminal, erect inflorescences (racemes), with a peculiar smell. Calyx is spathe-lke, strongly curved, brownish, velvety-smooth, and split nearly to the base on one side. Corolla is curved, the tube being narrow below, but strongly inflated and 5-lobed above, scarlet or crimson red, with yellow, frilled edges. Pods are firm, thick, dark-brown, and 15 to 20 centimeters long. Seed is about 2.5 centimeters wide, with a broad, silvery white, transparent wing.
Distribution
- Cultivated in the Philippines for ornamental purposes.
Cultivated in parks, gardens and along roadsides.
- Native of tropical Africa.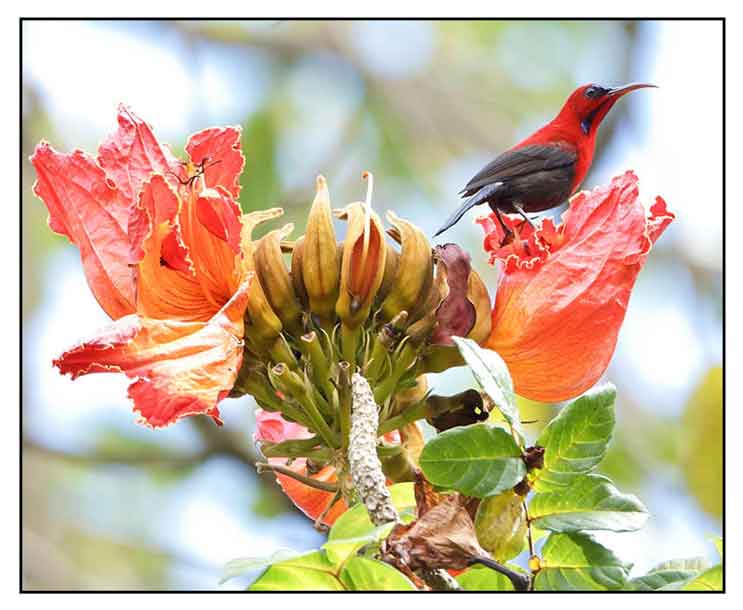 Parts utilized
Leaves, root-bark, stems, fruit.

Constituents
- Phytochemical studies yield alkaloids, tannin, saponin, steroids, terpenoids, flavonoids.
- Study to analyze the active constituents of the flower yielded four compounds. Butane, 1, 1-diethoxy-3-methyl- (35.11 %) and n-Hexadecanoic acid (30.22%) were the major constituents of the ethanolic extract.
- Study of stem-bark has yielded spathodic acid, steroids, saponins, ursolic acid, tomentosolic acid and pectic substances.
Properties
- Vulnerary, anti-diabetic, anti-inflammatory, anti-ulcer.
- Plant stem-bark considered anti-hyperglycemic, anti-malarial, wound healing and antioxidant.
Uses
Edibility
• Winged seeds are reported to be edible.
Folkloric
• No reported folkloric use in the Philippines.
• Bark is commonly used as a dressing for ulcers and skin diseases, applied dried, pulverized, or as fresh inner bark. A leaf decoction is used as lotion.
• In Africa, the stem bark is used as a paste for wound healing.
• In Senegal, bruised leaves and flowers are applied to wounds.
• In Gabon, flowers are applied to ulcers.
• In Southern Nigeria, leaves used for convulsions.
• In Gold Coast, bark decoction taken for constipation and gastrointestinal problems and dysentery.
• Cold infusion of leaves used for urethral inflammation.
• In Ghana, the stem bark and leaf used for treatment of dyspepsia and peptic ulcer; leaf, root bark and fruit used for arthritis and fractures; the stem bark used for toothaches and stomachaches; root bark seed used for stomach ulcers.
• In Rwanda, decoction of stem bark used for diabetes.
• In Ayurveda, used for kidney diseases.
Others
• Paper: In Singapore, timber is used for making paper.
• Wood: In West Africa, wood used for making drums and blacksmith's bellows.
• Arrow Poison: African hunters reported to extract arrow poison from seeds.
• Children's Play: Buds contain a watery liquid, which children pierce and squeeze to squirt out the fluid like water pistols.
• Dyes: Flowers yield a natural dye, producing a brown solution.


Studies
• Antimicrobial: (1) Extracts of the sun-dried bark of Spathodea campanulata was tested against B. subtilis, E coli, P aeruginosa and S aureus. The methanol extract showed the best antibacterial activity. The antifungal activity of the ME was reduced upon storage while the antibacterial activity was unaffected. (2) Study showed antibacterial activity of methanolic and aqueous extracts against bovine mastitis pathogens. (3) Study of petroleum leaf extracts showed good inhibitory activity against Klebsiella pneumonia compared with standard antibiotic Streptomycin.
• Hypoglycemic: Decoction of stem bark of SC showed a hypoglycemic effect in streptozocin-induced diabetic rats and decreased blood glucose in GTT testing. However, there was no effect noted on insulin levels.
• Anti-Malarial: Alcoholic extract of leaves of S campanulata showed antiplasmodial activity, more effective in early infection than established one. Results provide scientific basis for use of the aqueous decoction of leaves for treatment of malaria.
• Healing Activity / Burn Wounds: A study on an ointment made from the methanolic extract of barks of S campanulata showed a healing activity on burn wounds and provides rational basis for its traditional use in promoting wound healing.
• Antifungal: Study of roots of SC yielded an iridoid glycoside (ajugol) and two phenolic derivatives. The phenolic constituents displayed biological activity against C herbarum.
• Analgesic / Anti-Inflammatory: Study of leaf extracts of S campanulata showed both analgesic and anti-inflammatory properties and presents a potential use for alleviating painful inflammatory conditions.
• Anti-Solar: Excessive exposure to sunlight can lead to painful sunburn and other skin-related problems. Study evaluated the UV absorption ability of flowers from Spathodea campanulata as an anti-solar agent. Results showed the plant to have an ability to absorb UV radiation, hence, a UV protection ability, It shows a potential for prophylactic utility in anti-solar formulations and a safer and cheaper alternative to chemical sunscreens.
• Anticonvulsant / Glycoside: Study of an ethanol leaf extract yielded a glycoside: urs-12-en-27, 30 di-oic acid 3-0--L- rhamnopyranosyl (12) -L- arabinopyranoside. The compound exhibited significant abolition of seizures induced by PTZ and maximal electro shock seizures.
• Dye: Study of the flower yielded a dye that can be successfully used for dyeing silk and cotton to obtain a wide range of soft, pastel and light colors with the use of natural and metallic mordants.
• Antimicrobial: Study of the ethanol extract of leaf and flower was tested for antimicrobial activity against against gram positive and gram negative organisms like Escherichia coli, Klebsiella pneumonia, Proteus vulgaris, Pseudomonas sps, Salmonella typhimurium, Bacillus subtilis, Staphylococcus aureus, Vibrio cholera. Results showed dose-dependent antimicrobial activity, with the ethanol flower extract showing more potency than the leaf extract. Activity is attributed to flavonoids and tannins.
• Wound Healing / Topical Formulation: The wound healing potential of a methanol extract of stem bark was tested in Sprague Dawley rats using an excision wound model. A cream formulation showed wound healing facilitation. Results justified the folkloric use of stem bark for wound treatment.
• Nephroprotective: Study of 70% ethanolic extract of bark of Spathodea campanulata in rats showed pretreatment benefits in preventing kidney damage induced by paracetamol nephrotoxicity.
Availability
Wild-crafted.