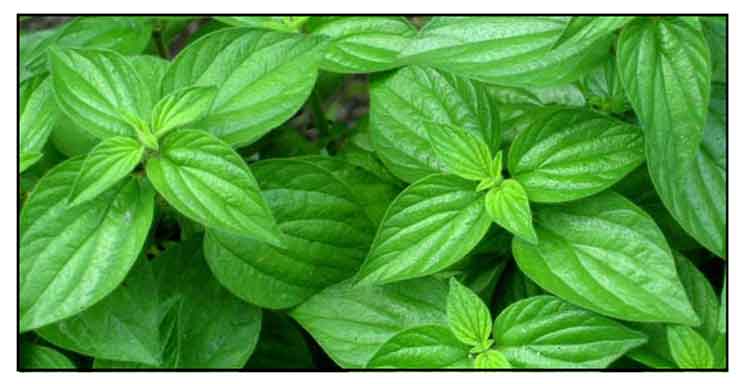 Botany
Tuia is a more or less prostrate or spreading perennial herb, sometimes reaching a length of 1.5 meters. Leaves are lanceolate to ovate-lanceolate, 2 to 7 centimeters in length, 3-nerved, rounded or obtuse at the base, pointed at the tip, 3-nerved, and with entire margins. Flowers are small, 4-parted, borne in axillary clusters; the staminate ones greenish or tinted with purple, and the pistillate one in the same fascicles with the staminate ones. Fruit is small and longitudinally ribbed.
Distribution
- In open, usually damp grasslands at low and medium altitudes throughout the Philippines.
- Polymorphous species of wide Indo-Malaya distribution
- Extensively grown in Bangladesh.
- Also occurs in Western Australia.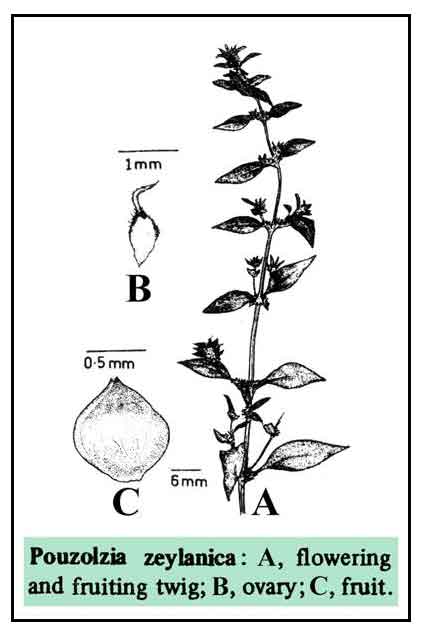 Constituents
- Study yielded 14 compounds: (1) beta-sitosterol (2) daucosterol (3) oleanolic acid (4) epicatechin (5) alpha-amyrin (6) eugenyl-beta-rutinoside (7) 2alpha, 3alpha, 19alpha-trihydroxyurs-12-en-28-oic (8) scopolin (9) scutellarein-7-O-alpha-L-rhamnoside (10) scopoletin (11) quercetin (12) quercetin-3-O-beta-D-glucoside (13) apigenin, and (14) 2alpha-hydroxyursolic acid. (6)
- Leaf powders yielded alkaloids, glycosides, tannins, and flavonoids. (8)
Properties
- Greenish grey, characteristic odor, mucilaginous and slightly bitter tasting.
- Vulnerary, antioxidant, hypoglycemic.

Parts used
Leaves, stems, shoots.

Uses
Folkloric
- Leaves used as a vulnerary; more specially, as cicatrizant for gangrenous ulcers.
- In the Nalbari district, Assam leaf and stem paste is applied locally once or twice daily for itching. Plant leaf and stem rolled with banana leaf, heated and squeezed, juice mixed with goat's milk, and taken once for dysentery and loose stools of infant. (2)
- In Eastern Ghats, Andhra Pradesh, paste of crushed shoots applied as poultice to bone fractures. (3)
- In Malaysia, decoction of leaves drunk or leaves eaten to kill worms.
Studies
• Phenolic Content / Free Radical Scavenging: Study showed Pouzolizia zeylanica extracts, especially the ethyl acetate, exhibited outstanding scavenging effects on DPPH, ABTS and hydroxyl radicals, and pronounced reducing powers. (1)
• Hypoglycemic Effect: Study of the decoction of Pouzolzia zeylanica in STZ-induced diabetic mice showed an apparent hypoglycemic effect, and can control blood sugar within a certain desirable range in a period of post-treatment. (4)
• Cytotoxicity / Antimicrobial: Study of ethanol extract showed cytotoxic activity with an LC50 of 6.1 µg/ml. An ethanol extract showed antifungal and antibacterial activity. (7)
• Antibacterial: Study of ethanol extracts revealed antibacterial activity against both Gram+and- organisms: B. subtilis B. megaterium, S. aureus, P. aeruginosa, E coli, S. dysenteriae, and S. typhi. (9)
• Antifungal: Study of ethanol extract showed very good antifungal activity. Aspergillus niger was the most susceptible fungal strain. Activity was compared with standard drug Griseofulvin. (10)
• Cytotoxicity / Anticancer Potential: Cytotoxic activity was evaluated using brine shrimp lethality bioassay. Results showed good cytotoxic activity with an LC50 of 6.1µg/ml and an LC90 of 12.2µg/ml. Results suggest a promising source for anticancer compounds. (11)
Availability
Wild-crafted.