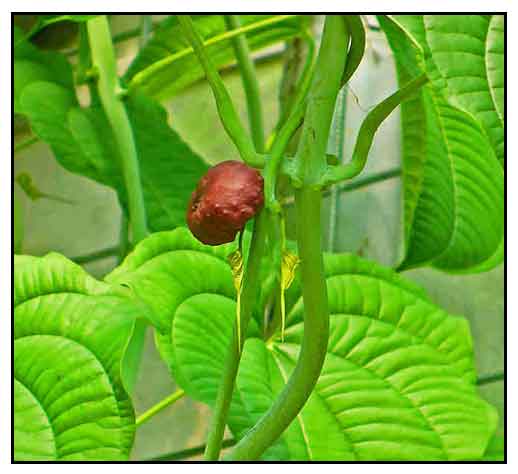 Gen info
- Dioscoreaceae is a family of monocotyledonous flowering plants, with about 715 known species in nine genera, the best known of which is the yam (some species of Dioscorea). (14)
- Dioscoreaceae were first described by Brown in 1810.
- As of September 2022, Plants of the World Online accepted four genera in the family: Dioscorea, Stenomeris, Tacca, Trichopus. (14)
Botany
Tugi is a slender, slightly hairy, spiny vine, reaching a height of several meters. Tubers are 15 to 20 centimeters long, except in the case of some cultivated forms. Leaves are simple, suborbicular to reniform, 6 to 12 centimeters long, apiculate, the base 11- to 15-nerved, prominently heart-shaped, with rounded lobes. Spikes are slender, axillary, pubescent, up to 50 centimeters long. Flowers are green, about 4 millimeters in diameter.
Distribution
- Native to the Philippines.
- In thickets and secondary forests at low altitudes in Bataan Islands, in Cagayan, Benguet, La Union, Pangasinan in Luzon, and in Semirara.
- Also cultivated, but not as extensively as ubi (Dioscorea alata).
- Also native to Assam, Bangladesh, Bismarck Archipelago, Borneo, Camobodia, Himalaya, Jawa, Lesser Sunda Is., Malaya, Maluku, Myanmar, Nepal, New Guinea, Sulawesi, Sumatera, Thailand, Vietnam.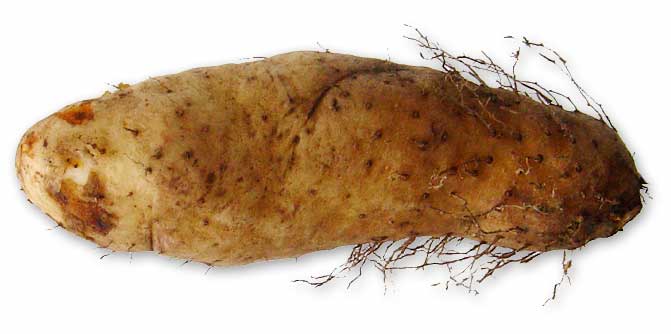 Constituents
- Contains 83% starch, 12% protein.
- Tubers are a good source of vitamin B.
- Phytochemical screening of defatted methanol extract of tuber yielded saponins, diosgenin, ß-sitosterol, stigmasterol, cardiac glycosides, fat and starch.
- Edible yams have yield polyphenolic substances such as catechins, epicatechins, chlorogenic acids, leucoanthocyanidins and anthocyanins.
- Study of chemical composition of flours and starches (% dry weight basis) yielded total starch 74.66±0.66, protein 9.02±0.65, crude fat 1.5±0.2, crude fiber 2.33±0.15, ash 2.1±0.2. Phytochemical composition yielded saponins 20.01±0.26, flavonoids 12.4±0.46, alkaloids 1.89±0.02. Mineral content analysis yielded calcium 8.29±0.06, iron 6.12±0.03, magnesium 33.6±1.19, potassium 190.91±0.78, zinc 1.19±0.08. (11)
- Nutritional content of tuber flour is protein (7.19%), fat (1.10%), dietary fiber (10.16%), inulin (7.49%) and total starch content (71.78%).
Properties
- Traditionally uses suggest anti-inflammatory, anti-stress, anti-spasmodic properties.
- Studies have suggest antioxidant, antifertility, antibacterial, anti-inflammatory properties.

Part utilized
Roots.
Uses
Edibility / Nutritional
- Tubers are boiled and eaten; cooked like potatoes.
- Rich in carbohydrates, a good source of vitamin B, with a nutritional value similar to ubi.
- Sweet and pleasant tasting, with a flavor of sweet potato or chestnut.
Folkloric
- The raw tubers are applied to swellings.
- In Indo-China, decoction of the tubers used for rheumatism and as diuretic.
- In China, used for beriberi.
- In Tripura, India, poultice of tubers applied to swellings.
- Tuber paste applied to ulcers, boils, abscesses.
- Used in the treatment of menopausal symptoms and other genital organ disorders.
Studies
• Anti-inflammatory / Phytochemicals: Study evaluated a defatted methanol extract of D esculenta for anti-inflammatory properties in an animal model using Wistar rats. Study used cotton thread method in measuring hind paw edema and granuloma tissue formation in rats. Results showed significant dose-dependent inhibition of carrageenan-induced edema and supports its folkloric use in inflammation. Phytochemical screening yielded saponins, diosgenin, ß-sitosterol, stigmasterol, cardiac glycosides, fat and starch. (1)
• Antioxidant: Study screening the phenolic content of different varieties of root crops in the Philippines, including D esculenta, found the roots crops a rich source of phenolic compounds with antioxidant activity.
• Storage Effect: Study of 1 to 7 weeks of storage revealed the moisture content, dray weight and starch levels decreased gradually with a concomitant increase in sugar content under different stages of dormancy. (3)
• Antioxidant / Phenolic Content: Study of a methanolic extract showed a total phenolic content of 0.7 g/110g. Results confirmed potential in vitro antioxidant activity, which was attributed to phenols and flavonoids. (6)
• Inulin: Study showed the production of inulin powder from lesser yam through the foam mat drying method using maltodextrin and egg white as filler and foaming agent. Inulin is a natural nondigestible fructooligosaccharide that occurs as reserve carbohydrate in several plants. Higher amounts of inulin could be extracted from D. esculenta compared to other tubers. (7)
• Antifertility Activity: Study investigated the antifertility effect of an ethanol extract in male albino rats. Results showed antifertility effects by inhibition of sperm concentration, motility, and testosterone. (8)
• Antibacterial / Mucilage: Study investigated the in vitro antimicrobial activity of tuber mucilage extracted from D. esculenta against five human pathogenic bacterial strains. The extracts showed antibacterial activity against E. coli, P. aeruginosa, and S. aureus, with no activity against K pneumonia and S. pyogenes. (10)
• Starch and Sugar Conversion During Storage: Study showed moisture content, dry weight, and starch levels decreased gradually with a concomitant increase in sugar content under different stages of dormancy. (12)
• Inulin Extract from Gembili Tubers as Prebiotic: Prebiotic is added to food to support the growth of probiotics. Inulin is a carbohydrate that serves as an effective prebiotic that cannot be digested by digestive enzymes. Study tested gembili tubers as a source of prebiotic in probiotic bacteria L. casei. Best treatment results were obtained with isolates of L. casei obtained in fermentation medium with the addition of inulin from gembili tubers. (13)

Availability
Wild-crafted.