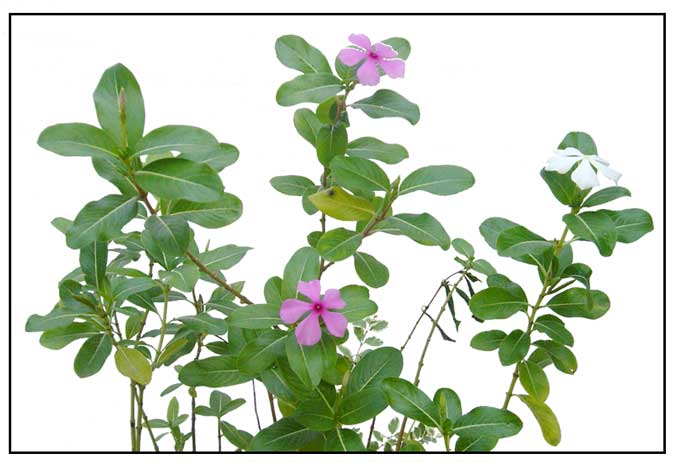 Snippet
Based on flower color, C. roseus has two cultivars: pink flowered "Rosea" and white colored "Alba". Breeding techniques have produced more than 100 varieties, with improved floral traits, increase tolerance to disease and alkaloid yield. (40)
Botany
- Tsitsirika is an erect, smooth or slightly hairy, simple or slightly branched plant, 30 to 50 centimeters high. Stems are somewhat woody. Leaves are oblong, 4 to 7 centimeters long, rounded at tip, pointed at base. Flowers are white, pink, or red, or variegated white and red, 3.5 cm to 5 centimeters across, borne in the axils of the leaves. Calyx-lobes are green and very slender. about 4 millimeters long. Corolla-tube is slender, 2.5 to 3 centimeters long, and pale green; the limb is spreading with obliquely obovate lobes 1.7 to 2.5 centimeters wide. Fruit is a hairy and cylindric follicle, 2 to 3 centimeters long.
Distribution
- Introduced as an ornamental.
- A native of tropical America.
- Flowers all year-round.
- Established in many parts of the Philippines and is often very abundant along sandy seashores.
- Now pantropic.
Constituents
- Leaves yield a volatile oil containing aldehyde, sesquiterpenes, furfural, sulphur-containing compounds, lochnerol, vincamine, vinpocetin (ethyl aponvincminate), vincarosin.
- Plant yields an amorphous alkaloid, vincarosin.
- Compounds identified: Alkaloids (vincristine, vinblastine, ibogaine, yohimbine, raubasine), flavonoids (hirsutidin).
- Plant yields more than 100 monoterpenoid indole alkaloids in different organs. Principle component is vindoline (up to 0.5%). Others are vinblastine (arevincaleukoblastine), vineristine ( oxovincaleuko-blastine), reserpine, vincamine, alstonine, leurocristine, ajmalicine, vinine, vinomine, vinoxine, vintsine, and leurosine.
- Leaves and stems yield dimeric alkaloids vincristine and vinblastine.
- Roots yield ajmalicine and serpentine.
- Comparative study of elemental composition of leaves and flowers yielded (dry weight basis, mg/g): Na 4.721 ± 0.530 (leaves) 2.310 ± 0.260 (flowers); K 23.070 ± 4.98 L, 23.42 ± 5.05 F; Ca 36.19 ± 3.04 L, 6.05 ± 5.05 F; Mg 5.13 ± 0.26 L, 1.75 ± 0.09 F; Cr 0.009 ± 0.001 L, 0.002 ± 0.004 F; Fe 1.04 ± 0.083 L, 0.559 ± 0.044 F; Zn 0.023 ± 0.002 L, 0.048 ± <0.005 F; Al 0.035 ± 0.004 L, 0.022 ± 0.005 F; Cu 0.006 ± <0.001 F; Pb 0.008 ± <0.001 L, 0.003 ± <0.001 F; Cd 0.002 ± <0.001 L, 0.001 ± <0.001 F; Mn 0.130 ± 0.009 L, 0.020 ± 0.001 F; Ni 0.006 ± 0.001 L, 0.0024 ± <0.001. (see study below) (39)
- GC-MS analysis of methanolic extract of leaves yielded major components: mono-inositol (1), hexadecanoic acid, methyl ester (2), hexadecanoic acid (3), 9- octadecanoic acid(Z)-methyl ester (4), heptadecene-(8)-carbonic acid (5), octanoic acid (6), eicosanoic acid, methyl ester (7), Icosanoic acid (8), 1,2- benzenedicarboxylic acid (9), squalene (10), desmethoxyvidoline (11) and tetracontane (12).   (48)
- Qualitative screening of leaves and stems yielded alkaloid, tannin, flavonoids, saponins, glycoside, steroid, phenol, and anthocyanins. Leaves and stems yielded alkaloid content of 11.84  ±1.2% and 7.84 ± 0.2%, respectively. Proximate composition of leaf and stem bark yielded: protein 4.74 and 2.67, fat 42.80 and 54.21, fiber 17.55 and 19.34, ash 8.94 and 4.76, and carbohydrate 4025 and 56.71, respectively. (53)
- Study evaluated leaves and flowers for essential oil by GC-FID and GC-MS. Pink flower of C. roseus yielded leaf oil consisting mainly of linolenic acid ethyl ester (43.9%), stearic acid (10.6%), phytol (7.3%), and hexadecanoic acid (6.8%), while the flower yielded limonene (34.1%), phytol (29.6%), and linolenic acid ethyl ester (14.0%). The while flower leaves yielded main constituents of of limonene (23.2%), dodecyl alcohol (9.8%), geraniol (7.3%), and citral (7.0%), while the flower yielded limonene (37.2%) and dotricontane (16.1%) as main compounds. (58)
Properties
- Leaves are vomitive.
- Leaf alkaloids considered anti-cancer.
- Roots are purgative, vermifuge, depurative, hemostatic.
- Considered antibacterial, antifungal and antiviral.
- It is the only plant which produces more than 100 monoterpenoids and indole alkaloids, which possesses two major cytotoxic diametric alkaloids commercially available for cancer treatment.
- Studies have shown antibacterial, anticancer, antidiabetic, hypotensive, hypolipidemic, antioxidant, wound healing, anthelmintic, anti-fertility, phytoremediative, anti-atherosclerotic, antiulcer, antigonorrheal, antileukemic, genotoxic, antiatherosclerotic properties.

Parts utilized
Leaves, whole plant.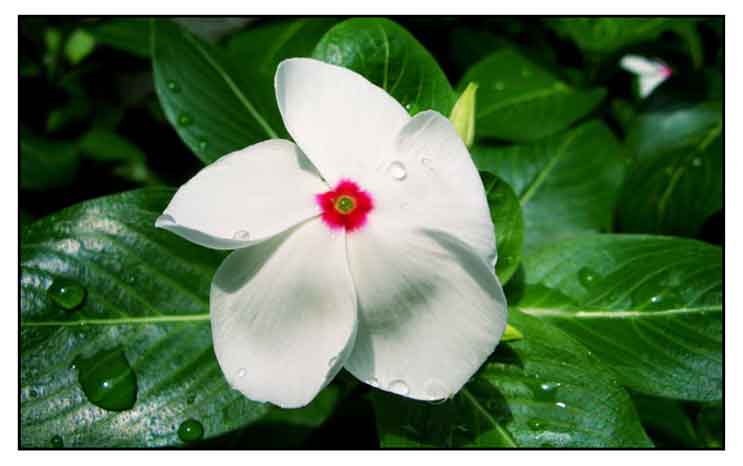 Uses
Folkloric
- In the Philippines, decoction of leaves used in diabetes.
- Decoction of young leaves used for stomach cramps.
- Root decoction for intestinal parasitism; as emmenagogue; may produce abortion.
- Infusion of leaves used for treating menorrhagia.
- Crude leaf extract has anticancer activity.
- Recent use of roots for anticancer applications.
- Roots used for dysentery.
- In Madagascar, the bitter and astringent leaves used as vomitive; roots used as purgative, vermifuge, depurative, hemostatic and toothache remedy.
- In Orissa, juice of leaves used as application to wasp stings.
- In Mauritius, infusion of leaves used for indigestion and dyspepsia.
- In Ayurveda, used for diabetes.
- In India, juice of leaves used for bee stings.
- In India, West Indies, and Nigeria used for diabetes.
- In Cuba and Jamaica, flower extract used for eyewash in infants.
- In the Bahamas, flower decoction used for asthma.
- In Bermuda, used for high blood pressure.
- In Malaysia, plant decoction used for diabetes, hypertension, insomnia, and cancer.
- In Indo-China, used for dysmenorrhea.
- In South Africa, used by Bapedi traditional healers for the treatment of gonorrhea. (41)

Studies
• Hypoglycemic / Leaves: Study on the leaf juice of C roseus showed a dose-dependent lowering of blood glucose in both normal and diabetic rabbits comparable to the standard drug, glibenclamide. The mechanism of action was probably through enhanced secretion of insulin from the ß-cells. (1)
• Antidiabetic: Study of C roseus, A indica and A sativum showed significant antidiabetic activity for all three medicinal plants supporting its Ayurvedic use for diabetes. (3) Study of aqueous extract of leaves in alloxan induced diabetic rats significantly (p<0.001) decreased blood glucose levels and decreased TC, LDL, VLDL and TG close to normal levels.
• Anti-Cancer / Vincristine and Vinblastine: The anti-cancer drugs, vincristine and vinblastine, are derived from the alkaloids of periwinkle. The alkaloid has growth inhibition effects to some human tumors. Vinblastine is used experimentally for treatment of neoplasms and is recommended for Hodgkin's disease and choriocarcinoma. Vincristine, another alkaloid, is used for leukemia in children. Vinblastin is sold as Velban; vincristine, as Oncovin. source
• Anti-Bacterial: Crude extracts from different parts of C roseus was tested for antibacterial activity. Extracts from the leaves showed significantly higher efficacy. Study suggests that bioactive compounds of CR can be a potentially exploited as antibacterial agents. (4)
• Anti-Bacterial: Study showed pattern of inhibition depends on extraction procedure, part of plant used, state of plant, solvent used, and microorganism tested. The ethanolic extract was most active against almost all bacterial organisms tested. Gram positive bacteria were found more sensitive than gram-negative ones. (11)
• Cytochrome P450 Inhibition: Study isolated two triterpenes and three alkaloids. Two alkaloids, ajmalicine and serpentine showed very potent inhibitory activity against CYP2D6. (5)
• Wound Healing / Flowers: Study showed increased wound contraction and tensile strength, increased hydroxyproline content and supports the topical use of CR in wound healing. (6)
• Triadimefon / Antioxidant / Ajmalicine: The effects of triadmefon, a triazole compound on the antioxidant potentials and root alkaloid ajmalicine content were studies in two varieties of C roseus, rosea and alba. Triadimefon treatment increased the antioxidant potentials and the indole alkaloid ajmalicine (more in the rosea variety than the alba variety) content. Results suggest triadimefon may be a useful tool for increasing alkaloid production in medicinal plants. (7)
• Transcriptone: C roseus is known to produce a distinct spectrum of terpenoid indole alkaloids. A growth-related decrease in shoot/leaf dat and sgd transcript levels were paralleled by a decrease in shoot/leaf vindoline content. (8)
• Polyphenolics / Antioxidants: Study of non-colored phenolics in C roseus characterized three caffeoylquinic acids and 15 flavonol glycosides. The scavenging ability of different plant matrices was assessed and a concentration-dependent protective effect was observed for seeds and tissues, with petals found to be most active. (9)
• Hypotensive / Hypolipidemic: C roseus leaves extract made significant changes in each cardiovascular parameter after investigation with hypotensive and hypolipidemic effects in leaves extract treated animals. (11)
• Anthelmintic / Leaves: Study of leaves extract of Cr showed potent anthelmintic activity in experimental adult earthworm Pheretima posthuma. There was concentration dependent paralysis and decrease in death time. In the study, the control drug Piperazine citrate showed more potent anthelmintic activity compared to the methanol aqueous, ethanol and ethyl acetate extract. (12) Study evaluated an ethanol extract of C. roseus leaves for anthelmintic activity against Pheretima posthuma. Results showed significant anthelmintic activity, more efficient than the standard drug, piperazine citrate. (55)
• Antidiabetic / Increased Enzymic Activity: Study of a dichlormethane:methanol extract of leaves and twigs in a STZ-induced diabetic rat model exhibited hypoglycemic activity. Decreased enzymic activities in liver of diabetic animals were significantly improved after extract treatment. Increased levels of lipid peroxidation indicative of oxidative stress were also normalized by extract treatment. (13)
• Antimicrobial / Leaves: Study of extracts of leaves showed it can be used as a prophylactic agent in regions with endemic disease but no in pandemic scale. Leaf yielded indole alkaloids and some phenolic compounds. (16) Study of ethanol leaf extract of C. roseus showed antimicrobial activity against Staphylococcus aureus, E. coli and Candida albicans. (35) Study of various solvent leaf extracts showed maximum antibacterial activity against all tested pathogenic microorganisms. (43)
• Vincristine / Anticancer Ingredient: Vincristine is a dimer-indo-akaloid from the leaves of C. roseus, used in the treatment of acute lymphocytic cell leukemia, Hodgkin's disease and non-Hodgkin disease. Side effects limits its clinical use. Study summarizes its properties, advances in decreasing side effects, and new phamaceutical approaches. (17)
• Phytoremediation / Cadmium: Study exposed exposed C. roseus to different concentration of heavy metals to observe bioaccumulation efficiency. Total alkaloid was found decreased in the roots of CdCl2 treated plants. Analyses of leaves of treated plant showed 5-10% accumulation of cadmium, but no accumulation of lead at all. (18)
• Toxicity Study:Study evaluated the sub-acute oral toxic effects of methanol leaves extract of C. roseus on liver and kidney functions in Sprague Dawley rats. Fourteen days of oral administration of 0.1 g/kbw was shown to be safe in female SD rats without any significant damages to the liver and kidney. (19)
• Antihyperglycemic: Study of a plant leaf dichlormethane methanol extract was found to exhibit significant antihyperglycemic effect in alloxan induced diabetic rats. (20) Study evaluated the antidiabetic and hypolipidemic effect of C. roseus leaf powder in STZ induced diabetic rats. Results showed lowering of plasma glucose and plasma insulin, with significant enhancement of plasma cholesterol, triglycerides, LDL and VLDL, and normalization of atherogenic index of the diabetic rats. (31)
• Vinpocetine / Spatial Learning Effect: Vinpocetin from the periwinkle plant has been shown to increase cerebral blood flow, enhancing the flow of nutrients, oxygen, glucose, and neurotransmitter substrates. Study showed the plant decoction can affect spatial learning of rats in escape latencies. (21)
• Antioxidant / Leaves: Study evaluated the antioxidant activity of methanolic leaf extracts of Catharanthus roseus. Results showed increased activity of SOD and POX antioxidant activities. (22)
• Prevention and Management of Insulin Resistance and Oxidative Stress: Study evaluated the preventive role of C. roseus leaf powder in alleviating high-fructose diet-induced insulin resistance and oxidative stress in adult Wistar rats and suggests a potential use as adjuvant for the prevention and/or management of insulin resistance and related disorders. (23)
• Anticancer / Free Radical Scavenging: Study investigated the anticancer and antioxidant activity of C. roseus, Dendrophtoe petandra, Piper betle and Curcuma mangga aqueous extracts in T47D human ductal breast epithelial tumor cell line. Apoptotic analysis showed C. roseus induced apoptosis for 37.67%, compared to doxorubicin for 36.06. Its DPPH radical scavenging activity was 71.87%. (24)
• Hypoglycemic: Study investigated the hypoglycemic activity of extracts from flower, leaf, stem, and root in normal and alloxan-induced diabetic mice. The aqueous extracts and its alkaloid-free fraction significantly reduced blood glucose in diabetic mice, with a hypoglycemic activity comparable to tolbutamide. (25)
• Hypolipidemic / Anti-Atheroscletic Activity / Leaf Juice: Study investigated the hypolipidemic activity of leaf juice of Catharanthus roseus in guinea pigs. Results showed significant anti-atherosclerotic activity suggested by reduction in serum lipids and histological findings in the aorta, liver, and kidney. The result was attributed, possibly, to the antioxidant effect of flavonoid, and probably, vinpocetine-like compound in the leaf juice. (26)
• Cytotoxicity to Leukemic T-Cells: Study of a crude aqueous extract of C. roseus showed a differential effect on the inhibition of proliferation of Jurkat leukemic T-cells and promoting normal peripheral blood immune cells proliferation. (27)
• Antidiabetic / Flower Extract: Study evaluated an aqueous flower extract for antidiabetic and antihyperlipidemic potential on alloxan induced diabetes in male albino rats. Results showed significant reduction in blood glucose, reduction in lipid profile, and histological observation of reduced pancreatic fatty changes and inflammatory cell infiltrates. (28)
• Vincamine and Vindoline / Anti-Ulcer: Study evaluated the antiulcer activity of total extract and fractions of C. roseus. A chloroform extract fractionation and its compounds, vincamine and vindoline, significantly showed protection in the Cold Restraint Ulcer model, confirming its anti-ulcer activity. The effect could be due to its anti-secretory activity. (29)
• Phytoremediation / Cadmium: Study evaluated the bioaccumulation efficiency of Catharanthus roseus to different concentrations of heavy metals. AAS analysis of leaves of treated plants showed 5-10% accumulation of cadmium, but no accumulation of lead at all. (32)
• Elemental Composition of Leaves and Flowers: Study evaluated 13 important elements in leaves and flowers of C. roseus. Result showed the presence of Na, K, Ca, Mg, Cr, Fe, Zn, Al, Cu, Ni, Pb, Cd, and Mn in both leaves and flowers. Leaves showed high concentration of all elements except K and Zn while flowers showed higher concentration of K and Zn. (33)
• Antifertility / Leaves: Oral administration of leaf extract caused widespread testicular necrosis, hyalinization of tubules. Notable reduction in glycogen and fructose levels in reproductive tissues supported the histological findings and confirm the antifertility properties of C. roseus extract. (34)
• In Vivo and In Vitro Antitumor Activity: Study evaluated the antitumor activity of C. roseus using both in vitro and in vivo methods. Results showed in vitro antitumor activity using MCF (breast cancer) cell lines and in vivo antitumor activity using Ehrlich ascites carcinoma (EAC) tumor model. (36)
• Cytotoxicity / Human Colorectal Carcinoma Cell Line: Study evaluated C. roseus for cytotoxic activity using MTT assay against Human Colorectal Carcinoma Cell Line (HCT 116). Results showed dose dependent cytotoxic activity with the chloroform fraction showing the highest activity. Catharanthine showed the most promising dose dependent cytotoxic activity with IC50 value of 60 µg mL. (37)
• Elemental Composition: Study of elemental composition of leaves and flowers yielded 13 important elements: Na, K, Ca, Mg, Cr, Fe, Zn, Al, Cu, Ni, Pb, Cd, and Mn. Leaves showed high concentration of all elements except K and Zn while flowers showed higher concentrations of K and Zn. (see constituents above) (39)
• Treatment for Gonorrhea / Roots: Study evaluated the anti-gonorrheal property of C. roseus root extract. The plant has been used by traditional Bapedi healers in the Limpopo Province of South Africa for the treatment of gonorrhea. Study concludes the C. roseus extracts might be effective against Neiserria gonorrhea. (41)
• Antidiabetic / Antioxidant / Alkaloids: Study reports on the in vivo antioxidant and antidiabetic activities of major alkaloids isolated from C. roseus leaves extract. Study isolated four alkaloids: vindoline I, vindolidine II, vindolicine III, and vindolinine IV from a dichlormethane extract of leaves. All four alkaloids induced relatively high glucose uptake in pancreatic ß-TC6 or myoblast C2C12 cells, with III showing the highest activity. Compounds II-IV showed good protein tyrosine phosphatae-1B inhibition activity suggesting a therapeutic potential for T2DM. Compound III showed the highest antioxidant potential in ORAC and DPPH assays. (42)
• Peroxidase and Biosynthesis of Terpenoid Indole Alkaloids / Leaves: The first natural drugs used in cancer therapy—the dimeric terpenoid indole alkaloids vinblastine and vincristine—were produced from the leaves of C. roseus. This study isolated two other terpenoid indole alkaloids: ajmalicine, used as antihypertensive, and serpentine, used as sedative. Study present an overview of the class III plant peroxidases in the biosynthesis of terpenoid indole alkaloids in C. roseus. (44)
• Biological Plant Mechanisms in the Separation of Vinca Drug Components: Study reports on the complex development-, environment-, organ-, and cell-specific controls involved in the expression of MIA (monoterpenoid indole alkaloids) which are coupled to secretory mechanisms that keep catharanthine and vindoline separated from each other in living plants. Catharanthine accumulates in leaf wax exudates, while vindoline is found within leaf cells. (45)
• Acute Toxicity Study: Study evaluated the acute toxicity effect of C. roseus crude aqueous extract on some hematological and biochemical parameters. Results suggest use of C. roseus extract as infusion for disease remedy may be well tolerated since there was no mortality or severe adverse effects on the test animals. However, there is a risk of renal- hepato- and hematopoeitic toxicity at the tested doses. Concentrations lower than 1000 mg/kg is suggested to increase the safety margin. (46)
• Bioactive Compounds from Leaves: GC-MS analysis of methanolic extract of leaves yielded bioactive components. Major compounds —hexadecanoic acid, 9-octadecanoic acid, 1,2-benzenedicarboxylic acid, tetracontane—were used for antimicrobial, antidiabetic, antioxidant, and anticancer activity. (see constituents above) (48)
• Antidiarrheal / Leaves: Study evaluated the anti-diarrheal activity of ethanolic leaf extract in wistar rats with castor oil-induced diarrhea. Results showed dose dependent inhibition of induced diarrhea at doses of 200 and 500 mg/kbw. Loperamide and atropine sulfate were used as standard drugs. (49)
• Memory Enhancing / Vinpocetine: Vinpocetine, an intriguing dietary supplement derived from the alkaloid vincamine, has been rerpoted to improve brain function and memory, and of particular potential benefit in Alzheimer's disease. In clinical trials of dementia and stroke, it has been found to be tolerated up to 60 mg/d dose, with no significant adverse events. However, it should not be used with blood thinning agents (warfarin or aspirin) and some dietary supplements (ginkgo, vitamin E, and garlic). (49)
• Hypoglycemic / Hypolipidemic / Comparison with Diabenese / Leaves, Flowers, and Stems: Study aqueous extracts prepared from leaves, flowers, and stems of C. roseus in alloxan-induced diabetic rats showed significant reductions (p≤0.05) in glucose levels, protein, cholesterol, liver enzymes. and lipid peroxidation. Reductions were higher compared to groups treated with diabenese. (50)
• Toxicity / Vincristine / Leaves and Flowers: (1) Cases of neurotoxicity have been reported with the use of vincristine in patients with acute lymphoblastic leukemia. (2) A study reported on the development of peripheral neuropathy with use of vincristine at normal dosage in 10 of 20 children. (3) Peripheral neuropathy has been reported in cats and dogs, along with involvement of the bone marrow, kidney, and GIT. (4) Study reports of liver damage in rabbits after taking o.1g/kg of an aqueous leaf extract of C. roseus for 9 days. (5) Study showed an LD50 of methanol leaf extract at 2.1g/kg in mice. (6) Prolonged treatment at repeated dose of 0.5g and 1.0 g/lg extract cause diarrhea and mortality in rats. (7) Study reports of accidental poisoning of sheep fed ad libitum amounts of leaves and flowers. Acute toxicity occurred within 24 hours with all animals manifesting salivation, incoordination, staggering, dyspnea, anorexia , bloody diarrhea and dehydration, with all animals dying within two days of onset of manifestations. (51)
• Essential Oil / Leaves and Flowers: GC-MS evaluated leaves and flowers of C. roseus for essential oil. Leaves yielded 24 compounds representing 95.99% of total, whie the flowers yielded 10 compounds representing 98.20%. Identified components in the leaves were terpenoids 75.41%, alkanes 6.0%, aldehydes 5.5%, fatty acids 3.6%, ketones 3.2%, and alcohol 2.28%, while the flowers yielded 98.20% component fatty acid esters. (52)
• Alkaloids / Anti-Leukemic: Study of vinca rosea yielded twelve crystalline compounds and describes the procedure leading to preparation of pure substances. Two of the alkaloids, vincaleukoblastine and leurosine showed activity against P-1534 leukemia in mice. (54)
• Zinc Oxide Nanoparticles / Antibacterial / Leaves: Study reports on the fast, easy, cost-effective and eco-friendly biosynthesis of ZnO nanoparticles from leaves of C. roseus. On antibacterial evaluation against four bacterial species, Pseudomonas aeruginosa showed more susceptibility than the other species. (55)
• Genotoxicity Study: Study of alcoholic extracts of C. roseus showed genotoxic activity using Drosophila melanogaster as model organism. Results suggest further studies to identify the active compounds responsible for genotoxicity to ensure safe use of C. roseus for medicinal purposes. (57)

Availability
- Wild-crafted.
- Cultivated ornamental plant.