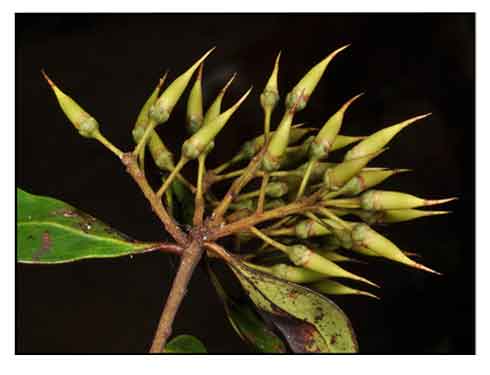 Gen info
- Aegiceras is a genus of trees occurring as mangroves in coastal or estuarine areas.
- The genus was first described in 1788 by Jospeh Gaertner.
- The genus name derives from two Greek words: "aix" meaning 'goat' amd "keras" meaning 'horn', referring to fruits having horns like a goat.
- There are two species accepted by Plants of World Online: Aegiceras floridum and A. corniculatum.
- Considered uncommon with a restricted distribution. The estimated 29% decline in mangrove is within this species range since 1980. It has a narrow range of appropriate habitat as it requires very high salinity. It is now listed as Near Threatened. (5)

Botany
Aegiceras floridum is a small tree. Outer bark is grey to brown, with crevices and lenticels. Leaves are skinned, reversed ovoid with rounded tip, the upper side bright and shiny green; the underside pale green, sometimes reddish. Flowers are many, hanging like a bunch of lanters, each flower stalk.stem is 4-6 mm long. Fruit is somewhat straight, greegn to red, containing one seed lengthwise.
Distribution
- Native to the Philippines.
- Found in rocky and sandy substrates, and along beaches.
- Also native to Lesser Sunda Is., Maluku, New Guinea, Sulawesi. (1)
- IUCN Red List: Near threatened.
Constituents
- Study isolated a new compound 3-methoxy-5-nonylphenol (1) along with five known ones: 2,8,10-trihydroxy-gH-benzo[c]chromen-6-one (2), 2-hydroxy-5-methoxy-3-nonylbenzo-1,4-quinone (3), 5-(3-hydroxypropyl)-7-methoxy-3-(methylbenzofuran-2-yl)-3-methoxyphenol (4), 2,8-dihydroxy-7-methoxy-3,9-diundecyldibenzofuran-1,4-dione (5), and 10-hydroxy-4-methoxy-2,11-diundecylgomphilactone (6). (see study below) (4)
Properties
- Studies have suggested cytotoxic and anticancer properties.

Parts used
- Leaves, roots, bark.

Uses
Folkloric
- No reported folkloric medicinal use in the Philippines.
Studies
• Polyisoprenoids / Leaves and Roots: Study reports on the patter and existence of polyisoprenoid alcohols (polyprenols.dehydrodolichol and dolichols) in leaves and roots of A. floridum and L. littorea. Type-II showing existence of both dehydrodolichols and dolichols was observed in the leaves of A. floridum, with polyprenol and dolichol chain length C60-Ç80 and C90-C95, respectively. (3)
• Cytotoxity Against Cancer Cell Lines / Bark: Study isolated a new compound along with five known ones. The compounds were tested for cytotoxic activity against some cancer cell lines such as human epithelial carcinoma (HeLa), human lung cancer (NCI-H460), liver hepatocellular carcinoma (HepG2), human breast cancer (MCF-7) and acute T cell leukemia (Jurkat). Compound 3 ( 2-hydroxy-5-methoxy-3-nonylbenzo-1,4-quinone) showed moderate activities against MCF-7 with IC50 of 17.77 µM and
NCI-H460 with IC50 of 25.02 µM. DPPH radical scavenging assay revealed weak antioxidant activity for compounds 2-4 and 6. (see constituents above) (4)
Availability
Wild-crafted.