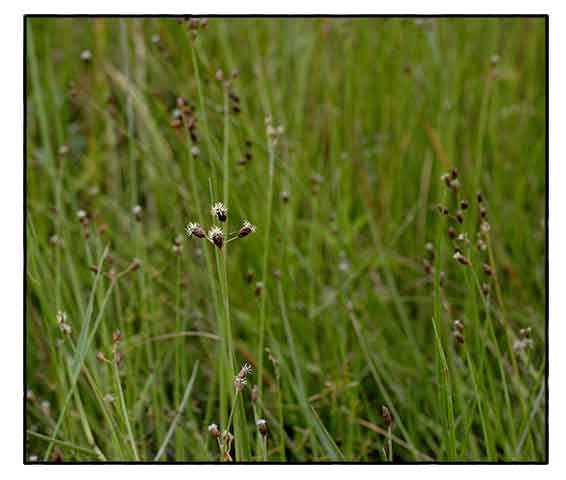 Botany
Fimbristylis umbellaris is an erect, glabrous, perennial herb, up to 120 cm tall, with a short horizontal rhizome clothed with brown scales, growing densely tufted in a clump. Stem rigid, obtusely trigonous to subterete, 20-120(-200) cm × 1-5 mm (in cultivation reaching 2 m or taller), usually flattened below the inflorescence, striate, smooth, light green. Leaves on the stem reduced to bladeless, cylindrical, obliquely truncate sheaths with brown margins, lower ones scale-like, 2-4 cm long, the upper ones up to 20 cm long; leaves of sterile shoots narrow and short, flat or canaliculate, about 1.5 mm wide, without ligule. Inflorescence usually a much reduced simple or compound umbel or open corymb, up to 10 cm long, with up to 40 spikelets; basal involucral bracts 2-3, erect, lanceolate, up to 1 cm long; primary rays up to 10, unequal, up to 5 cm long, smooth; spikelets solitary, globose, ovoid or ellipsoid, 4-8(-12) mm × 3-4 mm, densely many-flowered, red-brown; rachilla persistent, narrowly winged; glumes spirally arranged and tightly imbricated, membranous, ovate, up to 2.5 mm × 1.5 mm, base obtuse, margins broadly white-membranous, apex rounded and often torn, obscurely 2-3-veined on both sides of the ridged midrib which ends below the apex; flowers bisexual; stamens 2-3, about 1 mm long, anthers oblong-linear; style 1-2 mm long, widened at the base, glabrous, usually trigonous with 3 stigmas, sometimes flat with only 2 stigmas, articulated with the ovary (falling off as a whole). Fruit nut-like, a compressed-trigonous or biconvex achene, 0.8-1 mm × 0.6-0.8 mm, finely warty, pale yellow when mature. (1)
Distribution
- Native to the Philippines.
- Also native to Andaman Is., Assam, Bangladesh, Borneo, Cambodia, Caroline Is., China, Hainan, India, Jawa, Korea, Laos, Malaya, Marianas, Myanmar, Nansei-shoto, Nepal, New Guinea, Pakistan, Sri Lanka, Sulawesi, Sumatera, Taiwan, Thailand, Vietnam. (2)
- Grows primarily in the subtropical biome. (2)
- Found in open swamps, wet grassy places, and rice fields.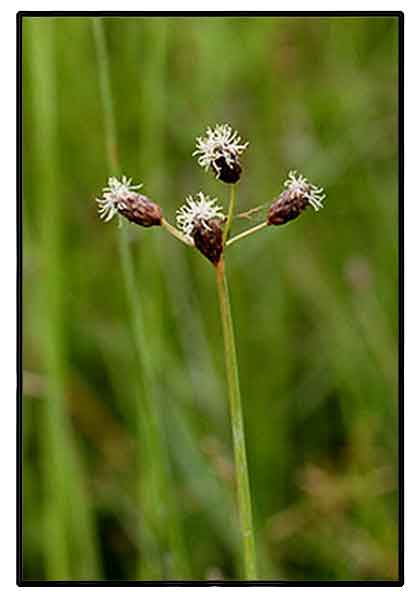 Properties
- Study suggests phytoremediative properties.

Parts used
Leaves, aerial parts.

Uses
Folkloric
- In the Philippines, used for treatment of enlarged spleen. (1)
Others
- Crafts: Stems used for weaving, production of mats, hats, and baskets. It may be the most important matting sedge of the Philippines, where it is used for making sleeping or floor mats (banig), hats, slippers, handbags, etc. Its great export potential is hindered by limited supply of raw materials. In Indonesia, it is also used for small wickerwork. Stems are used as string for tying. (1)
- Agroforestry: A weed in ricefields, it is plowed in as green manure. (1)

Studies
• Natural Cellulose Fiber: Study reports on the potential of mendong grass as a natural source of fiber. The study provides an overview on cultivation and obtaining fiber and its chemical, physical, mechanical and thermal properties.
• Phytoremediation / Chromium: The textile industrial waste containing heavy metals, one of which is Chromium (Cr) is dangerous to the environment, especially chromium hexavalent with its soluble, carcinogenic and toxic properties. Study evaluated the phytoremediation of soil contaminated with chromium using Mendong plant, combined with microorganisms Agrobacterium Sp I3 and compost. Results showed the Mendong plant was an effective phytoremediator of soil contaminated with chromium and can be used as a chromium accumulator plant. Highest decrease of soil chromium content of 58.39% combined with artificial fertilizer. Bioremediation increased total bacterial colonies, decreased soil pH, and increased cation exchange capacity of the soil. (4)
Availability
Wild-crafted.