Botany
Tan-ag is a tree growing up to 15 meters high with a dense rounded crown. Leaves are simple and alternate, broadly ovate, 10 to 20 centimeters long, with pointed tip and heart-shaped base, with petioles 5 to 20 centimeters long. Flowers are pink, about 8 millimeters long, borne on panicles 20 to 40 centimeters long, terminating the branches. Fruit is a thin-walled, 5-lobed, inflated capsule about 2 centimeters long, each locule containing 1 to 2 seeds. Seeds are globose, whitish, and warty.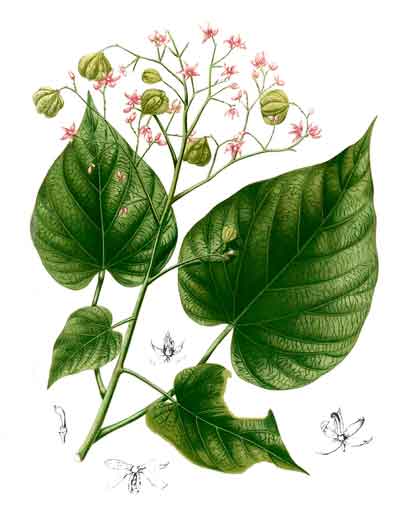 Distribution
- Common in thickets, secondary forests, and deserted clearings at low and medium altitudes throughout the Philippines.
- Also occurs in India to tropical Africa and to Malaya.
Constituents
- Yields triterpenes (beta-amyrin, bauerenol, baurenol acetate, betulin, lupeol acetate), fatty acids, flavonol (kaempferol, nicotiflorin, quercetin, rutin, vitexin), coumarin (scopoletin), steroid (beta-sitosterol).
- Leaves and bark contain cyanogenic compounds that provide lice-killing properties.
- Extracts of leaves have shown anti-tumor activity against mice-sarcoma.
- Scopoletin, kaempferol and quercetin have been isolated from the leaves.
- Study isolated four cycloartane triterpenoid alkaloids, kleinhospitines A-D. (see study below) (6)
- Study of chloroform extract of stem bark isolated scopoletin, 7-hydroxy-6-methoxy coumarin (1) together with β-sitosterol (2). (see study below) (11)
- Study of seeds for amino acid composition (TPI [g/16gN]) yielded aspartic acid + asparagine, glutamic acid + glutamine (25.69), serine, histidine, gycine (8.02), threonine, arginine, alanine, tyrosine (7.18), methionine, valine, phenylalanine, isoleucine, leucine, lysine (8.03). (see study below) (14)
- Phytochemical screening of ethanolic extract of leaves yielded alkaloid, flavonoid, saponin, tanin, and steroids, with an absence of triterpenoid. (18)
- Study of K. hospita isolated two new cycloartane triterpenoids, (23R)-21,23:23,27- diepoxycycloarta -1,24-diene-3,27-dione (1) and (3α)-(α-L-arabinopyranosyloxy)-1α -hydroxy-23-oxocycloartan -28-oic acid (2), together with six known pentacyclic triterpenoids, 3–8, and five known C29 steroids, 9–13.(19)
Properties
- Lice-killing.
- Considered anti-tumor, antibacterial (weak), chronotropic, histaminergic, spasmolytic.
- Studies have shown hepatoprotective, antioxidant, and cytotoxic properties.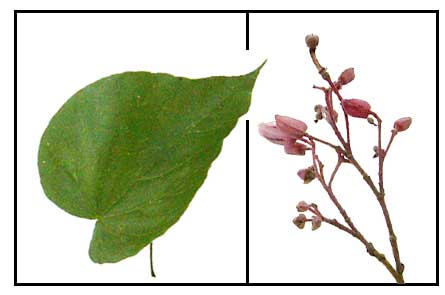 Parts utilized
Bark and leaves.

Uses
Edibility / Nutritional
- Young leaves, sprouts, and flowers eaten as vegetable.
Folkloric
- Decoction of leaves used for scabies and itching and all forms of dermatitis.
- In Agusan del Sur, used for dyspepsia, cough, asthma.
- Used for psoriasis. (23)
- Crush leaves rubbed on forehead to relieve headache.
- Bark and leaves used in Malaya as hair wash to destroy lice.
- In eastern Malaysia juice of leaves used as eyewash.
- In Malaya, Indonesia and Papua, New Guinea, used to treat scabies.
- In Papua, New Guinea and the Solomon Islands, a preparation from the cambium used to treat pneumonia. Leaves used as hair-wash to get rid of lice.
- In Indonesia, used for liver diseases.
- In Sulawesi, boiled leaves drunk for stomachaches, liver diseases, and various internal diseases. The leaves used as repellent against ticks. (12)
- In Thailand, bark used to treat skin irritations.
- Bark is scraped, mixed with water, filtered and drunk to relieve coughs and tuberculosis.
- Crushed leaf rubbed on skin diseases and rubbed on the forehead to relieve headaches.
- Juice from young leaves, mixed in water, drunk to treat bee stings.
Others
- Fiber: Bast fibers used for tying or rope making used for tethering livestock. The rope is durable during rainy weather.
- Wood: Straight branches used for making ornamental pieces, house rafters, and poles for stakes. (10)
- Fuelwood: Considered a good fuel wood. Energy value of the wood is about 19,000 kJ/kg. (10)
- Poison: In Marinduque, bark is reportedly used to poison eels.
- Repellent: Leaves are used as rice field insects repellent.
- Ornamental: Ornamental use for its pink-colored panicles.
- Poison: Bark and leaves reportedly poisonous. In Marinduque, used to poison eels. (24)

Studies
• Cycloartane Triterpenoids / Hepatoprotective: Study isolated four new cycloartane triterpenoids with known gardenolic acid from K. hospita. The compounds showed promising hepatoprotective effects on nitrofuratoin-induced cytotoxicity in human liver-derived Hep G2 cells. (2)
• Antioxidant / Cytotoxicity: Study of leaf extracts of K. hospita showed potent antioxidant activity (96% compared to vitamin C, 98 %) using DPPH assay and moderate dose-dependent cytotoxicity on HepG2 liver cancer cells. (3)
• Kleinhospitines / Triterpenoid Alkaloids / Hepatoprotective: Study isolated Kleinhospitines A-D, four unprecedented cycloartane triterpenoid alkaloids isolated as two mixtures of C-23 epimers. The two mixtures showed hepatoprotective activity against H2O2-induced oxidative dames on primary cultured rat hepatocytes. (6)
• Cytotoxicity / Brine Shrimp Lethality Test: Study evaluated the mortality effects and Median Lethal concentrations of KH extracts on Artemia salina through the brine shrimp lethality test. Results showed weak to moderate toxicity with LC50 of 698.54 µg/mL for the decoction and 452.03 µg/mL for the ethanol extract. (9)
• Scopoletin / Stem Bark: Study of chloroform extract of stem bark yielded scopoletin and ß-sitosterol. Scopoletin showed moderate activity against Artemia salina with LD50 of 569.64 µg/ml. Scopoletin can also be used as antihypertensive, anti-inflammatory, antiallergenic, and inhibitor of prostaglandin synthetase. (11)
• Scopoletin / Hypoglycemic / Hypolipidemic: Scopoletin, a coumarin derivative, found K. hospita, was evaluated for hypoglycemic and hypolipidemic activity in STZ-induced diabetic Wistar albino rats. Results showed scopoletin at 1 mg/kg dose showed significant antihyperglycemic and antihyperlipidemic activity. (13)
• Fractionation and Chemical Studies / Seed Protein: Fractionation of protein from seeds yielded a total of 15 amino acids including nine essential amino acids. The seed protein yielded high amounts of albumin and gluteliin fractions. Results suggest that the K. hospital seed protein may be used as food supplement after proper toxicological screening. (see constituents above) (14)
• Fatty Acid Composition / Antibacterial / Leaf Oil: GC-MS analysis of leaf oil evaluated yielded 19 fatty acids, accounting for 80.47% of total FA and 13 unidentified compounds. Predominant fatty acids were palmitic acid (17.97%), linoleic acid (8.05%), oleic acid (7.87%), and stearic acid (7.79%). Antibacterial evaluation of the oil against Gram-positive Bacillus subtilis and B. licheniformis and Gram-negative E. coli and Acinetobacter junii showed MICs of 61.75 µg/ml, 60.02 µg/ml, 35.75 µg/ml, 38.04 µg/ml, respectively. (15)
• Hepatoprotective / Cardioprotective / Doxorubicin Toxicity: Doxorubicin is a potent chemotherapeutic agent, which may cause cardiac, hepatic and renal dysfunction. Study evaluated the protective effects of Kleinhovia sp. extract (100, 250 and 500 mg;kg orally for 5 days) against Doxorubicin (DOX) acute toxicities in male rats. Results showed the extract protected rats from liver toxicity at any dose given, while only a dose of 250 mg/kg reduced cardiac toxicity. Renal architecture was also improved by Kleinhovia sp. treatment. (16)
• Corrosion Inhibitor / Antioxidant / Stem Bark: Study evaluated K. hospita stem bark extract for corrosion inhibitor activity on API 5L steel. Antioxidant activity on DPPH assay showed an IC50 of 153.78 µg/mL, indicating intermediate power. The most efficient inhibition was found in 400 ppm (30 days) with 92.063%. (17)
• Cycloartane Triterpenoids / Cytotoxic Against Carcinoma Cell Lines: Study of K. hospita isolated two new cycloartane triterpenoids, (23R)-21,23:23,27-diepoxycycloarta-1,24-diene-3,27-dione (1) and (3α)-(α-L-arabinopyranosyloxy)-1α-hydroxy-23-oxocycloartan-28-oic acid (2), together with six known pentacyclic triterpenoids, 3–8, and five known C29 steroids, 9–13. All compounds were evaluated for cytotoxic activities against human colon carcinoma (HCT116) and gastric carcinoma (SGC7901) cell lines. Compounds 6, 7, 8, 11, and 12 showed antiproliferative activities with IC50s ranging from 23.0 to 91.8 µM. (19)
• Protective on Pancreatic Toxicity / Leaves: Study evaluated the protective effects of paliasa leaves extract on pancreatic cytotoxicity in alloxan induced hyperglycemic male Wistar rats. Results showed the paliasa extract could lower hemorrhagic score on pancreas of diabetic rats, even though not significant compared to control (p 0.205). (20)
• Antidiabetic / Leaves: Study identified the effect of paliasa leaves extract doses of 250, 500, and 750 mg/kbw on blood glucose of alloxan induced hyperglycemic Wistar rats. Results showed significantly higher level of blood glucose decrease in mice with dose of 750 mg/kbw. (21)
• Antioxidant Compounds / Leaves: Biologically guided fractionation of leaves of K. hospita using DPPH radical scavenging assay yielded eleutherol and kaempferol 3-O-ß-D-glucoside. Both compounds showed radical scavenging with IC50 of 71.4 and 491.8 µM, respectively. The compounds showed no cytotoxicity on HepG2 cells. (22)
• Hepatoprotective / Hepatoregenerative / Polyherbal Medicine: K. hospita is one of the extract component of an Indonesian registered polyherbal medicine, Heparmin, along with Cucurma xanthorrhiza, Nigelia sativa, Arcangelisia flava and Ophiocephalus striatus, touted as hepatoprotective and hepatoregerative. Study evaluated Heparmin, silymarin I-ornithine I-aspartate for their ability to modulate the development of liver fibrosis. Heparmin showed better results as evidenced by increased antioxidant enzyme activity, decrease oxidative stress and inflammatory markers, improved lipid profile, and prevention of fibrosis progression and activation of hepatocyte regeneration. (25)


Availability
Wild-crafted.