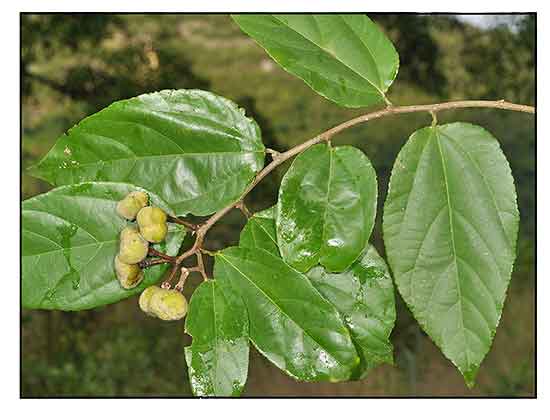 Gen info
- Grewia is a large flowering plant genus in the mallow family Malvaceae.
- The genus was named by Carl Linnaeus in honor of the English botanist Nehemiah Grew (1641-1712), whose study of pollen laid the grooundwork for modern-day palynology. (2)
- Etymology: The genus name Grewia commemorates Nehemiah Grew. The specific epithet laevigata means "smooth" or "hairless".
Botany
• Grewia laevigata is a climbing shrub up to 15 m long. Leaves are alternate; stalked leaves have slightly leathery leaf blades that are oval or oblong-egg-shaped, pale below, and 7.6-11 by 3.8-5 cm. Flowers are yellowish-white, 1.9 cm long, and grow in clusters of 6-8. Fruits are round, green, green, and contain one seed each. (3)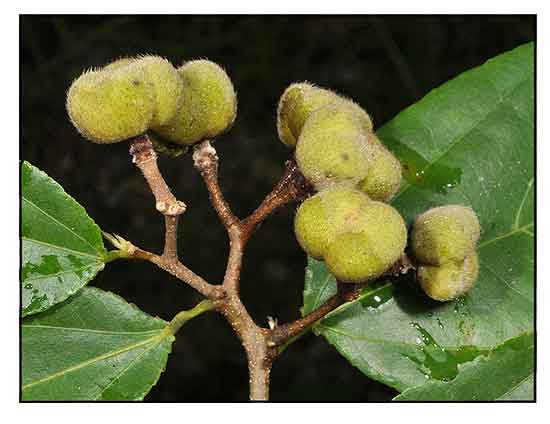 • Shrub to small tree, up to 10 m high. Leaves oblong-lanceolate, 7–15 by 2.5–5 cm; glabrous or glabrescent; apex cuspidate-acuminate or acute, base obtuse and equal or slightly unequal-sided; margin serrate to serrulate; 3-nerved at base; secondary nerves 4–6 pairs, arched; scalariform veins distinct on lower surface; petioles 5–10 mm long, glabrescent. Inflorescence axillary, very slender and loose or erect 1.5–4 cm long; flower buds oblong, always swollen near base, 4–13 by 2–5 mm. Sepals linear-lanceolate, 10–20 by 1.5–3 mm. Petals oblong, 3–7 by 1.5 mm, glabrous except near base on both surfaces, ciliate along margin. Stamens glabrous. Ovary globose or ovoid, ± 4 by 2 mm, hairy, Fruit rounded , 2–4-lobed, black and woody or dull green and leathery. (Flora of Thailand)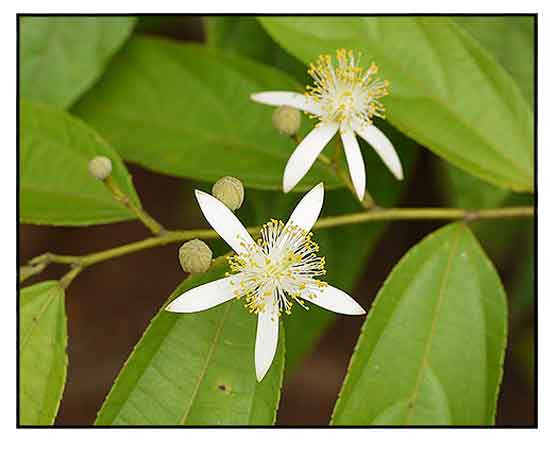 Distribution
- Native to the Philippines.
- Often abundant in low and medium elevation thickets; along seashores.
- Also native to Andaman Is., Assam, Bangladesh, Borneo, Cambodia, Christmas Is., Jawa, Laos, Lesser Sunda Is., Malaya, Maluku, Myanmar, New Guinea, Nicobar Is., Sulawesi, Sumatera, Thailand, Vietnam. (1)
Properties
- Considered wound healing, hemostatic.
- Studies have suggested anti-inflammatory, wound healing properties.
Parts used
Bark, leaves, roots, fruits.

Uses
Edibility
- Fruits are edible, fresh and raw.
- Fruits fermented with traditional beer; also used with goat's milk to make berry yoghurt. (•)
Folkloric
- In Agusan del Sur, Philippines, bark, leaves, and roots use for cramps and spasm, muscle pain, weakness and fatigue, as labor and delivery enhancer, postpartum care and recovery. (6)
- In Bangladesh, pills made from bark, root, and leaf used for treatment of pain and paralysis. (4)
- The Tonchongya tribal community of Bangladesh, eat fruits for dyspepsia and liver disease. (5)
- Leaf decoction drunk to reduce postpartum pains.
- Leaves applied to cuts and abrasions.
Others
- Fiber: Bark yields a good fiber for making ropes.
- Rituals: In Indonesia, leaves used in rituals Oukup (a traditional postpartum sauna excercised by te Batak Karo to restore the mother's health) and erpangir ku lau (ritual of bathing in spring water treated with various plant ingredients) to drive bad things ouand bring good things in.
Studies
• Wound Healing / Anti-Inflammatory: Study evaluated the wound healing and anti-inflammatory activity of aqueous and ethanolic extracts of Grewia umbellata. Anti-inflammatory activity of AE and EE at doses of 200 and 400 mg/kg using carrageenan induced hind paw edema model showed 99.76 and 93.70% wound closure respectively. Tensile strength was significantly increased, along with increased hydroxyproline content. Results showed potential wound healing and dose-dependent anti-inflammatory activity in rodent models. Activity may be attributed to presence of flavonoids, tannins, and terpenoids. (8)
Availability
Wild-crafted.