Botany
Takad is a shrub or bush that grows to a height of 2 to 3 meters. Leaves are alternate, imbricate, ovate-oblong, usually 0.8 to 1.5 centimeters in length, and short-stalked. Flowers are small and crowded, and borne on terminal inflorescences. Sepals are five, about 4.5 millimeters long, and narrow with sharp points. Corolla is purple or pink, 5 to 6 millimeters long, and five lobed. Fruit is an orange or red drupe, somewhat rounded, fleshy, about 4 millimeters in diameter, and containing four seeds.
Distribution
- Grows characteristically among rocks crevices and trailing over gravel bars in stream beds at low altitudes in Cagayan, Isabela, Ilocos Norte, Zambales, Bulacan, and Rizal Provinces in Luzon; and in Mindoro.
- Pantropic.
- Also native to China, India, Malaysia, Myanmar, Thailand and Vietnam.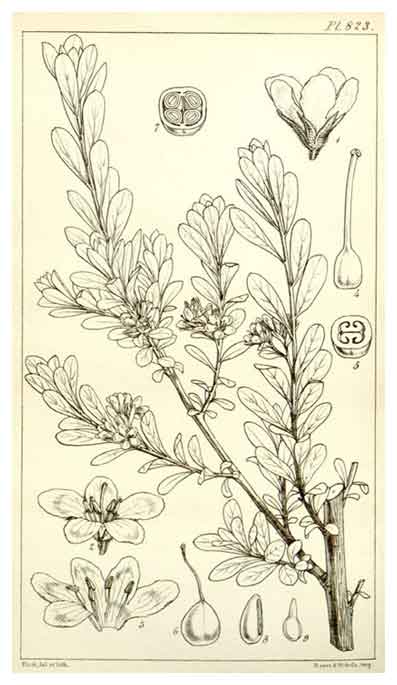 Constituents
- Phytochemical study yielded alkaloids, flavonoids, phenolic compounds, steroids, and nutrients (amino acids and protein).
- Roots have yield allantoin and a sterol, rhabdiol.
- Methanolic extract of roots and stems yielded flavonoids, tannin, saponin, terpenoids, phenolic compounds, and glycosides. (see study below) (17)

Properties
- Bitter, astringent, diuretic, sudorific, antilithic.
- Root considered laxative and diuretic. The diuretic action of the root is attributed to allantoin.
- Studies have suggested antiurolithiatic, antioxidant, anticancer, antidiarrheal, anti-inflammatory, analgesic, antipyretic, anthelmintic, antidiabetic, antimicrobial properties.

Parts used
Stems, leaves, roots.

Uses
Folkloric
- Decoction of stems used as sudorific and diuretic.
- In Ayurveda, plant used for piles, diabetes, venereal diseases, kidney and bladder stones.
- Root decoction is used as diuretic and laxative.
- In Indian traditional system, used for cancer treatment.
- Root tuber is astringent, bitter and diuretic; used for treating coughs, heart problems, dysuria, blood disorders, fever, poisonings, ulcers and uterine diseases.
- In Kerala, plant is reportedly uused by tribal people as a psychoactive agent. Leaves and tender stems are sliced in tiny pieces and sun dried for half an hour or warmed on hot earthen or metals pots, then mixed with bidi tobacco in 1:1 ratio, wrapped in bidi leaves and smoked. Adding a little tea powder or decaying of leaves is reported to enhance the psychoactive property. (18)
Studies
• Antilithic Effect / Crystal Dissolution Activity: Study screened the decoction of Rotula aquatica for antilithic activity in male Wistar rats with induced-nephrolithiasis. Results showed reduction of calcium and oxalate ion concentration in urine, confirming a stone inhibitory effect. The decoction showed no toxicity over a 45-day treatment period. (3)
• Antilithic Effect: In a study of three plants, the aqueous extracts of Rotula aquatica and C wightii showed crystal dissolving activity against monosodium urate. (5)
• Polyphenols / Antioxidant / Anticancer: Study yielded polyphenols, and polyphenols in polar extracts showed stronger antioxidant activity compared to non-polar phytoconstituents. Study suggests the herb may be used as protective measure in caner patients undergoing radiotherapy. (6)
• Antimitotic / Anticancer: Study evaluated the antimitotic activity of R. aquatica. The mitotic index of the root tips markedly decreased with increasing concentration of the aqueous extract. Results showed extract of R. aquatica were extremely effective in the prevention of cell proliferation of the pancreatic cancer cell lines. (2)
• Anthelmintic / Roots / Bark / Leaves: Study evaluated the anthelmintic effect of an aqueous extract on earthworm Pheretima posthuma. Results showed dose-dependent activity compared to standard drug piperazine citrate. (7) Study evaluated a methanolic extract of bark for anthelmintic activity against adult Indian earthworm Pheretima posthuma. Results showed wormicidal activity with both dose-dependent spontaneous paralysis (vermifugal) and killing of earthworms (vermicidal). (13) Study of methanolic extract of leaves of R. aquatica against adult earthworm, Pheretima posthuma, showed significant dose-dependent anthelmintic activity. Piperazine citrate was used as standard reference. (19)
• Analgesic / Antipyretic / Anti-Inflammatory: Study of alcoholic extract of root showed significant antipyretic activity. It also showed significant activity on a carrageenin-induced paw edema model. The action was attributed to possible inhibition of lipooxygenase pathway. The tail immersion and hot plate tests revealed high analgesic activity. (8)
• Antidiarrheal: Study evaluated the antidiarrheal activity of alcoholic extract of Rotula aquatica showed significant antidiarrheal activity in different models i.e., castor oil induced diarrhea, charcoal meal test, and PGE2 induced diarrhea. (9)
• Antiurolithiasis: Study evaluated the antiurolithic effect of an alcoholic extract against ethylene glycol-induced urolithiasis in albino rats. Histopathological studies confirmed reduction of lithiasis after treatment with the extract. (10) Study evaluated a plant root extract for active compounds that possess antiurolithiatic activity. By docking analysis, the bioactive compound 3-O-acetyl-11-keto-ß-boswellic acid interacted with THP and may inhibit calcium oxalate crystallization. (17)
• Antidiabetic / Roots: Study evaluated the antidiabetic activity of methanolic extract of roots in streptozotocin induced diabetic rats. Results showed significant decrease in blood glucose, with good activity at dose of 400 mg/kbw. Glibenclamide was used as standard. (11)
• Antioxidant: Study evaluated methanolic and aqueous stem extract of Rotula aquatic for antioxidant activity. Results showed the stem extract to possess phenolic and flavonoid constituents that are responsible for antioxidant activity. (12)
• Anti-Inflammatory / Roots / Whole Plant:Study evaluated an aqueous extract of roots for anti-inflammatory potential in acute and chronic inflammatory conditions in rats. Using carrageenan-induced raw paw edema, cotton pellet-induced granuloma and crystal-induced inflammation in rats, the extract showed potentially beneficial effect in relieving inflammation. By DPPH method, the extract also showed appreciable antioxidant activity (IC50=11.07 µg/ml). (14) Study evaluated the anti-inflammatory activity of various extracts of whole plant on acute inflammation (carrageenan-induced paw edema) and sub-acute inflammation (cotton pellet granuloma) in animal models. A petroleum ether and ethyl extracts exhibited significant anti-inflammatory activity in both models, which was comparable with standard drug indomethacin. (15)
• Antimicrobial / Roots and Stems: Study evaluated methanol extract roots and stems of R. aquatica for inhibitory activity against selected bacterial and fungal culture. The extract showed broad spectrum of antimicrobial activity with inhibitory activity against both gram positive and gram negative bacteria as well as Candida sp. MICs ranged between 62.5-250 mg/ml for pathogens tested. (see constituents above) (16)
• Comparative Antidiabetic Activity / Roots:Study evaluated three Indian medicinal plants viz., Schrebera swietenoides roots, Barleria montana aerial parts, and Rotula aquatica roots for antidiabetic activity against streptozotocin induced diabetic model in rats. The percent reduction in blood glucose level by R. aquatica was promising and statistically significant from the 2nd hour onwards, suggesting fast acting activity. Of the three plants, Rotula aquatica showed most promising results. (20)

Availability
Wild-crafted.