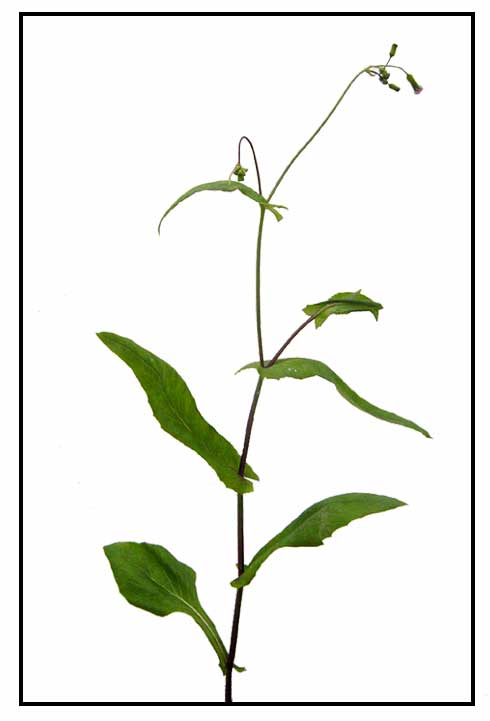 Botany
Tagulinau is an erect or ascending, variable, smooth or sparingly hairy, more or less branched plant 10 to 40 centimeters high. Leaves are sessile, somewhat fleshy and clasping, the lower ones being lyrate-lobed or sinuate toothed and 5 to 10 centimeters long, and the upper ones much smaller and usually entire. Undersurface is usually tinged with violet hue. Flowering heads are 12 to 24 millimeters in length and long-peduncled; the branches are usually dichotomous. Involucral-bracts are green, cylindric, somewhat inflated below, and about as long as the purple flowers. Flowers all perfect and tubular, the limb long, 5-toothed. No ray flowers. Fruits are achenes, narrowly oblong, about 2.4 millimeters long and ribbed. The pappus is white, soft and copious.
Distribution
- In open places, wastelands, cultivated lands, gardens, etc., in and about towns and settlements at low and medium altitudes throughout the Philippines.
- Pantropic weed of Old World origin.
Constituents
- Methanolic extracts yielded flavonoids, tannins, and alkaloids.
- Contains senkirkine and doronine.
- Total alkaloid content, o.2%.
- Pyrrolizidine alkaloids: integerrimine, nilgirine.
- Ethanol extracts of aerial parts yielded 15 compounds: rhamnetin (1), isorhamnetin (2), quercetin (3), luteolin (4), tricin-7-O-beta-D-glucopyranoside (5), 8-(2"-pyrrolidinone-5"-yl) -quercetin (6), 5, -2', 6'-trihydroxy-7, 8-dimethoxyflavone-2'-O-beta-D-glucopyranoside (7), succinic acid (8), fumaric acid (9), p-hydroxybenzoic acid (10), 4-hydroxy isophthalic acid (11), 3, 4-dihydroxycinnamic acid (12), esculetin (13), isowedelolactone (14) and uracil (15). (21)
- Study isolated a new cyclohexylacetic acid derivative, 2-(4-hydroxy-7-oxabicyclo [2.2.1] heptanyl)-acetic acid (1), along with known analogue, 2-(1,4-dihydroxy cyclohexanyl)-acetic acid (2). (38)
- Study of seeds isolated a new flavone glycoside characterized as 3,7,3′,4′- tetrahydroxy-flavone-3-O-β-D-xylopyranosyl-(1→3)-O-β-D-gal- actopyranosyl-(1→4)-O-α-L-rhamnopyranoside (1), along with two known compounds, Luteolin-7-O-β-D-glucoside (2) and Isoetin 5′-methyl ether (3). (see study below)  (16)
- Phytochemical screening of methanol extract of leaves yielded carbohydrates, alkaloids, glycosides, flavonoids, saponins, and steroids. (see study below) (39)
Properties
- Prepared drug has bitter taste, cooling nature.
- Astringent, antipyretic, anti-infection, febrifuge, antiinflammatory, diuretic, sudorific.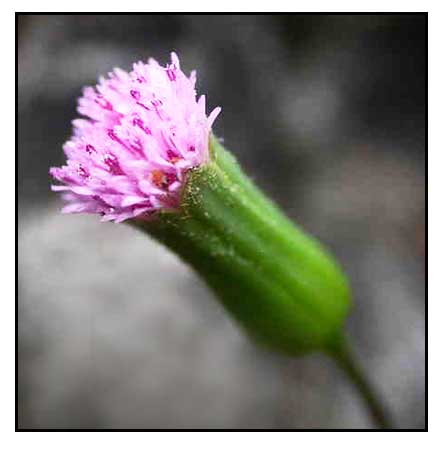 Parts utilized
· Whole plant.
· Collect year round.
· Wash, dry under the sun.
Uses
Edibility
- Plant is edible. At a later stage the stem-leaves can be eaten, but best when cooked.
- In India used as a salad plant before flowering. Stems and leaves are cooked and eaten as vegetable.
Folkloric
- In the Philippines, leaves and flowers are used as styptic for cuts and wounds, especially for long standing superficial ulcers resistant to all forms of orthodox therapies.
- Plant decoction or infusion used as expectorant or antihemostatic.
- In Malabar plant decoction used as febrifuge. Mixed with sugar, given for bowel complaints.
- In Indo-China leaf decoction used as antipyretic.
- In the Gold Coast, leaves mixed with Guinea grains and lime juice used for sore throat.
- Used for cold-fever, swelling pain in the oropharynx, mouth cavity ulcer, dental caries, infections of external wounds, furuncle swellings, scabies, eczema, sprains, piercing by nail or other pointed objects.
- Used for enteritis, diarrhea, dysentery, urinary tract infection and snake bites.
- Plant decoction used as febrifuge in infantile tympanites and bowel complaints.
- For dermatitis and eczema, decoction of fresh material may be used as external wash.
- In Nepal juice of roots used for diarrhea. Juice of leaves used for eye infections and night blindness; and dropped in ears for earaches. Flowers chewed for tooth decay. Juice from leaves mashed with salt and onion applied to the throat in tonsillitis.
- In La Reunion plant used as astringent, antiasthmatic, and vulnerary.
- In Malaya leaves are used for dressing ulcers; used as poultice for small sores.
- In Java used for fevers and swellings; juice instilled into eyes blinded by the sun; also instilled into sore ears.
- Decoction of plant used for coughs and phthsis.
- In the Dutch Indies, roots used to stop diarrhea.
- In Africa, consumed as vegetable for its laxative properties. Decoction of leaves used for tapeworm and roundworm infestations. Decoction of leaves used as febrifuge, bathing infants to prevent convulsions.
- In China, tea of whole plant used for abscesses influenza, burns and snakebites.
- Chewa tribe of Malawi use a root decoction for difficult labor.
- Used in Brazilian folk medicine for asthma, fever, cuts, wounds, and rheumatism.
Other
- Ritual: Flower is one of the ten sacred flowers that constitute the group dasapushpam and used in the Ayurvedic system of medicine. (42)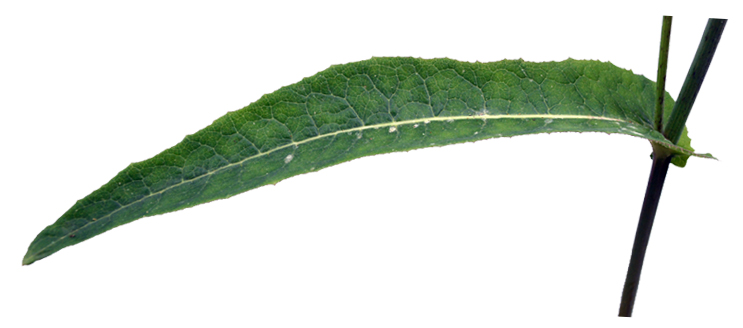 Studies
• Anti-tumor / Cytotoxicity: Study of methanolic extract of ES showed cytotoxic activity against lymphoma / ascites carcinoma / mouse lung fibroblast cells and reduced the development of tumor and increased life span of tumor bearing mice. (1)
• Antioxidant / Anti-Inflammatory: Fresh juice and methanolic extract of ES exhibited antioxidant activity and inhibited carrageenan-induced edema. (2)
• Anti-Inflammatory: Study showed reduction of rat paw edema induced by subplantar injection of albumin, the aqueous extract of ES leaves showing more pronounced anti-inflammatory effect than the methanolic extract.
• Cataract Modulation: Study suggests that the flavonoids from ES can modulate lens opacification and oxidative stress in selenite-induced cataract. (3)
• Anti-Cancer / Apoptosis / Dalton's Lymphoma Challenge: Study isolated an anti-cancer terpene fraction from ES that induced cell-specific apoptosis and appears a promising anticancer agent. (4)
• Antinociceptive: Study of hydroethanolic extract exhibited antinociceptive activity in mice. The extract had a stronger antinociceptive effect than morphine. (9)
• Antimicrobial / Food Preservative: Study evaluated the antimicrobial activities of E. sonchifolia, Tridax procumbens, and Vernonia cinerea. All the plants possessed activity against at least one strain of bacteria and fungi. Results suggested further testing for development of new pharmaceuticals in food preservation. (10)
• Antioxidant: Study of whole plant yielded a predominant amount of enzymatic antioxidants. Results suggest E. sonchifolia is a significant source of natural antioxidants which can scavenge free radicals that can prevent oxidative stress. (11) Study evaluated an n-hexane extract of whole plant for free radical scavenging activity using various in-vitro assays viz., DPPH, superoxide and hydrogen peroxide assays with IC50 values 180, 160, and 160 µg/ml, respectively. Terpenoid content in the n-hexane extract may be responsible for the significant radical scavenging effect. (41)
• Pancreato-Protective Herb in High Protein Diets: Study of an n-hexane extract in rats showed amelioration of damage caused by a high protein diet. Results suggest effective medicinal property as a pancreato-protective herb. (17)
• Analgesic / Anti-Inflammatory: Study of alcoholic extracts of A. conyzoides and E. sonchifolia in Swiss albino mice showed dose-dependent inhibition of acetic acid induced pain and time-dependent inhibition in a carrageenan-induced paw edema model. Results showed effective analgesic and anti-inflammatory potentials as complementary and alternative therapy. (12) Study of methanolic extract showed dose-dependent inhibition of carrageenin, egg-albumin, capsaicin, formalin-induced licking, acetic-induced writhing and hot plate nociception in mice, suggesting usefulness as an anti-inflammatory and analgesic agent. (20)
• Flavone Glycoside / Natural Antioxidant / Antiviral: (1) Study of stems yielded a new flavone glycoside, along with three known compounds: The compound showed potent antioxidant activity. (2) Compound 1, tested for antiviral activity against Japanese Encephalitis Virus in vitro showed 50% antiviral activity. (13)
• Alcohol-Induced Oxidative Stress: Study showed promise for an n-hexane extract in alcohol-induced oxidative stress. (14)
• Colorectal Cancer / Apoptosis through p53-Mediated ATM/Fas Signaling: Study investigated the induction of apoptosis and its molecular mechanisms in ES extract-treated human colorectal cancer cells in vitro. ESE induced cell growth inhibition in a concentration- and time-dependent response. Results suggest both extrinsic and intrinsic apoptotic pathways may be involved in ESE-provoked apoptotic death in HCT116 cells. ESE may be potentially efficacious in the treatment of colorectal cancer. (15)
• Flavone Glycoside / Antiviral / Seeds: Study of seeds isolated a new flavone glycoside characterized as 3,7,3′,4′- tetrahydroxy-flavone-3-O-β-D-xylopyranosyl-(1→3)-O-β-D-gal- actopyranosyl-(1→4)-O-α-L-rhamnopyranoside (1), along with two known compounds, Luteolin-7-O-β-D-glucoside (2) and Isoetin 5′-methyl ether (3). Compound 1, tested for antiviral activity against Japanese Encephalitis Virus in vitro showed 50% antiviral activity. (16)
• Protective Effect in Azaserine-Induced Pancreatic Dysplasia: Study investigated the effect of Emilia sonchifoia on azaserine-induced pancreatic dysplasia in Wistar albino rats. Treatment showed reduction of pancreatic and hepatic damage and suggests a potential therapeutic agent against precancerous lesions to prevent pancreatic dysplasia. (18)
• Corrosion Inhibition: Emilia sonchifolia extract showed an inhibitive effect on corrosion of mild steel in acidic environment. Inhibition efficiency increased with increase in inhibitor concentration. (19)
• Erythropoetic and Hepatoprotective Effect: Ethanolic extracts of Emilia sonchifolia leaves were evaluated on male Swiss albino mice infected with Plasmodium berghei. The extract promoted erythropoeisis at 325 mg/kg and haemolysis at 650 mg/kg, mild toxic effect on histopathology at 325 mg/kg, and hepatoprotection in treated mice. (22)
• Inflammatory Bowel Disease: Study evaluated E. sonchifolia flavoured fraction on experimental model of inflammatory bowel disease in wistar rat. Results showed significant inhibitory activity against inflammatory bowel disease possibly through its anti-inflammatory properties. (23)
• Antimicrobial / Roots: Study evaluated the antimicrobial potential of a methanolic extract of roots against Gram negative and Gram positive bacteria and fungi. Results showed significant antimicrobial activity at 100 mg/ml against the test organisms. (24)
• Antioxidant / Antiperoxidative / Flavonoid Fraction: A flavonoid fraction isolated from E. sonchifolia whole plant was fed to female albino rats with 2% sodium perchlorate induced oxidative stress. Results showed the flavonoid fraction is a potent inhibitor of peroxidative damage. (25)
• Neurobehavioural Effects: Study evaluated the effects of ethanolic extracts of Nuclea latifolia and Emilia sonchifolia on anxiety, fear, and locomotion in mice infected with Plasmodium berghei berghei. Results showed a decrease in fear and anxiety in the parasitized mice while increasing locomotion and exploratory activity. Findings suggest the potential for isolating psychoactive ingredients that could be of use in the management of convulsive neurologic disorders. (26)
• Inhibition of Pulmonary Metastasis: Study evaluated the efficacy of Emilia sonchifolia in three different experimental murine models of prophylaxis, simultaneous, and after tumor development. Whole plant extract was administered intraperitoneally in C57BL/6 mice. E. sonchifolia significantly inhibited pulmonary tumor formation and increased the life span of animals. Results demonstrated the anti-metastatic potential of the herb justifying its conventional use in traditional medicine. (28)
• Immunomodulatory Effect: Effect on humoral immune response was evaluated by hemagglutinating antibody (HA) titer and plaque forming cell (PFC) assay, blastogenic assays of lymphoid organs and levels of cytokines. E. sonchifolia significantly enhanced the total WBC count, bone marrow cellularity, a-esterase and weight of lymphoid organs (p<0.001). Effect on humoral response was evident from enhanced HA titer and increased number of PFCs (p<0.001). Augmentation of cell-mediated immune response was evidenced by enhanced killing activity of CTLs and enhanced production of IL-2 and IFN-y. Results showed E. sonchifolia to be a potent immune response modulator. (29)
• Antiangiogenic Efficacy on Tumor Specific Neovessel Formation: Formation of new blood vessels from preexisting vasculature is part of tumor formation, invasion, and metastasis. Study evaluated the effect of an active fraction from E. sonchifolia for its anti-inflammatory and antitumor effects, on the inhibition of tumor-specific angiogenesis. Results using both in vivo and in vitro angiogenic models showed the inhibitory effect of AFES on tumor-specific neovessel formation. (30)
• Neuroprotective / Antioxidant / Flowers: Study of ethanol extract of tassel flower isolated senecionine-N-oxide (1), kaempferol 3-O-rutinoside (2) and protocatechuic acid (3). The compounds were evaluated for neuroprotective properties using antioxidant, cytoprotective, anti-inflammatory and acetycholinesterase inhibitory assays. Compounds 2 and 3 exhibited profound antioxidant capacities. compound 2 elicited high cytoprotection (56.62%) and significant inhibition of 5-lipoxygenase (5-LOX) activities with IC50 44.59 µg/ml. (31)
• Wound Healing Effect: Study of an aqueous extract of E. sonchifolia showed good wound healing effect in male albino Wistar rats using incision and excision wound models. (32)
• Hepatotoxic Pyrrolizidine Alkaloids: Study investigated the hepatotoxic and tumorigenic pyrrolizidine alkaloids (PAs) contained in E. sonchifolia. Thirteen PAs of two types were identified: (1) Otonecine bases: otosenine, petasitenine, desacetyldoronine, neosenkirkine, adonifoline, senkirkine, crotafoline, acetylotosenine, acetylpetasitenin, doronine and acetylsenkirkine; (2) retronecine bases: seneciphylline and senecionine. Senkirkine was considered a major PA ranging from 0.2 to 23.9 ?g/g dry herb. Total content of toxic PA ranged from 1.3 to 31.2 ?g/g dry herb were all higher than level recommended by Belgium and Germany not to be used clinically. The samples were collected through Taiwan's four seasons. Summer samples yielded the highest PA concentrations considered significant threat to human health and safety concern when consuming ES for herbal treatment. (33)
• Antiproliferative / Antioxidant / Flavonoids / Human Cancer Cells: Study evaluated an isolated flavonoid fraction from whole plant for antioxidant property and the ability of the plant to inhibit proliferation of human cancer cells. Result showed treatment of cancer cells with the flavonoid fraction showed morphological changes characteristic of apoptosis. (34)
• Cytotoxicity / Polysaccharides / Cervical Cancer Cell Line: Study evaluated the cytotoxicity activities of polysaccharides (PS) isolated from E. sonchifolia against human cervical cancer cell lines (HeLa). The PS decreased the viability of HeLa cells with IC50 of 40 µg/ml for HeLa cells in a concentration dependent manner. Increased intracellular ROS (reactive oxygen species) level was the suggested mechanism of action. (35)
• Effect on Alcohol-Induced Oxidative Stress in Pancreas: Study evaluated the efficacy of an n-hexane extract against ethanol induced pancreatic dysfunction in young Wistar albino rats. Results showed protection of the pancreas against ethanol induced damage as evidenced by histopathological studies and normalization of biochemical parameters. (36)
• Inhibition of Pro-Inflammatory Cytokines and Inducible Nitric Oxide / Aerial Parts: Study in rodents evaluated the anti-inflammatory effects of E. sonchifolia methanol/methylene extract of aerial parts on levels of IL-1ß and TNF-α after an intraperitoneal lipopolysaccharide challenge (1 mg/kg). Results showed alleviation of inflammatory responses probably through the suppression of pro-inflammatory mediators and cytokines such as IL-1ß, TNF-α, and iNO. (37)
• Thrombolytic / Clot Lysis Activity / Leaves: Study evaluated the methanolic extract of leaves of Emilia sonchifolia, E. chinensis, E. alba, and W. chinensis for thrombolytic activity. E. sonchifolia exhibited 28.71% clot lysis activity with reference of streptokinase (71.43%) and water (2.96%). (see constituents above) (39)
• y-Humulene-Induced Apoptosis in Human Colorectal Cancer HT29 Cells: y-Humulene, a component from E. sonchifolia, significantly decreased cell viability of human colorectal cancer HT29 cells in a dose-dependent manner with IC50 53.67 ± 2.99 µM . Study suggests y-humulene induced apoptotic cell death in HT29 cells through DR5-mediated caspase-8 and -3-dependent signaling pathways. (40)

Availability
Wild-crafted.