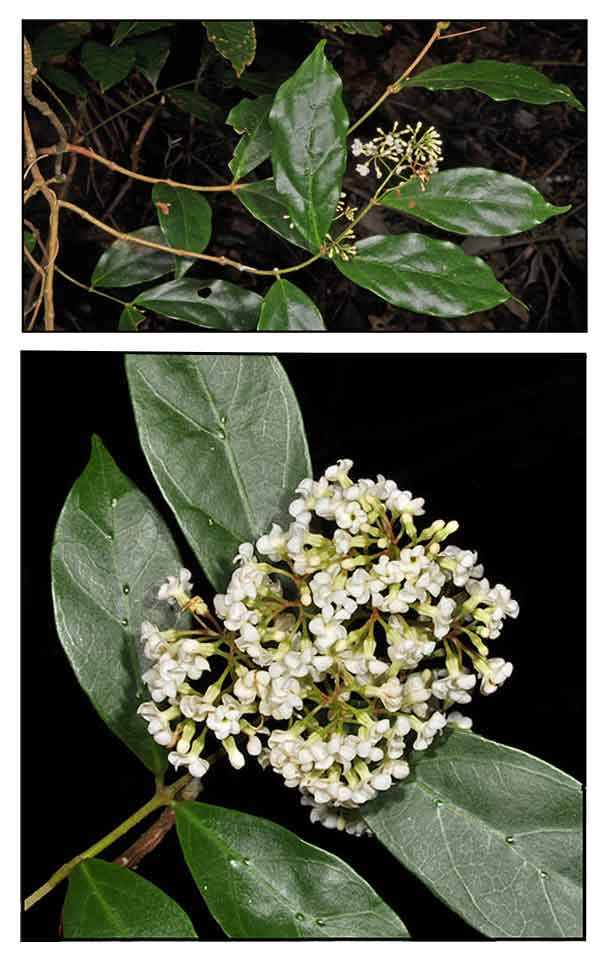 Botany
Dugtong-ahas is a woody vine. Leaves are oblong or obovate-lanceolate, 7 to 10 centimeters long, pointed at both ends. Flowers are small, white and clustered. Fruit is very long and slender, 15 to 20 centimeters in length, smooth, very narrowed between seeds. Seeds are about a centimeter long, sharply pointed at one end and crowned on the other end with numerous white hairs about 2.5 centimeters long.
Distribution
- Common in thickets and open forests at low and medium altitudes in Ilocos Norte, La Union, Bontoc, Benguet, Nueva Viscaya, Zambales, Bulacan, Pampanga, Bataan, and Rizal Provinces in Luzon; and in Mindoro, Busuanga, Palawan, Panay, and Cebu.
- Also occurs in China, Cambodia, Thailand, Vietnam, India, Indonesia, and Borneo to the Moluccas.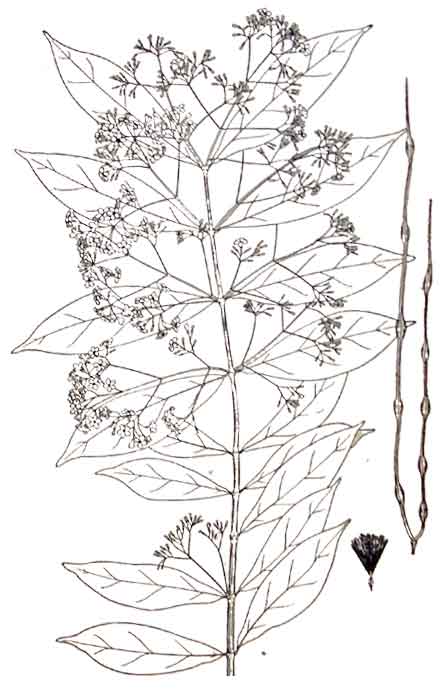 Constituents
- The bark contains a caoutchouc, 8.5%, which may be mixed with a resin.
- Study reports the rubber contains 6% of resin.
- Study of bark yielded one new trimeric proanthocyanidin, epicatechin-(2beta-->O-->7, 4beta-->6)-epicatechin-(2beta-->O--->7, 4beta-->8)-epicatechin (5) and two new tetrameric proanthocyanidins, epicatechin-(2beta-->O-->7, 4beta-->8)-[epicatechin-(4beta-->6)]-epicatechin-(4beta-->8)-epicatechin, named as parameritannin A-1 (6), and epicatechin-(2beta-->O-->5, 4beta-->6)-[epicatechin-(2beta-->O-->7, 4beta-->8)]-epicatechin-(4beta-->8)-epicatechin, named as parameritannin A-2 (7), along with the two known dimers, proanthocyanidin A-2 (1) and proanthocyanidin A-6 (2), and two trimers, cinnamtannin B-1 (3) and aesculitannin B (4). (1)
Properties
- Cicatrizant.
- Studies have suggested antithrombotic, antiatherosclerotic, anticancer, embryoprotective, antiteratogenic, analgesic properties.
Parts utilized
Bark, twigs, leaves.

Uses
Folkloric
- In the Philippines, the tagulauai oil has been long valued as a cicatrizant. To prepare, the bark is macerated in coconut oil and used as vulnerary.
- Pounded twigs and leaves are applied to cuts and lacerations.
- Infusion of leaves taken internally as an emmenagogue, to facilitate menses.
- The bark, macerated in oil is an efficient, also used internally for tuberculosis.
- Decoction of the bark drunk in the Sunds Islands and in Java after childbirth to help shrink the uterus.
- Used for relief of postpartum pain.
- Decoction of the bark also used for dysentery and externally for wounds.
- Referred to as "Aceite de Moros," "Balsamo de Cebu" and "Balsamo de Tagulaway" - prepared by cooking the root-bark and branches of Parameria barbata in coconut oil. The yellowish-white oily liquid is used for skin diseases and wounds.
- In Indonesia, it is an ingredient of a folk medicine called "Jamu" or" Kayu rapet," traditionally used as an anti-ulcer or anti-diarrheal medicine and for treating wounds.
Others
- "Tagulauai" oil is valued as a cicatrizant; to prepare, macerate the bark in coconut oil.
- "Balsamo de Tagulaway" or Balsamo de Cebu is prepared by cooking the root-bark and branches of Parameria barbata in coconut oil to form a yellowish-white oily liquid which is used for skin disease and wounds. (A. Pharm., Nov., 1885.)
- Fiber: Bark fiber used for making rope.
Studies
• Jamu / Anti-thrombotic / Anti-arteriosclerotic: P laevigata, one of many components in a study, was shown to have an anti-thrombus effect. (3)
• Antiteratogenic Potential: Extracts from the leaf of P. laevigata and yacon tubers (Smallanthus sonchifolius) were studied for antiteratogenic potential using duck embryos. Extracts administered with retinoic acid had antiteratogenic properties. (4)
• Parameritannins / Selective Human Cancer Cytotoxins / Anticancer: Study isolated parameritannins A-2 and A-3, new A-type tetrameric proanthocyanidins from the bark of P. laevigata which showed to inhibit eukaryotic topos I, II or both. Parameritannin A-3 induced apoptosis, while parameritannins acted as topo inhibitors. Results suggest a potential for an anti-cancer compound that poisons topos. (7)
• Embryoprotective / Antiteratogenic / Leaves: Study evaluated a hexane fraction of leaves of Parameria laevitgata for possible embryoprotective / antiteratogenic effect using measures of number of live and dead fetuses per litter on pregnant ICR mice (Mus musculus L.) model. Extract treated groups showed high incidence of live fetuses and low incidence of low fetuses per litter. Morphological appearance was normal, with higher mean fetal weight and enhanced degree of ossification. (9)
• Analgesic / Bark: Study evaluated the analgesic effect of kayu rapat bark infusion using heat-induced pain in male mice. Results showed significant analgesic effect with a potency similar to sodium diclofenac. (10)

Availability
- Wild-crafted.
- Leaf powder in the cybermarket.