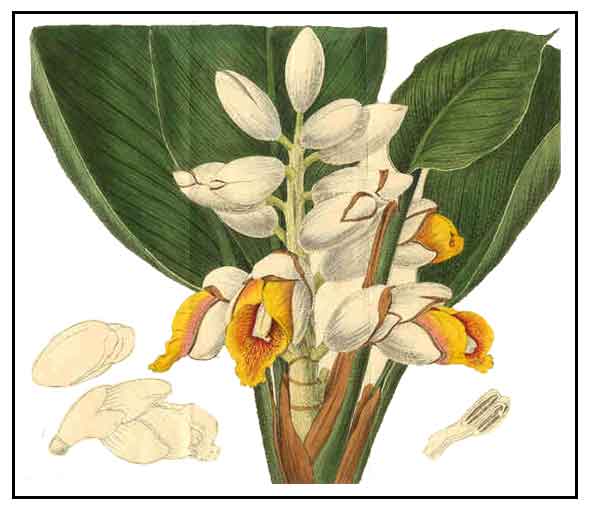 Botany
Tagbak-babae is a herbaceous plant growing to about 2 meters tall. Leaves are oblong, 30 to 60 centimeters long, 10 to 13 centimeters wide, smooth on both surfaces except on the edges and at the base where it is hairy. Bracts are large spathaceous, about 2 centimeters long. Calyx is spathaceous, urn-shaped, cleft on one side, irregularly toothed, and as long as the corolla tube, 10 to 13 millimeters long. Corolla tube is broad, with the lobes, white, silky, broad, oblong, about 2 centimeters in length and 7 millimeters wide. Lip is about 3 centimeters long, broad, and yellow with purple spots.
Distribution
- Common in primary forests at low and medium altitudes throughout the Philippines in most or all islands and provinces.
- Native of Indonesia and Malaysia.
- Cultivated in India and China.
Constituents
- Phytochemical screening of leaf extract yielded alkaloids, flavonoids, steroids, carbohydrates, tannins, saponins, and glycosides.
- Study of rhizome oil yielded 20 compounds representing 99.7% of the oil, with methyl (E)-cinnamate as the major constituent. (6)
- Essential oil of leaves yielded 47 constituents, the majority of which were terpenoids. The oil was dominated by a-phellandrene (31.80%), eucalyptol (13.76%), O-cymene (11.45%), ß-pinene (11.34%) and limonene (6.44%). (12)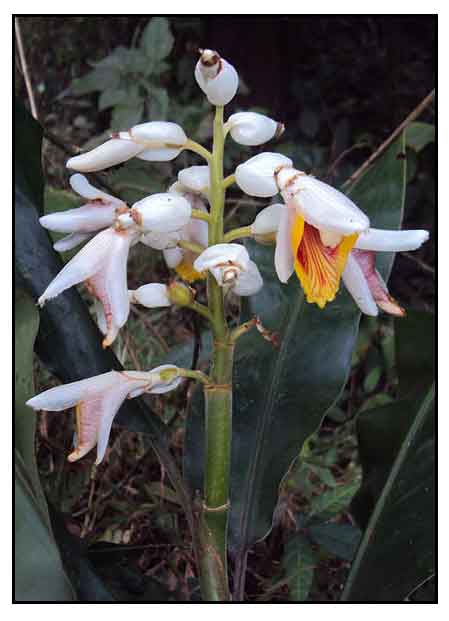 Parts used
Fruit, seeds, rhizomes.

Uses
Edibility
- Rhizome occasionally used as spice. In India, eaten as vegetable. (9)
Folkloric
- Decoction of fruit or crushed seeds used in cases of gastralgia with tympanitis.
- Decoction also used as puerperal bath and for fevers.
- In India past of tuber with hot water applied on sores in the mornings and evenings until cured. (7)
- Pounded rhizomes used on wounds and sores. Lightly salted infusion of fruits used as emetic. (9)

Studies
• Phytochemicals: Study isolated one kavalactone and four labdane-type diterpenoids, one chacone and two flavanones from the rhizomes of A. malaccensis.(1)
• Antimicrobial / Antioxidant: In a study screening Zingiberaceae extracts for antimicrobial and antioxidant activities, M. malaccensis showed significant antimicrobial activity. All extracts showed strong antioxidant activity comparable to or higher than that of a-tocopherol.(2)
• Leaf Extract / Antioxidant: Study evaluated a methanol leaf extract of A. malaccensis for antioxidant activity using various assays. The total phenolic content of the methanol extract was found to be 76-25 mg gallic acid equivalent/ g of extract. Results suggest a potential source of natural antioxidants.(5)
• Rhizomes / Essential Oils: Study of the essential oils of rhizomes yielded 20 compounds representing 99.7% of the rhizome oil; the major constituent was methyl (E)-cinnamate (78.2%). (6)
• Analgesic / Anti-Inflammatory / Antipyretic / Essential Oil / Rhizomes: Study evaluated the analgesic and anti-inflammatory effects of essential oil and methanolic extract of rhizomes. Analysis yielded 59 components with eucalyptol (18.0) and a-fenchyl acetate (16.7%) as major constituents. A ME of rhizomes exhibited good anti-inflammatory effect (32.69%) by carrageenan induced paw edema method and significant analgesic effect (p<0.05) with acetic acid induced writhing test. Both essential oil and methanolic extracts exhibited significant antipyretic effect (p<0.05) in a dose dependent manner. (10)
• Locomotor Inhibition Activity / Essential Oil: Study of essential oil of rhizome, stem, and leaf of A. malaccensis by steam distillation yielded 1.22%, 0.25%, and 0.7% (w/w), respectively. Rhizome oil composition was almost similar with stem oil with methyl cinnamate as major component. α-Pinene was dominant in the leaf oil. Rhizome at dose of 0.1 ml (47.09%) showed stronger locomotor inhibition activity compared to stem (26.97%) and leaf (32.23%) in doses of 0.1 ml. (11)
• Antioxidant / Antifungal / Essential Oil / Leaves: Study evaluated A. malaccensis leaf extracts and essential oil for antifungal and antioxidant activity. CG and GCMS analysis identified 68 components. Camphor (15.2%) and eucalyptol (10.2%) were the main components. The essential oil showed remarkable fungicidal activity against test pathogens. The essential oil showed high phenolic content (69.51 µg/ml) than the extracts. The AMLEO and extracts exhibited strong to good DPPH radical scavenging activity. (13)
• Hepatoprotective / Antioxidant / Rhizomes: Study evaluated the hepatoprotective and antioxidant activity of methanolic extract of rhizomes of A. malaccensis. Results showed hepatoprotective activity as evidenced by enzyme and chemical parameters as well as significant histopathological improvement in the liver. Methanol extract showed scavenging of hydroxyl, superoxide free radicals, nitric oxide, and DPPH with IC50 values of 50.42, 71.19, 96.38, 61.46 µg/ml, respectively, and reducing power ability with RP50 value of 183.54 µg/ml. The ME showed a total phenolic content of 48.18 µg/ml. (14)
• Dihydrocoumarin Derivatives from Methyl trans-Cinnamate / Cinnamic Acid / Anticancer: Methyl trans-cinnamate has been successfully isolated from A. malaccensis. Cinnamic acid is an analog derivative of methyl trans-cinnamate. Cinnamic acid and its natural derivative are known for its use in the treatment of cancer. Cinnamic acid and some derivative compounds have been examined as good inhibitor against AKR1C3, a cancer cell that forms as hormones in prostate cancer, breast cancer and endometrial cancers. Study reports on the hydrolysis reaction of methyl trans-cinnamate to cinnamic acid with a yield of 83.6% and evaluation of biologic activity as potential anti-cancer candidate. (15)
Availability
Wild-crafted.
Seeds and extracts in the cybermarket.