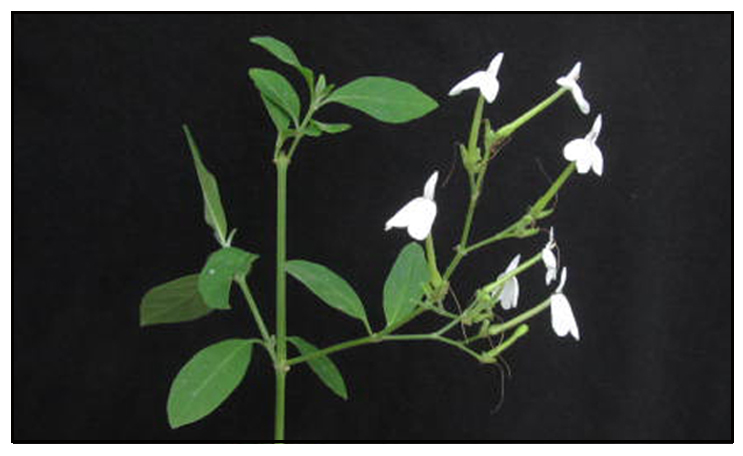 Botany
Tagak-tagak is a slender, erect, branched, somewhat hairy shrub, up to 1 to 2 meters high. Leaves are oblong, 4 to 10 centimeters long, narrowed and pointed at both ends. Inflorescence is a spreading, leafy, hairy panicle with flowers usually in clusters. Calyx is green, hairy, and about 5 millimeters long. Corolla-tube is greenish, slender, cylindric, about 2 centimeters long. Corolla has two spreading lobes; the upper lip is white, erect, oblong and lanceolate, 2-toothed at the apex, about 3 millimeters in length and width; lower lip is broadly ovate, 11 to 13 millimeters long and wide, 3-lobed, white, with a few, minute, brownish dots near the base. Fruit is a club-shaped capsule containing 4 seeds.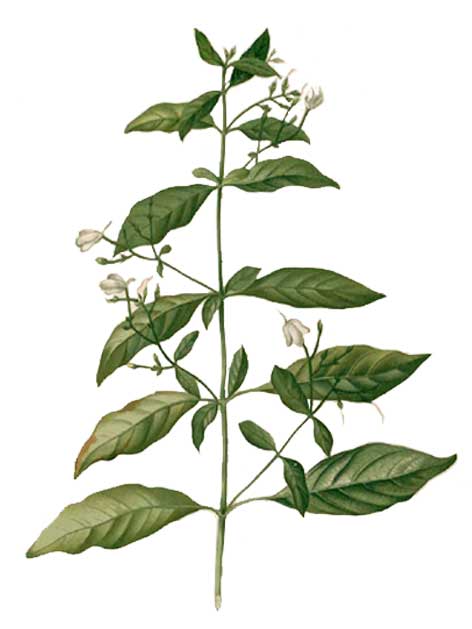 Distribution
- In Rizal, Cavite, and Laguna Provinces in Luzon.
- In thickets, hedges, and waste places, in and about towns.
- Introduced, now common.
- Also occurs in India to Malaya.
Constituents
- Phytochemical screening of leaves yielded flavonoids, triterpenoids, polyphenols, steroids, saponins, alkaloids, carbohydrates, anthraquinones, and tannins. (See study below) (17)
- Roots contain an active principle, rhinacanthin.
- Study yielded rhinacanthin A and B and known lupeol, B-sitosterol, stigmasterol as well as glucosides of B-sitosterol and stigmasterol from the roots.
- Leaf extracts yielded secondary metabolites such as alkaloids, anthraquinones, carbohydrates, flavonoids, saponins, phytosterols, triterpenoids, and polyphenols. (see study below) (23)
- Proximate analysis of dried leaf powder yielded 85% dry matter, 13% crude fiber, 11% total ash, 1% acid soluble ash, and 4% crude protein. (24)
- Study of roots isolated a new naphthoquinone racemate, rhinacasutone   (1), along with seven known compounds, rhinacanthone (2), rhinacanthins C, D, N, Q, and E (3-7) and heliobuphathalmin (8). (see study below) (40)
Properties
- Rhinacanthin isolated from the roots resemble chrysophanic and frangulic acids in its antiseptic and antiparasitic properties.
- Considered aphrodisiac, wound healing, antidotal.
- Studies have shown antibacterial, antifungal, anti-tumor, hepatoprotective, mosquitocidal, wound healing, antihyperlipidemic, and antidiabetic properties.

Parts used
Shoots, roots, leaves and bark.

Uses
Folkloric
- Sap or decoction of roots and leaves used in obstinate forms of dermatosis, especially dhobie's itch (buni sa siñgit).
- In Thailand, roots and leaves, in an alcohol tincture or vinegar preparation, used for the treatment of certain forms of ringworm. (•) Used for treatment of eczema, pulmonary tuberculosis, herpes virus infections, fungal infections. (20)
- Seeds also efficacious for ringworm.
- Malays mix the juice of roots and leaves with benzoin and sulfur to use for ringworm.
- Dutch Indies apply the leaves on prickly heat, scurf, etc.
- In the Moluccas, young shoots, crushed in vinegar, applied the skin complaint called "cascado."
- In India, fresh roots and leaves, bruised and mixed with lime juice, used as a remedy for ringworm and other skin affections. In some places, roots also used as antidote for snake bites.
Seeds also used for ringworm. Root-bark also used for dhobie's itch.
In Pakistan, used as aphrodisiac – the roots boiled in milk by Hindu practitioners.
- In Kerala, used to treat liver diseases. Leaves and roots used for snake bites.
- Used for skin diseases, peptic ulcer, helminthiasis, scurvy, inflammation and obesity.
- Used for herpes and viral infections.
- In Taiwan, plant used for treatment of diabetes, hepatitis, hypertension, and skin diseases. (10)

Studies
• Hepatoprotective: Study of herbal ethanol extracts of I. coccinea, R. nasutus and S. ciliata on aflatoxin BI (AFBI)-intoxicated livers of albino male Wistar rats showed significant hepatoprotective activity against toxin-induced liver damage as evidenced by significant lowering of the activity of serum enzymes and enhanced hepatic reduced GSH status. (1)
• Antitumor Activity / Liposomal Naphthoquinone Esters: Study previously isolated three main naphthoquinone esters - rhinacanthins C, N, and Q - from the roots of R nasutus that induced apoptosis of human cervical carcinoma HeLaS3 cells. Study demonstrated that rhinacanthin-N suppressed tumor growth in vivo, and suggested that liposomes are useful for preparing injectable formulation of hydrophobic drugs. (2)
• Mosquitocidal Activity / Dried Root Powder: Study evaluated tablet formulations from crude extract of Rhinacanthus nasutus against Aedes aegypti and Culex quinquefasciatus larvae. Tablet formulations made from the methanol extract of dried root powder showed potential for use to control mosquito vectors and be part of a mosquito control program.(3)
• Antiproliferative / Rhinacanthin C: The ethanol extract of root and aqueous extract of leaves of RN and the active moiety rhinacanthin C was assessed in vitro and in vivo on several cancer cell lines. Results showed rhinacanthin C exhibited in vitro antiproliferative activity, comparable to or slightly weaker than 5FU. Both extracts showed in vivo antiproliferative activity. (4)
• Hepatoprotective Activity: Study of root extracts in Wistar rats with ethanol-induced liver damage showed a significant reduction of enzymes and lipids indicating a reversal of hepatotoxicity. There was histological confirmation. Mechanism could be the ability of RN to regenerate and stabilize liver cells, and reduce the leakage of marker enzymes. (6)
• Wound Healing: Study of roots of RN in an incision wound model showed potent wound healing promoting activity. Phytochemical screening yielded rhinacanthin and ß- sitosterol. (7)
• Biogenic Nanoparticles / Antimicrobial: Plant extracts are cost-effective, ecologically friendly, and efficient alternative for large scale synthesis of nanoparticles. In this study, silver nanoparticles (AgNps) were synthesized using Rhinacanthus nasutus leaf extract. Results on in vitro antimicrobial testing of the AgNPs synthesized from R. nasutus leaf showed potential antimicrobial activity against all tested organisms viz., B. subtilis, S. aureus, P. aeruginosa, K. pneumonia, E. coli, Aspergillus niger and A. flavus. (9)
• Anti-Diabetic / Leaf: Study evaluated the anti-diabetic effect of a leaf extract of Rhinacanthus nasutus in Streptozotocin-induced diabetic rats. Results showed amelioration of hyperglycemia in STZ-induced diabetic rats and suggest a potential source for isolation of a new oral antidiabetic drug. (10)
• Rhinacanthins / Roots / Anti-Tumor Activity / Rhinacanthin C: A recent study showed tumor-specific non-apoptotic cytotoxicity and antiosteoclastogenic activity. This study evaluated the biologic activities of five rhinacanthins (rhinacanthin C, G, N, and Q, and rhicanthone) isolated from the EtOAc-soluble fraction of the roots of R. nasutus. Rhinacanthin C exhibited the highest tumor specificity, with non-apoptotic cell death, and the most potent inhibition of RANKL-stimulated osteoclastogenesis. (see study 28) (11)
• Amelioration of Cytosolic and Mitochondrial Enzyme Levels in STZ-Induced Diabetic Rats: Study evaluated the therapeutic efficacy of R. nasutus on mitochondrial and cytosolic enzymes in STZ-induced diabetic rats. Results showed administration of R. nasutus altered the activities of oxidative enzymes indicating improvement in mitochondrial energy production, and suggests further study on a potential role in the treatment of diabetes mellitus. (12)
• Improved Liver Markers in STZ-Induced Diabetes: Study investigated the total carbohydrate, total protein, and glycogen levels in the liver and measured function liver markers ALT and AST in STZ-induced diabetic rats. Results showed amelioration of altered levels of the liver markers indicating a restoration of overall metabolism and liver function in experimental diabetic rats. (13)
• Antihyperlipidemic Effect: Study investigated the anti-hyperlipidemic effect of a methanolic extract of whole plant in Triton and fat diet induced hyperlipidemic rat models. Results showed significant antihyperlipidemic effect with decrease in TC, triglycerides, LDL, and VLDL-C with increase in HDL. (14)
• Protection of Cultured Neuronal Cells Against Hypoxia Induced Cell Death / Antioxidant Effects: Study showed a root extract prevented death of HT-22 cells subjected to hypoxic conditions and reduction of reactive oxygen species production in HT-22 cells. (15)
• Anti-Ulcer Effect: Study evaluated the anti-ulcer potential of a methanolic extract in ulcer models induced by pyloric ligation. Results showed potent anti-ulcer activity with dose-dependent inhibition of ulcer index in one model. (16)
• Antioxidant / Leaf: Study showed potential antioxidant properties using various assays for radical scavenging activity. A methanol extract showed more peroxy radical scavenging property. (See Constituents above) (17)
• Antifungal / Antibacterial: Study assessing the antibacterial activity of R. nasutus showed effective activity against bacterial strains of Bacillus subtilis and Salmonella paratyphi, and high inhibitory activity against fungal strains of Candida albicans and Aspergillus flavus. (18) Study of an aqueous ethanolic extract showed potent dose-dependent antifungal activity against Candida albicans and Trichophyton mentagrophytes. Plant also showed antibacterial activity against gram-positive bacteria. (29)
• Effect on Colon Carcinogenesis / Tumor Promotion: Study assessed Rhinacanthus nastutus for chemopreventive potential against colonic neoplasms induced by azoxymethane (AOM) combined with dextran sodium sulfate (DSS) in mice. Results showed the water extract of roots had no preventive potential against colon carcinogenesis induced by AOM/DSS in mice, but instead showed tumor promotion activity with increases in the incidence of colonic tumors when given during initiation and promotion phases. (19)
• Immunomodulatory: Study assessed the influence of Rhinacanthus nasutus and Centella asiatica on cell-mediated and humoral immune responses. RN water and ethanol extracts significantly increased proliferation and production of IL-2 and TNF-alpha. Results showed immunomodulating activity to both non-specific cellular and humoral immune responses. The data suggest possible chemopreventive and anticancer potential. (20)
• Cytochrome Inactivation: Study showed rhinacanthins A-C, which are 1,4-naphthoquinone derivatives, irreversibly inhibited CYP2A6 and CYP2A13 in a mechanism-based inhibition mode. Human cytochrome P450 CYP2A6 and CYP2A13 catalyze nicotine metabolisms and mediate activation of tobacco-specific carcinogens. (21)
• Antimicrobial: Study evaluated four crude extracts for antibacterial and antifungal activities. Chloroform and ethyl acetate extracts showed antibacterial and antifungal activities against all test organisms except for P. aeruginosa and P. vulgaris. Methanolic extract showed significant activity only against S. aureus and K. pneumonia. (23)
• Restoration of Glycogen Levels: Study evaluated the effect of methanolic extract of RN on glycogen levels in liver tissue and functional markers such as AST and ALT in STZ-induced diabetic rats. Results showed positive alterations on glycogen and liver functional markers. (25)
• Lipid Profile Effects: Study of methanolic extract in STZ induced diabetic rats significantly reduced total cholesterol, triglycerides, LDL-cholesterol and increased HDL-cholesterol levels. Study showed a hypolipidemic effect without evidence of toxicity in the test animals. (26)
• Improvement of Metabolic Abnormalities / Stimulation of Insulin Sensitivity / Leaves: Study evaluated the effect of R. nasutus leaf extract on impaired glucose and lipid metabolism in high-fat diet-induced obese mice. Extract treated mice showed improvement in impaired glucose and lipid metabolism in high-fat diet-induced obesity in mice via stimulation of insulin sensitivity in the liver and adipose tissues. (27)
• Anti-tumor / Stimulation of Osteoclastogenesis / Aerial Parts and Roots: Study evaluated MeOH extracts and various solvents of aerial parts and roots for new biologic activities. The methanol extract of root showed much higher tumor-specific cytotoxicity than the aerial part. EtOAc fraction of root showed the highest tumor specific cytotoxicity. The n-BuOH fraction, slightly, but significantly stimulated osteoclastogenesis. Results showed EtOH and n-BuOH fractions of the methanol extract to be enriched with antitumor and macrophage/osteoclast- modulating substances. (see study 11) (28)
• Adulticidal & Repellent / Leaves: Study evaluated the adulticidal and repellent activities of different solvent leaf extracts against Aedes aegypti and Culex quinquefasciatus. A methanol leaf extract showed maximum repellency in all concentrations against the two mosquito species. Results suggest a potential agent for controlling these mosquito species. (30)
• Naphthoquinones / Antiviral / Cytomegalovirus: Two naphthoquinones, rhinacanthin-C (1) and rhinacanthin-D (2), isolated from R. nasutus exhibited inhibitory activity against human cytomegalovirus (CMV), with EC50 of 0.02 and 0.22 µg/ml, respectively. (31)
• Rhinacanthins / Inhibition of Mosquito Cytochrome P450 Enzymes: As a shrub, R. nasutus is reported to have insecticidal activities. Study evaluated whether R. nasutus constituents could inhibit benzyloxyresorufin O-debenzylation (BROD) mediated by CYP6AA3 and CYP6P7. Both enzymes showed pyrethroid degradation activity. Three compounds, rhinacanthin A, B, and C, isolated from aerial parts, exhibited potent inhibitory activity. Rhinacanthin-B was the most potent inhibitor. The combined inhibition effect on mosquito cytochrome P450 enzyme and synergistic effect on cypermethrin cytotoxicity of the three compounds could be beneficial for resistance management strategies in mosquito vector control.   (32)
• Microemulsions / Improvement of Carotenoid Bioavailability: Carotenoids have been known to reduce the risk of various diseases, including cancer and cardiovascular conditions. They are, however, unstable and susceptible to degradation. This study showed that carotenoids from isolated from R. nasutus and prepared in microemulsions and evaluated for its effect on bioavailability of carotenoids. Pharmacokinetic study showed that absolute bioavailability of carotenoids in microemulsions and dispersion was 0.45% and 0.11%, respectively, with a much higher value of 6.25% and 1.57% for lutein. Study demonstrated a four-fold enhancement of bioavailability upon incorporation of R. nasutus carotenoids into a microemulsion system. (33)
• Silver Nanoparticles / Antioxidant, Antiproliferative. Antimcrobial, Anti-Inflammatory: Study evaluated the therapeutica applications of silver nanoparticles synthesized using two medicinal plants, i.e., Rhinacanthus nasutus and Flacourtia sepiaria. The synthesized nanoparticles showed significant antioxidant (DPPH radical scavenging), anti-inflammatory, anti-proliferative (MCF7 cells), and antimicrobial properties. (34)
• Antibacterial / Biofilm Inhibition: Study evauated ethanolic extracts of a Thai traditional herbal recipe THR 01 amd its major constituents Ocimum sanctum, Rhinacanthus nasutus, Quisqualis indica, Vitex glabrata, and Stemona tuberosa against clinical isolates of methicillin resistant Staphylococcus aureus MRSA, S. aurues ATCC 25923 and S. epidermis ATCC 35984. Results showed strong antibacterial activity and significant biolfim inhibitory activities. (35)
• Neuraminidase Inhibitory Activity / Aerial Parts: Study yielded eight compounds, 1-8, from aerial parts of R. nasutus. Of the compounds, two lignans, 2,3-bis[(4-hydroxy-3,5-dimethoxyphenyl)methyl]-1,4-butanediol (5) and 8,8′-bisdihydrosiringenin glucoside (6), significantly inhibited neuraminidase activity, comparable to controls, mangiferin and oseltamivir. (36)
• Antitumor / Macrophage-Osteoclast Modulating / Aerial Parts and Roots: Study evaluated methanolic extracts from aerial parts and roots for new biologic activities. The MeOH extract and EtOAc fractions showed higher cytotoxicity against several human tumor cell lines (three oral squamous cell carcinomas and a promyelocytic leukemia) than against three human normal oral cells. The n-BuOH fraction stimulated NO production and osteoclastogenesis in RAW264.7 macrophage-like cells, and conversely inhibited the LPS-stimulated NO production and RANKL-induced osteoclastogenesis in the same cells. (37)
• Antifungal Activity Against Dermatophytes / Rhinacanthins / Roots: Study evaluated various extracts of dried leaves, stems, and roots of R. nasutus for antifungal activity against three dermatophytes (Trichophyton rubrum, T. mentagrophytes, Microsporum gypseum). The root extract showed most potent antifungal activity. Purification and structure elucidation identified rhinacanthins B, C, N, and Q as active substances. The ethanolic extract of dried rooot yielded a rinacanthins-rich extract. (38)
• Bioinsecticide / Toxicity to Plant Pest / Spodoptera litura / Leaves: Study evaluated the bioinsecticide tosicity of R. nasutus leaf to Spodoptera litura. Results showed the methanol extract of leaf to be a strong toxicant to instar II larvae of Spodoptera litura. (39)
• Rhinacanhins / Antiviral Constituents / Roots: Study of roots isolated a new naphthoquinone racemate, rhinacasutone (1), along with seven known compounds. The isolated compounds were tested for antiviral activities against PR8, HRV1B, and CVB3-infected vero cells. Compounds 3-6, rhinacanthus C, D, N, and Q, showed significant antiviral activities with IC50a ranging froom 0.03 to 23..7 µM in all three infections. (see constituents above) (40)
• Superoxida Scavenging / Antiglycation Activty / Leaves: Study evaluated a standardized rhinacanthin-rich extract (RRE) for suuperoxide scavenging and antiglycation effects. On the basis of kinetic measurements, RRE exhibited most potent antioxidant activity via  ErCi mechanism, with IC50 of 8.0 µg/mL. On antiglycation assay, the RRE exhibited almost equivalent glycation inhibitory effect to that of rhinacanthin-C, with IC50 of 39.7 and 37.3 µg/mL, respectively. Results suggest potential therapeutic applications in various diseases, especially in diabetic-related complications. (41)
• In Vitro Amoebicidal Activity / Acanthamoeba Cysts: Study of ethanolic extracts of R. nasutus showed in vitro amoebicidal activity against Acanthamoeba cysts. A concentration of 120 mg/ml caused 100% kill of the cysts after 24 ours exposure. (42)

Availability
Wild-crafted.