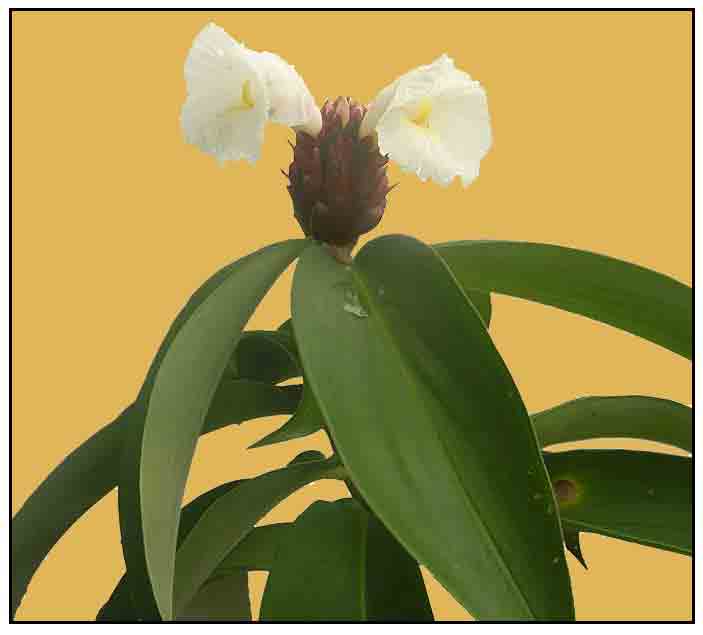 Botany
Spiral ginger is a rhizomatous herbaceous plant. Stems are stout, leafy, up to 2 meters or more in height, and 1.6 centimeters in diameter. Leaves are spirally arranged, oblong, 15 to 30 centimeters long, with pointed tip, short stalks and covered with soft hairs on the lower surface. Flowers occur in very dense, solitary spikes. Spikes are very dense, solitary, terminal, ovoid, 5 to 10 centimeters long; purple bracts ovate, 2.5 to 4.5 centimeters long. Calyx is flattened, purple, 3 to 5 centimeters long, with 3 short, ovate lobes. Corolla segments are white, oblong, 4 to 6 centimeters long. Lip is white, suborbicular, 6 to 8 centimeters long, crinkled, irregularly and rather finely toothed, the margins incurved and meeting. Stamen is flat, and including the broad petaloid connective, is about 5 centimeters long and 12 to 15 centimeters wide.
Fruits are capsules, ovoid to rounded, 1.5 to 2 centimeters long, red, crowned by the persistent calyx.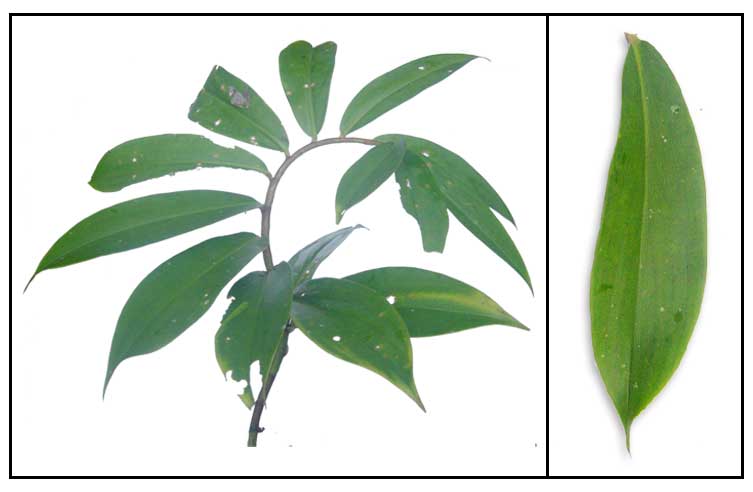 Distribution
Widely cultivated as an ornamental plant, sometimes escaping from cultivation.
Parts utilized
· Rhizome and stems.
· Collected during the months of August to October.
· Wash free of soil, remove roots, section into pieces and sun-dry.
Constituents
- Rhizomes, seeds, and roots yield saponins.
- Rhizomes are the main source of diosgenin. Major constituents are diosgenin, curcumin, and curcuminoids. tigogenin, and saponins. Tubers and roots yield 5α-stigmasten-3ß-ol, sitosterol-ß-D-glucoside, dioscin, prosapogenins A and B or dioscin, gracillin and quinines. (31)
- Rhizomes also yield aliphatic hydroxyl ketones, triterpenes, starch mucilage, oxa-acids, fatty acids, abscisic acid, and corticosteroids.
- Study of methanol extract of seeds yielded ß-sitosterol-ß-D-glucopyranoside, spirostanol saponins, and furostanol saponins.
- Phytochemical screening have detected alkaloids, glycosides, steroids, phenolics, flavonoids, polyphenols, tannins, and ß-carotene. Studies have yielded diosgenin, ß-sitosterol, furostanol saponins-costusosides, ß-D-glucoside, prosapogenins, dioscin, gracillin, dihydrophytylplastoquinone, and α-tocopherolquinone. Other studies have yielded ß-amyrin, camphene, costunolide, disgenine, α-humulene, lupeol, and zerumbone. (20)
- Study of rhizomes for essential oil by GC-FID and GC-MS yielded 26 compounds, accounting for 97.82% of its contents. The EO consisted only of different sesquiterpenoids of which α-humulene and zerumbone were the dominant constituents. (29)
- Nutrient analysis of leaf powder for proximate composition and antioxidant components yielded protein 15.3%, iron 46 mg, ascorbic acid 81 mg, ß-carotene 660 µg, α-tocopherol 149 mg, GSH 75 mmol, total phenols 4.4 g, total flavonoids 0.848 mg/g extract. (40)
Properties
- Acidic-refrigerant, slightly toxic (especially the fresh material).
- Diuretic, antiphlogistic, antidote, antipyretic, antidermatosis, expectorant, cooling, sudorific.
- Roots are bitter, astringent, stimulant, digestive, anthelminthic, depurative and aphrodisiac.
- Studies suggest anti-inflammatory, antidiabetic, anti-arthritic, anti-cholinesterase, and ecbolic properties.
Uses
Edibility
- In India, the rhizome has been used as famine food.
- Rhizomes are mucilaginous when boiled.
- Tender young shoots, fruits, and rhizomes used as vegetable. (21)
Folkloric
- In the Visayas, juice of stems used for dysentery.
- In Ayurveda, rhizome has been used for diabetes, fevers, asthma, bronchitis, intestinal worms, rashes.
- Roots used for catarrhal fevers, coughs, dyspepsia, worms and skin diseases.
- In Malaya, juice of rhizome used as purgative.
- In Java, rhizome has reported use for syphilis, and the juice of stem used for dysentery.
- Used for nephritis-beriberi-edema due to hardening (sclerosis) of the liver, difficulty in urination, pricking pain in the urinary tract.
- Used for nettle rash, whooping cough.
- Dried or fresh material decoction may be used as external application for nettle rash.
- In Bangladesh, use in the treatment of diabetes.
- In Assam, India used by the rural people for fertility control.
- Rhizome paste used for treatment of boils. Rhizome extract used for treating snake bites. Leaves used for scabies and stomach ailments. Stem paste applied to blisters. (21)
- In Southeast Asia, used in treatment of boils, constipation, diarrhea, vomiting, headaches, dizziness. Japanese used rhizome extract for treatment of syphilis. (21)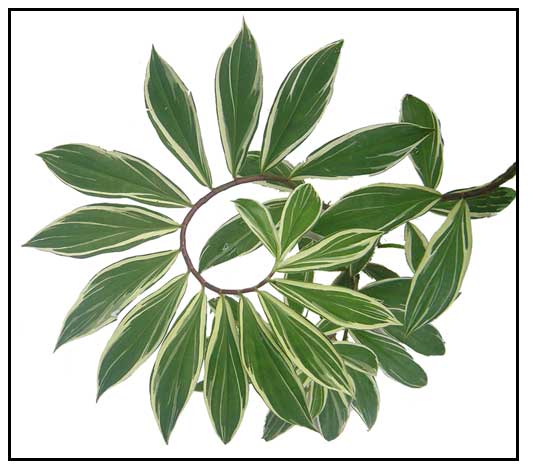 Studies
• Anti-Diabetes: Study of crude extract of Costus speciosus rhizomes lowered the plasma glucose in STZ-induced diabetic rats which may be due to potentiation of insulin from B-cells. The rhizome of CS may be beneficial in protection and alleviation of diabetic complications. (1)
• Antihyperglycemic / Hypolipidemic / Antioxidant: Study of in alloxan-induced diabetic rats showed CS root extract to possess anti-hyperglycemic, antihyper-lipidemic and antioxidant effects. (2)
• Diosgenin: Study found a new source of diosgenin in the rhizomes of C speciosus, a potential source of commercial for its isolation, with the advantage of abundant growth in the plains. (4)
• Spasmodic Activity / Ecbolic: Fresh juice of rhizomes increased the tone, amplitude and frequency of rhythmic contractions of different models of isolated uterus, an effect that explains its use as an ecbolic in indigenous systems. The extract study yielded a mixture of 5 saponins of two different types.
• Hepatoprotective Activity / Carbon Tetrachloride Toxicity / Paracetamol Toxicity / Rhizomes: Study of ethanolic extract of the rhizomes of C speciosus on carbon tetrachloride treated rats showed significant hepatoprotective activity with a significant fall in liver enzymes supported by histopathological studies on the liver. (5) Study evaluated the protective effect of C. speciosus rhizomes against hepatic injury induced by paracetamool in mice. Results showed improvement in toxic effects of paracetamol as evidenced by a significant fall in hepatic serum markers i.e., AST, ALT, and ALP, as well as TNF-α, compared to silymarin. (36)
• Aliphatic Compounds: Study yielded two new compounds, G and H, from the roots of Costus speciosus characterized as 8-hydroxytriaconta-25-one and Me-tritriacontanoat. (6)
• Anti-Stress / Neurotransmitter Effects: Extracts were found to possess normalizing activity against cold immobilization stress induced changes in NE, DA, 5-HT and MAO. Results provide biochemical evidence for antistress activity. (7)
• Eremanthin / Anti-Diabetic / Hypolipidemic: Study isolated eremanthin from C speciosus. Results showed it possessed hypoglycemic and hypolipidemic activities and suggests potential use for treatment of diabetes. (8)
• Anticholinesterase: Study showed Costus specious alkaloids to possess anticholinesterase activity in both in vitro and in vivo methods and may explain the use of the plant in eye diseases and as a dupurative. (9)
• Anti-Inflammatory / Antipyretic / Rhizome: Study in rats of ethanol extract of rhizome of C. speciosus showed significant anti-inflammatory effect and only minimal antipyretic effect at 800 mg/kg dose. (11)
• Uterine Stimulant: Study evaluated the effects of wild ginger (C. speciosus) rhizome extract on uterine contractility. Results conclude the extract stimulates phasic activity in rat uterus, with a uterotonic effect that is nonestrogenic, increasing contraction via calcium entry on l-type calcium channels and sarcoplasmic reticulum (SR) calcium release. (14)
• Antimicrobial: Study investigated the in vitro antibacterial activity against E. coli, S. aureus, K. pneumonia and P. aeruginosa. The generated data provides basis for its wide therapeutic use in traditional and folk medicine. (15)
• Comparative Antihyperglycemic Effects of Extracts: Study investigated various extracts (petroleum ether, chloroform, methanolic, and aqueous) for antihyperglycemic effect in STZ-induced diabetic rats. The aqueous and methanolic extracts were highly effective in lowering blood glucose levels at par with standard drug glibenclamide treated rats. The extracts were also at par with standard drug in maintaining serum lipid profiles. (16)
• Effect on Female Reproductive / Estrogenic Effect: Study investigated the effect of a methanolic extract of C. speciosus on on ovary and uterus of Gonado-intact female adult mice. Results showed a significant decrease in ovarian weight and increase the uterine weight compared to normal control, indicating endocrine active estrogenic property. (17)
• Antinociceptive / Rhizome: Study evaluated the anti-nociceptive activity of aqueous and ethanol extracts of Costus speciosus rhizome in Swiss albino mice. Both extracts showed significant peripheral anti-nociceptive actions in acetic acid-induced writhing in mice. Only the ethanol extract showed significant activity on the tail-flick method. (19)
• Toxicological Studies: A sub-acute toxicity study evaluated the administration of C. speciosus at 275-1100 mg/kbw in male mice for 90 days. Results showed no significant disturbance in all parameters except for reduction of cholesterol and blood glucose levels. (20)
• Mechanisms of Anti-Cancer Activity: Review presents the past, present, and future status of C. speciosus active ingredients, its potential as an anticancer agent, and possible mechanisms of anti-cancer activity i.e., up-regulation of cellular apoptotic molecules as p53, p21, p27, caspases, ROS generation, along with down-regulation of anti-apoptotic agents such as Akt, Bc12, NFkB, STAT3, JAK, MMPs, actin, surviving and vimentin. (22)
• Anti-Inflammatory / Analgesic / Antipyretic / Aerial Parts: Study evaluated methanol extracts of CS showed significant anti-inflammatory, analgesic, and antipyretic activities in rat models using carrageenan-induced paw edema test, acetic acid-induced writhing and Eddy's hot plate models, and Brewer's yeast-induced pyrexia, respectively. (23)
• Efficacy in Acute Pharyngitis and Acute Tonsillitis / Rhizome: Pilot study evaluated the efficacy, tolerability,and safety of aqueous extract of Costus speciocus in pediatric and adult patients with acute pharyngitis and tonsillitis as an alternative to antibiotics use. Results showed significant efficacy of the aqueous extract of rhizome as evidenced by improvement in acute symptoms in 60% of patients within the first 24 hours and remission rate of 93% by the 5th day. There were no recorded adverse events. (24)
• Anthelmintic / Aerial Parts: Study evaluated the anthelmintic activity of methanolic and aqueous extracts of aerial parts of C. speciosus using adult earthworm Pheretima posthuma. Albendazole was used as standard drug. Results showed significant anthelmintic activity as evidenced by paralysis and time of death measures. (25)
• Antifungal / Sesquiterpene Lactones / Costunolide and Eremanthin: Study evaluated the antibacterial and antifungal activities of hexane extract. Two sesquiterpenoid compounds were isolated i.e., costunolide and eremanthin. The compounds showed no activity against tested bacteria but showed significant antifungal activity against T. mentagrophytes, T. simii, T. rubrum, E. floccosum, Scopulariopsis sp, A. niger, C. lunata and M. grisea. (26)
• Acaricidal and Ovicidal Activities / Spider Mite Tetranychus urticae: Study evaluated an extract of C. speciosus for potential acaricidal and ovicidal activities against two-spotted spider mite, Tetranychus urticae. Treatment significantly affected fecundity of females, percentage of hatched eggs, percentage of eggs reaching adult stages and duration of each life cycle stage. Results suggest further studies for a potential source for new bio-acaricides. (27)
• Diuretic / Rhizomes: Study evaluated aqueous and alcoholic extracts of rhizomes of C. speciosus for diuretic activity in albino rats. Both extracts significantly increased urine output as well as urinary electrolyte concentration. Furosemide was used as standard drug. (28)
• Antigenotoxic / Antihistopathologic: Study evaluated the protective effects of C. speciosus against genotoxicity and histopathological alterations of STZ-induced diabetes in male rats. STZ induced high frequency of micronuclei, DNA damage, chromosomal aberrations and histopathological changes. Treatment with C. speciosus showed strong inhibitory effect against genotoxicity and histopathological alterations induced by STZ. (30)
• No Significant Effect on Diabetes Induced Infertility / Glucose Lowering / Diosgenin and Taurine: Study evaluated the effect of diosgenin and taurine in combination against diabetes-related infertility in mice. Results showed that while the crude diosgenin extract from CS combined with taurine was effective in lowering blood glucose levels, it showed little effect on even testicular disorders in alloxan induced diabetic mice compared to the application of taurine alone. (31)
• Antinociceptive / Seeds: Study evaluated the anti-inflammatory and analgesic activity of methanol extract of seeds using formalin-induced writhing test and tail immersion test. Results showed good anti-inflammatory and analgesic activity attributed to inhibition of inflammatory mediators. (32)
• Benefit of Supplementation in Buffalo Heifers: Study showed supplementation of C. speciosus powder to Egyptian buffalo heifers improved health status, total antioxidant capacity and hematological parameters. (33)
• Antihypercholesterol Activity: Study evaluated the effect of water extract of Costus speciosus on serum cholesterol levels of rats with PTU-induced hypercholesterolemia. Results showed CS at daily dose of 200 mg/kbw reduced total serum cholesterol equal to simvastatin. (34)
• Hypoglycemic / α-Glucosidase and Glycation Inhibitory Effects / Leaves: Study evaluated the in vitro inhibitory effects of C. speciosus leaves on α-amylase and α-glucosidase activities, fructosamine formation, protein glycation and glycation-induced protein cross-linking. Results showed α-glucosidase inhibitory activity with IC50 of 67.5 µg/ml which was significantly lower than IC50 of Acarbose (p<0.01). Amylase inhibitory activity was comparatively higher with IC50 of 5.88 mg/ml which was significantly higher than IC50 of Acarbose (p<0.01). The COS also inhibited fructosamine formation and glycation induced protein cross-linking. (35)
• Nanoparticles / Antidiabetic and Antilipidemic: Study of nanoparticles of C. speciosus showed decrease in serum glucose and lipid levels, DNA fragmentation and alterations of insulin and gluconeogenic genes, along with restoration of altered plasma enzymes (AST, ALT, LDH, ALP, and ACP) levels to near normal in STZ-induced diabetic rats. (37)
• Antioxidant / Cytotoxic / Rhizomes: Study evaluated the in vitro antioxidant and cytotoxic potential of methanolic extract of rhizomes of C. speciosus. Results showed effective concentration dependent free radical scavenging, NO scavenging, total phenolic content and flavonoid content. The extract also demonstrated strong cytotoxic activity against brine shrimp nauplii with IC50 of 31.55 µg/ml. (38)
• Effect of Diosgenin on Cold Immobilization Stress Brain Neurotransmitter Changes / Rhizome: Study evaluated the effect of diosgenin from C. speciosus rhizome on brain neurotransmitters and following cold immobilization stress in Wistar albino rats. Administration of diosgenin showed a normalizing effect on discrete regions of the brain and controlled the alteration in neurotransmitter levels due to cold immobilization, suggesting the antistressor potential of the plant. (39)
• Diosgenin Determination: Study reports on the HPLC method for a relatively simple, rapid, sensitive, and accurate determination of diosgenin from water extracts of Costus speciosus. (41)
• Antidepressant Activity / Leaves: Study evaluated the antidepressant activity of 50% aqueous-ethanol extract of C. speciosus leaves in experimental models of depression in male albino mice. CS showed dose-dependent antidepressant activity in acute forced swim test and acute and chronic forced swim test. Results showed dose-dependent effect with 400 mg/kg showing maximum effect. (42)

Availability
Wild-crafted.