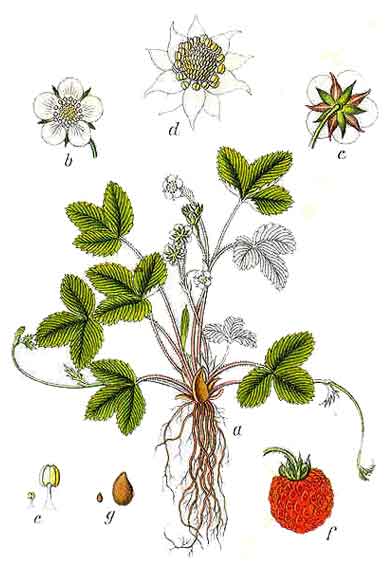 Botany
Fragaria vesca is perennial herb spreading through runners, 5-20 centimeters high with short rhizomes. The leaves , borne on long stalks, are compound with three-foliate and toothed . The flowers are white with five petals that fall off shortly after pollination, and from the receptacle forms the sweet and red fruit.
Distribution
Widely cultivated in the Trinidad valley of Benguet.

Parts utilized
Whole plant.
Constituents
- Studies have yielded ellagic acid, flavonoids, carotenoids and terpenoids responsible for antioxidant activity.
- Leaves and roots yield tannins (argimonin and pedunculagin), vitamin C, traces of oil, proanthocyanins, flavonoids (quercetin and rutin), phenolic acids (salicylic acid, coffee acid and chlorogenic acid), among others, (15)
- Fruit yields salicylic acid, invert sugar ( a mixture of glucose and fructose( vitamins A and B, and anthocyanin *fragarine." (15)
- Leaf and fruit yield flavonoid, tannin, borneol and ellagic acid.
- Fruit and leaves have been shown to contain: cissotanic, malic and citric acids, sugar, pectin, vitamin C, potassium, manganese, fiber, ellagitannins, ellagic acid, pelargonidin, cyanidin, anthocyanins, omega-3 FA, riboflavin, folate, magnesium, copper.
- Study for secondary metabolites in fruits yielded flavonoids, phenolic acids, tannins, and anthocyanins. There was greater yield of anthocyanins in wild strawberry than in cultivated ones. Mean phenolic concentration ranged from 1.648 mg/g-2.348 mg/g, with higher yield in the wild form. (9)
- Nutrient analysis for raw strawberries per 100 g yielded: (Proximates) water 90.95g, energy 32 kcal or 136 kJ, protein 0.67 g, total lipid (fat) 0.30 g, ash 0.40 g, carbohydrates by difference 7.68 g, total dietary fiber 2.0 g, total sugars 4.89 g, sucrose 0.47 g, glucose 1.99 g, fructose 2.44 g, starch 0.04 g; (Minerals) calcium 16 mg, iron 0.41 mg, magnesium 13 mg, phosphorus 24 mg, potassium 153 mg, sodium 1 mg, zinc 0.14 mg, copper 0.048 mg, magnesium 0.386 mg, selenium 0.4 µg, fluoride 4.4 µg; (Vitamins) vitamin C 58.8 mg, thiamin 0.024 mg, riboflavin 0.022 mg, niacin 0.386 mg, pantothenic acid 0.125 mg, vitamin B6 0.047 mg, total folate 24 µg, total choline 5.7 mg, betaine 0.2 mg, vitamin A RAE 1 µg, beta carotene 7 µg, vitamin A 12 IU, lutein +zeaxanthin 26 µg, vitamin E (alpha-tocopherol 0.29 mg, vitamin K (phylloquinone) 2.2 µg; (Lipids) total saturated fatty acids 0.015 g, total monosaturated FA 0.043 g, total polyunsaturated FA 0.155 g, transfat 0, cholesterol 0, phytosterols 12 mg; along with amino acids, flavanones, flavones, flavonols, isoflavones, and proantocyanidins. (16)

Properties
- Considered alterative, anti-inflammatory, antioxidant, anticarcinogenic, astringent, calmative, depurative, diuretic, laxative, refrigerant and tonic.
Uses
Edibility
- Fresh leaves used to make tea.
- In India, roots used to make a coffee substitute.
Folkloric
The leaf tea claimed to improve the appetite; also as a mild astringent for diarrhea and digestive upsets and a cleansing diuretic for rheumatic disorders
The leaf decoction also used for chronic diarrhea.
The roots has same medicinal properties.
Fruit used for intestinal worms, gout, arthritis, jaundice, liver and stomach problems.
For bladder stones, the juice of fresh strawberry is taken before breakfast; also, preventive.
Also used for podagra.
Dyspepsia.
In Campania, Italy, leaf infusion used as appetizer. Leaves used topically on wounds. source
In folk medicine elsewhere, for diabetes, cancer, hypertension, tuberculosis, tumors, and urogenital problems.
Others
Cosmetics: Fruit has been used for toning and whitening the skin, for combating wrinkles and freckles, soothing sunburn and whitening teeth.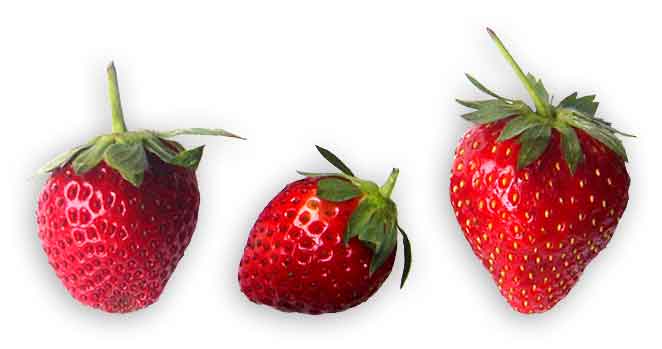 Studies
• Cardiovascular Effects / Leaves: Study on the aqueous extracts of wild strawberry leaves showed direct, endothelium-dependent vasodilation activity mediated by NO and cyclooxygenase products, with a potency similar to hawthorn aqueous extract.
(1)
• Analgesic: Study evaluated ethanolic extracts of fruit and whole plant for analgesic activities in experimental animal models using tail flick method (central action) and acetic acid-induced writhing (peripheral action). Results showed significant central and peripheral analgesic activity, the the fruit extract showing better analgesic effect than the plant extract. (2)
• Antioxidant: Study of 23 Bulgarian medicinal plants included Fragaria vesca to be one of five plants extracts that exhibited higher antioxidant activity. A positive correlation between antioxidant activity and polyphenol content. (3) Study data indicated that wild strawberries have a slightly higher total antioxidant capacity content than cultivated strawberries. Altitude did not report differences. (4)
• Diuretic / Nephroprotective / Fruits: Study evaluated the diuretic and nephroprotective activity of different extracts of Fragaria vesca fruits in rats. Results showed good diuretic activity by Lipschitz method with increase in urine volume and K+ ion excretion. The fruit extracts showed moderate nephroprotective effect against gentamicin induced nephrotoxicity. (10)
• Ellagitannin / Anti-Cancer / Fruits: Study evaluated the anticancer properties of an elligitannin-enriched fraction from Fragaria vesca leaves in human hepatocellular carcinoma cells (HepG2). Results showed EEF promoted cell cycle arrest at G2/M checkpoint and modulated autophagy, processes that are targets for therapeutic strategies in oncological diseases. (11)
• Antibacterial / Leaves: In a study comparing the antibacterial activity of ethanolic extracts of various plants, Fragaria vesca leaf extract showed zones of inhibition against Pseudomonas aeruginosa. (12)
• Antibacterial against Metallo-Beta-Lactamase VIM-2 Producers P. aeruginosa: Study evaluated F. vesca extract and polyphenol rich fractions against isolates of MBL VIM-2 producers P. aeruginosa. Results showed interesting activity against the PA clinical isolates. One or more of the polyphenols can have potential as novel antibacterial therapies against these bacteria. (13)
• Hypolipidemic / Leaves: Study evaluated the hypolipidemic activity of ethanolic and aqueous extracts of F. vesca in high fat diet induced hyperlipidemia in Wistar rats. Results showed significant hypolipidemic activity. The ethanolic extract at 500mg/kg was almost equal to atorvastatin. (14)
• Anti-Inflammatory / Leaves: Study evaluated a hydroalcoholic extract from F. vesca leaves for anti-inflammatory activity through inhibition of nitric oxide production and expression of pro-inflammatory proteins in lipopolysaccharide-triggered macrophages. The extract showed direct nitric oxide scavenging activity supporting its traditional use for anti-inflammatory disorders. The extract also affected the proteolytic systems. (15)
Caution
• Pesticides: Strawberries not organically grown probably contain pesticides, especially in the U.S. On average, strawberries receive a dose of up to 500 pounds of pesticides per acre. Other countries use less-than-stringent regulations for pesticide use. (5)

Availability
- Cultivated
- Leaf tinctures in the cybermarket.