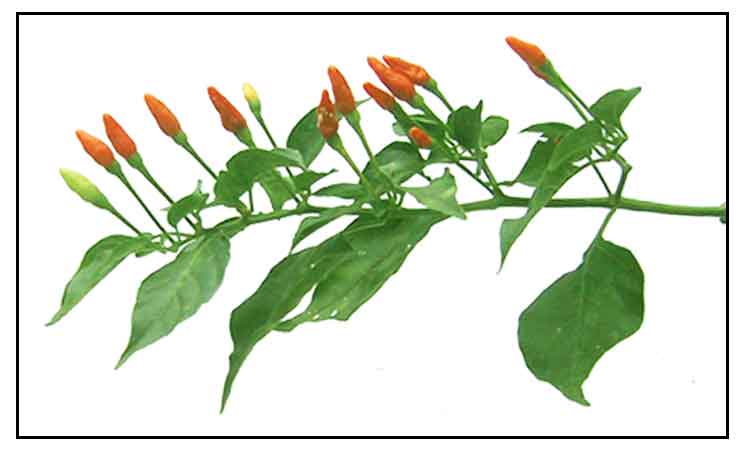 Gen info
- The 2014 global production of C. annuum was approximately 409,000 tons. Vietnam topped the list with a yield of 155,000 tons, about 35% of global production. The global trade for chili accounts for 16% of the world's total spice trade. (25)
- China and India are the major consuming countries, 49,000 and 39,000 mt, respectively. (25)
- Although planted all over the world, yields are usually very low. Some of the factors that contribute to low yield are lack of modern technical production skills, disease infestation, restricted farming season, pervasive poverty and low income among farmers that constrain pepper production. (25)
Botany
Siling-labuyo is an erect, branched and half-woody plant, growing to a height of 0.8 to 1.5 meters. Leaves are oblong-ovate to ovate-lanceolate, 3 to 10 centimeters long, and pointed at the tip. Flowers are solitary or several in each axil, stalked, pale green or yellowish-green, and 8 to 9 millimeters in diameter. Fruit is commonly red when ripe, oblong-lanceolate, 1.5 to 2.5 centimeters long. Seeds are numerous and discoid.
Distribution
- Found throughout the Philippines, planted there and there about dwellings, but also thoroughly established in open, waste places in settled areas.
- Native of tropical America, now pantropic.
Properties
- Stimulant, digestive, rubefacient, stomachic, sialagogue, alterative, antispasmodic, febrifuge, depurative.
- Studies have suggested analgesic, anti-H. pylori, anti-ulcer, diuretic, antibacterial, antifungal, antidiabetic, anthelmintic, cardioprotective, diuretic, mosquito repellent, insecticidal properties.

Constituents
- Fruit contains the active principles: capsaicin, 0.14% and capsicin.
- Capsaicin (trans-8-methyl-N-vanillyl-6-nonenamide) is the principal pungent component in hot peppers, including red chili peppers, jalapeños, and habaneros.
- Cayenne pepper contains fatty oil, 15-20%; some volatile oil; capsaicin, 0.15 - 0.5%; starch, 0.8-1.4%; pentosans, 8.57%; and pectin, 2.33%.
- Study yielded two chemical compounds: Ortho- hydroxy- N- benzyl- 16- Methyl- 11, 14- diene- octadecamide and 9, 12-diene-octadecanoic acid.
- Yields ester, terpenoids, noncarotenoids, lipoxygenase derivatives, carbonyls, alcohols, hydrocarbons, capsaicin, dihydrocapsaicin, capsiconinoid, and capsinoid.
- Qualitative studies have yielded the presence of reducing compounds saponins, alkaloid salts, alkaloids, quartenary bases, anthracenosides, flavanosides, flavonols, coumarin derivatives, steroid glycosides, and anthocyanosides. (28)



Parts used
Leaves, mature fruit.
Uses
Nutritional
- Fruit is a popular condiment.
- Mixed with or made into pickles, and is a principle ingredient in Indian curries.
- The leaves are used as vegetable, with a very pleasant and somewhat piquant flavor.
- In tropical countries, eaten fresh to promote digestion.
- In Taiwan and the Batanes Islands, leaves used in soup.
- An excellent source of calcium and iron, a good source of phosphorus and vitamins A and B.
Folkloric
- Bruised berries used as powerful rubefacient; used for sore throats. Also used as gargle.
- Externally, a strong rubefacient that acts gently with no danger of vesication.
- Arthritis and rheumatism: Crush fruit, mix with oil and apply on affected part.
- Dyspepsia and flatulence: Eaten as condiment or drank as infusion as a stimulant and antispasmodic.
- Infusion of the fruit is stimulant, stomachic and antispasmodic; used for dyspepsia and flatulence.
- Infusion preparation: 3-10 grains every 2 hours to a cup of boiling water.
- Toothache: Juice of the pepper pressed into the tooth cavity.
- Rheumatism: Poultice of cayenne applied over affected parts.
- Fomentation of leaves and fruits applied to rheumatic pains.
- Leaves of some varieties used for dressing wounds and sores.
- Strong infusion of fruit of hotter varieties applied as lotion for ringworm of the scalp.
- Used in typhus intermittent fevers and dropsy.
- Externally, used as rubefacient , and internally as stomachic.
- Chile vinegar, made from pouring hot vinegar upon the fruit, used as stomachic.
- Chillies, combined with cinchona, used for lethargic affections, atonic gout, dyspepsia with flatulence, tympanites and paralysis.
- As rubefacient, mixed with with 10 to 20% cotton-seed oil, applied as cataplasm or as liniment.
- Powder or tincture used for relaxed uvula.
- Used in typhus intermittent fevers, gout, dyspepsia, cholera.
- Ancient Mayans used it for treatment of coughs, sore throat and coughs.
- In Jamaica, used by traditional healers to treat diabetes mellitus.
- Aztecs used chile pungency for toothaches
Others
- In the Philippines, plant commonly used for dyeing in green shades.
- In Taiwan, used as ornaments and for rituals.
Preparation of Capsicum Liniment
Materials
- Siling labuyo fruits.
- Vegetable oil.
Procedure
- Macerate siling-labuyo fruits in enough vegetable oil to cover the fruits.
- Keep jar covered.
- After one week, strain to separate the fruits from the oil. The macerated fruits may be discarded or leave the macerated mixture in the jar and just decant the oil as needed.
- If turbid, heat the oil gently at low temperatures (Do not boil) until the mixture becomes clear.
- Transfer to medicine bottles.

Studies
• Capsaicin: Capsaicin for medicinal use comes from Capsicum frutescens and is the active ingredient in the extract of hot peppers. It is most concentrated in the rib or membrane, less in the seeds, least in the flesh. Capsaicin depletes substance P in the afferent type C sensory nerve fibers, affecting only proprioception. Unlike other treatments for neuropathy, such as local anesthetics, opiates, anti-seizure medications or tricyclic antidepressants, capsaicin specifically treats pain without impairing other aspects of the nervous system. In incomplete depletion of substance P from suboptimal use, it may cause paradoxical increase of pain. (See: Capsaicin / Drug Interactions)
• Uses: Post-herpetic neuralgia, post-mastectomy pain, hemodialysis-associated pruritus, psoriatic itching and pain, painful neuropathies, especially diabetic neuropathy, arthritic pains,and other superficial neuropathies.
• Capsaicin and Dyspepsia: In a small trial in Italy (Dr. Mauro Bortolotti et al, University of Bologna), 30 patients with functional dyspepsia were randomized on daily capsules of 2.5 g of red pepper or placebo. The capsaicin content (trans-8-methyl-N-vanillyl-6-nonenamide) was 0.7 mg/g of red pepper power. After 3 weeks, upper gastrointestinal symptoms of epigastric pain, fullness, nausea and early satiety were all significantly reduced in the capsaicin group and not in the placebo group. The mechanism of action is believed to be the desensitization of gastric nociceptive C fibers, which carry pain sensations to the central nervous system. (NEJM.346[12]:947-48,2002) Clinical Capsules (1)
• Chronic Low Back Pain: Study showed a capsicum plaster preparation to have application in chronic non-specific back pain. (2)
• Postoperative pain: Study showed capsicum plaster applied at Korean hand acupuncture points reduced postoperative sore throat. (3)
• Anti-H pylori / Anti-ulcer: Study to demonstrate in vitro activity of capsaicin on metronidazole-susceptible and -resistant H pylori showed bactericidal effect even at lowest concentration (25 ug ml). Capsaicin. the active ingredient of hot pepper showed in vitro activity against H pylori and presents a possible alternative treatment strategy for antibiotic resistant strains of H pylori, a reasonable meal supplement for those with duodenal and gastric ulcer, and for developing countries, a cheaper alternative. (4)
• Anti-H pylori: Study showed capsaicin to have a dose-dependent inhibition of the H pylori, suggesting chili ingestion as possibly protective against H. pylori-associated gastroduodenal disease. (5)
• Anti-inflammatory effect in H pylori-infected gastric epithelial cells: Study showed capsaicin inhibited the release of pro-inflammatory cytokine, interleukin-8 (IL-8) by H. pylori-infected gastric epithelial cells. (7)
• Hypoglycemic Principle: Study led to the extraction of the active principle, capsaicin. Results showed the capsaicin to be the major constituent of C frutescens that is responsible for the hypoglycemic episodes seen in dogs, an effect apparently mediated by insulin release. (8)
• Gastric Acid Secretion: Aqueous extracts of C annuum or C frutescens induced gastric acid secretion dose-dependently. (9)
• TPRV1 / Conflicting Glucose Effects: The action of capsaicin is mediated by TPRV1 (vanilliod receptor) belonging to the ion channel group. TPRV1 has been found on pancreatic beta cells, and activated by capsaicin to increase insulin secretion. However, another study reported pure capsaicin activating glucagon secretion and increasing plasma glucose. At present, capsaicin glucose effects are still conflicting. (11)
• Antibacterial / Anthelmintic: Phytochemical analysis of a methanol extract yielded saponins, tannins, alkaloids, glycosides and steroids. Study showed dose-dependent antibacterial and anthelmintic activity. Among the bacteria, Staph aureus was most susceptible, followed by K pneumonia and P aeruginosa. The anthelmintic effect al all concentrations was lesser when compared to standard. Results suggest the methanolic extract can be sued for bacterial and anthelmintic infections. (12)
• Hypoglycemic: Study found 5 grams of capsicum provided capsaicin levels associated with a decrease in plasma glucose levels and the maintenance of insulin levels. Results suggest potential implications in the management of type 2 diabetes.
• Burning Mouth Syndrome: Study showed topical application of capsaicin as mouthwash proved itself as an alternative treatment for symptoms in patients with BMS (burning mouth syndrome). (14)
• Antimicrobial / Fruits: Ethanol extracts of fruits of three kinds of Capsicum showed similar potencies in antimicrobial activities against Gram(+) and Gram(-) bacteria and fungi, although they contained different levels of capsaicin. Capsaicin was the main antimicrobial component. Similarity in antimicrobial activity of the hottest and least hot pepper suggests presence of synergism between capsaicin and other components of the fruit extracts. (15)
• Antifungal / Leaf and Fruit: Study evaluated the antifungal potential of aqueous leaf and fruit extracts of C. frutescens against four major strains associated with groundnut storage. Leaf extract showed strong activity against A. flavus, while the fruit extract showed good activity against A. niger.
• Antibacterial: Study evaluated methanol and ethanol fruit extracts of Capsicum annuum and C. frutescens for antibacterial activities selected bacteria. Both extracts were effective against Vibrio cholera, Staphylococcus aureus, and Salmonella typhimurium. The methanol extracts showed higher antibacterial activity., and C. annuum showed greater activity than C. frutescens. (16) Study evaluated the antibacterial activities of various extracts of C. annuum, C. annuum var. globriusculum, and C. frutescens. Results showed the methanol extract of C. annuum was effective on Helicobacter pylori and Campylobacter jejuni, while its water extract was highly effective on Arcobacter cryaerophilus. (36)
• Effect on Glucose Absorption and Metabolism: Study evaluated the effect of 5 g fresh chili pepper on glucose response after a glucose drink and metabolic rate in Thai women. Results showed significant inhibition of postprandial plasma glucose during absorption period, with increased metabolic rate sustained up to 30 minutes postprandially. (17)
• Antidiabetic / Cardioprotective Effect: Study evaluated the effect of Capsicum frutescens diet supplementation on fasting blood glucose levels and biochemical parameters in alloxan induced diabetic Wistar rats. Results showed improvement in all biochemical parameters, blood glucose, and body weight suggesting cardioprotective and anti-diabetic properties. (18)
• Mosquito Repellency / C. frutescens and Carica papaya: Study evaluated the mosquito repellency of distillates of fruits of C. frutescens and C. papaya. The extracts showed better repellency when combined. However, the repellency did not seem to be simply additive but rather a complex interaction of constituents of the mixture. (19)
• Insecticidal / Aedes aegypti: Study evaluated the insecticidal activity of different concentrations of methanol extract of fruits and leaves of C. frutescens against 2nd and 3rd instar larvae of Aedes aegypti. The fruit extract showed more killing effect than the leaf extract. The mortality of the larvae was found to be concentration dependent. (20)
• Diuretic Potential: Study evaluated the diuretic potential of C. frutescens, C. oliturius and A. esculentus in albino rats. All three exhibited diuretic potential. Decoctions were comparable to furosemide. (21)
• Effect on Metabolic Syndrome: Metabolic syndrome—high blood glucose, obesity, dyslipidemia and hypertension—is a risk factor for cardiovascular disease occurrence and mortality. Studies have shown that red pepper, as well as capsaicin, has the ability to control metabolic syndrome and its related disorders i.e., obesity, dyslipidemia, diabetes, and its complications. (24)
• Suitability for Alleviating Human Micronutrient Dietary Deficiencies: Studies have shown that C. annuum is a highly nutritive fruit that contains several macronutrients such as protein, carbohydrates, fats and dietary fiber. This review concludes that it is a rich and economical vegetable that contains essential micro- and marcronutrients. The presence of phytochemicals and antioxidants is important in the prevention of chronic diseases. The integration of a pepper-rich diet to daily meals can be helpful in the alleviating micronutrient deficiency. (25)
• Anticancer / Capsaicin: The anticancer effects of capsaicin have been reported in different types of cancer. Anticancer activity of capsaicin, both in vitro and in vivo, against growth of prostate cancer cells through induction of apoptosis associated with an increase of antibodies p53, p21, and Bax. Anticancer effect has also been seen on human colorectal cancer and studied on HCT116, Lovo, SW480, and Colo 205 cell lines. (26)
• Gastrointestinal Benefits / Capsaicin / Review: In traditional medicine, chili has been used for various gastrointestinal complaints such as dyspepsia, loss of appetite, reflux, gastric ulcers, among others. Studies have yielded more than 200 constituents, and some have beneficial roles in various GI disorders by stimulation of digestion, gastromucosal defense, reduction of gastroesophageal reflux, inhibition of GI pathogens, ulceratons and cancers, regulation of GI secretions and absorption. (27)
• Acute Toxicity Study / Seeds: Smallholder farmers in South Western Agro-ecological Zone of Uganda (SWAEZ) use C. annuum for controlling various poultry diseases. Crushed seed extracts have been used to treat birds suspected to have Newcastle disease. This study evaluated the acute toxicity levels of Capsicum annuum in the SWAEZ under aqueous and ethanolic solvent systems. Results showed the lethal dose (LD50) of aqueous extracts of C. annuum was 12043 mg/kg compared with 5,492 mg/kg for 70% ethanolic extracts. Study concludes the 70% ethanolic and aqueous extracts of C. annuum are safe to use and are classified as practically non toxic (5-15 g/kbw). Both extracts are suitable for traditional poultry disease management by farmers. (28)
• Treatment of Rheumatoid Arthritis: Study evaluated the effectiveness of alcohol extracts of Capsicum annuum on the inflammatory process induced by administration of Freund's complete adjuvant an an experimental model of rheumatoid arthritis in young male rats. Results showed use of alcohol extracts of Capsicum annuum reduced the severity of nonspecific inflammation. Edema decreased by 50-60% while WBC left shift decreased and the amount of alpha-1-acid glycoprotein in the blood decreased. Extract treatment prevented the development of autoinnume inflammation. Results suggest therapeutic effectiveness for rheumatoic arthritis. (29)
• Extraction of Capsaicin: Study reports on the simple, fast, and reproducible method of capsaicin from the fruit of Capsicum Soxhlet extraction using n-hexane solvent was used. Column chromatography (CC), thin-layer chromatography (TLC), and high performance liquid chromatography (HPLC) were used for qualitative and quantitative analysis. (30)
• Effect of Light on Capsaicinoid in Hot Peppers: Strong light intensity affects plant growth, fruit yield, and accumulation of capsaicinoids in hot peppers. Study investigated the responses of C. chinense cultivars to different light intensities to maximize capsaicinoid production. Highest capsaicinoid yields were found in F1 hybrid cultivar under 50% shading (4820 mg/plant). Results recommended that growers of high pungency cultivars use appropriate level of shading for the particular cultivar to increase the capsaicinoid yield. (31)
• Anticoagulant / Antibacterial: Study evaluated the anticoagulant and antibacterial activity of aqueous and organic extracts of C. annuum (Pusa jwala). In vitro clot lysis assay showed clot lysis of 30.1%, 25.1%, 21.2%, and 21% on methanol, chlorofom, acetone, and aqueous extracts, respectively. All tested extracts exhibited antibacterial activity by disc diffusion method, with methanol extract showing the maximum zone of inhibition. Qualitative phytochemical analysis yielded flavonoids, cardiac glycosides, alkaloids, phenols, saponins, resins, and steroids. (32)
• Safety Concerns on Topical Application / Skin Carcinogenesis: Capsaicin has a long and convoluted history of controversy on consumption and safety of topical application. Conflicting epidemiologic data and research suggest capsaicin can act as a carcinogen or as a cancer preventive agent. Among naturally occurring irritant compounds, capsaicin is unique in that its initially evoked neuronal excitation is followed by a long-lasting refractory period, where the previously stimulated neurons no long respond to a broad range of stimuli—a process referred to as desensitization. Chronic long-term topical application of capsaisin increased skin carcinogenesis in mice treated with a tumor promoter. Results suggest caution when using capsaicin-containing topical applications in the presence of a tumor promoter, for example, sunlight. (33)
• Capsaicin Content / Biopesticide: Study evaluated the utilization of C. annuum ssp. microcarpum for extracting capsaicin and its use as a biopesticide against green peach aphid Myzus persicae Sulz. Results showed the oleoresin from C. annuum ssp. microcarpum in its 1:20 dilution was the most efficient as a biopesticide. The largest eficiency in repression of aphis on pepper is observed at oleoresin with 97.4%, with capsaisin concentration of 12.2374 mg/mL. (34)
• Capsaicin Content / Fruits Parts and Stage Variations: The chili fruit consists of pericarp, mesocarp, endocarp, septum, placenta, funiculus, and seed. Gas chromatography showed the capsaicin is mosly accumulated in the fruit septum compared to other tissue parts. In a study in various developing stagee of the fruit, the highest capsaicin content was in the most ripened fruit. Fruit ripening occurs mostly in between 35 to 40 days after anthesis (the flowering period of a plant, from the opening of the flower bud). Other envirnmental factors affecting capsaicin content are growing medium and fertilizer used. (35)
• Influence of Ripening Stage on Hypoglycemic and Anti-ACh Activities: Study investigated the in vitro hypoglycemic and anti-acetylcholinessterase activities of hot pepper fruits (C. annuum var. acuminatum) at different ripening stages. The mature, green-stage fruits showed highest activity against a-amylase and a-glucosidase with IC50s of 55.88 and 76.11 µg/ml, respectively. In the premature green stage it exhibited the highest anti-acetylcholinesterase inhibition with IC50 of 84.30 µg/ml. Study highlights the biochemical rationale for chemoprevention. (37)
• No Fungal Activity: Study evaluated the antifungal properties of a leaf extract of Capsicum frutescens using ethanol and chloroform as solvents and negative control and Fluconazole as positive control. The 100% leaf extract of C. frutescens showed no antifungal property against Candida albicans. (38)

Availability
- Wild-crafted.
- Ubiquitous market produce.
- Fruit cultivated as condiment.
- Capsaicin is available as fresh and dried peppers, and in many countries, in various formulations viz. capsules, tablets, tinctures and creams for external application in potencies ranging from 0.1% to 0.75%.