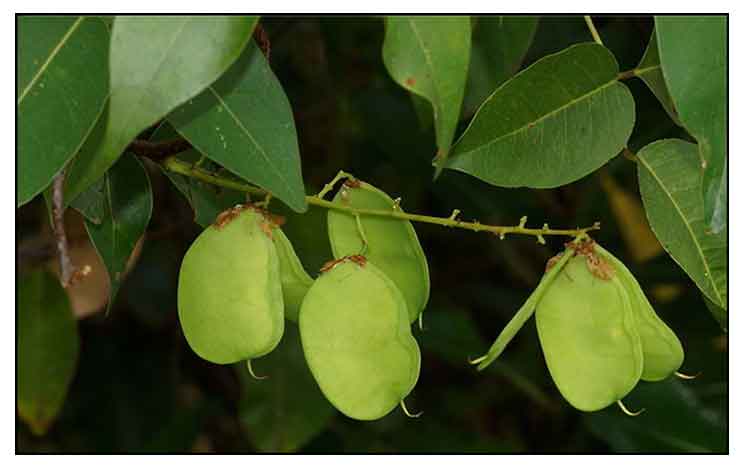 Gen info
- Etymology: The genus name Derris derives from Greek, meaning a leather covering, possible referring to the tough seed pods. The species epithet trifoliata derives from Latin, meaning three leaves, referring to the species leaflets. (31)
Botany
Silasila is a smooth, climbing shrub, reaching a length of 8 meters or less. Leaves are 10 to 20 centimeters long. Leaflets are 3 to 7, shining, oblong-ovate and 4 to 13 centimeters long. Flowers are white, often tinged with violet, 8 to 10 millimeters long, borne in simple axillary racemes or narrow panicles. Stamens are 10, usually monadelphous or the upper one free. Ovary is sessile, few-ovuled, superior. Fruits are pods subrhomboidal to broadly oblong, 2.5 to 5 centimeters long, 2 to 3 centimeters wide, smooth, prominently veined, with a narrow wing along the upper suture and containing 1 to 2 seeds.
Derris trifoliata is an erect shrub up to 2 m tall, or a woody climber up to 15 m long. Leaves are stalked, pinnate, consisting of 3–7 leaflets. Opposite, stalked leaflets have leathery leaf blades that are egg- to lance-shaped or oval, and 3–18 by 1.5–9 cm, with gradually, narrowing tips. Flowers are about 9–12 mm long, with cream-white to lavender or pinkish petals. The few to numerous flowers are clustered on the side branches of its flowering shoots. These shoots develop from the leaf axils, or the ends of leafy twigs. Fruits are disc-like, 1 or 2-seeded, 3–5.5 by 2–3.7 cm, rounded on the lower side, and narrowly winged on the upper side. Its brown seeds are compressed, wrinkled, kidney-shaped, and 1.5–2.4 by 1–2 cm. (31)
Distribution
- Abundant on muddy shores, along tidal streams, mangrove swamps, etc., throughout the Philippines.
- Also occurs in tropical East Africa and in Asia, through Malaya to Australia and Polynesia.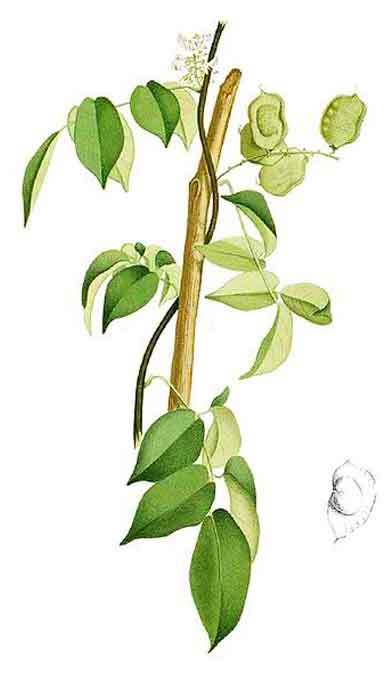 Constituents
- Yields a considerable amount of tannin and red coloring matter.
- A quantitative determination showed the tannin in the bark at 9.3%.
- Study reported the bark to yield a neutral crystalline principle, wax, two resins, two coloring matters, an alkaloid, glucose, an acrid glucoside allied to saponin, gum, and mineral matter (8%).
- Stems yield, besides gum and sugar, an appreciable amount of inorganic salts, notably potassium nitrate.
- Acetone extract yielded a new isoflavonoid derivative, 7a-O-methyldeguelol (rotenoloid), with known rotenoids - rotenone, deguelin and a-toxicarol.
- Phytochemical screening yielded fatty acids, steroids, triterpenoids, alkaloids, phenols, phenyl propanoids, tannin and mucilage.
- Study of aerial parts isolated a new prenylated flavanone, 4′,5,7-trihydroxy-6,8-di-(2-hydroxy-3-methylbut-3-enyl)- flavanone, together with 11 known compounds: rotenone, tephrosin, 12a-hydroxyrotenone, deguelin, 6a,12a-dehydro-rotenone, dehydrodeguelin, 7a-O-methyldeguelol, 7a-O-methylelliptonol, 5,7,3',4'-tetra- hydroxy-6,8-diprenylisoflavone, daidzein and 4'-hydroxy-7-methoxyflavanone. (see study below) (20)
- n-BuOH fraction of a methanolic extract of leaves yielded 15 compounds viz., inamoside, (6S,9R)-roseoside, (6R,9R)-3-oxo-a-ionyl ß-D-glucopyranoside, apocynoside, corchoionoside, citroside A, 2,6dimethoxy-p-hydroquinone 1-O-ß-D-glucopyranoside, tachioside, isotachioside, benzyl-ß-D-glucopyranoside, n-hexyl ß-D-glucopyranoside, 2-methyl-3-buten-2-yl ß-D-glycopyranoside, maltol ß-D-glucopyranoside, mauritianin, and betulalbuside. (3)
- Study of stems isolated one new rotenoid, 6α,12α-12α-hydroxyelliptone, together with five known rotenoids. (see study below) (2)
- Study of aerial parts yielded steroids, flavonoid, reducing sugars, tannin, gum, and saponin as major constituents. (see study below) (14)
- Study yielded a flavonoid from the leaves, rhamnetin-3-O-neohesperidoside. (27)
Properties
- Pungent-tasting, warming.
- Anticontusion, antispasmodic, analgesic, insecticide, stimulant, counter-irritant.
- Bark is alterative, insecticidal, fiscicidal.
- Studies have shown larvicidal, chemopreventive, nitric oxide inhibitory, anti-hyperlipidemic, anti-helicobacter pylori, diuretic, antioxidant, anti-diarrheal, analgesic, CNS depressant, anti-angiogenic, antiproliferative, phytoremediative properties.
Parts utilized
· Roots, stems, leaves, bark.
Uses
Folkloric
· Poultice of powdered material, heating with alcohol, applied to areas of swelling and sprains.
· Roots and stems may be used to kill maggots.
· In India, raw leaf juice used two or three times daily for chronic dysentery. (23)
· In India plant used as stimulant, antispasmodic, and as counterirritant. Used for rheumatism, chronic paralysis and dysmenorrhea.
· In Papua New Guinea, root decoction used internally for fever and externally against sores.
· Stems used as laxative and for arthritis.
· In Samoa, leaves used to treat indigestion.
· In Papua New Guinea, scraping from outer bark of stem is cut into small pieces and mixed with water or young coconut juice, then strained, and the solution given to mothers to drink soon after delivery to prevent infection. The same solution is drunk by persons who had contact with a dead body in preparation for burial, or contact with body fluids of person with long term illness. For malaria, decoction of leaves is strained and drunk daily until symptoms of malaria disappear. (26)
Others
· Fish poison: Bark and roots used as fish poison. Crushed leaves dispersed in streams will kill fish and shrimp.
· Fodder: Leaves used as fodder.
· Dye: Bark yields up to 9.5% tannin.
Toxicity / Caution !
Contains rotenone and has an good insecticidal effect. Not to be taken internally.
Studies
• Larvicidal / 7∂-O-methyldeguelol: Study of acetone extract of roots isolated an isoflavonoid, 7a-O-methyldeguelol, and known rotenoids, rotenone, deguelin and α-toxicarol. Rotenone and deguelin were shown to have larvicidal properties. (1)
• Larvicidal : Acetone extract of roots of Derris trifoliata showed potent larvicidal activity against second instar larvae of Culex quinquefasciatus and Aedes aegypti. (6)
• Cancer Chemopreventive / Rotenoid: A new rotenoid was isolated from the stems of DT together with five other known rotenoids. Screening showed inhibitory effects on Epstein-Barr virus early antigen activation. Compound 3, 6aα,12aα-12a-hydroxyelliptone, showed inhibitory effect equivalent to ß-carotene without any toxicity. Deguelin (4) and α-toxicarol (5) showed marked inhibitory effect on mouse skin tumor promotion. Study indicated the rotenoids to be valuable anti-tumor promoters. (2)
• Glycosidic Constituents: Phytochemical study from the leaves of D trifoliata yielded 15 glycosidic compounds. (see constituents above) (3)
• Rotenoids / Nitric Oxide Inhibitory Activity: Study yielded nine rotenoids from the stems of D trifoliata. Results showed very potent inhibition of NO. Results showed scavenging activity, the highest with compound 5, followed by deguelin (1). All compounds showed no cytotoxicity. (4)
• Anti-Hyperlipidemic: Study of methanolic extract of the leaves and stems of Derris trifoliata showed significant antihyperlipidemic effect with lowering of triglyceride and cholesterol levels with increase of HDL. (5)
• Cytotoxic Rotenoloids / Cancer Chemopreventive: Study isolated a new rotenoloids, 6aα,12aα-12a-hydroxyelliptone from stem extracts, together with 5 known compounds. Deguelin, and a-toxicarol exhibited marked inhibitory effect on mouse skin tumor promotion in an in vivo carcinogenesis test. The result of the present study indicates that rotenoids could be a potent candidate as a phytotherapeutic anti-tumor promoter.
• Anti-Helicobacter pylori Effect: Study showed Derris trifoliata shows potential as a source of selective anti-H. pylori agent. (9)
• Inhibition of Nitric Oxide Production: Study isolated three known and two new rotenoid derivatives. The new derivatives, derrisfolin A and B, inhibited nitric oxide production in murine macrophage-like RAW 264.7 cells stimulated with interferon-gamma and lipopolysaccharide. (12)
• Diuretic Activity / Brine Shrimp Toxicity: Study evaluated aerial parts for diuretic activity in mice and general toxicity activity by brine shrimp test. Results showed significant diuretic effect, while BST lethality assay exhibited significant toxicity towards the brine shrimp nauplii. (13)
• Anti-Diarrheal / Aerial Parts: Study evaluated an 80% ethanol extract of aerial parts on castor oil-induced diarrhea in mice. Oral administration of the extract showed dose-dependent delay in the onset of diarrhea induced by castor oil, significant reduction in the number of diarrheal episodes and number of animals exhibiting diarrhea. Results were comparable to standard antimotility drug, hyoscine butylbromide (50 mg/kg). (see constituents above) (14)
• Antioxidant / Analgesic / Leaves: Study of an ethanol extract of leaves showed free radical scavenging activity in the DPPH assay comparable to ascorbic acid. In the analgesic activity test using the Tail Immersion method, results showed significant inhibition of pain. (15)
• Antibacterial: Study evaluated various parts of D. ellipitca, D. indica and D. trifoiata for antimicrobial activity. Petrol and ethyl acetate fraction of D. trifoliata exhibited good antibacterial activity. (16) Methanol extracts of Derris trifoliata showed the highest antibacterial activity against Staphylococcus aureus and Escherichia coli. (19)
• Antiplasmodial / Larvicidal: Study of extract of seed pods yielded a new flavanone derivative (S)-lupinifolin, together with known flavonoids lupiniflin and rotenone. Lupinifolin showed moderate in vitro antiplasmodial activity against chloroquin-sensitive and chloroquin-resistant strains of Plasmodium falciparum. Different plant parts showed larvicidal activity against Aedes aegypti. Rotenoids were identified as active principles. (17)
• Toxicity to Brine Shrimp: Study of aerial parts yielded a new flavanone, together with 11 known compounds. Eight of the isolated compounds were found to be significantly toxic to brine shrimp (LC50 0.06-9.95 µg/mL. (see constituents above) (20)
• Rotenone Derivatives / Nitric Oxide Production Inhibitory Activity / Stems: Study of stems isolated three known and two new rotenoid derivatives. The new derivatives, derrisfolin A and B inhibited nitric oxide production in murine macrophage-like RAW 264.7 cells stimulated with interferon-gamma and lipopolysaccharide. (21)
• Deguelin / Anti-Tumorigenic: Deguelin, a natural compound from the flavonoid family, has been isolated from D. trifoliata. It exhibited significant anti-tumorigenesis and anti-proliferative activity in various types of cancer in vivo and in vitro. It induces cell apoptosis by blocking anti-apoptotic pathways, while inhibiting tumor cell propagation and malignant transformation through cell cycle control and anti-angiogenic pathways. Deguelin is identified as a novel anti-tumorigenic agent with potential for cancer chemoprevention and chemotherapy. (22)
• Deguelin / Apoptosis of Lung Squamous Carcinoma Cells: Study demonstrated deguelin induced significant apoptosis of lung SCC cells in vitro. It down-regulated the expression of galectin-1, which was involved in a wide range of tumorous physiologic processes. Results suggest deguelin may act as a new chemopreventive agent through induction of apoptosis of lung SCC cells in a galectin-1 dependent manner. (24)
• CNS Depressant Activity / Aerial Parts: Study of evaluated an ethanol extract of aerial parts for neurobehavioral activity using potentiation of phenobarbitone-induced sleeping time and exploratory behavior in mice. Results showed CNS depressant effects with potentiation of onset of sleep and prolongation of total sleeping time in mice. On exploratory behavior, there was significant effect on ambulation. (25)
• Silver Nanoparticles / Anticancer / Antibacterial / Antioxidant / Seeds: Study on the synthesis of silver nanoparticles using aqueous seed extract of D. trifoliata. The AgNPs exhibited high DPPH scavenging activity with IC50 8.25 µg/ml, high total antioxidant capacity by TAC assay, and reducing power equivalent to Trolox. The AgNPs also showed antibacterial activity against Gram positive and Gram negative bacteria i.e., K. pneumonia, S. aureus, and E. coli. The NPs also exhibited moderate antiproliferative activity against A549 lung cancer cell line with median effective concentration of 86.23 µg/ml. (28)
• Silver Nanoparticles / Catalytic Degradation of Methyl Orange and Sensing of Mercury Ion / Seeds: Study reports on the development of bio-augmented silver nanoparticles using D. trifoliata seed extract. The NPs showed one of the best catalytic activity in reduction of water soluble azo dye-methyl orange. The AgNPs also exhibited good selectivity and sensitivity towards mercury (II) ions over other metals in aqueous solution. Results suggest potential application for detection of Hg2+ in real water samples with % recovery in range of 91.41 - 108.07%. (29)
• Anti-Angiogenic / Rotenoids / Stems: Study evaluated the effect of eight rotenoids (1-8) isolated from D. trifoliata stems on three cancer cell lines and angionesis. Compound 2, 12a-hydroxyrotenone, exhibited potent inhibition of both cell growth and migration of HCT116 colon cancer cells. Anti-angiogenic assay in an ex-vivo model showed compound 2 displayed most potent suppression of microvessel sprouting. Invitro assay on human umbilical vein endothelial cells showed the effect occurred via suppression of endothelial cells proliferation and tube formation, but not endothelial cells migration. Results provide evidence that compound 2 could inhibit HCT116 cancer migration and possess antiangiogenic activity, with potential as agent or lead compound for cancer therapy. (30)

Availability
Wild-crafted.