Botany
Sigang-dagat is a perennial creeping or floating, smooth herbaceous aquatic plant. Leaves are obovate to oblong-ovate, rounded or obtuse, 1.5 to 5 centimeters long, the floating stem frequently with cylindric white vesicles at the node. Flowers are 5-parted and borne in the axil of the leaves. Calyx-lobes are lanceolate, about 7 millimeters long. Petals are obovate, white, pale yellow at the base and about 12 millimeters long. Stamens are 8, inserted; ovary 4-celled. Fruits are capsular, linear, cylindric, 2 to 3 centimeters long, about 3 millimeters in diameter, narrow at the base, and somewhat longitudinally ridged.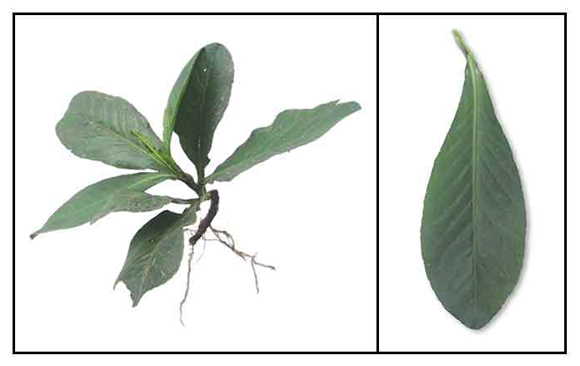 Distribution
- In the shallow water of quiet streams, in shallow lakes, and in fresh-water swamps throughout the Philippines at low and medium altitudes.
- Common weed in rice paddies.
- Pantropic.
Constituents
- Study of aerial parts of J. repens L. isolated a new acylated avicularin, avicularin 2''-(4'''-O-n-pentanoyl)-gallate (1) along with 12 metabolites, viz., trifolin 2''-O-gallate, quercetrin, guaijaverin, reynoutrin, juglanin, avicularin, hyperin, trifolin, hyperin 2''-O-gallate, rutin, kaempferol and quercetin.
- Leaves, stems and flower petals yield flavonoid glycosides, kaempferol-3-glucoside, quercetin-3-O-rhamnoglucoside (rutin), quercetin-3-galactoside, mericetin-3-rhamnoside and isosalipurposide. Plant also yields terpenes, triterpenoids, flavonoids, anthraquinones, phenols, tannins, alkaloids, ursolic acid, carbohydrates, and proteins. (Ghani, 2003) (6)
- Air-dried powder of L. adscendens yielded squalene (1), betulonic acid (2), betulin (3), betulinic acid (4), a mixture of (24R)-6b-hydroxy-stigmast-4-en-3-one and (22E,24R)-6b-hydroxy-stigmast- 4,22-dien-3-one (5a and b), pteleoellagic acid (6), 3,30,40-tri-O- methyl ellagic acid (7), dihydroquercetin or (þ)-trans taxifolin (8), quercetin (9), protocatechuic acid (10), afzelin (11), quercitrin (12), methyl gallate (13, gallic acid (14), and myricitrin (15). (7)
- Mineral content analysis (ppm) yielded Cu 0.019, Fe 2.633, Cr 0.001, Pb 0.11, Mn 3.618, Cd 0.017, Ca 22.4, Mg 2.28, Na 2.12, K 5.82, and Zn 2.39. (15)
Properties
- Antipyretic, diuretic, blood refrigerant and antidote.
- Astringent, emetic, antidysenteric.
- Antibiotic, antiphlogistic, alleviates swelling.
- Plain or sweet tasting, slightly cooling to refrigerant in nature.
- Studies have suggested antioxidant, antibacterial, molluscicidal, contraceptive, antifertility, uterotonic, and hematinic properties.
Parts utilized
- Entire plant, leaves, stems.

Uses
Edibility
- In southwestern China, plant is eaten as vegetable.
Folkloric
- Decoction of dried material used for colds with fever, intense coughing, and inability to urinate.
- Pounded fresh material applied as poultice to carbuncle, sprains, and snake bites.
- In the Antilles, used as an emollient.
- Decoction used as astringent for dysentery.
- Malays used it for poulticing skin complaints.
- In Papua New Guinea, stems and leaves of the plant used as contraceptive.
- In India, leaf decoction with black pepper taken orally for stomach pain and treatment of intestinal worms. (15)
- In Thailand, decoction of whole plant used orally for fever and diarrhea. (16)
- In West Bengal, India, whole plant paste applied to bone fracture and rheumatism. (17)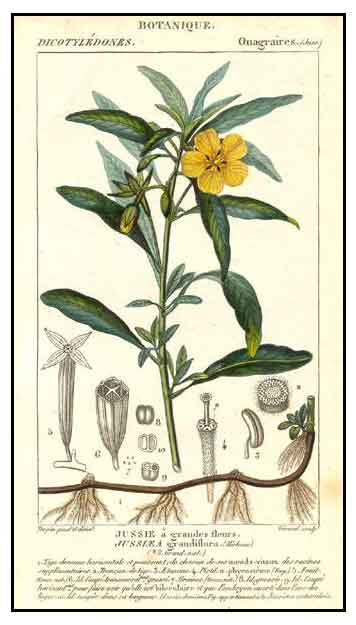 Studies
• Antioxidant: Study showed crude extract and four fractions to show antioxidant activities, most active in the rosmarinic acid, kaempferol and quercetin components. (1)
• Molluscicidal: In a study of 43 plant species from 33 different families, 11 species, including J repens showed molluscicidal activity against snails (Bullinus truncatus and Biomphalaria pfeifferi). (2)
• Flavonoids / Biologic Activities: Study of an ethyl acetate extract of aerial parts yielded a new acylated avicularin along with 12 metabolites. (See above) The extract was non-toxic and exhibited significant antioxidant, hepatoprotective, anti-inflammatory and antidiabetic activities. Some of the isolated flavonoids showed cytotoxicity against Ehrlich ascites carcinoma cells. (4)
• Antioxidant / Mechanisms: Study of three extracts for antioxidant effects showed the ethyl-acetate soluble fraction to have the highest antioxidant activity. Results showed rosmarinic acid,quercetin 3-O-β-D-glucopyranoside and kaempferol 3-O-β-D-glucopyranoside are the major antioxidant constituents, and the antioxidant activities of phenolics depended mainly on the number of hydrogen-donating hydroxyl groups on the aromatic ring of the phenolic molecules. (5)
• Antibacterial: Study of methanolic extract of whole pants of Ludwigia adscendens showed a broad spectrum of antibacterial activity against all bacteria tested except Staphylococcus aureus. (6)
• Antifertility / Antigonadal Herbal Contraceptive: Study evaluated crude aqueous extracts of J. repens on adult male albino Wistar rats. Results showed oral administration of extract may be considered a nontoxic antigonadal with dose- and duration-dependent male antifertility effects. (8) In a study that confirmed the anti-fertility effects of J. repens and potential as herbal male contraceptive, reversal studies caused recovery of reproductive parameters towards normal revealing the nontoxicity. (9)
• Uterotonic: Study evaluated crude aqueous extract of J. repens (except roots) for effect on in vitro uterine contraction on isolated non-pregnant uterus of adult female rats in-vitro and compared it to oxytocin. Results showed significant increase in force and frequency of contraction than normal. The extract may act as oxytocin which is antagonized by atropine. J. repens extract acts as herbal uterotonic and can be applied after full term pregnancy. Results could justify the use of extract in traditional medicine to facilitate childbirth, milk ejection, placental expulsion, abortion, etc. (11)
• Haematinic / Antianemic Potential: Study evaluated the potential of medicinal herb Jussiaea repens in preventing anemia in three groups of adult male albino rats: control n=6; 2,4-DNPH induced anemia (2 mg/100 gm bw/day ip/n=18); and JR supplementation and treatment (20 mg/100 gm bw/day p.o./n=6). Various parameters were observed including PCV, MCHC, free hemoglobin, and erythrocyte morphology. Results suggest the crude ethanolic extract can prevent anemia, with a potential for use as a potent antianaemic drug. (13)

Availability
Wildcrafted.