Botany
Serpent fern is an epiphyte with wide, creeping and glabrous rhizomes. Stipes are scattered, 5- to 40 centimeters long, and naked. Fronds are shiny green, variable in size, from simple lanceolate to deeply pinnatifid, 10 to 40 centimeters long. Costae are prominent, but the venation is hardly visible. Sori are very large, shallowly immersed and conspicuous on the upper surface, in single rows along the main veins, or scattered, but not numerous.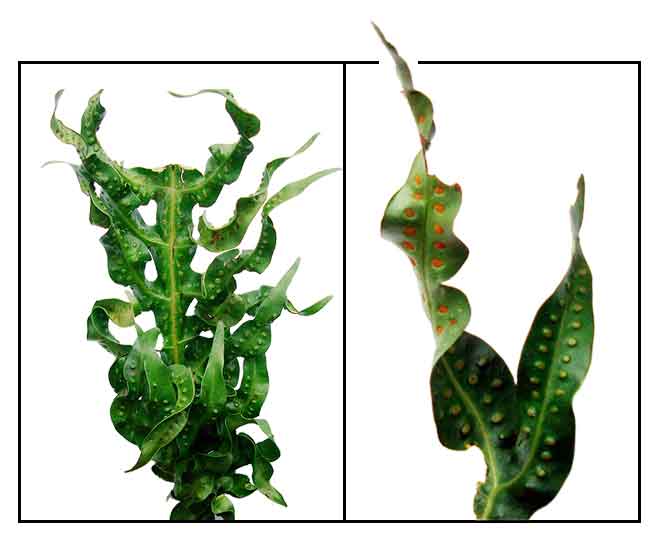 Distribution
- Commonly distributed in the Philippines, growing in the crown or trunks of trees and on rocks along streams, at low and medium altitudes.
- Also found from Polynesia to Africa.
Constituents
- Contains glycirrhizin and saponin.
- Study yielded ecdysone and 20-hydroxyecdysone, makisterones A and C, inokosterone and amarasterone A. (See study below) (1)
- Study showed ecdysteroids concentration of 11.17 mg/g in rhizomes and 4.69 mg/g in fronds. Rhizomes yielded six ecdysteroids with two major components of 20-hydroxyecdysone (6.76 mg/g) and ecdysone (3/41 mg/g) at concentrations 3 and 2.5 times higher than corresponding fronds. Other phytoecdysteroids (mg/g dw) were inokosterone 0.42, makisterone A 0.24, 2-deoxy-20-hydroxyecdysone 0.09, and makisterone C 0.25. (9)

Properties
- Fronds are fragrant.
- Considered diaphoretic, aromatic and aperative.
Parts used
Roots, branches, leaves.
Uses
Folkloric
- In Indo-China, the Annamites are reported to use the young leaves of the fern for chronic diarrhea. (3)
- In New Guinea, plant is heated over fire and the smoke inhaled to relieve catarrh. In Tonga, leaf or bark infusion used to treat filariasis in infants. Pounded leaves applied to boils. (6)
- In Samoa, frond used in treated of headaches and stomach catarrh. Lotion of fronts used on wounds, sores, and abscesses. Pounded leaves mixed with young coconut pulp used as poultice for arthritis. Pounded leaves in coconut oil used in massage to induce postnatal discharge.(6)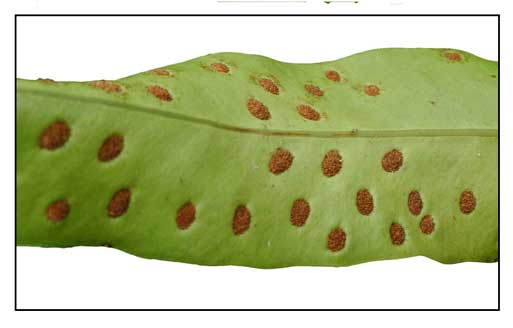 - In the Cook Islands, crushed rhizomes used to treat fistula and other internal ailments. Also used as purgative. (6)
- In Fiji, leaf juice used to treat stomachache, breast swelling associated with breastfeeding, and boils Infusion of leaves and roots taken by women as postpartum tonic. Infusion of leaves used for postpartum depression. Infusion of stem used for fish poisoning. (6) Mixed leaves decoction of Phymatosorus scolopendria and Hoya australis used as postpartum tonic and to treat body aches and headaches. (7)
Others
- Decorative: In Hawaii used to scent tapa cloth, to adorn hula altars and dancers, and used for making lei.
- Repellent: Young fronds are spread on the sped to keep off bed bugs. (3)
- Fragrance: Fronds used to perfume clothes and coconut oil. (6)
- Good luck frond: In Yap, the glossy green fronds are tied to outriggers of canoes for good luck when fishing. (8)
Studies
• Ecdysteroids: Study showed M scolopendria is an excellent source of ecdysone (0.16% of dry weight) and 20-hydroxyecdysone (0.20% dw), and also significant amounts(0.01-0.02%) of makisterones A and C, inokosterone and amarasterone A. along with lower amounts of poststerone and a compound identified as 24,28-diepi-cyasterone. Study also yielded three minor phytoecdysteroids, namely 20-deoxymakisterone A, a 25(?)-epimer of amarasterone A and 25-deoxyecdysone 22-glucoside. The ecdysteroids are considered to be responsible for some of the medicinal properties. (1)
Availability
Wildcrafted.