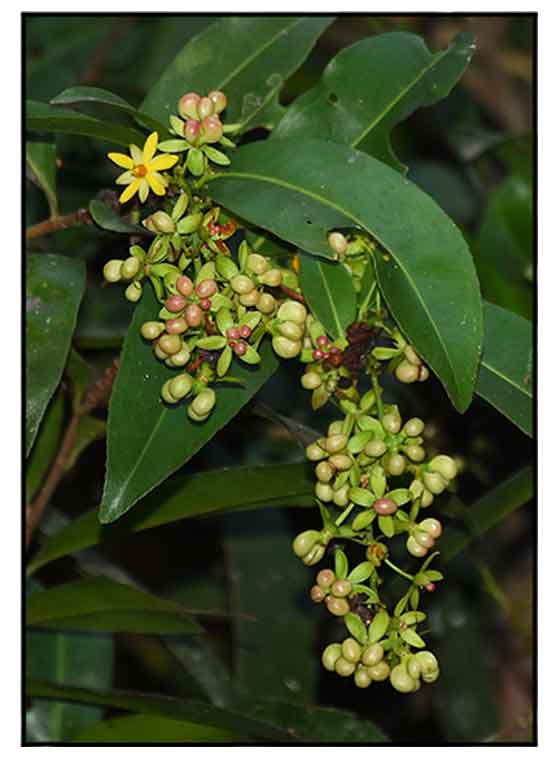 Gen info
- Campylospermum serratum is a plant in the family Ochnaceae.
- Etymology: The specific epithet derives from Latin serratum meaning "with teeth", referring to the leaf margin.
- The species was first described as Maesia serrata. In 1994, it was transferred by Volker Bittrich and Maria do Carmo Estanislau do Amaral to Campylospermum. (3)
Botany
Gomphia serrata is a small or medium-sized tree up to 25 m tall; bole up to 40 cm in diameter, slightly fluted at base; bark surface smooth or flaking into thin pieces, dark grey-brown, inner bark fibrous, pink. Leaves arranged spirally, simple, finely toothed, with 2-3 intramarginal veins; stipules united, early caducous. Flowers in an axillary or terminal panicle, 5-merous; sepals enlarged and persistent in fruit; petals yellow or cream; stamens 10, anthers opening by apical pores; gynophore columnar, ribbed; carpels 5, free but sharing a single style, each with a single ovule. Fruit with 1-2(-5) kidney-shaped drupelets, yellowish-green turning dark purple or blue-black when ripe. (1)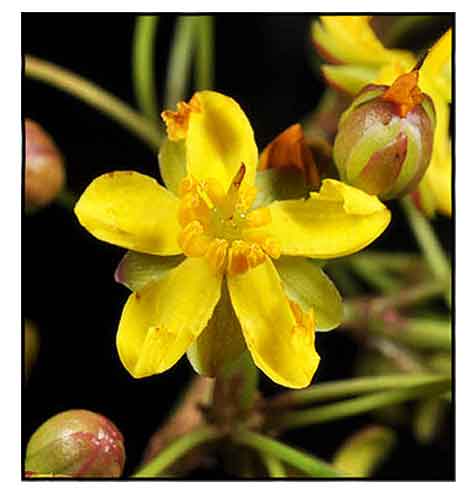 Distribution
- Native to the Philippines.
- Also native to Borneo, Cambodia, Hainan, India, Jawa, Laos, Malaya, Myanmar, Sri Lanka, Sulawesi, Sumatera, Thailand, Vietnam. (2)
- In a wide range of forest types, including mixed dipterocarp forest, limestone forest, and peat-swamp forest.
Constituents
- No studies found.
Properties
- Study suggested pancreatic lipase inhibitory and antibacterial properties.

Parts used
Roots, leaves, stems, sap.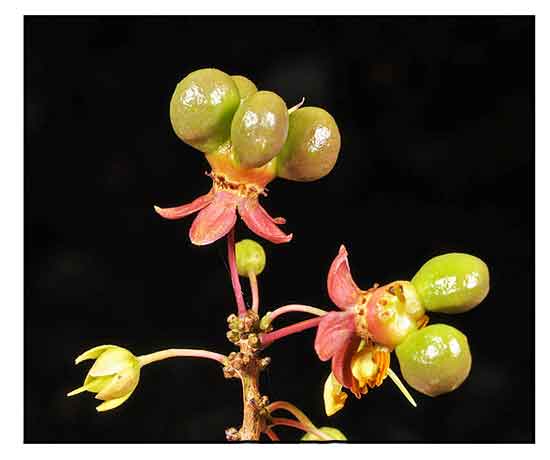 Uses
Folkloric
- No reported folkloric medicinal use in the Philippines.
- In India, decoction of bitter roots and leaves used as stomachic and anti-emetic. (1)
- In Cambodia, young branches used for toothache. (1)
- Wood heated over fire yields a blackish sap, which is used in folk medicine to treat gingivitis and other oral complaints. (3)
- In Cambodia, the black sap from section of trunk over fire used as antiseptic and anti-inflammatory gum. The plant is used for recovery during convalescence, to prevent disease, to help pregnancy and delivery, and to strengthen the body after childbirth. (5)
- In Vietnam, stalks are used to blacken teeth. (3)
- In Laos, decoction of stem drunk for stomach problems.
Others
- Wood: Yields a medium-weight hardwood., hard, strong, moderately durable. Heartwood is dull red-brown or purple-gray brown. Prone to splitting during drying.
- Construction: Wood used for house construction (rafters, poles, planks), boats, pumps, blocks. (1)
- Fuel: Wood splits easy and used as firewood. Also makes a good charcoal.

Studies
• Pancreatic Lipase Inhibition: in a screening of ethanolic extracts of 28 traditional Thai medicinal plants for in-vitro activities against porcine pancreatic lipase, 9 plants showed >50% inhibitory activity. Two extracts, Gomphia serrata and Azadirachta indica showed >30% inhibition of pancreatic lipase. Inhibition activity was significantly correlated with flavonoid and alkaloid contents. (4)
• Antibacterial: in a study of methanol extracts of 191 plants in Malaysia, the bark of Gomphi serrata showed + antibacterial activity against Staphylococcus aureus and no activity against E. coli, P. aeruginosa, E. faecalis, and C. albicans. (6)
Availability
Wild-crafted.