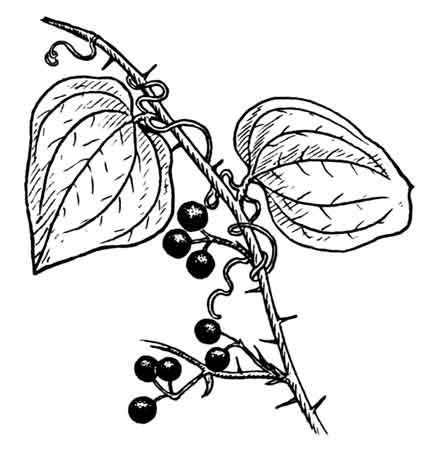 Botany
Sarsaparillang-puti is a stout, woody vine with alternate, stiff, leathery leaves which are white beneath, somewhat rounded or straight at the base and pointed at the tip, up to 30 cm or more in length, having three prominent veins running lengthwise through the leaf. Fruits are grey berries, somewhat more than a cm in diameter, occurring in round clusters, each fruit having a long stalk springing from the common rounded center of the cluster.
Distribution
In primary forests at medium altitudes in Benguet, Pangasinan, Pampanga, Rizal, Bataan, and Laguna Provinces in Luzon, and in Mindoro, Culion, Palawan and Mindanao.
- Also occurs in the Malay Peninsula, Australia, Java, Borneo and in the Moluccas.
Properties
- Considered blood purifier, antisyphylitic, antirheumatic.

Parts used
Roots, rhizomes.

Uses
Folkloric
- Roots and rhizomes used as blood purifier.
- Used for cutaneous affections, syphilis, and rheumatism.
- Used for menstrual disorders.
- In Malaysia, poultice of leaves and roots are applied to syphilitic nose ulcers.

Studies
- No studies found.
Availability
Wild-crafted.