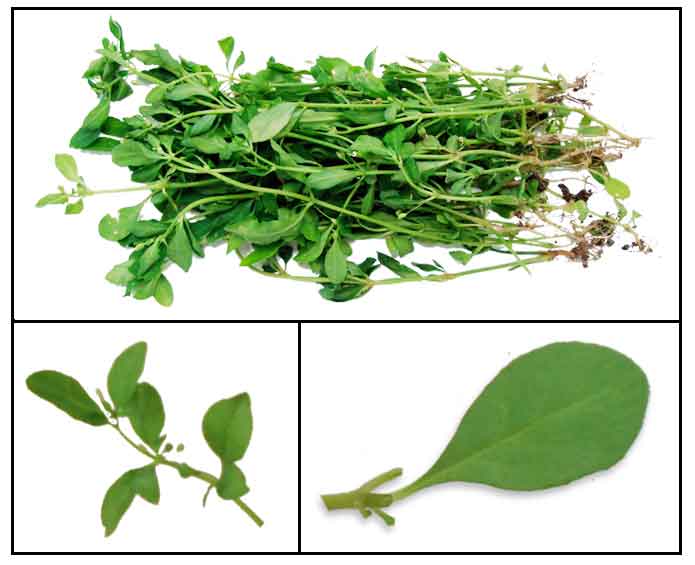 Botany
Sarsalida is a slender, spreading or ascending, smooth, branched, annual herb, with branches as long as 10 to 40 centimeters. Leaves are opposite or whorled, spatulate, oblanceolate to oblong-obovate, 1 to 3 centimeters long, and up to 1 centimeter wide. Flowers are white and fascicled, with slender stalks up to 1 centimeter long. Sepals are 3 to 3.5 millimeters long. Capsule is ellipsoid, a little shorted than the sepals. Seeds are numerous and covered with raised tubular points.
Distribution
- A common weed in and about towns at low and medium altitudes.
- Also found in India to tropical Africa and Australia.
Constituents
• Study of aerial parts of Mollugo spergula yielded two novel triterpenoid saponins - spergulin A and spergulin B. (7)
• Exceptionally rich in iron and a good source of calcium.
• Phytochemical screening yielded alkaloids, saponins, and terpenoids in excess; together with tannins, glycosides, steroids, and flavonoids.
• Phytochemical screening of methanolic extract yielded carbohydrates, alkaloids, tannins, flavonoids, and saponins.
• Methanolic extract of whole plant isolated an amino acid derivative, L-(−)-(N-trans-cinnamoyl)-arginine, along with kaempferol 3-O- galactopyranoside, isorhamnetin 3-O-β-D-xylopyranosyl-(1→2)-β-D-galactopyranoside, vitexin, vicenin-2, adenosine and L-phenylalanine. (14)
• Study isolated dotriacontyl docosanoate from a petroleum ether extract and trilinolein from an ethyl acetate extract. Three determinations of vitamin C content of fresh leaves averaged 88.4 g per 100 g of fresh leaves. Study for bound fatty acids yielded a higher proportion of palmitic acid (46.75%) and lowest proportion of myristic acid (0.95%). Stearic acid and oleic acid were also significant, 18.45% and 19.93%, respectively. Of the free fatty acids, palmitic acid (49.75%) and lignoceric acid (29.70%) were the major fatty acids. Palmitic acid was the major constituent in both free and bound fatty acid. (22)
• Proximate analysis yielded moisture of 90.53 ± 0.05 g, ash 2.17 ± 0.05 g, crude fat 0.20 ± 0.0007 g, crude protein 1.58 ± 0.0001 g, total carbohydrate 5.50 ± 0.09 g, crude fiber 1.75 0.01 g, dry matter 9.46 ± 0.05 g, calorific value 30.19 ± 0.19 kcal, and vitamin C 27.41 ± 4.31 mg. (26)
- Study of aerial parts yielded six triterpene saponins, a new saponin, glinoside C (1), along with 3-O-(β-D-xylopyranosyl)-spergulagenin A (2), spergulacin (3), spergulin A (4), spergulacin A (5) and spergulin B (6).  (see study below) (29)
- Study of whole plant yielded four new triterpenoids, 3β,12β,16β,21β,22-pentahydroxyhopane (1), 12β,16β,21β,22-tetrahydroxyhopan-3-one (2), 3-oxo-olean-12-ene-28,30-dioic acid (3), and 3β-hydroxyoleana-11,13(18)-diene-28,30-dioic acid 30-methyl ester (4); 21 new triterpenoid saponins, glinusopposides A–U (5–25); and 12 known compounds (26–37). (see study below) (30)
Properties
• Considered a stomachic, appetizer, aperient, antiseptic, uterine stimulant.
• Studies have shown antioxidant, immunomodulating, larvicidal, antifungal, molluscicidal, antimicrobial, complement fixating, hepatoprotective, analgesic, anti-inflammatory, antidiabetic, anthelmintic properties.
Parts used
• Whole plant, leaves, juice.
Uses
Edibility
• Whole plant, without the roots, consumed as vegetable.
• Very bitter when not properly cooked.
Folkloric
• Plant used as a stomachic, aperient and antiseptic.
• Used for the suppression of lochia.
• Whole plant used as cataplasm for dyspepsia in children.
• For earaches, applied warm, moistened with a little castor oil.
• In Puddokota, juice is applied to itches and other skin diseases.
• In India, used by tribal people for liver diseases.
• In Tamil Nadu, leaf used for animal bite poisons. (20)
• In Mali, used for malaria, joint pains, inflammation, intestinal parasites, furuncles, and wounds. Aerial parts used for abdominal pains and jaundice. Fresh leaves used against dizziness and to stimulate the appetite.
• In Mali, dried stems are ground into a fine powder, added to food, and used for treating abdominal pains and jaundice. Decoction of fine powder of aerial parts used for treatment of malaria. Maceration of pounded material mixed with oil or water used as a wound healing remedy. (10)
• In Bangladesh, used for joint pains, inflammation, diarrhea, fever, boils, and skin disorders. (12)
• In Thailand, leaves used as expectorant and antipyretic.
• In Chinese traditional medicine used in the treatment of herpes zoster and herpangina.
• In Odisha, India, whole plant, raw or cooked, used for treatment of various skin diseases like scabies, itches, etc. (35)

Studies
• Immunomodulating / Pectin Polymer / Aerial Parts: An immunomodulating pectic polymer, GOA1, from the aerial parts of Glinus oppositifolius was shown to induce proliferation of B cells and secretion of IL-1ß by macrophages. (2)
• Free Radical Scavenging / Antioxidant: Study showed Glinus oppositifolius scavenges free radicals and reduces lipid peroxidation, ameliorating the damage imposed by oxidative stress in different disease conditions. It serves as a potential source of natural antioxidants. (3)
• Antifungal / Larvicidal / Molluscicidal / Antioxidant: In a study of 78 different extracts from 20 medicinal plants from 14 plant families, G oppositifolius was one of three plant extracts that gave positive responses to all four tests – antifungal, larvicidal, molluscicidal and antioxidant testing. (4)
• Antifungal / Larvicidal: A DCM-extract reported to be fungicidal against C. albicans and larvicidal against Anopheles gambiae and Culex quinquefasciatus.
• Hepatoprotective: Study evaluating the methanol extracts of Glinus oppositifolius and T decarndra against paracetamol induced liver damage in rats concluded that both plants significantly restored altered biochemical parameters towards normal. (5)
• Antimicrobial / Leaves: Study evaluated aqueous and ethanolic extracts of leaves, flowers and stems for secondary metabolites and antimicrobial activity. Antimicrobial activity was significant in the stem, leaf, and flower samples, the activity attributed to saponins. (8)
• Bioactive Pectic Polysaccharides / Complement Fixating: Study of water extract of aerial parts isolated two pectin type polysaccharides, GOA1 and GOA2. Results showed potent dose-dependent complement fixating activities, and induced chemotaxis of macrophages. (10)
• Antioxidant / Antidiabetic / Leaves: Study evaluated the antioxidant and antidiabetic potential of a methanolic extract of Glinus oppositifolius leaves in alloxan-induced diabetic mice. There was dose-dependent reduction of blood glucose. DPPH radical scavenging assay activity was greater than 1000 µg/ml ascorbic acid. Results showed the methanolic extract to possess moderate antioxidant activity and significant antihyperglycemic activity. (11)
• Analgesic / Anti-Inflammatory: Study investigated G. oppositifolius methanolic extract for analgesic activity using acetic acid induced writhing and tail immersion test and anti-inflammatory activity by carrageenan induced paw edema testing. Results showed central and peripheral analgesic and anti-inflammatory activity. (12)
• Hepatoprotective / Paracetamol Hepatotoxicity / Aerial Parts: Study evaluated the hepatoprotective effect of an ethanolic extract of aerial parts against paracetamol-induced hepatitis in rats. Treatment with the extract showed dose-dependent reversal of the altered levels of biochemical markers. (13)
• Immunomodulating / GOA2 Peptic Polymer: Study investigated the structure and immunomodulating properties of peptic polymer GOIA2, previously isolated from G. oppositifolius. Enzymatic treatments yielded GOA2-I, GOA2-II, and GOA2-III. On testing, GOA2-I showed significantly greater effects than native GOA2m and also exhibited more potent intestinal immune stimulating activity. It also induced secretion of proinflammatory cytokines. (15)
• Antidiabetic / Aerial Parts: Study evaluated the antihyperglycemic activity of ethanolic extracts of aerial parts of Mollugo pentaphylla and Glinus oppositifolius in alloxan-induced hyperglycemic rat models. The extracts produced significant decrease in blood glucose levels comparable to standard drug glibenclamide. (16) Study of various extracts of Glinus oppositifolius in streptozotocin-induced diabetic rats showed significant hypoglycemic effect. Antidiabetic activity was attributed to the presence of steroids, saponins, glycosides, alkaloids, and flavonoids. (28)
• Anthelmintic / Antioxidant: Study showed in vitro anthelmintic activity against aquarium worm, Tubifex tubifex, more effective than reference drug piperazine citrate. The anthelmintic activity was significantly correlated with polyphenolic contents and free radical scavenging potential. (17)
• Anti-Diabetic: Study evaluated the anti-diabetic potential of Mollugo oppositifolia extract on alloxan induced diabetic rats. Results showed significant alterations in biochemical parameters i.e., blood glucose, serum insulin, glycosylated hemoglobin, glycogen metabolizing enzymes and lipid profiles, liver marker enzymes, antioxidant enzymes. In most parameters, the performance of the plant extract was better than the standard drug, Glibenclamide. (19)
• Anti-Ulcer: Study evaluated the gastroprotective and antiulcer efficacy of Mollugo oppositifolia plant extract in alcohol induced ulcerated rats. Treatment with MO extract significantly inhibited the alcohol induced ulcer congestion, hemorrhage and necrosis. The gastroprotective activity was comparable with standard drug Omeprazole. (18)
• Sedative / Anxiolytic / Leaves: Study of ethanol extract of leaves of G. oppositifolius in different behavioral models in mice showed sedative (hole cross, open field, rotarod, and thiopental sodium (TS)-induced sleeping time) and anxiolytic (elevated plus maze [EPM] and light-dark box exploration test) potential. Results support the use of the plant in the treatment of different psychiatric disorders including insomnia. (23)
• Molluscicidal: Study evaluated the molluscicidal effect of crude extracts (butanol and ethyl acetate) and their products against schistosome snail intermediate hosts. Both crude extracts and pure products showed dose-dependent activity. The butanol extract showed lowest LC50 at 64.3 and 91.7 ppm for Bulinus truncatus and Biomphalaria pfeifferi, respectively. (24)
• Anticancer / Antioxidant / Leaves: Study evaluated a methanolic extract of dried leaves for antioxidant potential and cytotoxic effect on cancer cell lines. The ME showed moderate levels of antioxidant activity using DPPH radical scavenging, lipid peroxidation inhibition, superoxide scavenging assay, NO scavenging assay, total phenol and flavonoid content assays. The ME showed enhanced anti-proliferative efficacies on different human cancer cell lines compared to normal peripheral blood mononuclear cells. (25)
• Antiprotozoal / Triterpenoid Saponins / Aerial Parts: Study of aerial parts isolated two new triterpenoid saponins, glinosides A and B. Fractions showed betters antiplasmodial activity than pure glinoside A with IC50 of 31.80 µg/ml and 42.30 µg/ml, comparatively. (27)
• Triterpenoid Saponin / α-Glucosidase Inhibitory Activity / Antidiabetic / Aerial Parts: Study of aerial parts isolated six triterpene saponins including one new saponin, glinoside C, and five known constituents. Glinocide C showed the greatest inhibition of α-glucosidase activity with IC50 of 127 ± 127 ± 30 µM. (see constituents above) (29)
• Triterpenoid / Antifungal / Whole Plant: Study of whole plant isolated four new triterpenoids, 21 new triterpenoid saponins, and 12 known compounds. All plant compounds were tested for antifungal activities against Microsporum gypseum and Trichophyton rubrum. Glinusopposide B (6), glinusopposide Q (21), glinusopposide T (24) and glinusopposide U (25) showed strong inhibitory activities against M. gypseum and T. rubrum. (see constituents above) (30)
• Spergulin-A / Triterpenoid Saponin / Immunostimulator / Antileishmanial: Study evaluated an n-BuOH fraction of methanol extract of plant and isolated triterpenoid saponin Spergulin A against acellular and intracellular L. donovani. Immunostimulatory activity was confirmed by elevated. Spergulin A was ineffective against acellular forms, while against intracellular parasites there was a 92.6% reduction after 72h at 30 µg/ml. Spergulin-A enhanced ROS and NO release and changes in Gp91-phox, iNOS, and pro- and anti-inflammatory cytokines elaborated its intracellular antileishmanial activity. Results suggest G. oppositifolius and Spergulin-A can potentiate lead molecules for development of alternative drugs for visceral leishmaniasis. (31)
• Antioxidant / Antimicrobial / Cytotoxic: Study evaluated various extracts of Mollugo oppositifolius for antioxidant, antimicrobial and biolethality potentials. An ethanol extract showed significant inhibition of DPPH with IC50 of 27 µg/ml' a petroleum ether extract showed highest zone of inhibition against Bacillus subtilis (16.67mm) and microsporum spp. (16.0mm); and a methanol extract showed mild cytotoxicity with LC50 and LC90 of 8.0 µg/ml and 85.12 µg/ml. (32)
• Hepatoprotective / Carbon Tetrachloride Toxicity / Roots: Study evaluated of methanolic extract of Glinus oppositifolius roots showed significant hepatoprotective effect in carbon tetrachloride toxicity in albino rats as evidenced by effect on levels of SGPT, SGOT, and bilirubin levels. (33)
• Hypoglycemic / Hypolipidemic: Study evaluated the possible hypolgycemic and hypolipidemic effect of methanol extract of G. oppositifolius plant in triton-induced hyperlipidemic rats. The ME exhibited significant antihyperglycemic activity (P<0.05) but did not produce hypoglycemia in fasted normal rats. It also exhibited significant reduction (P<0.05) in serum lipid profile (TC, TG, LDL, VLDL) with increase in HDL. All activities were dose dependent. Results suggest potential as adjuvant therapy. (34)
• Effect on Glycemia / Antioxidant / Leaves: Study evaluated the effect of extract of leaves on hyperglycemia, lipid peroxidation and increased cholesterol levels in vivo in allosan induced diabetic albino rats. Results showed significant dose-dependent decrease in blood glucose levels compared to control drug glibenclamide. The extract showed dose dependent in-vitro antioxidant activity on DPPH and ferric reducing assays. (36)

Availability
Wild-crafted.