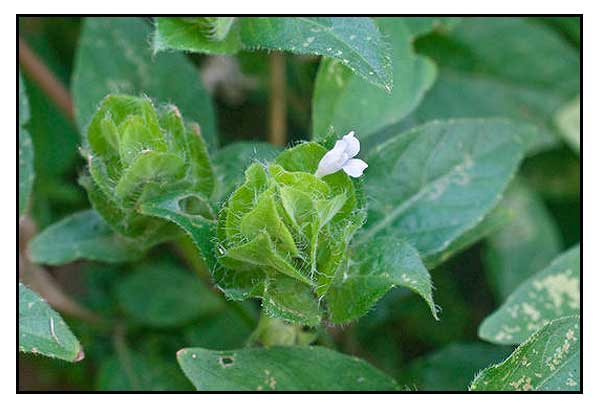 Botany
Sapin-sapin is an erect or ascending herb. Stems are often prostrate and rooting below, about 20 to 50 centimeters long and sparingly hairy or nearly smooth. Leaves are thin, ovate, 5 to 10 centimeters long, margins entire or nearly so, pointed at the tip, and widened at the base. Flowers are small, purple or white, and borne in spike-like, terminal inflorescences, occurring mostly in pairs, each pair subtended by a leaf-like, ovate, persistent, 1 to 1.5 centimeters long bract and two smaller brancteoles. Calyx is 4 to 5 millimeters long, hairy, slightly curved, and divided into 5 linear lobes. Corolla is tubular, hairy, slightly curved, about 1.3 centimeters long, and slightly exserted from the bracts. Capsule is ovoid, somewhat compressed and about 6 millimeters long.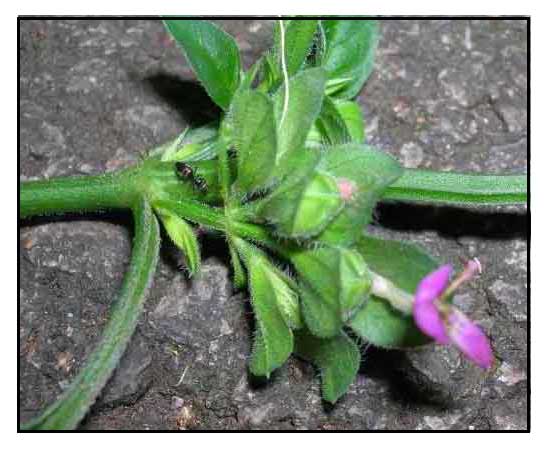 Distribution
- Common in waste places, in open thickets, on and about old walls, in and around towns at low altitudes throughout the Philippines.
- Introduced from Mexico.
- Naturalized in Taiwan and the Marianne Islands.
Constituents
- Ethyl acetate fraction yielded five compounds: 1­-triacontanol (1), palmitic acid (2), stigmasterol (3), ligulariaphytin A (4), and stigmasterol­-D­-glycoside (5). (see study below) (4)
Properties
- Antiblennorrhagic, vulnerary.

Parts used
Entire plant, leaves.

Uses
Folkloric
- Entire plant in decoction is used as an antiblenorrhagic.
- Pounded leaves used as vulnerary.
- In Taiwan, leaves used to treat blenorrhea, intestinal parasites, wounds, vomiting with blood, flue and measles. (2)
- In Mexico, used for treatment of cancer and diabetes. (7)
- In a Panamanian inventory of medicinal plants used by Kuna, Ngöbe-Buglé, and Teribe indians, listed as antiemetic and antiamebiasis. (8)
- In Nicaragua, leaf and whole plant used in the treatment of snake bites. (9)
- In Mayan medicine, used for night sweats in children. Used for coughs, bleeding, chills, and fever. (10)
- In Jamaica, used for baths, sore feet, and colds. (11)
- In Sta. Lucia, plant is a constituent of a herbal tea, sangwi, given to stroke patients. (12)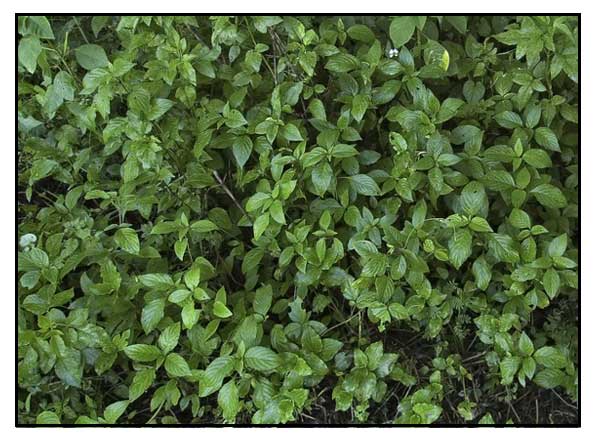 Studies
• Non-Phytotoxic / Potential Antidiabetic / Alpha-Glucosidase Inhibition: Study showed Blechum pyramidatum did not possess significant phytotoxic effect. The negative effects against coffee might be competition for water and nutrients. On further evaluation. the methanol fraction showed good inhibitory effect on alpha glucosidase suggesting a potential as an alternative in reducing blood sugar in patients with diabetes mellitus. (see constituents above) (4)
• Yellow Vein Disease: Study reports on a previously unidentified begomovirus associated with yellow vein disease in Blechum pyramidatum. The disease was observed causing begomovirus-like yellow/chlorotic leaf veins and shortened internodes of Browne's blechum plants on the island of Luzon, the incidence ranging from 1-% to 50% in fields in 2012. (5)
• Adjuvant Extract for Use Against Diabetes and Related Diseases: Study reports on a patent application for an invention of an herbal adjuvant intended for the treatment of diabetes and related diseases, based on Blechum pyramidatum aerial parts (leaves, bracts, flowers and fruits). (6)
• α-Glucosidase Inhibitory Activity: In Mexico, antidiabetic and anticancer preparations from this plant have been patented. This study sought to identify and characterize the glucosidase inhibitors from the species. Bioassay-guided fractionation of a crude extract isolated a main-glucosidase inhibitor, Palmitic acid (IC50 237.5), with an inhibitory activity similar to the antidiabetic drug Acarbose (IC50 241.6 µM) which was used as positive control. Kinetic analysis showed the palmitic acid as a competitive inhibitor, binding to the same site as acarbose in the human α-glucosidase. Study supports the antidiabetic use of the plant in traditional medicine. (7)

Availability
Wild-crafted.