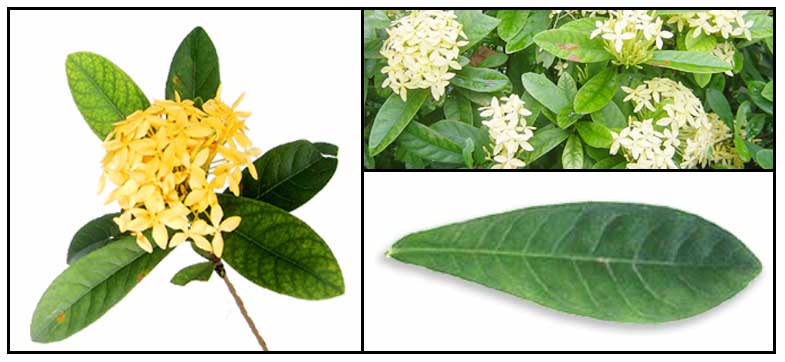 Gen info
There are about 500 species in the genus Ixora. A few are in cultivation. There are numerous cultivars differing in flower color (yellow, pink, orange) and plant size. Several cultivars are dwarfs, under 3 feet. Other noteworthy ornamental santans: santan puti (Ixora finlaysoniana Wall), a shrub 2-4 m high, with white fragrant flowers; and Philippine santan (Ixora philippinensis Merr), a shrub or small tree, with white to pink flowers.
Botany
Santan-tsina is an erect, smooth shrub 1.5 to3 meters in height. Leaves are opposite, sessile, oblong-obovate to elliptic-oblong, 7 to 13 centimeters in length, pointed at both ends, and borne on short petioles. Flowers are many, crowded in dense, corymbose clusters, 6 to 12 centimeters in diameter, light orange- red, red, yellow or white. Calyx-teeth are short and obtuse. Corolla is pink or reddish, 2 to 2.5 centimeters long, with rounded lobes 5 to 7 millimeters in length.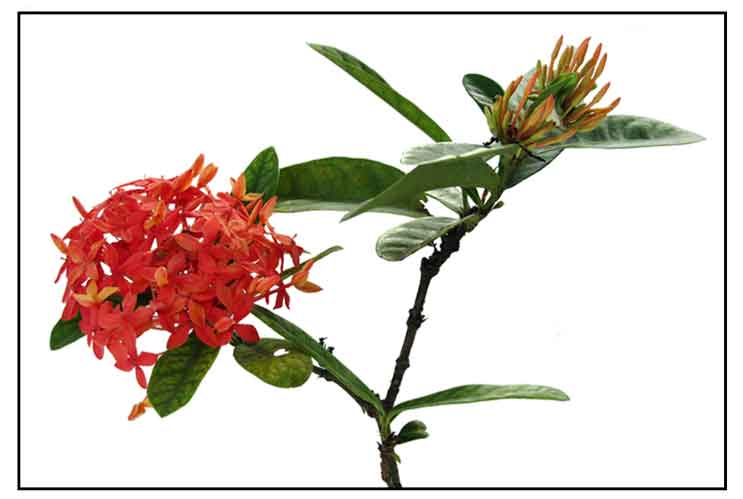 Distribution
- Cultivated for ornamental purposes; nowhere established.
- Introduced to the Philippines at an early date.
- Occurs in India to southern China and is widely distributed in Malaya and other tropical countries.
Constituents
- Roots yield an iridoid derivative called ixoside (1,8-dehydroxyforsythide).
- HPLC study of flower extract yielded high contents of rutin, caffeoylquinnic acid, chlorogenic acid, quercetin, iso-quercetin, and catechin. (5)
- Preliminary phytochemical screening of leaves yielded glycosides, steroids, flavonoids, triterpenoids, and alkaloids. Further investigated yielded ixorene (1) and oleanolic acid (2) from a petroleum ether extract; cathechin (3), quercetin 3-O-rhamnoside (4) and kaempferitrin (5) from an ethyl acetate extract; and rubiothiagepine (6) from an n-butanol extract. (6)
- Study of Ixora chinensis for chemical constituents yielded seven compounds viz., D-mannitol (1), stearic acid (2), 1,5-cyclooctadiene (3), ß-sitosterol (4) (10E)-9-oxooctadec-10-en-12-ynoic acid (5), azelaic acid (6), and dihydromasticadienolic acid (7). (7)

Parts used
Flowers, roots, leaves.

Uses
Folkloric
- In the Philippines, infusion of fresh flowers, drunk ad libitum, is said to be good for incipient tuberculosis and for hemorrhage.
- Malays use decoction of root after childbirth.
- In Indonesia, decoction of roots used for bronchial disorders; flower decoction used for amenorrhea and hypertension.
- Decoction used for urinary problems.
- In Vietnam, roots, stems, leaves, and flowers are used for irregular menses, high blood pressure, tuberculosis, hemoptysis, rheumatism, and acne.
Studies
• Quisumbing's compilation and some others lists Ixora chinensis and I. coccinea as separate species while some compilations list them as synonyms. Click Santan for I. coccinea studies.
• Anti-tumor: In a modified tumor promotion test, complete inhibition of all kinds of tumors was exhibited by decoctions of flowers of I. coccinea and I. chinensis.
• Antioxidant Ingredients / Toxicity Study / Flower Extract Drink: Study showed all active ingredients from the flower extract sowed no statistical difference between macerating with water, 40% ethanol, 50% ethanol. Ultrasonication method was more convenient and decreased production time. The extract showed high antioxidant active ingredients. The flower extract drink was found safe by acute toxicity testing on albino vista rats at 2000 mg/kbw. (5)
• Antioxidant: Study evaluated the antioxidant activity of Ixora chinensis using three in vivo systems, including DPPH, ABTS radical scavenging assay and reducing power assay. All extracts exhibited outstanding scavenging effect on DPPH and ABTS radicals and possessed strong reducing power. Antioxidant activity was in the order of acetone > ethanol > ethyl acetate extract. (8)

Availability
- Wildcrafted.
- Tea drinks in the cybermarket.